THE MIRACULOUS SMOKEY ROBINSON

02 December 2009- Los Angeles, California- Musician Smokey Robinson poses backstage at the Grammy Nominations Concert Los Angeles, California. Photo Credit: Krista Kennell/Sipa Press./grammyconcert.037/0912030737 Photo via Newscom
By Paul Freeman
With a silky voice, magical sense of melody and innovative musical vision, Smokey Robinson has made a lasting impact on pop culture.
His latest album is titled, "Time Flies When You're Having Fun." "That describes my life," Robinson said. "I can't believe we're celebrating the 50th anniversary of Motown. It's gone by in a flash."
New songs continue to flash into the mind of Robinson, who penned such classics as "The Tracks of My Tears," "Since I lost My Baby," "Don't Mess With Bill," "Get Ready," "The Way You Do The Things You Do" and "Just A Mirage."
"Writing is a part of me, a gift from God. Almost every day, an idea for a song comes to me, some melody or words. I don't always pursue it. When I do find that it's really something I want to work on, I have a new method now - I call my voicemail, so I can work on it later.
"Songwriting is a different thing every time. I have written songs that took me, literally, 30 minutes to write. And then, a song like 'Cruisin' took five years. So it's a different process every time. But I always have the same goal in mind. I want to try to write a song that, if I'd written it 50 years before, would have meant something and 50 years from now, it's going to mean something."
Imbuing the song with his own sensibility is the key. "There are no new words, man. There are no new chords or notes on the piano or guitar. There are no new ideas, really. So, within the framework of what's been going on for thousands of years, I have to try and say it differently."
Robinson continues tinkering as long as possible. "Once I've completed the song, there's always experimentation involved. When I go into the studio, I will change stuff until the last minute. I'll change words until the last minute. I'll change anything that I think is going to enhance it or make it better. I don't lock myself into what I've got when I go into the studio, especially musically.
"One of the guys could play something that I think is great. I basically give the musicians a free hand to play what they feel, within the chord framework of my songs, because they know how to play their instruments a lot better than I do.
"I always get to the point where I know that it's right. Sometimes I'll listen and say, 'No, that's not right,' and go back and do it again. I'm not going to let it go until I feel it is right.
As a child, William Robinson, Jr. was excited by western music. "I loved cowboys, man. When I was three, four, five, six, seven years old, you could ask me what I wanted to be when I grew up and I would have told you, 'a cowboy.' I loved the cowboys. I loved the cowboys who sang - Gene Autry and Roy Rogers - those guys who were great cowboys and great horsemen, but they sang also.
"My uncle Claude, who was also my godfather, would take me to see their movies. He had a cowboy name for me, which was Smokey Joe. So when anybody asked me what my name was, at three or four years old, I told them, Smokey Joe. When I got to be about 12, I just dropped the Joe off. Most people, all my life, including most of my teachers, have always called me Smokey."
Robinson sang in glee clubs and choirs. At age six, he wrote and sang a song for the elementary school play.
"I was always influenced by harmony. The group that turned out to be the Miracles, we formed our group when I was 11 or 12 years old, man."
In addition to music, a strong spiritual foundation helped Robinson find the right path. "I grew up in the hood, in Detroit. Some of my friends were robbing people, gang fighting. I wouldn't do any of that, because I felt God was watching me.
"I speak at schools, universities, gang meetings, juvenile facilities and churches. And when I'm speaking to young people, I tell them they don't have to accept peer pressure. If people tell you, if you don't do what they're doing, they can't love you, then they don't really love you anyway. Many of my friends didn't get a chance to grow up, because they were killed or jailed for life. So I'm grateful that my being spiritual saved me from all of that."
Music is another form of salvation. Robinson noticed the names of songwriters on record labels and admired Cole Porter and Irving Berlin.
"When somebody wrote a hit song back in those days, everybody sang that same song. It's not like nowadays - the artist is the focal point of music. Back then, the song was king," Robinson declared. "So I was always influenced by songwriters and songs."
Berry Gordy had written hits for Robinson's idol, Jackie Wilson. Gordy cut a single with Robinson and The Miracles, just as Robinson began junior college.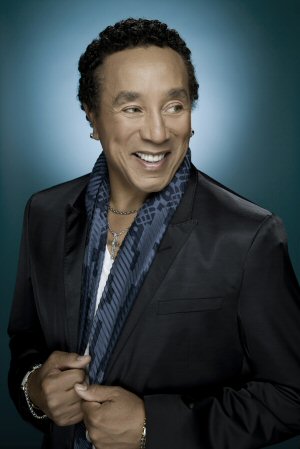 Photo Credit: Nick Spanos
"I went to college for about three months, before our record came on the radio. Then I quit. I didn't see it as a risk whatsoever. When you're 17, nothing seems like a risk.
"The only person I thought would think it was a risk was my dad, because it was his dream that I go to college. It was a rough thing for me to go tell him that I wanted to pursue music. But he surprised me. He said, 'You gotta live your life. I've already lived mine. You're only 17 years old. If this music thing fails, you've still got time to go back to school.'"
In addition to being one of Motown's first signings, Robinson served as the company's Vice President from 1960 to 1988.
"Berry borrowed some money from his family to start Motown. On the very first day of Motown, there were five people there - him and four others of us. He said, 'We're not only going to make black music, we're going to make music for everybody. We''re going to make music for the world. We're going to make music with a great beat and with great stories. And we're always going to make quality music.' That was his dream. That's what we set out to do. And, thank God, that's what we accomplished.
"Motown grew into something way, way, way beyond any of our wildest dreams on that first day. Berry and I talk about that all the time. None of us would have dared to envision what Motown has become. That would have been way too wild to imagine. Motown was a once-in-a-lifetime musical event.
"We wanted to make music that would stand the test of time. And that's what we did. And music that would break down all kinds of barriers - racial, intercontinental, all of that. And we did. We always had a very high standard."
Robinson wrote hits, such as "My Girl" and "Ain't That Peculiar," for other Motown stars, including Marvin Gaye, Mary Wells and the Temptations. He relished having a positive effect on his labelmates' careers.
"That gave me great joy, because we really were all brothers and sisters. We were competitively in love. You hear about the Motown family. That's not a myth. The artists, people on the company staff, the musicians - we didn't just work together, we hung out together socially. We had picnics and family outings with everybody."
As African-Americans in the '60s, the Motown artists faced discrimination. "This all happened during the height of the Civil Rights movement. While Dr. Martin Luther King was leading the movement, a great deal of Motown's growth was happening at the same time. We were involved in the sit-ins, being asked to leave restaurants, not being able to get into hotels. Being shot at, because we wanted to use the toilet. We were involved in all of that. We experienced all of that."
Again his faith bolstered him. "It's been what's helped me my entire life. I'm a very spiritual man. I'm not a religious man. But I'm spiritual. And I feel an enormous connection to God. Not a day goes by in my life when I don't talk with God. I know that we're not just flesh and blood and bone. We are spiritual creatures."
His spirit flows through the music. Though he has one of the most recognizable voices in history, Robinson doesn't consider himself to be a great singer.
"I just feel what I sing, man. Great singers are people like Aretha Franklin, Gladys Knight, Stevie Wonder and Marvin Gaye. But I can feel what I sing. I'm a feeler of song."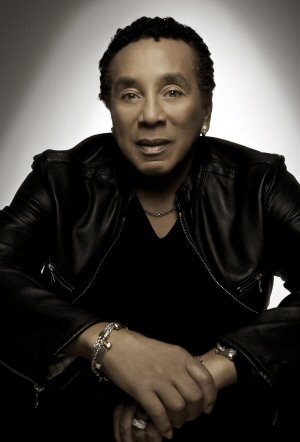 Photo Credit: Nick Spanos

An influence on countless contemporary artists, Robinson pays attention to today's music. "At any given moment, you will find everybody on my CD player, from Nelly to Montovani and everybody in between. You will find Muddy Waters and Alicia Keys, as well. The Temptations, Just everybody. I love music. Not only do I listen to everybody because I love music, but I listen to everybody because I'm in the music business and I have to be competitive. So I have to know what the others are doing, in order to stay competitive."

Robinson believes in music's potential to reach people. "The power of music, other than the power of love, is probably the greatest power that we have. It's the international language. You can go to countries where they don't even speak English and they know an English record verbatim."

He's already achieved so much, but Robinson still reaches towards new goals. "I would love to have a great role in a great movie. I don't mean a starring role or anything like that, just a great part in a great movie.

"I've scored a couple of plays for Broadway, but then something happened and they didn't get financed. I love doing stuff like that, also. I love doing scores. I actually scored the Temptations mini-series."

Robinson has been approached about doing an autobiographical Broadway saga along the lines of "Jersey Boys."

As solo artist and The Miracles' front man, he recorded 37 Top 40 hits for Motown. He has earned a Grammy Lifetime Achievement Award and a place in the Rock and Roll Hall of Fame. Yet Robinson sees his legacy in simple terms.

"I'd like to be remembered just as a positive person who had a positive influence on people's lives. When people tell me that my music has meant something in their lives, that's so rewarding, every time, no matter who it's coming from."