STEPHEN SCHWARTZ: A PRINCE AMONG COMPOSERS
The Academy Award and Grammy-winning Lyricist/Composer Talks With PCC About His Career, Writing Process, Collaborations and New Musical, "The Prince of Egypt"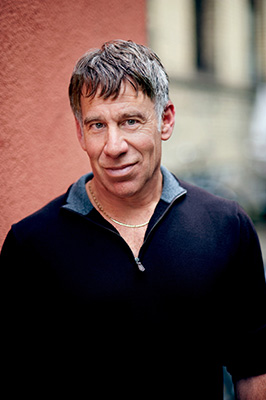 Stephen Schwartz provides the music and lyrics for the world premiere of the new musical The Prince of Egypt, presented by TheatreWorks Silicon Valley at the Mountain View Center for the Performing Arts, Oct. 6 - Nov. 5, 2017, Photo credit: Ralf Rühmeier

By Paul Freeman [September 2017 Interview]

When Stephen Schwartz is about to launch a new project, people's ears perk up. For more than 40 years, he has been writing unforgettable songs and helping to tell entertaining and meaningful stories.

And now he's about to unveil an exciting new musical — "The Prince of Egypt."

The lyricist/composer is an icon in the theatre world, having created such legendary shows as "Godspell," "Pippin" and "Wicked."

His theatre credits also include "Working," "Rags," "Children of Eden," "The Baker's Wife" and "The Magic Show." Each production etched its own distinctive identity. Schwartz also worked with Leonard Bernstein on Bernstein's "Mass."

Schwartz wrote the title song for the play "Butterflies Are Free." It was later used in the movie version, starring Goldie Hawn.

In film, Schwartz collaborated with fellow composer Alan Menken on Disney's "Enchanted." Three songs from that production were nominated for the Best Song Oscar. They also teamed on the animated movies "The Hunchback of Notre Dame" and "Pocahontas." For the latter, they received two Academy Awards — Best Original Score and Best Original Song — "Colors of the Wind."

Schwartz's numerous additional honors include four Grammys, four Drama Desk Awards and induction into the Songwriters Hall of Fame and the American Theater Hall of Fame. He received the 2015 Isabelle Stevenson Award, a special Tony Award for his commitment to serving artists and fostering new talent.

Now attention is focused on his latest production, "The Prince of Egypt."

It was a story told in the Book of Exodus. In the centuries since, it has been retold many times in many ways, including the 1958 film "The Ten Commandments."

In 1998, DreamWorks presented it from an entirely fresh perspective, in the animated musical drama "The Prince of Egypt." It featured songs by Schwartz and screenplay by Philip LaZebnik ("Pocahontas," "Mulan"). "When You Believe," from "The Prince of Egypt," won the Academy Award for Best Original Song.

Nearly 20 years later, the uplifting story is being transformed again, as Schwartz and LaZebnik adapt the film's magic into a lavish stage musical. TheatreWorks Silicon Valley will present the world premiere at the Mountain View Center for the Performing Arts, October 6 to November 5. Tickets are $40-$100; TheatreWorks.org; 650-463-1960.

LaZebnik relishes collaborating with Schwartz again. "In my estimation, Stephen is the best songwriter in the world. His inventive songs reveal intentions and thoughts and feelings better than any other songs in theatre that I can think of. In this musical, his music supports the characters' emotional, psychological journey to an amazing extent.

"And not only is he the consummate professional and knows everything there is to know about theater, but he is one of the best human beings I've ever met," LaZebnik says. "He's open to everyone, enthusiastic, always kind, always thinking of others. So every minute I get to spend with Stephen is just a sheer joy."

Audiences feel that way about every minute they spend immersing themselves in Schwartz's vibrant music.

POP CULTURE CLASSICS:
You have a long history with TheatreWorks. Did you find the company to be particularly nurturing, in terms of new projects?

STEPHEN SCHWARTZ:
Yeah. We go back a long ways. It's nice to be there again. And working on something new with them.

PCC:
Even when you were working on the film version of "Prince of Egypt," were you thinking that this might make an interesting stage musical, as well?

SCHWARTZ:
Really not at all. Back at that time, the 90s, when the film was first done, the sort of pioneering idea of Disney doing "Beauty and the Beast," etc., maybe it had happened by then, but we weren't really thinking of animated features going to stage. That's a relatively recent phenomenon. And we were just focusing on trying to make the best animated movie that we could.

PCC:
And when the opportunity arose, did it seem like a natural fit?

SCHWARTZ:
Well, actually, what happened is that over the years, DreamWorks — it's now a Universal project, but it began under DreamWorks auspices — anyway, they were approached very frequently, several times a year, by people looking to produce a stage adaptation of "Prince of Egypt." And, in fact, I had even seen an illegal one [laughs] — because there was no legal way to do that — in Sweden, of all places, in the early 2000s. And I mentioned it to DreamWorks. So I think pressure to do this built over time. That's how this started.

PCC:
Obviously there are things you can do in animation that can't be done on stage, but conversely, does stage allow you develop intriguing aspects of the story in ways that an animated film would not?

SCHWARTZ:
Sure. Definitely. Animation is a sort of particular thing. It's short, for one thing. There are consequently far less songs. And doing something for stage gives you a broader audience to work for. And you can go into a lot more character development and nuance. And really more depth in the story. So it's been great to be able to get into it in a deeper way than we could in the animated film.

PCC:
When you began with the movie, was part of the challenge to come up with a fresh take with such a familiar story?

SCHWARTZ:
Definitely. From the very beginning, and I was approached right when DreamWorks Animation was formed. And actually my first meeting about the idea of doing the movie was with the three founders of DreamWorks — Jeffrey Katzenberg, David Geffen and Steven Spielberg. And they told me that their first animation was going to be based on the Moses story. They said, "But we're calling it 'The Prince of Egypt.' First of all, we're interested in the relationship between the two brothers, between Moses and Ramses. And secondly we want to have it be more of a human story" — which sounds like a surprising thing to say about animation [laughs] — "more than just a biblical pageant." So the idea of having a fresh point of view, more than had perhaps been done, or different than had been done in other films, such as "The 10 Commandments," was present from the initial discussions about the animated feature.

PCC:
From your perspective, what makes the story so relevant today?

SCHWARTZ:
Well, I think there's always relevance when you deal with people set against events that are somewhat out of their control and where there are conflicting destinies and conflicting ideologies. And how do you negotiate that in a way that isn't completely destructive in the story that we're telling [laughs], extremely destructive? But particularly the way we are looking at the story in the stage adaptation, how do individual decisions, based on sort of predetermined ideology and feelings of destiny have these sort of large repercussions? And how do you stop an endless wave of destruction from going on? That I think is maybe the big issue.

But really, what I want to emphasize again is that we're not trying to deal with the story with major social point of view, etc., but much more from the point of view of it as a human story and people caught up in big events, human people caught up in large-scale events.

SCHWARTZ:
And is part of the process now to create new songs that all seamlessly blend in with the songs from the film?

PCC:
Sure. Animated features, sort of by definition, by the way they are constructed, have relatively few songs in them. I think the original "Prince of Egypt" has five or six. And so I wound up writing 12 new songs for the stage adaptation. And some of the songs from the movie occur pretty much exactly as they do in the film. But some of them also have been adapted and/or expanded.

PCC:
Beyond the songs, the rest of the music in the show, are you writing a new score?

SCHWARTZ:
Well, sure. There is underscoring and incidental music. There are some sequences that are told through choreography and, for the most part, that scoring is all new. And often based not just on the thematic material from the movie, but thematic material from the new songs, as well.

PCC:
And so, it sounds like the show gives you a great opportunity for a lot of variety, stylistically and in terms of the mood.

SCHWARTZ:
Yes and no. The movie has a very strong stylistic identity musically. I did a lot of research before writing the songs for the movie and listened to what could be found of ancient Egyptian court music and both historical and contemporary and tried to base a lot of the sound of the score on that. And that has remained true for the stage adaptation, as well.

You used the word before, when you talked about the new songs, about them working seamlessly with the original songs. And that has been the goal. And therefore, the musical style of the original, we're attempting to carry through. That being said, there's not going to be a 90-piece orchestra [laughs], as there was for the original. One of the very interesting things that we're trying musically with the stage adaptation is to use either real or sampled authentic kind of ethnic instruments of the area to convey that flavor, as well. So it will be a smaller, obviously, band and also maybe more colorful, in terms of the instrumentation.

PCC:
You've worked with Philip LaZebnik before. For you, in general, what's the collaboration like between composer/lyricist and the book writer?

SCHWARTZ:
Well, Philip and I know each other very well. First of all, we know each other from not only the original film of "Prince of Egypt," but Philip was also one of the screenwriters of "Pocahontas." So we go way back to then. And then Philip — who now makes his home in Denmark — and I worked on a show in Denmark in 2005 about Hans Christian Andersen. So we've had a lot of experience as the book writer and songwriter. And consequently, it's a very easy collaboration.

For both of us, we start out by trying to get the story right and talk a lot about who the characters are. Philip, as the book writer, leads the way a lot, in terms of how the characters express themselves. And then the score is meant to be part of the storytelling. It's been helpful that Philip, because he was one of the writers of the original movie, was privy to and had done a great deal of research then. So he not only knew the story, obviously, but he knew a lot about the culture of ancient Egypt, etc.

PCC:
And just generally, as a songwriter, do you think of yourself primarily as a storyteller?

SCHWARTZ:
I do. I think that's the job of being a songwriter for musical theatre. Everything is in service of the story and the characters and the dramatic content. So definitely I think of it that way.

PCC:
And you're working with your son again, who's directing [Scott Schwartz is the director of the TheatreWorks production of "The Prince of Egypt"]?

SCHWARTZ:
Yeah, which is always great. He did an amazing job, when we worked on "Hunchback of Notre Dame." So he is very smart, not just as a stager, but he is very strong dramaturgically. So his input there has been very contributive also.

PCC:
Working on the animated features, has it been especially gratifying, reaching an audience whose musical tastes are just being shaped, who maybe become interested in Broadway because they enjoy the songs in "Pocahontas" of "Prince of Egypt" or "Hunchback"?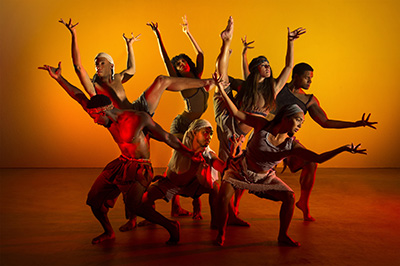 Members of the ensemble create the sacred burning bush in the world premiere of The Prince of Egypt, a new musical by Stephen Schwartz (music/lyrics) and Philip LaZebnik (book), presented by TheatreWorks Silicon Valley at the Mountain View Center for the Performing Arts, Oct. 6 - Nov. 5, 2017 Photo credit: Kevin Berne
SCHWARTZ:
Yeah, absolutely. Many people have told me that their first exposure to the concept of musical theatre was through animation. Of course, that has been a big achievement of Disney, particularly the sort of New Age of Disney animation, the Alan Menken era, if you will, that I was involved with, which also included "Lion King." But now again, where you have new animated features from Disney such as "Frozen" and "Tangled," which are musicals, and "Moana," and the way they're reaching another audience, it's great, if you like musical theatre, as I do.
PCC:
So you grew up with musical theatre? Was that always the inspiration for you?
SCHWARTZ:
Yeah, I did. I grew up on Long Island, relatively close to New York City. And my parents, although neither of them was remotely in the arts, were theatergoers and so they took me to see shows when I was young and I fell under the spell of musical theatre. And so, as someone who was oriented towards looking for a career in music, I think that's why I gravitated towards musical theatre.
PCC:
And who were some of the songwriters who inspired you, early on?
SCHWARTZ:
Well, it's a long and very, very varied list. When I was a kid, going to see musicals, I was seeing classic musicals, some of them in revival form, but shows by Lerner and Loewe, Rodgers and Hammerstein, and Bock-Harnick, Jule Styne, certainly, and so I would say they were very influential on me.
But meanwhile, just in terms of what I was listening to, early pop singer-songwriters. First sort of folk music, the folk music of the 60s and then the singer-songwriters were what I listened to. So I think that also figured into how I liked to hear music. And then I was classically trained. So a bunch of classical composers also entered into the style. So it was a big amalgamation. I never had one particular writer that I thought, "Oh, I want to write like him or her or them." It was a whole bunch of influences.
PCC:
So the process of finding your own style, can that be something you work towards or must it be an unconscious evolution?
SCHWARTZ:
I think it's definitely an unconscious evolution. People tell me, "Oh, I heard something and it seemed very much in your style." Or "Such-and-such a writer seems to be working a lot in your style." But I don't hear my own work that my. I mean, I hear my work as I said, as sort of a compendium of all the music that's influenced me over the years, kind of a conglomeration. And I guess it comes out in a particular style. But that's not something that I have real conscious control over.
PCC:
When you first started to write, did you worry about whether a song sounded like anything else you might have heard before? Did you torture yourself that way?
SCHWARTZ:
Well, I didn't torture myself, but I did worry about that. And frankly, I still do [chuckles]. A lot of times, if I write something, I think, "Wait a minute, does this sound like something else?" And I'll play it for a couple people and say, "You have to tell me if I've stolen this from something and I'm just unaware of it." Yeah, so I think all writers have that in the back of their heads a little bit.
PCC:
At some point, does the worry become more about repeating yourself?
SCHWARTZ:
Well, that I think you can be more conscious of. That, I think I can be aware of and kind of edit out, realize, "Oh, wait a minute, I'm doing something too much like something I've done before. So let me go another way." The other thing is, on each specific project, one of the things that helps — going back to an earlier question — is to think of yourself as a storyteller primarily, because that means each of the individual shows is going to have its own character and it's going to have its own sort of milieu, so that clearly something that sounds like it belongs in the world of "Prince of Egypt" is not going to fit in the world of "Wicked," for instance, or "Pippin" or whatever. Each of those has its own world and each of those has its own particular characters the stories are telling.
PCC:
When writing, is the process methodical? Or do you try to let the muse carry you, allow the music to flow through you onto the page?
SCHWARTZ:
It's sort of a combination of both. I think, if you're going to be a professional writer, especially a professional musical theatre writer or movie writer where deadlines are very significant, one has to develop a kind of strong professional discipline as to when you write and meeting deadlines, etc. That being said, you're always trying to reach a point where inspiration takes over. And I think I'm not alone. I think almost all writers would tell you that the process of writing is quite mysterious. We don't really know where it comes from or how we do it. We just know how to put ourselves in the position for it to happen.
PCC:
And when it happens, does there tend to be a pattern, in terms of a title or a hook or a snippet of melody being the jumping off point?
SCHWARTZ:
Yeah, definitely. I tend to start with the title. Starting with the title for me is helpful for me, because it defines the structure of the song. Sometimes it takes me a while to get to the title in terms of thinking about what is the storytelling job of a particular song. Sometimes I have to scrawl a whole bunch of like notes for myself, both musical notes and notes about the song. And then the idea for the song and a title will clarify. And then things can flow from there.
But songs don't, for me, except very, very rarely, come out fully written. I'll get a portion of a song, generally coming from a title, maybe the beginning or where it will wind up or a chorus or something. And then it will coalesce from there. And the process of writing each song is almost always over the course of several days, almost never just one burst of a writing session, at least for my process.
PCC:
So early in your career, to have such tremendous success with "Godspell" and then to follow that with by two other successful shows, were you ready for that? Were any aspects of the success difficult to deal with?
SCHWARTZ:
I wasn't at all ready for it [laughs]. And there were many aspects of the success that were difficult to deal with, in terms of how I related to the world, how I related to collaborators, etc. But I also feel as if complaining about success — that's not a problem that people particularly want to hear about. But the truth is that early success can be challenging and it takes a while to learn how to deal with that and how to become a professional. I felt like that's what I needed to learn. And I had a lot of success as somebody who was still basically an amateur. I was having a lot of success in a very public way.
PCC:
And "Godspell," the Toronto production had such an amazing cast [including Gilda Radner, Victor Garber, Martin Short, Eugene Levy, Andrea Martin, plus musical director Paul Shaffer]. Was it eye-popping when you first saw it?
SCHWARTZ:
Many of the "Godspell" casts were — and this continues even to this day with the major productions of "Godspell" — because the cast is so young, you're very often getting people who are doing their first major role. And you're getting very talented people in most instances. You're drawing from the most talented people in a particular area. And therefore many of them go on to big careers. So a lot of careers have been launched through "Godspell." And also, because the demands of doing "Godspell" requires skill in improvisational comedy and that kind of creativity, a lot of people who then got to be known as comedians came out of doing "Godspell."
But you're right. The Toronto company particularly was the center of a lot of talent that became very well known later on. For some reason, Canadians are really funny. There's a radio station that I often listen to, when I'm driving home late at night. It's called "Canada Laughs." And it's basically little excerpts of standup comedy by various comedians. And, for whatever reason, in my opinion anyway, they're way funnier than the similar American stations. Every now and then I try to listen to the American comedy stations and I just don't find them funny at all. And the Canadian comedians are so funny. I don't know why that's true. But anyway, the original Toronto cast of "Godspell" included an enormous amount of very, very funny people.
PCC:
"Godspell" certainly turned out to be a timeless show. And much of your work has proven to be timeless. Is that something you can aim towards? Or not really?
SCHWARTZ:
Not really. I'm attracted… well, it's silly to talk about being attracted to subject matter when I talk about "Godspell," because that is something that I was offered in the very beginning of my career, when essentially, I would have said yes to any job whatsoever [laughs]. But over time — I think "Prince of Egypt" is a good example — I tend to be attracted to looking afresh at familiar stories or familiar characters. So the subject matter frequently has a timeless quality to it. But I'm not doing that because I think, "Oh, here's something that won't date." It's just that those tend to be the kinds of stories I'm interested in.
PCC:
But it's also your music that doesn't date, that has that timeless quality.
SCHWARTZ:
Oh, thank you for saying that. I appreciate that. Again, it's hard to look at one's own work from the outside in. But I guess what I'm trying to do, again, is music that illuminates the characters and is true to their emotional experience. And so maybe, to the extent that I'm successful at embodying those emotional experiences, maybe there's a timelessness to that. But yeah, I'm not sitting around aiming to sound timeless, frankly.
PCC:
After "Godspell," it must have been validating to come up with another hit right away, in "Pippin," demonstrating that the first success wasn't a fluke.
SCHWARTZ:
Yeah, that definitely was the case. On the other hand, most careers, no matter how successful, have their ups and downs. And I launched very quickly. I got off to a very quick start, but then had a long period of time where shows that I was working on were not successful, or at least were not initially successful, only became successful in later versions.
You asked me earlier about dealing with early success. That was challenging. And then I had to learn how one deals with failure. And that was also, obviously, very challenging. When you're a professional writer or actor or director or anything in an art form that's actually a commercial art form, you have a lot of ups and downs and you have to learn how to get through those and not let either the too-high-ups or the too-down-downs get in the way of continuing to work.
PCC:
"Pippin" seems to continue to find new life. Is there still talk of a feature film version?
SCHWARTZ:
There is, actually. I've always felt that "Pippin," because of its interesting setting and because of the fantastical nature of some of the story, would make a good musical film. But there's been talk about it for a long time and no one's really solved it yet. But I remain hopeful that that may happen.
PCC:
It could expand on what was done in the TV-movie, I guess.
SCHWARTZ:
Oh, for sure. Oh, yeah, I think it would be very different. I've always seen it in a sort of Fellini way, where you're not quite sure what's real and what's not. And that kind of thing, I think lends itself very well to film. But "Pippin" is not a linear story. And linear stories tend to work better on film. You can do things in a more non-linear way on stage. But movies, you tend to want a pretty strong throughline of the story. And I think solving that is one of the challenges for a movie of "Pippin."
PCC:
In the stage production, what was your working relationship like with Bob Fosse?
SCHWARTZ:
Well, I did not have a very easy time with Bob Fosse. I don't think it's a secret that many writers found him very difficult. But ultimately, I've come to realize that the conflict and tension that existed between Bob and myself, I think actually made for a better show, because neither of us got our way entirely. And I think the sort of inner tension in the show between the character of Pippin and the character of the Leading Player, etc., was stronger because it reflected in many ways the tension between Bob and myself.
PCC:
And what was the relationship with Leonard Bernstein? Was it intimidating working with him?
SCHWARTZ:
He was probably the most influential… If I could choose one person who came close to being a mentor for me, that's who it would be. Even though I worked with him a relatively short time, I learned so much from him, not just about music and about the approach to composing, but just also seeing how he existed in the world, how he treated other people, the pressures that he was subject to and how they affected him. I learned an enormous amount from him. And personally, I found him one of the most generous people, in terms of how he dealt with others, that I've ever encountered in my life.
PCC:
What did you learn from him in terms of the music and the composing?
SCHWARTZ:
Well, a bunch of things. First of all his musical style has always been pretty influential on me. And how he dealt with — it's a little hard to talk about not technically — but how he dealt with melody, how he approached harmony and dissonance. And dissonance in a way that is both exciting, too, but also pleasant to the ear. Just things about his music, and sort of living within it, resonated with me and therefore found there way into my own writing.
One of the things I really admired about him — again this was kind of technical — but Lenny did a lot of shifting time signatures. He didn't just write a piece and it was like, "Okay this is in four." Or "This is in three." There was a lot of rhythmic excitement in his music that I liked and I think maybe I assimilated some of that.
PCC:
And working with Alan Menken on a couple of projects, was that a happy collaboration?
SCHWARTZ:
Yes, it's been a very happy collaboration. And Alan and I are good friends. We actually live quite near each other and see each other socially and we play tennis together on occasion, etc. And so we always have a very good time, when we get to work together. We did so fairly recently with a stage adaptation of "Hunchback of Notre Dame" and, with any luck, we'll have another occasion to do so.
PCC:
Going back and forth, working in different media, does the basic writing approach change?
SCHWARTZ:
Not really. No. Because it's always — again to go back to what you said earlier — it's always based on storytelling and coming out of character and the need of a specific moment in a story. And so it tends to be the same job, whether it's for live stage or a live-action film or an animated feature or television.
That being said, I think one always has to have an awareness of the medium and there are certain kinds of songs that will work very well on stage that won't work so well on film… and vice versa. I think, if you're doing something for film, you have to realize that the camera has to be in motion in some way. You can't just have someone stop and sing for three-and-a-half minutes, whereas, on stage, that's often the most effective thing. Often the most effective thing in a musical is the lead character standing by him or herself in the middle of the stage and just singing.
PCC:
And going from stage to screen with "Wicked," what's the status of that project now?
SCHWARTZ:
We are in the process of writing the film. There's a first draft of the screenplay that we're all pretty happy with. And we'll see how it develops from there, but that's sort of in process.
PCC:
Why do you think audiences remain so enchanted by that show?
SCHWARTZ:
I think it's two things. And obviously I and all of us working on the show have given it a lot of thought. First of all, I think most people tend to identify in some way with the leading character who feels like an outsider and is trying to figure out how to fit into the world and how much of her own self, her soul and her own ideals to give up in order to fit in… and when that stops being worth it. And I think a lot of people, particularly young people, struggle with that.
And then I think the central relationship between the two women, between Glinda and Elphaba, which is a very complicated friendship, speaks to a lot of people, about relationships in their own lives either with friends or with family members.
PCC:
And the fact that there's this huge anticipation for the film version, and there has been for so long, does that make it daunting?
SCHWARTZ:
I don't find it so. I think it's exciting. I think it's a great opportunity. I'm very excited about the ideas that are being developed for the movie. I mean, as you said a bit ago, there are things that one can do on film that you can't do on stage, obviously. And so there are a lot of things we can do in the movie of "Wicked" that we were not able to do in the stage show.
There are aspects of adapting it from the stage to the film that are challenging — I already mentioned some of the songs are very theatrical in their nature and how those can be interpreted cinematically is going to be a bit of a challenge. And not just for us as writers, but for Stephen Daldry as the director. But on the other hand, there are ideas we always wanted to try in the show, that we simply weren't able to, because of the theatre, that we will be able to explore in the movie.
PCC:
When you first heard of the concept for "Wicked," did you know immediately it could be a sensation?
SCHWARTZ:
Absolutely. Yes, that was one of the luckiest days of my life. Very randomly, I was with a group of friends. We were actually on a snorkeling trip. And one of my friends mentioned that she was reading this book called "Wicked." And she just said, "I'm reading this really interesting book. It's called 'Wicked.' And it's kind of the 'Oz' story from the Wicked Witch's point of view."
And that was like a bolt from the blue for me. As soon as I heard that, I thought, "Well, this a great idea for a musical — and for me, with the kind of themes I like to deal with, the kinds of ideas I like, the kind of show I like to do. So I set about, more or less instantly, trying to get the rights. So yeah, I sort blundered into that moment, when someone mentioned the title of that book and the idea of the book. And I was lucky then to be able to ultimately persuade Marc Platt and Universal to let me, along with other collaborators, turn it into a piece of musical theatre.
PCC:
The woman who turned you on to that book, was she involved in theatre?
SCHWARTZ:
She's actually a well known folk singer. Her name is Holy Near. I've known Holly for a long time, through a musician, a piano player, an accompanist named John Bucchino, who's one of my closest friends. And actually I had seen a concert that Holly had done the night before we all went snorkeling, that John was playing for. And then it was the day after, when we were out on a boat, that Holly happened to mention the idea of "Wicked." And I've thanked her publicly many times [laughs].
PCC:
So you've been so prolific and written so much great music, do you ever worry that the well might run dry?
SCHWARTZ:
I don't, really. I hope that doesn't sound arrogant or overconfident. Again I go back to the insight you had earlier in our conversation about the idea of thinking of myself as a storyteller. I think, because there are always good stories to tell and there are characters and there are ideas that are exciting to me, I feel like there's an endless source of inspiration.
I could see it being much more challenging if I was a composer who was writing symphonies or non-programmatic, if you will, music. But when you're just trying to get lost in a story, and internalize the characters and the emotions, and then have them express themselves in the music and lyrics, there's just an endless source of inspiration there.
PCC:
With so much of your music so prominent in the public consciousness, is there one piece or one show, that's less well known, that you wish would be discovered or rediscovered?
SCHWARTZ:
Well, sure [laughs]. All the things that are less well known, I wish would be better known. I don't know that this piece is less well known, because it gets done so frequently and people talk to me about it all the time, but I do have a particularly strong feeling about my show "Children of Eden" and it always makes me happy, when someone comes up to me and says, "Oh, I was in a production of 'Children of Eden'" or "That's the show of yours that really meant the most to me" — or whatever. So I guess I do have just a little bit of a soft spot for that particular show.
PCC:
Are there other shows in the works now?
SCHWARTZ:
Yes, there are always plenty of projects in the works, but right now, in addition to "Prince of Egypt" happening, sort of simultaneously, which is a bit of a challenge from a logistical point of view, there is an extremely revised production of a show for which I wrote lyrics in the 80s, called "Rags," that's happening at a regional theatre here in Connecticut. So I'm working on that right now. So between that and "Prince of Egypt," that's sort of the present. And then there are some film projects and at least a couple of them look likely to happen next year. And I'm not really at liberty to talk about them further. But it looks more like a movie-oriented year to me than a stage-oriented one.
PCC:
I had read something at one point about a Bollywood-style project you might be tackling?
SCHWARTZ:
Yeah, that is an animated feature that is in development and we'll see. Sometimes — a lot of times, really, as people probably know — there projects in development and then they don't come into fruition in one way or another. And that's why I think writers tend to be loathe to talk about what's coming down the pike unless you absolutely know that the production is planned. But there is an animated feature that I'm working on that is set in India and that would use kind of Bollywood-style music and approach to the story, that I hope does happen, because I like Bollywood. I like that sound. And I find Bollywood movies fun. And so I think that's a good idea for animation and I hope it comes to fruition.
PCC:
Winning the Oscars — is that a dream fulfillment moment? Is it surreal when something like that happens?
SCHWARTZ:
[Laughs] I've found a lot of times in our conversation, you have correctly answered your own questions. Yes, it's very surreal. And the outer world or the external world or whatever — and I understand why that happens — tends to put a lot of stock in "Academy Award winner" or "Tony Award winner" or "Grammy Award winner" or whatever. But as a writer, I don't put a whole lot of stock in that.
There's so much politics involved in awards. There's so much luck and randomness. I feel like a lot of times, the best work is not the work that you win awards for. And yeah, I'm not a big fan of the awards. I know that they help to bring attention both to the shows and movies that win themselves and they help to bring attention to writers who win. But I don't actually feel they're incredibly meaningful and I know a lot of great writers and a lot of great works that didn't win awards. And I know a lot of things — not talking about my own shows or movies, about which I can't be particularly objective — but I know a lot of other things I've seen that have won awards that I don't necessarily think are the most deserving. So I don't put a huge amount of stock in them.
PCC:
So that being the case, is it more meaningful to you, being honored by peers with something like the ASCAP Founders Award or induction into the Songwriters Hall of Fame?
SCHWARTZ:
Sure. And also because it's long term. And it's about a body of work. It's about the work one has done over time. And that that has spoken to people and had some kind of impact, I find that much more fulfilling and meaningful to me than winning an award for a particular song or a particular work.
PCC:
So at this point in time, what do you find to be the most rewarding and the most challenging aspects of life as a composer?
SCHWARTZ:
You know, I really like what I do. I find it enjoyable and fulfilling and challenging, in a positive way. It's exciting to me. Each new project comes with its own set of possibilities and challenges. And so it makes each day exciting and something I look forward to.
And that doesn't mean it's always fun. I certainly don't mean to imply that. But I feel really lucky to be able to make a living in this career. I would be doing it as a hobby for free. If I had to have an actual job to support myself, I would still be trying to find time to be a writer and composer because it is the thing that I love. It's the thing I'm passionate about. And the fact that I actually get to do this for a living is amazing to me.
PCC:
With all you've accomplished, are these dreams yet to be fulfilled?
SCHWARTZ:
Of course. There are genres that I'm excited about. It doesn't mean that I don't want to continue to do shows and animation. But a while ago, I did an opera, which was very challenging. But that was very interesting to me. I'm interested in doing live-action, as opposed to animated movie musicals, that are originals, rather than adaptations. I've been talking to a friend of mine who's a choreographer about developing a dance piece.
So working in different genres is interesting to me. But again, I go back to something you and I talked about before — because I'm essentially interested in storytelling, it's the new stories to be told that is most exciting to me, more than the specific medium in which that would be told.
PCC:
It sounds like you always enjoy challenging yourself.
SCHWARTZ:
Yeah, well I think everybody does. I read a book a long time ago. I'm a tennis freak. I read this book called "The Inner Game of Tennis," which is maybe the most significant book I've ever read in my life [laughs]. And one of the things that the writer, Tim Gallwey, was talking about was coming up against an opponent that's better than you or when you have a challenging day and to see that as an opportunity and a privilege, rather than something that you feel negatively about.
And he pointed out something that I found very interesting. He said, "Look, people who are skiers, they are not looking for the easiest hill to ski. And people who are surfers are not looking for the smallest waves. People like to challenge themselves. And so one should always see competition in that light — I'm speaking about sports competition. But I think that applies to everything in life.
Obviously musical theatre is not a competition. It's an exciting collaboration. But the challenge of trying to do something better each time and to solve something in a different way or in a more completely satisfying way, that remains a goal that can never be achieved and therefore, each time it's exciting to see how close you can get.
PCC:
And do you think about legacy, what you hope that might be?
SCHWARTZ:
I don't really think about that. This is a slightly different quotation, but Stephen Sondheim famously wrote in "Sunday in the Park with George" — "Stop worrying if your vision is new. Let others make that decision. They usually do." I think legacy is something that other people will decide about. I think you can never know if something you've done will be remembered or completely forgotten or come back into fashion or go hopelessly out of style never to return.
I don't think we can worry about things like that. All we can do is do the best work we can that is challenging and exciting to us and then let others decide how good they think it is or how long a life it will have.
PCC:
Well, you've certainly created an amazing body of work already and it sounds like there are many exciting new projects on the horizon.
SCHWARTZ:
Thank you for saying so. I appreciate that.
PCC:
And we'll look forward to the unveiling of "The Prince of Egypt."
SCHWARTZ:
Thank you. This is the very first production out of the gate. So it is, by definition, a developmental production. We'll learn a lot from it, obviously. But TheatreWorks is a great place to do something like that. Their audiences are accustomed to projects in development and I feel they have a smart and discerning audience. And being able to see what we have so far in front of this audience and what we will learn from our interaction with them is a really exciting first prospect for us with this show.
PCC:
I guess when you're involved with theatre, you must have great patience.
SCHWARTZ:
Oh, yeah. That's built in. If you're impatient, you shouldn't be in theatre, certainly shouldn't be in musical theatre. Everything takes a long time. But I actually enjoy the process very much. I enjoy learning from each step along the way and figuring out how one can then make it better. And the interaction, as I say, with the audience, and what one learns from them — I find that endlessly interesting. So I always enjoy it.
For more on this artist, visit www.stephenschwartz.com.