STEVE CROPPER: GUITARIST ROYALE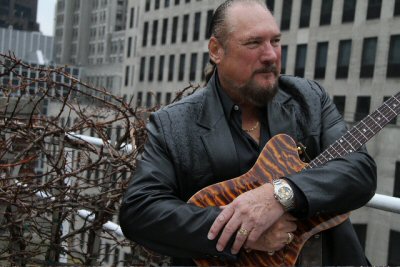 credit: Dave Kogut
By Paul Freeman [August 2011 Interview]
They should erect a statue of Steve Cropper in Memphis. The guitarist, songwriter, producer, engineer and A&R exec who helped build the Stax label into a legendary powerhouse, has been honored with induction into numerous halls of fame, including those for Soul Music and Rock and Roll.
A founding member of both The Mar-Keys and Booker T. and the MG's, Cropper co-wrote such iconic hits as "(Sittin' On) The Dock of the Bay," "Knock on Wood" and "In The Midnight Hour."
On guitar, Cropper eschews razzle-dazzle, preferring to deliver subtler, but always incredibly fluid, tasty licks that indelibly etch themselves into the public consciousness.
He has been reluctant to record solo albums. But when producer Jon Tiven [WIlson Pickett, Frank Black, P.F. Sloan] approached Cropper with the idea of paying tribute to the songs of The 5 Royales, the guitar great leapt at the opportunity. Tiven had previously co-produced "Nudge It Up A Notch," Cropper's dynamic collaboration with The Rascals' Felix Cavaliere.
The new Cropper album, "Dedicated" pays homage to such 5 Royales classics as "Think," "Right Around The Corner," "Someone Made You For Me," "My Sugar Sugar" and "Dedicated to the One I Love."
Among guest vocalists helping Cropper breathe new life into the numbers are Lucinda Williams, John Popper, Steve Winwood, Delbert McClinton, Buddy Miller, Sharon Jones and Bettye LaVette. B.B. King lends his potent presence to the "Baby Don't Do It" track. And Queen guitarist Brian May plays on "I Do."
As a child in Missouri, Cropper was surrounded by country music. His family moved to Memphis when he was 10 and there he discovered gospel. R&B and early rock 'n' roll also fascinated him.
He fooled with his uncle's guitar until getting his own Sears mail order guitar when he was 14. Later came his pride and joy, a Fender Esquire he painted candy apple red.
Cropper soon established himself as a top studio musician. And he helped form The Mar-Keys, who had a hit with the twist instrumental "Last Night."
He felt at home at Stax, where he involved himself in all aspects of the record company. His distinctive playing enhanced the label's hits immeasurably. He was a driving force with the house band, Booker T. and the MG's.
As unusual as an interracial band was in the South during that era, it seemed perfectly natural to The MG's. As Cropper says, "There was no color in the studio."
As a producer, Cropper, teamed with engineer Ron Capone, eagerly experimented. They hung microphones to the bottom of drums, twirled mics like whirlybirds for effect, and hooked Cropper's guitar into the Hammond organ's Leslie speaker.
As a songwriter, Cropper had a knack for taking an idea and finding the perfect riff or lyric or bridge that would turn it into a hit.
When Stax was swallowed up by a big corporation, Cropper moved on, producing and/or playing guitar for such artists as Rod Stewart, Paul Simon, Buddy Guy, Elton John, Johnny Lang, Joe Louis Walker, Tower of Power, Jeff Beck and Ringo Starr. He also won fame as one of The Blues Brothers.
Cropper, 69, his wife and two children live in Nashville. And the records he made half a century ago in Memphis continue to make audiences grin, sing and dance.
It was a pleasure for Pop Culture Classics to have an opportunity to chat with the colossal Mr. Cropper, who's as quick with a quip as he is with a righteous riff.
POP CULTURE CLASSICS:
Congratulations on the new album. It's fabulous. it's great to hear the depth of the Five Royales' material.
STEVE CROPPER:
Oh, they're awesome.
PCC:
For you, what was the unique magic of that group?
CROPPER:
Well, it basically started with the leader, Lowman [Pauling]. And how this all started out, I didn't have a dream in the middle of the night. I was sitting here and I get a call from Jon Tiven. He lives here in Nashville and we'd been working a lot together, writing together. We worked on two Felix Cavaliere records and some other stuff. And he called me and he said, 'I've asked you this a few times. I know that you do not want to make another solo record, another Steve Cropper record. But what would you think about doing a record and dedicating it to The 5 Royales and doing all of their songs? And I went, 'Wow! Why didn't I think of that?' [Laughs]
One of the questions they always ask you, when you're a guitar player, 'Who were your main influences?' Lowman is right at the top of the list, along with Bo Diddley, Chuck Berry, and B.B. King.
PCC:
Why is he at the top of your list?
CROPPER:
Well, One reason why, the first time I heard him, I really enjoyed the style. I enjoyed the songs. When I was growing up, in high school and all, they didn't play the whole gamut of The 5 Royales' catalogue. There were certain songs that were played on the radio. One of them mainly was, 'Dedicated To The One I Love.' And then the other two, that we used to play in the Mar-Keys band was the song 'Think' and another song 'Say It' And I've spoken to Duck to see if he remembered if we had actually tried any of the others, like 'Thirty-Second Lover,' 'Right Around The Corner' or 'Someone Made You For Me.' And both of us don't recall that. But both of us got to see The 5 Royales live, so maybe that was our biggest influences.
PCC:
In terms of the concept, was the idea to pay tribute to The Five Royales, but to put your own stamp on each of the tunes?
CROPPER:
Well, I think a combination of both, We pride ourselves in being able to pick out and use the right melodies that created the stuff in the first place. And then, yes, sort of put our own thing to it. It was Jon Tiven's idea right off the bat, he said, 'You know, you don't have to sing on this stuff.' Because it was mostly vocal songs. I've never looked at myself as a singer. And he said, 'We'll get some guest artists to come in and sing on it.' And I said, 'Well you know, I'm not really good at asking people to do stuff. You'll have to make the calls.' He said, 'I've got it. Don't worry about it. I'll make the calls.'
The other thing was, I said, 'Do you think we can get a record company involved in this? Because I'm not really ready to finance another record right now.' And he said, 'Hey, I'll make that call, too.' And he called me back shortly and said, 'We got it. We got a budget. They're on top of it. They really want you to make this record.' I said, 'Okay, let's go for it.'
PCC:
You must have been really happy with the vocalists he rounded up.
CROPPER:
Oh, boy, are you kidding me? It was unbelievable! We started out and he said, 'Do you have their stuff?' I said, 'Well, I know I've got a vinyl from King Records that has 16 tracks, 'Best of The 5 Royales, is what it's called.' He said, 'Well, look, I've got everything. Why don't you come over to the house and I'll make you copies and give you a couple of CDs with all of their material that was ever released.'
So I went over there and got it. He said, 'Tell you what you do. Why don't you go home and listen to this and mark down the ones that you definitely would like to do, a wish list. And if you hear somebody's voice, a singer singing this, just jot that down, too.
And we got back together a few days later, compared our notes and lo and behold, we'd almost unanimously, picked out two or three of the same singers. It was really funny. Definitely Steve Winwood on 'Thirty-Second Lover' and the other one would be Delbert McClinton on 'Right Around The Corner.' I could just, in my head, hear Delbert singing that song. And it worked.
PCC:
It was also a great idea to have Brian May come on board.
CROPPER:
Yeah, I've got to credit that to Tiven. He suggested that and I went, 'Wow, do we want to go that pop with this thing?' And he said, 'No, trust me. This will be really good. Brian is a big fan of yours. He loves Stax and R&B. And let's let him have a shot at this.' So we sent him a track and he did it over in England. At his studio.
PCC:
You mentioned that Jon said he knew you didn't want to do another solo album. Why did you not?
CROPPER:
I've shied away from that for years. I'm not bragging about this, I've had many, many offers of all sorts of things, the label, the money, the this, the that, the budget and so forth to do something. Several people, I won't say any names, have come up with the same idea, said, 'You know, Cropper, you need to make a solo album and bring in some guest players and that sort of thing.' So they were really looking at it more of an instrumental idea, being a guitar player and so forth. And I just sort of said, 'Well, if I get the urge and I feel like doing it, maybe that would be fine.' And I would love to play with the other musicians. But when Tiven came up with the idea, let's do vocal songs and come up with different singers to sing these great 5 Royales songs, that, to me, was just a better idea, right off the bat.
PCC:
Going back to your roots, as a child in Missouri, was country the main thing you were hearing?
CROPPER:
Oh, yeah. I mean it was always on the radio, except for 'How Much Is That Doggie In The Window' or something like that. 'Hey There, What's Behind The Green Door.' [Laughs] Or some classical station. I used to listen to some of that. But, yeah, we grew up on the songs coming out of Springfield, Missouri. Used to listen to that. And they had a lot of programs up there much like Grand Ole Opry, not as big, but like that. And we used to listen to a lot of the Ozark... There's not a whole lot of difference, I don't think, maybe they think so, of the Ozark music and some of the Kentucky bluegrass and so forth. They're right next to each other. So I was brought up on a lot of that. But it didn't necessarily make me want to play.
That came later. It came after I had moved to Memphis, Tennessee, when I was 10. I heard gospel music on the radio for the first time in my life. I didn't even know that existed until I moved to Memphis, Tennessee. And I was really taken by it. I just thought, 'Wow! What is this? This is awesome. This is really feel-good music. This is something else.' Because of the spirit and the energy in it. You could just feel it. You just could feel that energy. People clappin' and having a good time and it didn't matter that was strictly gospel. I actually got the gospel out of it, but I got the feeling of the music, the energy that was involved in it. And that just sort of led me on a good path.
PCC:
From there, that path took you to R&B and early rock?
CROPPER:
That's basically all we wanted to do. In the early days, we had guys who wanted to listen to some other kind of pop stuff. They were taking lessons and the guys that played piano and the guys that played horn and all of that, they wanted to advance their chops and play more jazz and more stuff. But we kind of curtailed them. Duck Dunn and I, we're not really well-trained musicians, but we now how to dance. We know how to keep a beat. And that's kind of what we went after. We said, 'Guys, if you can't dance to it, there's no need to play this stuff.' [Chuckles]
PCC:
Once you first picked up the guitar, did it seem like you were home, that it belonged in your hands.
CROPPER:
You know, I don't know. The first guitar that I ever put in my hands, that I can recall putting in my hands, is sitting right over here to my left. It came in this past Christmas. It was my uncle's guitar and I'd been trying to get that from my aunt for six or seven years. I tried to do everything. I said, 'I'll pay you for it. I'll guarantee you we'll put it in a museum. I'll make sure that everybody knows that it was my Uncle Dale's guitar and the whole deal.' But it was the first one I picked up. He had it in the closet. My Uncle Dale was a fiddler, kind of a country fiddler and a piano player. He also led the singing in church. So it was very gospel-rooted, but there was some Ozark, hillbilly music in there. And, what he did, they used to, not every Sunday night, but after church sometimes, they'd have people over and they'd all gather 'round the piano and they'd sing and all. He didn't really play guitar, but he had a guitar so he'd have a guitar there for somebody who might play the guitar, but didn't have one, so they could join in. And he used to let me get it out of the closet and I'd open it up and I'd sit there and bang on it. Just pull on the strings like a rubber band.
There was something about that tone and that vibration that just intrigued me. I was very young, probably seven, eight years old. Then later, nine, 10, 11. I didn't actually get a guitar and start playing until I was 14. But I'll always remember my Uncle Dale's guitar in the closet. So that kind of got me inspired, I guess.
PCC:
And then there was the mail order guitar.
CROPPER:
[Laughs] There was that mail order, Sears & Roebuck catalogue. There was a Roebuck in those days.
PCC:
And then, when you discovered the Telecaster, did that kind of open up a whole other world for you?
CROPPER:
Yeah, absolutely. The kind of music we played was dance music. And it led to some of the buddies I was learning from, especially Charlie Freeman and all that, he had an electric Telecaster. Another friend of mine had an electric Telecaster. And I found an Esquire, which is one pickup, very used and very cheap, from a record shop where somebody had traded one in. And I got that and it was kind of beat up. I was always pretty good at woodworking. So I sanded it down and I went down to Western Auto and got what they called a candy apple color that you would spray your bikes with or spray a car with and all that. And it turned out sort of a candy apple purple. That's the guitar that was used on 'Green Onions and 'Lovin' You Too Long' and all these early Stax recordings [Laughs]. I don't have the guitar. But somebody sent me a picture of the studio to identify some big wall monitors, which I did. And I looked down at the bottom and lo and behold, there was my candy apple purple Fender Esquire guitar laying in the back of an amp. I went, 'Oh, my God. Now I have a picture!'
PCC:
That should go in the Smithsonian.
CROPPER:
Yeah, maybe we'll put that in the museum here. You know, we've got the Musicians Hall of Fame Museum, which had to be torn down. And then a lot of the stuff was in storage, when we had the flood last year. But they recovered most of it. And they found a new location. They are going to rebuild the museum. Probably this guitar and the pictures of that stuff will go into that museum.
PCC:
Were you always fascinated with experimenting with sounds?
CROPPER:
Oh, absolutely. In later years, when we hired, at Stax, Ron Capone, hired him away from Pepper Tanner. He was a great engineer. He was a good musician. He was a drummer. And he and I had more fun, trying to invent stuff and ways to record things. A lot of it didn't work. But some of it did [Laughs]. We just did some really goofy stuff. And some of it actually went out on record and was actually successful. And guys were saying, 'How'd you guys get that?!' [Laughs] 'Long story.' But we experimented. We did. We put mics on rubber bands and hung them on the bottoms of the drums, taking the bottom head of a drum off and suspending a mic underneath it. Probably was a forerunner to the electric drums that they have today. And we took a microphone, took it off the stand on a fairly sturdy cable, and we would play the mix of a song on the stereo speakers in the studio part and take it and throw the mic like a whirlybird. [Laughs] We got this godawful sound. We used that on a couple of things. I can't remember the titles of the stuff. But we used to do things like that.
I think we were one of the first to take a guitar and hook it into the Hammond organ's Leslie speaker to get a whirlybird effect. And we used that on a few things. I'd never heard that before the first time we did it. We were just experimenting with stuff.
PCC:
And was there a lot of experimenting in terms of developing your own guitar style? Were you conscious of that? Or did that just evolve naturally?
CROPPER:
I think that evolved. To me, I always call that 'on-the-job training.' I never had time to really, coin the phrase, 'practice' that much. Guitar lessons, other than getting a guitar lesson from a buddy here and there, I had maybe three or four paid guitar lessons. When the session was over, I'd be editing tapes or logging tapes or taking something somewhere to be mastered or filing union contracts. I didn't have time to play guitar until it was time for a session. So it was on-the-job training.
PCC:
So, when you started, did you have any grand ambitions? Were you happy doing the session work right away? Did you want to front a band?
CROPPER:
There were two goals in life. One was to hang onto a job. [Laughs] And the other was to be successful at all of the aspects of the recording industry, from writing the songs to producing the records, to making sure that an artist had a chart record, had a hit. We stayed very close to the local disc jockeys in the radio stations. And we'd get a new hot record and I'd even get in a car and go travel with the guys who used to call on all the jukebox operators. And he'd call on them and he'd drop me off at the local radio stations and I'd talk to the managers or whoever was on the air. Man, in those days, they were glad to see anybody [Laughs]. 'Wow, what are you coming here for?' 'I'm Steve Cropper from Stax.' And here's this snot-nosed, kid. But they were just glad to see me. They welcomed me. 'What do you got?' 'Well, we cut this last week. We've got the brand new Rufus Thomas here. We got a brand new Booker T. song here.' They said, 'Well, let's hear it!' And a lot of times, they'd play it right on the air, right then. It was like fresh, new stuff. So we did a lot of that. We just stayed very much up on it. And because of early success, with the record 'Last Night,' by the Mar-Keys, and then, a year later, we had 'Green Onions,' which was a really big record.
We did a lot of weekend gigs out of town, a lot of colleges and all. And we, especially Al Jackson, our drummer, would really concentrate and observe how these kids were dancing, what beat they were dancing to. And he would watch what they were doing and he'd call certain songs he knew he could get that same tempo going for and watch these kids just go crazy and dance. So we'd get back in. We'd usually get back home on a Sunday. We were back at the studio on a Monday morning and he'd say, 'Hey , guys, let's write something around this beat here. That's what these kids are diggin'.' And so we stayed up on our demographics. And, I think, because of that, we had a lot of success.
PCC:
In your own writing process, did you try to analyze what makes a hit or was it more a matter of going with your gut?
CROPPER:
Well, we didn't pride ourselves in trying to copy somebody else. If we heard a record that was shooting up the charts, we didn't run in and immediately cut three or four that tried to sound like it. Some of them, we did put in the same beat and all that. But, as far as the lyrics and melody, we tried to create our own. We weren't known for copping other people's licks, let's put it that way. [Laughs]
PCC:
Yeah, everybody else was copping yours.
CROPPER:
Well, it turned out that way. But even my compliments of Lowman, I didn't just note-for-note sit down and learn a lick of his and then put it on a record. I never did that. But I did let him influence me in the style, where he would play rhythm for a while and then, when it called for it, he would play a lick or two. And I kind of liked that style. I said, 'That's for me. Man, that's what I want to do.'
PCC:
And, in addition to making the lyrics and the melody work, were you conscious of the intros and every riff being important?
CROPPER:
Yeah, the basis was, you'd go to pick a subject that's familiar to you. You're going to write about your girlfriend or your surroundings or something that's happened to you recently that might relate to somebody else out there, listening. And then musically, you tried to put it in a format that was either likable or a current beat that people were dancing to and that sort of thing. And all those little ingredients together, and trying to get a great performance out of an artist, is what made some of those records successful.
PCC:
As far as your performances on guitar on those records, did you always feel that you wanted to serve the music, enhance, rather than show off with razzle-dazzle?
CROPPER:
Oh, without question. Yeah, 100 percent. First you listened to the singer, once you knew what the changes were. The singer may not sing it the same way every time. So you had to listen to every take. And you had to embellish and play around whatever they were going to do. Also you had to listen to whatever everybody else was playing. It didn't make sense to me to be stepping on a drum fill or stepping on a bass line or stepping on a horn line. Why would I want to do that? I would stay out of the way of everybody else. And then, when I'd find a hole, I'd jump in there and fill it. [Laughs] So it just sort of worked that way. It evolved into a great style that sort of became a Stax formula, in a way. Until way later, when we started adding musicians and we would have two guitar players instead of one and so forth. So I had a multipurpose job in the early days of Stax Records.
PCC:
And then, the Mar-Keys, was that something you viewed as a long term thing?
CROPPER:
Well, I looked at it as a very short term thing. [Laughs] When we started, I looked at it as a very long term thing and then here we have the hit record, 'Last Night.' And I think I can attribute a lot of its success to the fact that it was one of the first twist instrumentals. The first non-vocal record that you could twist to. And the Twist was the biggest dance in the country. and I think that's probably what drove it up the charts, because every disc jockey wanted to play it. It was a real good, feel-good song. And plus they had fun with it. They could talk over some of it. And have dance contests with it and so forth. But being out on the road with it, there we were with the number three record in the nation, which demanded we go out and do some live shows and promotion. Atlantic wanted us to promote. And we wound up doing the Dick Clark show and some other stuff.
And I realized late in the summer there, that this wasn't really wasn't for me. Living on the road, living out of a suitcase, doing two or three shows a night and that. I said, 'You know what? I want to get back home, get back in the studio and start making records again. I can't make records out here on the road.' So that's what I did. I fired myself. [Laughs]
PCC:
So, the MG's, did you go into that as more of a studio project?
CROPPER:
Well, the MG's evolved for one reason only. Number one, we needed a house band. But we also needed a piano player. We were using different guys at different times. But we needed somebody more full time. And Floyd Newman, our saxophone player, baritone player, suggested that I go talk to Booker T. And I think Booker, if he wasn't 15, he had just turned 16, when I met him. And I had no idea he was that young. But I found out very quickly how good he was. The other thing, I didn't know that he had already been to Stax, on a session that I wasn't in on, and played baritone. Floyd said, 'You know when I told you to get Booker T? I was just trying to hang onto my baritone gig. I didn't want Booker T. to steal it.' [Laughs] So that's the story he told me, years later.
PCC:
What do you admire most about each of those individual band members?
CROPPER:
The greatest guys. I mean, it's all family. The original guys at Stax are without question, all family. Blood brother family. We'd go to each other's house and hang out, write and all that. It was just fantastic. And when we'd show up at Stax Records for a session, it was like going to church. Everybody was there for the same reason, to accomplish the same thing and help it all work, like a great basketball team or something. It really was a good working unit.
PCC:
Did the band, being in the South, take a lot of flak for being an interracial group? Was that a big issue?
CROPPER:
Well, it wasn't big in the studio. There was no color in the studio. And the fact that we didn't travel very much... There was maybe a little bit of notice, when the MG's went out from time to time, that it was an integrated group. But there wasn't any problems with it, especially, when we did a lot of colleges. Now, when we would do other shows, downtown, the only thing I can remember, of it being a problem, was probably checking into a downtown hotel. And you'd go downtown to these different cities, to go to the local hotel, you'd try to get the best hotel. The manager or whoever said, 'Oh, this is an integrated group - white boys and black boys Oh, no, no. We can't have that.' So we'd get in the car and we'd drive out to some motel at the edge of town that was more than happy to have us. You know, if they could book a couple rooms, they were just happy. We made their night. So we never had a problem, from that standpoint. And never, ever had a problem on stage.
PCC:
In terms of writing some of the big songs, 'Dock of the Bay,' that originated after an Otis Redding Fillmore gig?
CROPPER:
Yeah, Otis was staying at Bill Graham's boathouse in Sausalito. And it took me years to figure out. I argued with him when he brought me the song, the first verse, about the ships roll in and watching the ships roll away again. I said, 'Otis, have you thought about it? If the ship rolls, it's going to take on water and sink.' He said, 'No, Cropper, that's what I want.' Well, it took me literally years to figure out it wasn't a ship he was talkin' about. He was talkin' about the ferries that come back and forth from Oakland to Sausalito.
And none of us refer to them, and I don't think books ever refer to a ferry as being a ship. But Otis did. If it floated, it was a ship, I guess [Laughs]. 'I left my home in Georgia, was headed for the Frisco Bay, da-da-da-da-da.
I never did really understand until, one day, I was over there, eating a cheeseburger at a sports bar in Sausalito. I saw the ferry coming over from Oakland. I went, 'Holy mackerel! And when it goes to park, it pushes up a wake. How come I didn't figure that out before?' [Laughs]
PCC:
But you were kind of writing about Otis himself as you completed the lyrics?
CROPPER:
If you've listened to any of Otis' material, any of Otis' songs, and you see on there where it's Cropper-Redding or Redding-Cropper, almost 90 percent of the time, the lyrics will be about Otis. 'I'm a Lover Man.' 'They Call Me Mr. Pitiful.' 'Fa-fa been singing these sad songs. Sad songs is all I know.' I always wrote about Otis. Otis was bigger than life and he was very easy to write about. He was a very colorful individual and just full of life. He was just a big guy, 6'4" or whatever he was. I looked up to him as a big, older brother. He always looked after me. We'd hang out in Harlem or wherever we went and I was under his wing. I didn't know we were the same age. I never asked him what his birthday was. So he's going to be 70 this year, just like I will be.
PCC:
And the bridge to the song, I read that there's a connection to The Association?
CROPPER:
It was one of their songs, the I-IV-V, I-IV-V changes. I think it goes to VII flat and V. Yeah, somewhere in there, I was inspired by those changes, because I knew we had to have a bridge. So I didn't really take it from them, but I was inspired by it, yes.
And the lyrics, Otis, we couldn't agree on the lyrics. And he sort of says the same thing twice in there. And it sounded so good, I said, 'Leave that in there.' [Laughs]
PCC:
What about 'Knock On Wood'? What was the origin of that?
CROPPER:
Oh, boy. Well, I go down to the Lorraine Motel, to write with Eddie Floyd and Eddie said, 'Crop, I got a great idea. I want to write a song about a rabbit's foot. I said, 'What?!' 'I want to write a song about a rabbit's foot. Like superstition. You know how people are superstitious about rabbit's feet?'
I said, 'Okay.' I started played with it, thinking, 'Rabbit's foot. What am I going to do with rabbit's foot?' And we got to thinking about people that break champagne glasses or they'll throw salt over their shoulder, all these kind of clichés. Finally it hit me. I said, 'You know how people are always knockin' on a table or a chair for good luck? 'Yeah, yeah, yeah, I better knock on wood!' I said, 'There it is.' [Laughs]. It was written in 10 minutes.
PCC:
So the sound just came together, as well?
CROPPER:
It just came together. Absolutely. And we were so excited about that song when we got it, I called Wayne Jackson, who was working across the river, over in West Memphis, at Pancho's, and I called and they said, 'Wayne's on stage.' I said, 'Well, tell him to call me at the Lorraine Hotel.' I told them what room I was in. 'The minute he takes a break, have him call me.'
So he did. 'What's up, Crop? What's the matter? Is there an emergency?' I said, 'No, Eddie and I have written a hit. So when you get off stage, get over here.' 'Cause he was only 10 minutes away, just across the bridge. I said, 'Get over here. You and I are going to write the horns for this, so tomorrow morning, I'll teach the band the song, while you teach the horns the horn lines.' He said, 'Okay. Good idea.' So he did. He showed up a little before two. And about three o'clock, we had it. I went on home and Eddie went to bed. And we got up the next morning at 10 o'clock, went into the studio at 11 and cut it.
PCC:
That was an amazing record.
CROPPER:
Thank you.
PCC:
And 'Midnight Hour,' every garage band of the era, that was like the first song they learned to play.
CROPPER:
[Laughs] Yeah, who would have thought that? I don't know. I mean, there's nothing but two changes, basically, in the intro. People say, 'How did you come up with that intro?' I say, 'Real simple. I just followed the dots.' They say, 'What dots?' 'The guitar!' [Laughs] 'It's already written down on the neck for you.'
It was the same thing with 'Knock On Wood,' and I couldn't come up with an intro. Eddie said, 'Man, this is a great song, gotta have an intro.' I said, 'I wonder what 'In The Midnight Hour' would sound like backwards. So I started following the dots down backwards and came up with the intro for 'Knock On Wood.'
PCC:
And what about 'Green Onions,' did that come out of a jam?
CROPPER:
No, actually, Booker had played a riff for me a couple of weeks before the session. And the session, we were supposed to be doing a demo on a Memphis guy called Billy Lee Riley. And he had been well known for doing some commercials. And he worked locally around town, had a band and performed a lot of shows. And he had been friends with Jim Stewart [Stax co-founder]. And he said, 'Jim, I'd like you to record me.' And Jim said, 'Well, why don't you come in? We don't have anything during the week. But if you come down Sunday, we'll cut some sides on you and see what we get.
Well, Billy Lee either slept late or forgot about it or something. And he never showed for the session. So we were just jammin'. We just started to waste time. We were all tuned up, ready to go. It was Lewie Steinberg, Al Jackson, Booker T. and myself. And we just started playing some blues, like we would do in a club, just to fill the night, just play some good, ol' blues in the key of F.
Well, Jim thought it was pretty cool. He reaches over and hits the record button. And we get through, we're just laughin' and talkin' and Jim says, 'Hey guys, come in here and listen to this.' And we said, 'What? You recorded that?' He said, 'Yeah, come and listen to it. It sounds pretty good.' So we went up to the control room and he plays it and it did sound pretty good. He said, 'Guys, if we decide to put something like this out, have you got anything you could put on the B side?' Because in those days, every single record had an A and a B side. And we just looked dumbfounded. 'Is Jim serious about this?' 'Well, I guess he is.'
Well, we didn't have anything. I looked at Booker and said, 'Do you remember that riff you played me for a song about two weeks ago? You played it on the organ. I don't even remember what it was. I just remember you said, 'Hey, Cropper, listen to this.' This might make a good song.' He says, 'Maybe. I think so.' So we go back down to the studio and he starts hitting that riff for 'Green Onions' [Hums a few notes]. And we all fell in on it, started running it down. I was doing this thing in the middle, like on the third chorus, like ching, ching, making these little stabs. And Jim says, 'Stop it. Stop it. Steve, why don't you put that on the front as an intro and then when it comes to the third verse, just play a regular solo. Well, that was the take. And that's 'Green Onions' as you know it.
It all happened pretty simple. I'm sure there was a higher power overlookin' all this stuff. No way to prove that, but when we came up with stuff like that, it was magic. It just happened as magic and we just happened to be there to receive it.
PCC:
Were you just caught up in the moment? Or were you conscious of trying to make records that would stand the test of time?
CROPPER:
Yeah, we were very, very conscious of trying to get hit singles. That's why we studied the demographics. We tried to stay on top of everything, stayed friends with the local disc jockeys that knew what was going on, knew what the main requests were, what type songs were being asked for more than others, what kids wanted to dance to and hear. We stayed on top of that. And we really tried to design our songs after that kind of information. Absolutely.
PCC:
But even though they were clicking at the time, was there any thought in the back of your mind, that they would also work 50 years later?
CROPPER:
I don't think any of us ever looked at any song we ever did, that would go anywhere past the top five or hitting number one. If you hit number one, that's great, but you didn't think it would live past that. If it went to number one again the second week, then you had really done something. [Laughs] As far as the longevity, how long this music has lasted, and is still lasting today, like a song like 'Green Onions' is still being used in movies and commercials, nobody had any idea that would happen. No.
PCC:
What was the spark for 'Soul Man'?
CROPPER:
Well, that came out of Isaac Hayes and David Porter. I know about the intro. Isaac came out of his office and came to the control room and said, 'Cropper, can you help me out on something real quick?' I said, 'Well, I'm loggin' some tapes. What do you need?' He said, 'Get your guitar. I know David and I wrote a hit this afternoon. We're going to cut it tomorrow. But I don't have an intro.' And I was just known for coming up with intros. I guess, because I had 'Green Onions'' and 'Midnight Hour' and 'Knock On Wood' and all these other things.
So I said, 'Okay.' And I got my guitar and we sat down at the piano. And I said, 'Well, just play some changes.' So he starts playing these changes and I just started doing the hammer licks. And within five minutes, we had the intro to 'Soul Man.' It wasn't until the next day that I got the idea for doing that old slide lick between the verses, where Sam Moore says, 'Play it Steve,' that only happened one time, on that one take. And it just happened to be the right take. We'd already taken, I think, two other cuts on it and nothing was said. And, all of a sudden, on this third take, he says 'Play it, Steve!' [Laughs]. But I did that with a Zippo cigarette lighter. Much like a slide.
PCC:
And did you pretty much know when you had a smash, long before it hit the airwaves?
CROPPER:
Well, I'd like to think so. I knew, without a doubt, that 'Green Onions' was a hit. I mean, I knew it, knew it, knew it. I knew it immediately. Also, I was pretty sure that 'Knock On Wood' was a hit. I was sure, as was Rufus Thomas, that 'Walkin' The Dog' was definitely a hit. I think, 'The Dog,' we liked it. It was more of an experiment. But when we come up with 'Walkin' The Dog,' we said, 'Man, that's it!' [Laughs] We knew it. We knew we had us a good dance record. So a lot of them we know. Otis and I definitely knew 'Dock of the Bay' was the best thing we'd ever done. We said it for two weeks. We said, 'Man, 'Dock of the Bay,' we're going to have trouble toppin' that one.' We said to ourselves over and over. We knew that was the song we'd been looking for.
PCC:
How did the idyllic situation at Stax begin to fade?
CROPPER:
Yeah, I think, it probably started with the sale of Stax Records, when Atlantic sold it to Kinney Corporation and decided that we weren't going to be part of them. [Laughs] We weren't going to reap any of the seeds that were sown. And they were our mother label. And we sort of rode their backs for some time. We looked at each other and said, 'We don't have Atlantic. What are we going to do?' And Jim said, 'Well, we'll figure out something.' So Al Bell [Stax V.P.] started making some calls. And I don't know, technically, how it all went down, but somewhere in there is when we got the offer from Gulf & Western, who owned Paramount Studios and Paramount Records. So we made a deal with them. And that did work for a while.
We kept successfully making hit records at the time and it led right on in to the late '60s and early '70s. And there was a time there when I think we had seven records on the charts. That was right about the time that I left [Chuckles].
I got disenchanted after that, because there was so much of workload, meaning that, to fulfill our obligations, what had been promised, it was just so much of a workload on everybody. And what happened was, right around 1967, and after we had gone with Paramount, here was a great little label out of the South, out of Memphis, Tennessee, that was a singles label, that did hit after hit after hit singles. Almost every artist that came through there, we got a hit single on them, regardless of how big they were, how small they were, we the production team, managed to get a hit record on them. And some of them, we were able to repeat, some of them we weren't. Well, all of a sudden, here we were, in demand to be an album company. So instead of working on three or four songs for a session for an artist, here we are working on 10 to 14 songs for an artist, to make all these different albums and try to meet these album deadlines. And it just stretched everybody. It just wore us down and it sort of pulled apart the team.
Now the team was working together, but in different places. They weren't in the same room together all the time, sharing ideas. They'd be at home or in their office or at a hotel room or somewhere, still doing the same job that they had been doing, but it just took the teamwork out of it. And I got disenchanted with that. And once we busted up the production team, I sort of said, 'Guys, this isn't for me. If I've got to do this on my own, I'll just go do it on my own somewhere.' I'm not going to say I was any part of the downfall at Stax. That already started way before I left.
PCC:
The Blues Brothers, was that something you didn't think was for you at first?
CROPPER:
Well, it sounded like fun. To get a call from John Belushi, I thought it was a friend of mine just fakin' it. He said, 'No, this is John Belushi.' I said, 'No, it's not. This is Alan. What's going on Alan?' [Laughs] 'This ain't no Alan. This is John Belushi. I'm trying to tell you, we're putting a band together. I need you in the band. I've already talked to Duck Dunn. He says he'll do it.'
I says to him, 'Well, man, I'm in the middle of mixing an album I ain't got time. I'll talk to you later.' [Laughs] And I hung up on him. I really didn't believe it was him. So, yeah, it was an absolute thrill to be called by somebody like that to say, 'Hey, we're doing something. We want you to be part of it.'
So anyway, he called me back and said, 'This is really John Belushi. We're really doing this. We're starting tomorrow and I gotta have you up there.' I said, 'Man, I can't do it tomorrow. I'm in the middle of mixin' an album. But if you let me have a couple days, if I can come up there in two days, I'll do it. He said, 'Come up.' So they rehearsed without me for two days before I got there.
PCC:
It must have been gratifying, the fact that The Blues Brothers really turned on a lot of young people to the blues.
CROPPER:
Right. Right. It was amazing. There's a great line that Belushi says on one of the albums, probably the one, 'Made In America.' He says, 'I suggest you go out and buy as many blues records as you can.' That always blew me away, for him to say that to the audience. That might have been on 'Briefcase.' I'm not sure.
PCC:
The Beatles actually planned on recording with you in Memphis?
CROPPER:
That was the thought, yeah. There had been some interest. They sent Brian Epstein over to kind of check things out, see how it was going. And I think the conclusion was that they didn't feel that there was enough security in Memphis. Of course, we didn't agree with him. But that was beside the point [Laughs]. That was their call, not ours.
Then they called me back and said, 'Well, would you be interested in coming to New York and maybe working with the guys and recording at Atlantic Studios. I said, 'Well, yeah, I'll do that, if that's what you want to do.' And then he called back and said, 'Well, they've got most of this album already recorded.' Because about three or four weeks had gone down, from the initial request. So he said, 'Well, let's think about maybe working on the next album, because this one's pretty much done.' It was the 'Revolver' album, which is one of my favorites of all time.
PCC:
Did you get to work with some of The Beatles down the road?
CROPPER:
I worked with Ringo on two or three records. I never worked with John. We played live with George at a show at Madison Square Garden and I've never worked with Paul, even though I've met him two or three times. Every time I see Paul through the years, not recently, but through the years, he'd say, 'Cropper, you and I need to do something together. We need to get together and do something.' But it never happened.'
PCC:
You have to remind him.
CROPPER:
Uh, yeah. Maybe he was waitin' on me to make the call, I guess.
PCC:
So all the sessions, are there some you recall especially fondly or proudly, that stand out in your mind?
CROPPER:
Not really. I remember the 'Green Onions' session, the 'Knock On Wood' session. I remember the 'Midnight Hour' session with Jerry Wexler jumping around, like shadow-boxing, in the studio, while we're trying to play. [Laughs] What he was trying to do, he'd seen this dance. He had seen somewhere, somebody doing this dance. And didn't know what it was. He just knew it was a dance. So he was trying to imitate this dance and it looked like he was shadow-boxing. What he was trying to do was The Jerk, [Laughs], which we later found out.
PCC:
With all you've accomplished, are there still goals left to fulfill?
CROPPER:
Well, we'll see how 'Dedicated' turns out. [Laughs] I don't know if there's any more albums in the works. My producer, Jon Tiven, said, 'Man, you ain't goin' nowhere. You've got another record to make.' I'm going, 'What?! [Laughs] We've got to get through this one first!'
PCC:
I hope there's a lot more great music to come.
CROPPER:
Well, I do, too. If there's a Booker T. record in the works, I'll be there 100 percent. If there's another one like this, I'd be more than happy to do it. So we'll see what happens.
PCC:
In the meantime, we can all enjoy this great new 'Dedicated' album.
CROPPER:
Well, I'm so glad you like the record. It's a fun record to listen to. You put it on in your car and just go. You can pick up right where you left off. It's amazing.
For more about the amazing Mr. Cropper, visit www.playitsteve.com.