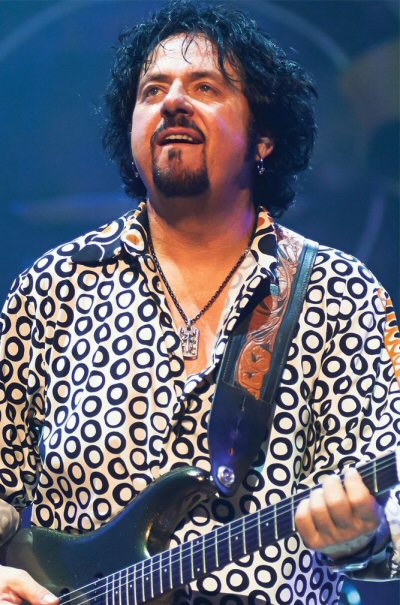 Photo by Derek Kawka
TOTO'S STEVE LUKATHER: TRULY AN ALL-STARR GUITARIST
By Paul Freeman [July 2014 Interview]

Steve Lukather - he'll find the perfect riff for any musical occasion.

In 1977, in Van Nuys, California, Steve "Luke" Lukather and his talented young buddies David Paich (keyboards), Jeff (drums) and Steve Porcaro (keyboards), Bobby Kimball (lead vocals) and David Hungate (bass), formed Toto. They scampered up rock's Yellow Brick Road and created timeless hits like "Hold The Line," "Rosanna," "Africa," "I'll Be Over You," "Without Your Love" and "I Won't Hold You Back." They have sold more than 35 million albums.

The death of Jeff Porcaro, at age 38, in 1992, shook the group to its core. Toto's musicians were also tremendously in demand for session work. So the band took a break and pursued individual projects.

By 2005, Toto had returned with another successful album, "Tambu." In 2008, it looked like the Toto had played its last concert, following several personnel changes. At that point, Lukather was the only original member left.

When the band's bassist Mike Porcaro (Jeff and Steve Porcaro's brother), was diagnosed with ALS, Toto reunited for a brief European tour to raise money to battle the illness. The huge success of those dates spawned subsequent sold-out tours in Europe and a new DVD, "Toto: Live in Poland," celebrating the group's 35th anniversary.

Never critics' darlings, Toto just might be the Rodney Dangerfield of rock. They don't get no respect - except from millions of fans around the world. The surviving original band members are embarking on a North American tour and are working on a new studio album.

But Lukather's musical world extends far beyond Toto. He has been touring with Ringo Starr's All-Starr Band.

A session stud, he has worked with such diverse artists as Michael Jackson, Alice Cooper, America, Barbra Streisand, Aretha Franklin, Bob Seger, Boz Scaggs, Burton Cummings, Cher, Chicago, David Crosby, Diana Ross, Don Henley, Donna Summer, Joe Cocker, Jackson Browne, Jerry Goldsmith, Jimmy Webb, John Mayall, Joni Mitchell, Kenny Loggins, Peter Frampton, Quincy Jones, Richard Marx, Rodney Crowell, Roger Waters, Rod Stewart, Spinal Tap, Stevie Nicks, Todd Rundgren, The Nitty Gritty Dirt Band, Lionel Richie, The Tubes, Warren Zevon and Whitney Houston. And that's just a small sample of his credits. Oh, and by the way, that's Lukather's guitar solo you hear on Olivia Newton-John's "Physical" smash.

Lukather has toured and recorded with his group Los Lobotomys. He has collaborated with many other top guitarists, including Larry Carlton, Slash, Steve Vai, Eddie Van Halen, Robben Ford, Lee Ritenour, Zakk Wylde, Eric Clapton, Jeff Beck, Joe Satriani, Carlos Santana and Joe Bonamassa.

A gifted producer, arranger, singer and songwriter [he co-wrote the Grammy-winning George Benson number "Turn Your Love Around"], as well as being a guitar god, Lukather has created a number of impressive solo albums, spanning prog rock, hard rock, jazz fusion and other genres. The five-time Grammy winner's latest is titled "Transition," which shifts effortlessly between riveting rockers and poignant ballads.

Steve Lukather is not only one of rock's greatest guitarists. He's also one of rock's greatest interviews.

Pop Culture Classics was eager to chat with this iconic musician. He chose 8:30 a.m. as the interview time. Not a popular one among rock stars.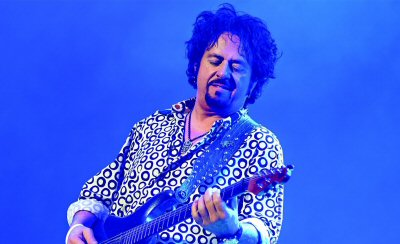 Photo by Derek Kawka

POP CULTURE CLASSICS:
So you're awake already?

STEVE LUKATHER:
Yeah, I got up about an hour ago, just kind of starting the day. Played a gig with Ringo in San Jose last night. I've got the day off. And then this is the last week of this leg of his tour. And then I'm Toto-ing, as well, while we're working on the record. So it's kind of crazy. It sounds weirder than it is, but I make it work somehow.

PCC:
I guess you have a real healthy lifestyle these days.

LUKATHER:
I have for a long time, for many years now. I used to be crazy. We all used to be crazy [laughs]. Listen man, I'm going to be 57 years old. There's no bullshit about that. I love feeling good. There's a lot to do in life and I don't want to miss any of it. I gave up smoking drinkin. I'm a super-healthy now. So I wake up feeling good, rested - every day.

PCC:
The new Toto DVD has a great energy to it, a great sound.

LUKATHER:
Thank you, man, I appreciate you saying that. You never know. I'm so close to this stuff. Is it any good? I never know if it's any good. All I hear is mistakes. We left them all in on purpose, because people have accused us of over-buffing things out. And really, that is what it is. It was recorded really well, but aside from that, we didn't do any trickery to try to fix things. So it's a little rawer than I would like it sometimes. But that's okay. It's what we are. It's who we are.

PCC:
Going into a show like that, are you thinking, "This one's for posterity - we've got to be at the top of our game?

LUKATHER:
Yeah, man. It's very sphincter-tightening sometimes. You know, you do a hundred shows and the one you record, there could be a technical problem. Everyone's a little more nervous. And you're hopeful, because these days the budgets are not where you used to be able to record three shows and pick the best stuff. Well, we had one shot at it. So this one had to count. So we brought all we had to it. And we got lucky. Like I said, there's some rough spots, but at the same time, the crowd really makes up for all of that.

PCC:
Recording in Poland, is that a reflection of how how well the band's music resonates throughout the world?

LUKATHER:
Yeah, man. I think it's particularly all over Europe. And I include Poland in that broad statement. We seem to have connected. And we're reconnecting here in the U.S. I mean, the DVD went number one here - which is really scary. There was no hype at all. When they told me, I thought it was an April Fool's joke. But the whole thing was accepted. The best reviews we've had.

So we've got a new lease on life here. We've got an album we're almost done with, of new material that we're very proud of. I think it'll surprise a lot of people, that a bunch of old guys can actually bring it again. But art is subjective. So you be the judge, if you desire to listen to it.

But we're going to be on the road for the next few years. And the band feels fresh again. I'm looking around and looking at my high school buddies and those of us who are still around and healthy, we're having a blast. And we're helping out our brother who's not healthy - Mike Porcaro's got ALS. And if you know anything about that disease, it's about as brutal as it gets. And so we're helping out his family and we're helping out ourselves, playing music. And I think we're having more fun with it now than we ever did. We never thought, all these years later - who thinks in terms of almost 40 years? We've been playing together since high school.

And that's a long time. I keep looking around, thinking, '" When the f-ck did I become the older dude, man? What happened here? I used to be the youngest guy in the room." Now it's like, "Oh, sir, it's really nice to meet you, man." Like I'm some big deal - and I'm not. I don't really think in terms like that. I've just got a cool job.

PCC:
As far as Mike's illness, I understand the band has tried to raise awareness and funds?

LUKATHER:
Yeah, we do a little bit of both. You get into these neurological diseases - my youngest son is autistic, so I'm really aware of this. My nephew has issues. There's more and more of this stuff everywhere. And no one knows how you get it. And I asked the doctor, "What's going on here, man? When I was a kid I didn't hear about this stuff. And now it's everywhere - MS, Lupus, all the ADHD stuff, autism, ALS, all these weird diseases." He goes, "It's environmental." So we've poisoned ourselves over generations and now we're paying the dues for it? Or is this just some weird random shit?

It does make me appreciate my health. I can get up out of bed, walk around my house with a big smile on my face, because I get to play the guitar for a living. My kids are all healthy. My son, even though he's autistic, he's very low on the spectrum. But still, it's an issue, stuff you don't really think, "Oh, wow, this going to happen to me." But he's a great kid. And it just gives me a whole other outlook on life and go, "Wait a second here. I've been looking at things a little selfishly, a little bit wrong here.' So, as an older guy, I care about a lot of things that are not about me. I'm very appreciative of my life and my career and the things that I've been fortunate enough to work for and have.

PCC:
How has the band been able to survive and thrive, through the personnel changes?

LUKATHER:
Well, that's always been a funny thing with me. I've been there the whole time. I've never missed anything. I'm the guy - which is kind of funny to me. But now it's come back full circle. Our original bass player, David Hungate's coming back to join in a couple of weeks. So there's going to be five of us from the original band. It's come full circle in that way. The ever-changing? We lost Jeff. There was nothing we could do about that. That was devastating. It still kills me every day. And then we lost Mike with ALS. So David Hungate, our original bass player is coming back to do this and that's going to be a real kick in the ass. He's coming to play on the new record with us, a few tracks.

You look back at it all, I don't know how all these things happen. There's a few guys who aren't in it, who may feel a little disgruntled or whatever. But they don't have the chops to be in it anymore. And the personality differences. Those guys that I grew up with are in the band. That's what matters to me.

PCC:
And Jeff [Toto's original drummer], how much impact did he have in paving the way for you into the music business?

LUKATHER:
Huge. He was like, not only the big brother I never had, but he was a magical dude, man. He walked into the room and it lit up in other ways. It was a very spiritual thing with him. I mean, he was just a magical cat, man. He just brought this energy that I can't describe to you. He was soulful, funny and had the most wicked groove I've ever heard, to this day, never to be matched. I play with all the best drummers in the world and I love them all. They're all incredible. But Jeff just had something I can't really describe in words. It's just a thing that you're born with - you don't learn it.

PCC:
Does the song "Wings of Time," which is on the DVD, have special resonance for you, when you play it now?

LUKATHER:
Yeah, I really pushed for that one, not as an ego show for me to wank off on the guitar, but more because he wrote the lyric and that lyric really means a lot to me. And it reminds me of him. Even though it's been 22 years since he passed... there's not a day that goes by that I don't think of him and wish he was here for his advice and for the sound of his laughter and his wisdom. He was an old soul, that guy. Maybe that's why he didn't need to be here so long. It's so weird to think about - the fact that it's been so many years and it doesn't seem like it's been that long. But his presence is still with us at all times, believe me.

PCC:
And having Joseph [vocalist Joseph Williams, son of composer John Williams and Toto's lead singer from 1986-88] singing again...

LUKATHER:
Oh, he's better than ever, man! He's better than he ever was. Plus he's family. We've known each other since we were 15. Even when he was out of the band, we were still very close friends. And he was scoring TV and film and stuff like that. So he wasn't going on the road trying to be Mr. Toto and screaming until he had no lungs. So he's coming back into this, it's like finding a lost treasure in your house you forgot about - it's not worn out. We pulled him out of retirement and his voice came back better than ever. He lost 91 pounds and he's back. And I have a sparring partner. He's such a great performer. And he's singing incredible. And he's writing great. And we're getting along. There's a huge camaraderie and laughter, something that was missing for a long time, which is why I bailed the first time, because it was like a money grab - with some other great players. But the other singer dude and I did not get along at all. And I was getting very unhealthy. So I said, "I gotta get out of here... and find myself."

We pulled it back together again for Mike, to help him. And then I said to Paich, "Well, Joseph's gotta come back. Steve Porcaro's gotta come back. And we'll sort the rest out." And that's what we did. And it works. It was only going to do be for one summer in 2010 and it was so much fun, we just kept going. And then through litigation problems from our ex-management, all of sudden we realized we either had to make a new album or get sued for a million dollars [chuckles]. We said, "You know what? We can make some money. We can make some new music, go on the road. Is everybody in?" Everybody said, "Yeah, let's do it. Let's prove one last time that we can still write some cool music - for the people that like what we do." So we really were not trying to write hit songs or anything like that. We just wrote stuff that is very melodic and very accessible, but it's whatever we want. And everybody's singing on it - Steve Porcaro, Paich, me, Joe. It's very much old school Toto in that way. Keith Carlock's playing drums. He's amazing. We have a lot of guest bass players. And Lenny Castro's coming out with us again, the infamous percussionist. And he's part of the original family, as well. So, when we go out again, it's going to be a lot more like it used to be.

PCC:
So you're doing what feels right to you, not trying to cater to what you think the fans might expect?

LUKATHER:
Oh, we worry very much what the fans might think. And they're very excited about it, social media being what it is and I'm pretty actively involved in all of that. It's important. What's not important is the disgruntled, late 70s rock journalist who hates us, who's now 90 years old, trying to stuff into a Sex Pistols T-shirt and trying to get $20 a review. So those cats are of no significance at all. You get to your fans. I mean, we've got millions of people on our Facebook page. And so, we listen. What songs do you want to hear, besides the hits we gotta play? So we listen to them. And their critique means something. I mean, haters are haters. "You suck. F-ck you." It's like, ha-ha-ha. Ban. Delete.

PCC:
But hasn't it been frustrating, over the years, the fact that, maybe because of the commercial success, the rock intelligentsia often hasn't fully appreciated Toto's body of work?

LUKATHER:
They can't kill us, man. We're like herpes. You think you get rid of it, but... You know, we laugh at all this shit. We're part of pop culture. Nobody laughs harder than me at the "Family Guy" episode. I was a "South Park" character. Justin Timberlake and Jimmy Fallon did a really funny bit on "Africa" - I mean, that thing has got a life of its own. The "Yacht Rock" jokes and all that stuff. I think this shit is hilarious. I laugh at myself so f--kin' hard. Harder than you ever would, because it really hits home. I'm like, "Oh, my God! We really hit some sort of a nerve in pop culture to be around to be made fun of. I consider it a great honor.

PCC:
Going into the new album, do you feel the pressure of having to live up to your illustrious past?

LUKATHER:
I think we strive for a personal best. I mean, if I knew how to write a hit single every time, I'd be talking to you from my own spaceship. I don't know what that is, so we just write music that we like. We're not saying, "Oh, we've got to be trendy." That's the worst thing a band like us could do. We're modernizing from a sonic point of view, soundwise. But not style-wise. If anything, we've dug our feet more firmly in our prog roots than pop. Although there's some very, very beautiful melodic stuff on the record. But there's also some really - "Wow! Is that you guys?!" And there's some great virtuoso playing and grooves. And it's a big, huge, massive, overblown production that makes guys like Robert Hilburn [pop music critic] burst into flames, when they just hear about it, which cracks me up.

We're doing it for the fans. That's what they love. That's what we love. That's what we do best. So we do what we do best and we'll see what happens. I know that the fans will dig the record. And we've got enough of them to sustain selling out arenas in Europe and Japan, all over the world. And now we're just getting our feet wet in the States, doing theatres and sheds with Michael McDonald in the summer. And ticket sales have been good! We're going to have some fun... and play for the people! Hopefully we can grow the U.S. That's one thing that's always been an Achilles heel for us. The U.S. was always really tough.

PCC:
And a bill with Michael McDonald, is that a good mix?

LUKATHER:
You know, people laugh, "Oh, yacht rock, blah-blah-blah." And once again, we laugh at all that shit. But Michael, we have a deep history. Michael and Jeff Porcaro were in Steely Dan together in 1973. At one point, Michael was going to be in our band, but then he joined The Doobies. We worked on his first solo album. He's worked on our records. We're old, dear friends. We have the same manager. We thought we'd try a couple dates last year, it worked out great. He comes out with us. We come out with him and play. So it's really a fun little night. It's a good package. People seem to like the idea and they're buying tickets to see it.

So that's our way of coming back into the U.S. And hopefully, we'll be able to come back and prove ourselves, prove some worth here, as well as touring the rest of the world, where we can go out and play the arenas, headline the festivals and do all that stuff and come back here and play on our own and rebuild a little bit, since the success of the DVD and these little resurgences of humor on television keep the name and there's a little bit of interest left.

"Africa" was number on in New Zealand last month, for reasons unknown. I have no f-king idea why, 32 years later... but you know what? I'll take it! Are you kidding me? I'm lucky as hell to still be in the game. This is a game where, these days, you have five minutes of fame and it's over. So to be a "classic rock band" - I guess that just means a survivor - is fantastic. And then to get to go out and play with Ringo - I mean, how cool is that? It's the most fun I could ever have on the road. He's the greatest guy ever - and to get to do all that... And then I'm doing some stuff with Larry Carlton again. I've got my hand in a lot of pies and a lot of interesting stuff. So, best of all worlds.

PCC:
You've played with so many great artists, but having been a lifetime Beatles fan, playing with Ringo, was that just another musical peer? Or is it surreal to be on stage with him?

LUKATHER:
It was very surreal. I mean, I've worked with Paul and I worked with George a bit. And when I got invited to do the 50th anniversary thing, I did the TV show at the end of January, early February, that's when it really hit me. Because I'd been working with Ringo's band for a couple of years. I worked with Paul - on the "Thriller" record. We did some stuff for him in a film after that, in the early 80s. So obviously, as a Beatle fan, they're why I play music - yeah, there's a certain surreality to it. It's like, wow, this is really a trip.

But I'm standing there, right before we went on, to do The Beatles' anniversary show. There's Paul, there's Ringo, there's all of us. And they're showing clips of "Hard Day's Night." And then it hit me. I went, "My God, 50 years ago - if you had told me 50 years ago that I'd be standing here with these guys, celebrating a 50th anniversary, as part of the scene, that I'd be friends with these guys... It sort of all hit me at once. It was a little bit emotional, like "Holy f-ck! I pulled off the dream!" And that was a really neat feeling. And it's humbling at the same time, to go, "Wow, I really f-ckin' did all this shit." And it made me appreciate it all again.

We were having a little hang backstage with Paul and Ringo, just some of the guys in Ringo's band, some people, I've known all those guys for a hundred years. We were just sittin' around and I said, ""Paul, you realize, you two guys and George and John, we're here, we play music, because of you - and now we're here together. This is such a trip!" And Paul's like [in Liverpool accent], "We get that a lot." [Laughs]. They really did. They were the on-switch to my life, man. To come full circle like this - here I am playing with him last night on stage in San Jose. And I'm back in my house this morning, it's almost like a dream. We've become close friends. And that's the coolest thing ever.

PCC:
You've played with so many great artists in sessions...

LUKATHER:
It was a great time in my life, man. It's a time that will never happen again - those days and that era. I think we were the last of the "great session guys." We were like third-generation Wrecking Crew. There was The Wrecking Crew and then there was the L.A. Express guys and then there was us, as far as rhythm sections that played on everybody's shit. That doesn't happen anymore - the era of the studio player. I mean, there are a few guys working, but with all the sharing files and everything, it's very cold and calculated.

I used to go to work, going, "Hmm, what am I going to play today? Who am I playing with? And where am I at today?" It was so exciting. And get to play with all these amazing artists, producers, engineers, songwriters, it was an incredible time in my life. And there was so much - I was doing like 25 sessions a week. It was insane. I was young and shit was happening. I look back and those were some of the best times in my life. I got to work with so many cool people and learn so much from the greats. It's gotta rub off a little.

I don't give a shit what any old-school critic says. I mean, I got to do all this stuff. And every style of music. I've got pictures of Miles Davis and Herbie Hancock and Wayne Shorter. Then I've got pictures of all the metal guys. Eddie Van Halen's a dear friend. And then all the pop stuff I did with Quincy and Michael. It's been really interesting - a lot of hit records, a lot of fun stuff. And it's a great honor to be a part of something that will never be again.

PCC:
What kind of experience di you have, working with Michael Jackson?

LUKATHER:
It was great, man. He was cool to me. It was all business. I didn't see anything weird... other than the poor cat's face changing and morphing over the years. That was really kind of freaky. I've got pictures of us in the studio with McCartney and Quincy and George Martin and Michael during "Thriller." And a few years later, we were working on the "History" record and it was like, "Wow, this cat's... what happened?" It's scary, when people start messing with their face.

I knew the brothers. And some of the brothers are cool. Some are, "What the f-ck?" You know? I had very positive musical experiences with the cat. We weren't pals, hanging out together. Although, he used to hang out at Paich's house all the time. He would just show up there and hide, which was interesting at that particular time [laughs]. He liked our music. He liked us, for whatever reason. Everybody gets all this love for "Thriller." Nobody ever mentions our name. Like we don't get interviewed for the "Making Of..." or anything, which is really funny, considering that we're all over that record. But it's always been the case, when you're like the red-headed stepchild.

PCC:
That's how you're treated by the more elitist elements of the rock world?

LUKATHER:
I mean, we're not even mentioned in the data base at the Rock and Roll Hall of Fame and I played with 75 people that are in it. So there's a little bit of that "F-ck you" to us still. If you look at our stats, you're looking at band full of guys, pooled together, that have played on over 5,000 albums, 225 Grammy nominations and a half a billion records got our names on it. Now, if you're looking at reality and stats, nobody's even close. To discard us like we're a bag of shit is not really cool. I mean, you don't have to say that Toto is the greatest band in the world, because we're not. I don't know who is - Beatles, maybe. But to discard us like we never existed is really kind of a cheap shot, considering the provable output that we have.

PCC:
You mentioned Larry Carlton. You've played with other great guitarists like that...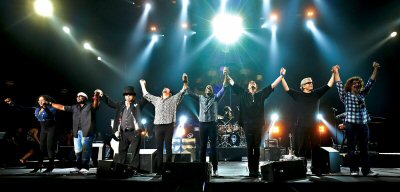 Photo by Derek Kawka

LUKATHER:
Yeah, man. I get to do that. Larry was like another childhood hero of mine, as far as studio players and stuff. I used to hang out at his house, when I was 17, 18 years old. I met him through Jeff Porcaro. And then I met Jay Graydon and Lee Ritenour and all the guys that were before us. And they were all becoming artists and stuff. And they started throwing me some work. I was playing with Jeff and Jeff's little brother Steve. And this was pre-Toto. And I started doing sessions. I met David Foster - when he cared about music. And he really helped me out. And we were all up-and-coming.

It all sort of happened organically. I was studying music. I was ready to be there. And you have to have the personality to fit in, too. It's not just the technical ability. I guess I had the right vibe. I'm a funny guy, I guess - or people say that, anyway. I don't know what that
f-ckin' means. But you've got to be personable. And you have to understand that there's an etiquette to it all. And there's a way to play. You had to be able to play a certain way. It wasn't like, "Oh, dig me!" It was like how do you fit in? You have to come up with parts on the spot, and sound, and time. It was a whole thing. And I got very lucky to get geographically placed and have the opportunities. But, you know, it's luck to get in the door. It's not luck to stay there for almost 40 years. I'm not tuggin' on my own dick, I'm just saying, I've paid enough dues where I can go, Hey, I think I deserve to be here at this point.

PCC:
Are you still discovering new things on the guitar?

LUKATHER:
Every morning, man, I practice. I'm staring at it right now. When I hang up this phone, I'm going to put an hour in this morning, before my little kids come back over and hang with me. Yeah, I think I love it more now than ever. And I'm not trying to be the fastest gun in the West. I'm just trying to refine. Playing music - discover new things. I study music. I find it very interesting and stimulating. I'm going back out with Larry again. I want to make sure my harmonic vocabulary is up to snuff, because we haven't done it in a long time. I was a crazy man the last time we did it. So this time, I'm coming at it with a much more mature musical sense. And it's going to be a little bit more refined. And I'm looking forward to doing that again, because he's still one of my heroes.

PCC:
Playing with all the best musicians over the years, has that upped your game?

LUKATHER:
It has to, man. You gotta bring it. It's much like, if you were you standing there on a baseball field and a Major League Baseball pitcher is going to throw you a pitch and you're standing there with a bat in your hand. You could have played f-ckin' Little League your whole life, but you're standing there, staring down, the guy's going to throw a ball at you 100 miles an hour. You all of a sudden respect what it takes there.

So, using that as an analogy, when I got the opportunity to play with the best players, I had to bring it. And it was a very fine line of - notice me, but I'm not trying to suck anybody's dick or be too flashy. It's a psychological process, if you will [laughs]. You have to be really good and confident. But you don't want to be an asshole about it. So there's a lot of respect in the room. Pecking order. Who was there first? How many years? Where do you fit in? And when you get to play with the best of the best, that's going to rub off on you. And then you look around the room and you go, "Well, there must be some reason why I'm here. Why am I here? [Laughs]. I guess I was good enough to be here. You prove yourself over years. And then you get better at it, more confident, you play on more hit records, and your reputation grows and then you have the career.

PCC:
Throughout this amazing career, this life in music, what have been the greatest challenges for you. And what have been the greatest rewards?

LUKATHER:
Well, longevity is probably the greatest reward. And getting another shot at it. There's been the highs and the lows. Obviously, losing Jeff was the low for me. You lose a brother, a family member like that, who he truly was to me - devastating. And then Mike down again. I mean, the same family. It was unrelated and you just kind of go, "My God... "

Highs - the success of the band. Who knew that was going to happen? Just the fact that I pulled it all off, that I've been able to do this, have all these amazing experiences. I can't just give you one or two, because there's too many. I've been a very fortunate cat to have this wonderful career. And I look back on it, moving towards 40 years in - it's 37, 38 years starting next year, since I started as a recording, touring musician, not a hobbyist kid. When I started making real records that came out and started touring in front of people, I was about 17, 18 years old. I look back and I go, "Wow, man, I'm still doing this and I'm enjoying it more now than ever." That says a lot.

I'm healthy now. I went through all the crazy shit that you read about. We did all the madness that everybody else was doing at the same time. But I look back on that and I wish I hadn't delved into the aspect of drugs and over-abuse of alcohol or whatnot as that being a "rock'n'roll thing to do." Really it's just a stupid thing to do. But, at the same time, everybody was doing it, so you look back with regret on decisions you made, harming yourself, considering, when you get older, you realize how the most valuable thing a man can have is his health. Because I'm looking at a friend in bed who would give his left nut to be able to scratch his own ass. He can't move. That's a prison that I can't imagine.

So money, fame, all that shit - it's just bullshit. It's nice to have some cash in the bank to pay for my family. So that's cool. But fame? I've got some friends of mine that are really famous and that's like the greatest curse you could have - the tabloid people following you, lying about you in the press, f-cking with you. It can be maddening. I'm happy to be a musician, man. That's all I can tell you. I've just got to shake my head and go, "Did I really do all this?"

PCC:
And it must be great, when you hear from the fans what the music has meant in their lives.

LUKATHER:
It is nice. But, like said, I don't sit around and read about how cool I am anymore than I sit around and read about what a cunt I am. People like to bring that up, too. "You suck! Fuck you!" And then start getting personal about how you look and then, thanks to the joys of the internet, every rotten hair-do and hairstyle and MTV stylist bullshit that I was forced to do through the years is back to haunt me. And I have to laugh about that, because what else can I do? I go, "Well, yeah, it was f-cked up! What was I thinking? What an idiot! My God!" And then everybody else has to endure it, as well. The 80s were really a bad fashion time, let's face it - mullets and f-ckin' hair up to the f-ckin' ceiling and the clothes. MTV - Jesus Christ! Why? If I wanted to be an actor, I would have gone to f-ckin' Julliard and studied acting. You know what I mean?

PCC:
Well, you definitely took the right path.

LUKATHER:
Well, we survived it. And we were part of the cheese of it all. But it's funny, as much shit as we took, some of our shit is less cheesy than the people that were getting their nuts sucked by the press back then. Some of that shit doesn't really stand the test of time well. That synth-pop thing with the pastel colors and the hair and all that - you look at it now and go, "That was the shit that they all loved?" At least we were playing real musical instruments. We may not have been the prettiest boys in the world and had no image or whatever - that may have actually helped us. We were never in style - so how could we be out of style? Yet we quietly sold 35 million records. So go figure. It's a big world.

PCC:
And it was a world where the music was more important in some ways. It wasn't just a momentary, trendy blip. It was an event, when an album came out.

LUKATHER:
Yes, man! Now it's a f-ckin' sideshow, like background noise for your texting and games. People have no attention span. You go out for dinner now, I see the kids and I'm like, "Put the f-ckin' phone away, man. Talk to me." Ringtones. I've never had a ringtone. My phone doesn't even ring. I just have the little buzz I feel in my pocket. I have the technology, sure. We email, we text, we do all these things. Right now, I'm dating a girl via text! Weird. It's the times. The times we live in. You walk down the street, you see kids, they're not talking to each other, they're texting each other. And they're standing right next to each other! I don't get it. People are dying in car crashes, texting. It used to be drunk drivers. Now it's like texting drivers kill more people. I'm an older guy now, so I can sit back now and look and go, "Well, goddammit, get off my lawn!" I don't want to be that guy. But sometimes I shake my head and go, "What the f-ck went wrong?"

It's so impersonal. People need to talk, interact with each other. People go out to a concert and all they do is look through their viewfinder. You go to see Roger Waters' "The Wall," one of the greatest spectacles of all time. I'm standing at the mixing desk, because I know all the guys, worked with Roger years ago. And I'm watching the spectacle. I've got my oldest daughter there with me. This is going on and all of a sudden, 40,000 people have got their iPhones out. You're having this most amazing visual and sonic concert experience that has ever been! This is the highest level! And you're looking at f-cking iPhones? It's like having sex with a rubber doll. What are you doing? Have the experience. But that's just me.

PCC:
It's not just you. I couldn't agree more. But I'm a Boomer, too.

LUKATHER:
So you understand everything that I'm saying. You lived through the whole thing. When people talk about retro, it's like, "Oh, you mean somebody sounds like something that's already happened." That's a nice way of saying, "I've stolen the look and the whole feel of something that somebody already did."

When there was a new Hendrix album, it was a new Hendrix album. We were all at the store, waiting for it. When the new Beatles record came out, Jethro Tull or the new Yes album, whatever it was that you were into, where bands all did not sound like they were made by the same producer. It had to be really good. If you were good-looking, hey, that was a plus. You had to be great, not just good-looking.

Now it's so fake. Everything's so fake. And people don't even care! That's what's f-cked up. Britney Spears has the f-ckin' audio tape of her singing [the leaked raw version]. It sounds like she's having a fucking rectal exam. And people buy. And she became a multi-bazillionaire as a "singer." I'm sure she's every nice. It's not a matter of that. I'm just saying, there are people who can really sing good who will never get that shot.

And that seems somewhat unfair to me, where skill is shunned, where people like me were called slick and soulless, because we knew how to play. It's like making fun of really smart people. Why would you do that? What's wrong with being smart? Why is that a deficit? I've never understood that. But that's a reflection of somebody like yourself and me, who grew up in a time where peace and love wasn't a joke. It was hopeful. The hippies had a good thing. Somebody introduced cocaine and money to everything and that f-cked it all up.

PCC:
You made a lot of great music in your career, a lot of soulful music.

LUKATHER:
You're very kind, man. You know, it's been running uphill, but you know what? I'm in good shape, so running uphill doesn't seem weird to me anymore.


UPCOMING TOTO TOUR DATES
8/02 Grand Ronde, OR Spirit Mountain Casino
8/03 Marysville, WA Tulalip Resort Casino
8/05 Saratoga, CA The Mountain Winery
8/07 Los Angeles, CA The Greek Theatre
8/09 Indio, CA Fantasy Springs Resort Casino
8/10 Pala, CA Pala Casino - Event Center
8/14 Newkirk, OK First Council Casino Hotel
8/15 Tulsa, OK Hard Rock Hotel and Casino
8/16 Durant, OK Choctaw Event Center
8/19 Clearwater, FL Ruth Eckerd Hall
8/20 Hollywood, FL Seminole Hard Rock Hotel & Casino - Hard Rock Live
8/22 Atlanta, GA Fox Theatre
8/23 Blue Ash, OH Blue Ash Summit Park
8/24 Charleston, WV Clay Center For The Arts & Sciences
8/29 Highland Park, IL Ravinia Festival
8/30 Wisconsin Dells, WI Crystal Grand Music Theatre
8/31 Windsor, Ontario Caesars Windsor - The Coliseum
9/03 Englewood, NJ Bergen Performing Arts Center
9/05 Lincoln, RI Twin River Casino - Event Center
9/06 Atlantic City, NJ Harrahs - The Concert Venue
9/07 Newport News, VA Ferguson Center For The Arts

For the latest news, visit www.totoofficial.com or stevelukather.com.