SUSAN TEDESCHI:
SKY'S THE LIMIT AS SHE KEEPS TRUCKING WITH DEREK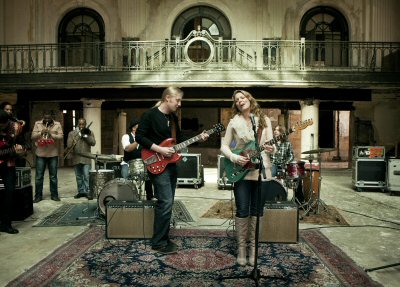 Photo Credit: James Minchin
By Paul Freeman [August 2012 Interview]
Susan Tedeschi and Derek Trucks, individually, are huge talents in the blues-rock world. Together, they're a force of nature.
They married in 2001. Since then, they pondered the possibility of teaming. In 2010, they made the dream a reality, forming the dynamic, 11-piece Tedeschi Trucks Band. With Trucks' scorching guitar work complementing Tedeschi's supremely soulful vocals, the group earned a Best Blues Album Grammy for their debut, "Revelator." Their new release is the power-packed, live, double-disc set "Everybody's Talkin'."
Tedeschi is reveling in the togetherness. Their kids - 10-year-old Charlie (named for jazz greats Charlie Parker and Charlie Christian) and seven-year-old Sophia (whose middle name, Naima, comes from a John Coltrane ballad) are on the road with the couple this summer.
During her own childhood in Boston, it was the world of show tunes that first appealed to Tedeschi. Her mother had her involved in theater at age five.
But the blues bug bit Tedeschi and she learned to play guitar. In college, she sang with Berklee's Reverence Gospel Ensemble and performed blues in Boston area clubs. Soon she was opening for B.B. King, Buddy Guy, The Allman Brothers, John Mellencamp, Bob Dylan and The Rolling Stones, becoming a major artist herself. Tedeschi played the Lilith Fair in 1999. She was featured on "Austin City Limits" in 2004. From 2000-2010, she earned five Grammy nominations for her solo albums.
With Tedeschi Trucks Band, she is reaching even greater heights. They have performed at such prestigious events as Eric Clapton's Crossroads Guitar Festival and the Fuji Rock Festival. They're currently touring the U.S.
Pop Culture Classics talked with Tedeschi just prior to the TTB concert at Saratoga, California's Mountain Winery.
What: Tedeschi Trucks Band plus Lee Boy Simpson
Where: The Mountain Winery, 14831 Pierce Road, Saratoga
When: 7:30 p.m. Saturday, Sept. 8
Tickets: $45-$85; 1-888-9-AXS-TIX; concerts.mountainwinery.com
POP CULTURE CLASSICS:
What was the process like, making the decision to forge an ongoing band with Derek?
SUSAN TEDESCHI:
Well, it was many years in the thinking. We'd been wanting to collaborate for a long time and the timing was just never right, you know, having kids, and having all sorts of amazing opportunities, for Derek to to go out with Eric Clapton, and also touring with The Allman Brothers and his own band. And me with my band. And it was just really always a very busy, hectic scheduling thing. So we just could never really attempt it. And then, Allman Brothers started slowing down a little bit. Derek came to me and we talked about it and we just made the decision to go for it. And it was something that we wanted to do, but also being together for over 10 years and understanding our relationship, and maturing a lot in that process, as well. So it just seemed like it was a really good time to try.
PCC:
Have you found a lot of advantages to touring as a married couple? Any downside at all?
TEDESCHI:
There are so many more advantages. If there are any downsides, I don't even notice them. I'm with my husband now, instead of on a cell phone all the time, which is amazing [Laughs]. I get to see him actually every day... and get to learn from him, because I really look up to him so much, as a musician, as well. So it's really quite an honor to be in a band with Derek, as well as all the other members of this band. They're all such amazing musicians. We've all been in a lot of bands. And I can say I've had some great bands. But this is the greatest band I've ever been in. So there are so many upsides to it, I can't really think where to start.
We have some of my favorite songwriters in this band - Mike Mattison is an outstanding songwriter. Derek is an outstanding songwriter. Kofi and Oteil Burbridge. On a nightly basis, some of the magic that happens between the drummers in this group is just so exciting and so fun. And it's just effortless. It can be effortless. It can be a lot of hard work and serious concentration, too. But, at the same time, there's a lot of fun.
PCC:
When you started the band, did you have parameters in your mind? Or did you just want to see where this would take you, musically?
TEDESCHI:
I think we just wanted to see where it would take us. Derek definitely had more of a vision than I did for this band, on a bigger picture. I was just thinking, what can I contribute? And he's thinking, how can this be a great band and how can it get out to the masses and people love it? So he's thinking it in all different ways. And I'm thinking, 'How can I get my kids to school on time? How can I do this and that?' So we both have a lot of different roles that we play. But, at the same time, it's been working really well together. So far it's been a great success.
PCC:
Are your kids on the road with you through the summer?
TEDESCHI:
Yeah, they are. They're actually on their way over here right now. My kids have been out with me for the last three weeks. We were on tour for one week and then went and hung out with my parents for a week and then up at the lake house for a week with all my cousins and their kids. Fifteen kids who were all cousins, hanging out, which was great. My kids never get to see those cousins, because they live up here, right now we're in Boston, my old hometown. And Derek's playing here tonight with The Allman Brothers. And Oteil is, as well. And they played last night. And I was lucky enough to get to sit in with them, which is a lot of fun. So there's been so many great, positive things that have come out of us working together and getting to put this band together, because we get to play with all our favorite musicians. And we get to be together, too.
The downside is, when you're married to somebody, I guess, you have to look at them every day. I'm sure he gets sick of me sometimes. But there's enough people, you know, I can send him off with the boys for a minute, if he gets overwhelmed or anything. [Laughs]
PCC:
For the kids, do you see this as a broadening experience, traveling?
TEDESCHI:
Oh, yeah. Well, they love it. They have always traveled, since they were very little. And, if it was up to them, they wouldn't go to school. They would just come on the road all the time. But Derek and I think it's very important for their social development to be around kids their own age, because they're great around adults. Now they're great around kids, because they go to school. And you just want your kids to be whatever 'normal' is. But it's more just having social growth around children your own age and having natural competition with them and natural friendship with them and learning how to co-exist.
And they do great on the road. They love it. And whenever they can come out, they do. So it is definitely a huge experience for them to get to travel. They've been all over the world. They've really gotten to see a lot of places. And, as they're getting older, they get busier with their schedules, so it's harder to bring them out. But, at the same time, they want to make the time to come. So it's been really good. We have a lot of family time, as well as time apart, which can be difficult. But Derek's mom, she's really our lifesaver. She's their grandma and gets to move right in the house and take them to school and stuff, if we have to be on tour. So they really don't have too much of a separation from normal life, other than when we have to be gone for a couple weeks at a time.
PCC:
Do you think it's important for them, no matter what path they pursue, to be immersed in music to some degree
TEDESCHI:
Well, I think they naturally love music. And they have their own styles and tastes. My daughter even shows interest in playing music. And our son sings. And they definitely have their own opinions about what they love. And they have a very strong passion for music. So it definitely doesn't feel like we were involved in that at all. Them being around everybody has maybe had an influence, but they definitely know what they like, which is great. And they have really good taste in music... for the most part.
PCC:
You and Derek, whatever differences you have, musically or in personality, do those complement one another, in terms of individual strengths?
TEDESCHI:
Oh, I do think so. We're really learning how to focus on all of those strengths more and more, as well. Any weaknesses that we do have, we're good about pointing it out and letting each other know and how to be constructive and positive about everything. At the end of the day, I think it's great. Being on stage with him is really very dynamic. And people really have had a lot of nice things to say about watching the two of us interact. I think it's fun for people to see two married people up on stage, working together and getting along. It gives other people hope [Laughs].
PCC:
The musical visions you have, are they almost identical, generally?
TEDESCHI:
Generally, they are. Generally speaking, we have a lot of the same stylistic tastes in music. But there's definitely some things that I have opened up my mind to. Derek obviously has so many gifts in a lot of different genres, jazz, world music, classical, a lot of different influences. Those influences come into the band, as well. And a lot of people in the band are coming from a lot of different backgrounds, anything from reggae to rap. Everybody has all different places they're coming from. But, at the same time, we all generally have a very solid background in roots-based music that we're all coming from. And from there, we have a lot of gospel music, a lot of R&B, soul and funk music. And blues, of course. So we all have a lot of the same roots. And that's what everything stems from.
PCC:
The process of writing together, do you act as one another's sounding boards? What is the process?
TEDESCHI:
Well, there's a few different processes. Sometimes Derek will write a song or I'll write a song, on our own. Or we'll get together and show each other ideas and we'll try to develop those. Or we'll sit down with the band and we'll just jam and write songs that way. Or we'll have different friends of ours who are excellent songwriters come into the picture. They'll come down to the studio for a couple of days and we'll sit around with guitars and show an idea. It could be a vocal idea. It could be a chorus. It could be a chord progression. And then, from there, we'll say, 'Oh, that sounds great. I really think we can build something off of that.' And then we'll just sit and work the whole day on on writing a song off of that idea. So there are so many different ways to write. There are like 16 different ways for us to write a song. [Laughs]
And also, I notice, when you're writing songs, if I'm writing it vocally, I can sing something and then Derek and Kofi, they might have some great chords that they'll just put behind it. Or I might have some chords and no words or melody and Derek might come up with a melody. So it's not as cut-and-dry as people might think. I think a lot of people might think, 'Oh, Derek writes the music and Susan writes the lyrics.' But it's necessarily that at all. A lot of times, Derek writes fabulous lyrics and beautiful melody and I might have a guitar riff. Who knows? There's no right way to do it. And Mike Mattison is a really outstanding songwriter. I really feel like we're so blessed to have him in this band, because he's one of those guys that writes amazing songs that the band can really anchor behind and use as some of our really strong songs that even get played on the radio and that people really enjoy. There's a lot of talent in this group, so it's a lot of fun.
PCC:
Songwriting is such an intimate experience, when you do collaborate with Derek, does it further enhance the bond between you?
TEDESCHI:
It really does. It can bring up questions. Also, we know that it's writing. The great thing about songwriting - it can fictional or it can be personal. So sometimes you're like, 'Oh, is that fictional or is that personal?' [Laughs] But most of the time, it's just a good outlet. It's a good way to be creative and to tell a story and to try to get across things that you know other people in the world are feeling or dealing with or seeing. I think it's a great way to communicate with the audience, as well.
PCC:
Is there a special exhilaration, playing with a big band like this?
TEDESCHI:
There really is. And not just because it's a big band, but because of the quality of the musicians. Everybody in this band has been in many bands. And all of us can say 'Wow, we've had a lot of great bands that we've been in.' But there's usually a weak point in all of the bands we've been in. There's always a weak spot or maybe a couple players aren't really as outstanding as others. But in this band, everybody's outstanding. There's not a weak link. So it's quite interesting. The sky's the limit at that point. I feel sometimes like I'm the weak link. And I've talked to other guys in the band and they feel like that, too, because we all have to push ourselves to be on a high standard with each other, which is great, because that's what you really want, ultimately, at the end of the day, is to not be stagnant and plateau and just be happy with where you are, but to always be learning and always be growing and always be listening and always be pushing yourself to learn new things and be open-minded. So it's really had a tremendous effect on me. I've really been learning so much and I'm keeping an open mind and trying all different things.
PCC:
The satisfaction of pleasing yourself, is that enough? Or was the Grammy win an important validation for you?
TEDESCHI:
Yeah, of course it was. A tremendous honor, a tremendous validation for this band. But, at the same time, that's not the end-all and be-all. It's not like, if we didn't get it, we wouldn't still be as happy and excited as we are about this group, because we know that it's great. We really believe in it. And we know that it's special, because everybody gets along so well. If you're in a band, and you've been in bands, you know that not everybody on the road hangs out together. But this band does. We're really tight. We go and eat together. We work out together. We do our laundry together. We travel together and get along really well. And that's a really important part of it, living on the road with these people. It's sort of like being married to 10 people.
PCC:
The lure of music, was it always geared towards the blues for you?
TEDESCHI:
For me, as a child, I initially was drawn towards other forms of music. I didn't find the blues until later. When I did find it, that was my main draw. I was really drawn to it and inspired by it, to the point where I picked up a guitar and started learning guitar. I played an acoustic guitar from 14 till about 22 and then I heard a Magic Sam record and it changed my life. I went out and bought a Telecaster and a Deluxe Reverb [ amp]. And from there, Freddie King and Albert King and Johnny 'Guitar' Watson. These guys all changed my life. I didn't know there were so many great guitar players, who were great singers and great songwriters. And that was a huge inspiration for me. That definitely changed my life. And people like B.B. King and Buddy Guy have personally changed my life, have been there for me and have put me on tour with them and got me up to sing and play with them in amazing places. And people like George Benson and Quincy Jones. It's just amazing. I feel very blessed. And I feel like I owe a lot to the blues, personally. I really do. And I really want to keep the tradition alive, as well as educate people about the people who were here, that played it.
PCC:
Initially, were you more drawn towards standards and show tunes?
TEDESCHI:
Yeah, originally. My mom had me in theatre, at five and six years old. So I was originally drawn to Judy Garland. She was an amazing singer to me, when I was little. And then, as I got older, I learned about people like Linda Ronstadt and The Everly Brothers and Buddy Holly and Sam Cooke and Roy Orbison and James Brown. And then, as I got a little older still, then I fell in love with Aretha Franklin and Billie Holiday and Ray Charles and Donny Hathaway. And from there, all of a sudden, I found out about Koko Taylor and Big Mama Thornton and all of these different artists. It's still, to this day, amazing how much music I'm turned on to and blown away by. Now I love people like Horace Silver and people like Derek and Oteil, they're such jazz aficionados, they really know a lot about a lot of different artists and they turned me on to John Coltrane and Miles Davis and all sorts of people. So I feel really lucky.
PCC:
You mentioned that special moment when you heard the Magic Sam record. What was it about that sound that resonated with you?
TEDESCHI:
You know what it was? He was playing 'Looking Good.' It's just this amazing groove that he's playing. And just the tone. He was playing a Strat with the reverb all the way up. And it was amazing. It was just mind-blowing, the way he was playing everything all at once and singing so great. I was really drawn to his voice and the tone that he was getting and the guitar style that he had. I don't know exactly what it was, but something about it made me say, 'Okay, I want to do this. I wish I could play guitar and sing like that.' And then I heard a Freddie King record. The same week, I heard Freddie King, Magic Sam, Otis Rush and Johnny 'Guitar' Watson. And was like, 'Okay, that's it. I want to be Johnny 'Guitar' Watson. I want to be these guys. They're amazing.'
PCC:
Once you did really get into the blues, did you feel like that was the home for your voice, like that was where you belonged?
TEDESCHI:
I did. I really felt at home there. I felt like I really could connect. And I really felt like, my whole life, I'd been looking for that style. I really love gospel music, but there's not really a huge opportunity to play gospel music. And for a white girl from Massachusetts that's kind of short [Laughs] it's not really so believable, I don't think, for people. But when I open my mouth, I definitely had a lot of support. In college, I was in Berklee's Reverence Gospel Ensemble and we would go around and we would sing with great, great gospel singers like Shirley Caesar and Angela Barryman and different mass choirs. And it was quite an experience for me. I was in the choir with two of Donny Hathaway's daughters, as well as a bunch of other famous children and whatnot. And it was quite an experience, where it really changed my life. And one of my all-time favorite singers is Mahalia Jackson. And I love Clara Ward. And I love Clark Sisters and all those groups.
PCC:
With all you've accomplished, are there still unfulfilled goals you're striving towards?
TEDESCHI:
You know, Derek and I have recently checked a few things off of our bucket list. One of the things was to perform with Stevie Wonder and somehow, Herbie Hancock made that happen without us even knowing it. We played a show with him at the U.N. on International Jazz Day. He was like, 'Oh, you guys are on the encore.' 'Oh, we are?' 'Yeah, and by the way, you're singing 'As, by Stevie Wonder... with Stevie Wonder.' We're like, 'What?!' [Laughs] We had to learn it on the fly, but it was exciting. I think our bucket list is shrinking day by day. We're so blessed. We get to do what we love to do and there are so many things we still want to do, want to try. We have all sorts of ideas, whether it's musical directions or different artists to write with or play with or tour with. The sky's the limit, really, with this group. And you never know what''s going to happen next. And we like to leave a little mystery there. So you never know.
For more information, including the latest tour dates,visit www.derekandsusan.net.