TALES FROM THE REALM OF SUZANNE VEGA:
The Gratification of Writing Songs That Resonate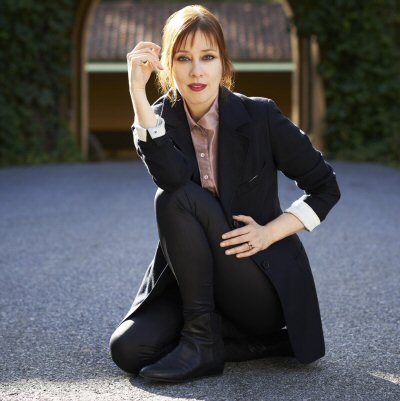 Photo by George Holz
By Paul Freeman [May 2016 Interview]
For more than 30 years, singer-songwriter Suzanne Vega has been creating music that touches listeners on a profound level. With compelling, poetic lyrics and hauntingly lovely melodies, she makes a lasting impression. Her memorable songs include ďTomís Diner,Ē ďMarlene On The Wall,Ē ďThe Queen and The SoldierĒ and, of course, her moving piece about an abused child, ďLuka.Ē
Vega began writing poetry at nine and songs at 14. She attended New Yorkís High School of the Performing Arts, where she studied modern dance. At Barnard College, she majored in English Literature and spent off-hours performing in Greenwich Village.
Her self-titled 1985 debut album, which sold two million copies, was listed among the ď100 Best Albums of the EightiesĒ by Rolling Stone. Vegaís second album, ďSolitude Standing,Ē received three Grammy nominations. Her songs have been featured in such films as ďPretty in PinkĒ and ďThe Truth About Cats and Dogs.Ē
Vegaís latest album, the brilliant ďTales From the Realm of the Queen of Pentacles,Ē produced by former David Bowie musical director Gerry Leonard, was released on her own label, which she started seven years ago.
Right now, Vegaís focus is on theater. The music from her one-woman show about author Carson McCullers earned rave reviews following its 2011 off-Broadway debut. Co-written with Duncan Sheik, these songs will comprise her next album, due in the fall. Vega plans to star in a rewritten version of the play, ďLover Beloved: An Evening with Carson McCullers,Ē in 2017.
POP CULTURE CLASSICS:
Your next album will be the songs from your play about Carson McCullers?
SUZANNE VEGA:
Yes, the album is done and itís coming out in October. Duncan composed the music and itís a lot more complicated than what I usually write for myself.
PCC:
How did you like collaborating with Duncan Sheik?
VEGA:
Working with Duncan is really great. His musical imagination is so rich. You can ask him to create a mood and he just goes off and does it. Twenty minutes later, heís come back with some beautiful piece of music.
PCC:
What was it about McCullersí work that most fascinated you?
VEGA:
Itís not just her perspective, although of course, thatís tempting to say, her perspective of the outsider. But thereís a lot of people who write from that perspective. Itís more the authenticity of what she wrote about, how she wrote about the children that she wrote about, how she wrote about the black communities. Especially the book ĎThe Heart Is A Lonely Hunter,í had a real ring of truth about it. And I always loved her for that. And I was also drawn to what she overcame in her personal life. She had a very, very difficult personal life and she managed to keep it going until she was 50.
PCC:
What was the key to translating her essence into song and monologue form?
VEGA:
[Chuckles] That assumes I know what the key was. Let me think about that for one second. [Pauses] What Iíve tried to do is kind of get her essence as it moved through me. The set-up of the play is that there are two acts, one is when she is 23 years old and having her biggest success. And the second act is when she is 50 years old, looking back on her life.
So I tried to make it as though she were really speaking to an audience, which, as a writer, from time to time, she did, when sheíd go do lectures. But most of the time, what she did was solitary. So she was not a great speaker. But she was kind of a charming one. So I tried to get that dynamic of what happens to a person when theyíre faced with a crowd and having to speak about themselves to a crowd and itís not a natural thing for them to do. And so she reveals all kind of things about herself, her life, her work. And the emotional moments are the songs.
PCC:
Did performing, getting up in front of people, come as naturally to you as the writing did?
VEGA:
I found it both thrilling and absolutely terrifying. I am one of those people who are shy, or reserved, whatever you call it. In real life, there are times that I donít like to be looked at. And I was one of those kids who would blush right to the roots of my hair. To come in, in a Halloween costume, was just mortifying. But thatís what the stage is for. Then you learn to control that. So being on the stage has turned out to be one of the places I feel happiest.
PCC:
Your primary influences, are they as much literary as musical?
VEGA:
Probably. I think youíre probably unconsciously by influenced by everybody you love. When I wrote ďCracking,Ē I remember thinking how great it would be to write a song with that detached atmosphere that, say, Camus has in ďThe Stranger.Ē Thatís sort of what I was after in those days, that sort of detached point of view. And I found a bit of that in Lou Reed, although I think Lou Reed was a very angry writer. So not so much detached. But he certainly influenced me and my writing. Yeah, I think youíre sort of unconsciously influenced by the people that you love.
PCC:
Going into the ďTales From The RealmĒ album, were you conscious of wanting to explore the balance between the material world and the spiritual world?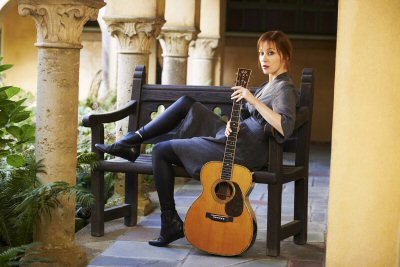 Photo by George Holz
VEGA:
No, sometimes what happens is I write a group of songs, then afterwards I look back and say, ďAh, okay, hereís the connecting thread.Ē And thatís what happened in this case.
PCC:
Working with producer Gerry Leonard, that must be a very synergistic sort of relationship.
VEGA:
Itís great. Iíd say synergistic is a great way to describe it. Heís very sensitive. Heís very supportive. He pointed out really early on in our working relationship that he could play the guitar the same way that I play it, which was handy, when I broke my arm in 2001. So he came and played all my guitar parts and his own guitar parts, which was hugely helpful. So heís that kind of person you can rely on to supply whateverís needed. Plus I feel that he knows my limits and tends to demand more of me than what most people do. So I kind of feel him nudging me along, which is great. It means that you grow as artist.
PCC:
Youíve written so many songs that tell stories and resonate so strongly, so lastingly, for so many people. That must be very gratifying.
VEGA:
Itís very gratifying. One never knows, when youíre sitting alone in your room, if what youíre saying is going to resonate with anyone, anywhere. And when I first arrived on the folk scene, I remember playing some of the songs for audiences and some of them did not always respond well. Or I would get some blank looks after certain songs. So Iím always really happy, when I feel that people, especially worldwide, when I feel that the songs resonate.
PCC:
But while youíre writing, do you think of how a song might affect listeners? Or would you rather push that out of your mind?
VEGA:
Itís a combination of both. If I were going to just write for myself, I probably would be a lot sloppier. Thatís what diaries are forÖ and you just write what you feel like writing. If Iím going to write a song, I tend to think, ďOkay, some of it is to please myself - the form of it, the structure of it.Ē And some of it is organizing the material so that another person can hear it and make sense out of what Iím saying. Thatís what I mean. I donít go, ďIs it going to be a hit single?,Ē which I never think about. And even when I have thought about it, it has nothing to do with the outcome. Itís more like, ďWill a single person understand this? If theyíre sitting in the audience, if theyíre listening on their iPhone, are they going to hear this and say, ĎYeah, okay, I get this?íĒ
PCC:
But do you also sometimes want to leave the lyrics very much open to the listenersí interpretations, where a song means different things to different people?
VEGA:
Well, Iíve got a sort of in-builtÖ itís not a censoring device, but if I sing a lyric and I feel myself cringing, then I just take it out [laughs]. Itís not so much that I try to leave it open for other people to interpret - although I think I do - but what Iím trying to do is tell something truthfully without hitting someone over the head with an obvious message, which I think is always tiring to hear - what I call dead languageÖ or jargon. You want to express it truthfully, but without using all the ordinary language. So thatís my methodÖ if I have one.
PCC:
So the writing process, does it tend to be painstaking? Is it be cathartic? Therapeutic?
VEGA:
It is painstaking. It is sometimes cathartic. But having spent a lot of time in actual therapy. I never think of it as therapeutic. Therapy is something you pay for and something you do in private. [Laugh] At the very least, sometimes I hope Iím entertaining or educational or instructional. But I never think of it as therapeutic.
PCC:
Does it tend to begin with the fragment of a lyric or a melodic line?
VEGA:
It usually begins with something visual. Some kind of image in my mind that really strikes me, or affects me, that I canít shake. And then I start to find language that would fit that image. Like - How do I describe this? How do I describe this image? Sometimes Iíll hear a melodyÖ on a good day. Melodies tend to be best when they just arrive full-blown in your mind. Sometimes I get a title. Sometimes I get a first line. But the best ones seem to start with some sort of image that haunts meÖ and then it kind of unfolds from there.
PCC:
So do you tend to wait for the muse to show you an image? Or can you make yourself more receptive to something happening creatively?
VEGA:
Both. Ive had times when Iíve been struck by something creatively, when I wasnít expecting it and I write it down. I try to keep track of all my stuff in notebooks. But you can also court it. If youíre on a deadline and you need to finish an album, you can, in those situations. Itís good to set aside a time every day to just be there, at your desk or in your chair, wherever you play the guitar and practice and keep your notebook and keep your Thesaurus and your rhyming dictionary near you also. So that way, you can get to the answers more quickly. Thatís what I do. And I find that also works.
PCC:
Is it ever tricky, trying to balance career with going wherever your creative instincts want to take you?
VEGA:
Iíve been very satisfied doing it. I donít know if itís tricky or not. I think everyone has just assumed over the years that I do what I want to do. So fortunately, I love all of it. I love the touring. I love the creating of it. I love seeing the final product. I like the fan interaction. So I kind of do whatever needs to be attended to at the given moment. Because Iím independent, I just get a really deep satisfaction out of it. So yeah, I mean, at this point, thereís nobody to report back to. So maybe in my previous life, when I was with the major labels, you could say it was tricky, I guess. But they always supported what I did, honestly. So maybe I have to say no, it hasnít been tricky. Itís just been pretty great.
PCC:
You have always seemed to have creative control of your work. Some artists do let themselves be guided - or misguided - by industry people. Has it been a matter of knowing where you want to go and not letting anyone else divert you? Is it something inherent in you?
VEGA:
I guess so. And I canít say itís always been to my benefit. For example, I think it was probably a mistake for me to have produced my third album myself with Anton Sanko, who was my keyboard player at the time. That was a moment when I probably could have used a great producer to come in and help out, for perspective. But I wanted to do it and my manager supported us in our efforts. But I remember hearing the final product and going, ďOh, well, I think we made some mistakes here.Ē So you learn the hard way.
PCC:
What about setting up your own label? Was that what you expected? Was it satisfying? Difficult?
VEGA:
Thatís been a learning process. Iím starting to make a profit now. Letís see - itís 2016. Iíve been doing it since 2009. Seven years? Is that possible? Wow, I guess it is. So Iím just starting to turn a profit now. And so Iím starting to feel more satisfied, because, before that, I had some idea that, if I could cultivate my Facebook page and get 100,000 people on my Facebook page, that that would be an ideal group to market to and that, if I could get each one of those people to buy a CD, which of course they would - why wouldnít they? - then it would just be great. So that did not work [laughs]. The Facebook crowd, they love the photographs, but that does not mean they are going to buy anything. Theyíll show up to gigs. But I find that most people donít like being marketed to directly. So that was a surprise and that was something I had to learn. I donít know. Iím just starting to feel that Iím getting somewhere. So that is turning out to be great.
PCC:
The business aside, just in terms of the making of the music, has your approach or philosophy changed over the years?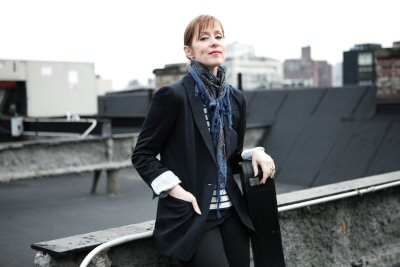 Photo by George Holz
VEGA:
Well, itís gone more back to what it had been in the beginning. For a while, when I had the major labels and I had the huge budgets, I learned sometimes itís just better to have limits. You have to focus. The last album that I made with Gerry, really we had not a penny to spare. We had to be so careful with our time and just get it done. And be so careful with the musicians and make sure they knew what the music was. And we got really great ones to work with. So we didnít have that crazy luxury of like a year to work on an album. And not having that, in the end, is probably better.
PCC:
Youíve had a lot of diversity in your work and your collaborations, from Joe Jackson to Lang Lang. Is it important to you to always be seeking new musical ideas and new directions?
VEGA:
Well, it is. And itís because Iím so aware of my own limits. Iím a person with a straight-forward, simple voice. I donít have a huge range. I also donít read music or really grasp music theory. But I know what tells a story and I know whatís effective for my own songwriting. So anytime I get a chance to work with somebody else, whether itís Philip Glass or Danger Mouse, I just jump at it, because itís a way of extending my palette. Iím aware that, if I just play myself, thereís kind of a sameness to what I do. So I always am looking for that contrast.
PCC:
I read that you were working on a ballet project. Whatís the status of that?
VEGA:
I got a fellowship with New York Universityís Center for Ballet and the Arts. I had that last year, which was great. What I need to do is find a choreographer who can put some of the ideas in motion. I havenít had time for that, because the play sort of took off, in the last year. So I need to finish that, before I can move on to the next project. So thatís still to come.
PCC:
Your background in ballet and modern dance, has that in any way informed your music, maybe in terms of self-discipline or commitment?
VEGA:
Probably. But I canít see a straight line, from one to the other. But the dance training I got was just great - great for my life, great for my body, great for my psyche. And I still love dancing and I still love the discipline. So Iím sure itís had its effect.
PCC:
The play, will there be a new production?
VEGA:
Eventually, Iíll do it myself as a one-woman play, when Iím absolutely sure of the play itself. Thatís up the road. 2017.
PCC:
The response to the original production, off-Broadway, must have been encouraging.
VEGA:
The one that came out in 2011? Yeah, it got sort of mixed reviews. And the music got great reviews. So I was very happy about that. So the music is the same. But the play is completely rewritten from that one. That was sort of an experimentÖ that I decided to move on from.
PCC:
Has Buddhism enhanced your creativity?
VEGA:
Well, itís enhanced my whole life. So I expect it probably has. Again, thereís an element of discipline, because I do the prayers twice a day. And you can pray for yourself and you can pray for others. And thatís what I find really the most helpful. It gives you a place to put all your wishes, to put your desires, all your problems. And it gives you perspective on other people. So itís one of the underpinnings of my life. And my creativity is part of my life.
PCC:
And it helps you keep things in perspective, as far as your own life and career?
VEGA:
Yeah, I mean, you can chant for success and then you achieve success, but then thereís always something beyond that. Thereís always the next problem, the next human issue that you have to face. And Buddhism has just been very helpful for me in terms of that, facing that side of life.
PCC:
And in terms of maintaining healthy priorities?
VEGA:
Well, I think so, yeah. Definitely.
PCC:
Your life in music to this point, what have been the greatest rewards and what have been the biggest challenges for you?
VEGA:
The greatest rewards have been the feeling of being acknowledged and understood. A song like ďLuca,Ē I never could have predicted its success, because I thought of it as a small song about a small issue - a small boy with a problem. And so, that it was accepted worldwide was gratifying beyond my wildest dreams. Sadly, in a sense, because people tell me their stories. And their stories are really deep and really sad. But at least I feel like Iíve been able to contribute something to peopleís understanding of the problem. So thatís been gratifying.
The challenges are to stay alive economically [laughs softly], to do something thatís both satisfying and that earns a living. I mean, I like making a living. And I had many ways of making a living before I became a professional musician. I did everything from babysitting to dog-walking to working in offices. So thatís the challenge - how do you do what you love and at the same time, keep your audience? Thatís the challenge that I really like. And I really thrive on that.
PCC:
And youíve been able to maintain that audience and grow it really.
VEGA:
Yeah, Iím growing it. Itís great, when I see kids at the shows, either parents with their kids or kids with their parents. It works both ways. Itís great. Itís very dynamic. I have a very dynamic life and career. Iím not bored. Never bored. I get tired, but never boredÖ and Iím always looking forward to the next thing.
For the latest news and tour dates, visit www.suzannevega.com.