TAJ MAHAL: HEíS ALL ABOUT MUSIC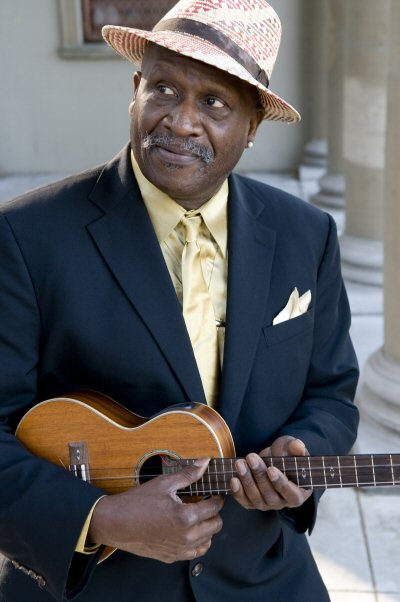 Photo credit: Jay Blakesberg / Retna LTD
By Paul Freeman [2012 Interview]
ďMusic is a language. The language of our universe, our galaxy, our solar system. Our intercontinental language here on the planet Earth, is music.Ē
So sayeth Taj Mahal, Grammy-winning singer and multi-instrumentalist.
Taj emerged onto the Earth on May 17, 1942, in Harlem. Born Henry Saint Clair Fredericks, Jr., he grew up in Springfield, Massachusetts. His mother sang in a gospel choir. His father was a West Indian jazz arranger/pianist. Taj has always drawn from global music.
For years, he has been considered one of the leading modern proponents of the blues. With Ry Cooder, Taj formed Rising Stars in 1965. At the Whisky a Go Go, they performed with such legends as Muddy Waters, Howliní Wolf and Buddy Guy. By 1968, Taj had established himself as an important solo artist.
Taj Mahal, who, when not touring, spends much of his time in Northern California, has delved deeply into African music, as well as Jamaican/Caribbean/reggae. But he has always welcomed new types of musical projects, ranging from writing film music to forming a hula band. He plays what he thinks his own audience will enjoy, not aiming at mass appeal. Perhaps thatís the key to his longevity.
Nearing age 70, Taj Mahalís light shines as brightly as ever.
POP CULTURE CLASSICS:
Do the sets vary each night?
TAJ MAHAL:
Yeah, we have a tremendous amount of material. And we just start somewhere and end somewhere [Laughs]. Thereís stuff that people do like. And you want to make sure that they get to hear some of those things, too. Itís all taste.
PCC:
I had read that you prefer outdoor performances.
TAJ MAHAL:
Well, everybodyís connected to the sky. And you wan to really reach that high in the music that youíre playing. Those old music halls used to give you a feeling that you were connected to the sky. And in festival-type shows, youíre pulling on a lot more energy in that circumstance. Mostly, I just want to hear the music sounding good, whatever the venue.
PCC:
You draw from so many styles of music. Does that make it easy for you to fit on all sorts of bills?
TAJ MAHAL:
I think we need to take the spyglass of anthropology and turn it around the other way and realize that the majority of music thatís popular in the world is based on African music. And these are all related subjects. Thatís all. Cousins, aunts, uncles, second, third, fourth-cousins, cousins by marriage, sister-in-laws, mother-in-laws. Thatís what the music is. I sort of see it as family.
My stepfather was Jamaican. My father was from the Caribbean. My mother was a Southerner. We were raised here in the United States with our cultural heritage coming in from all over the world. Thatís how it looks to me. Some people think like Iím American and then I go down to Trinidad and hear Trinidadian music and I come running back and go into the studio and try to do it like that. No, itís not like that at all. That music was bouncing in my life from the time I was a kid.
One of the important languages in music is the blues. You have to settle with that. And I settled with it really well, I think. Once I got really good with that, I moved to have the blues represent itself with all these other musics, all these other relatives. Go and introduce yourself [Chuckles]. And then consequently, introduce it to the people who like the music that I play. I think thatís whatís happening.
Maybe thereís something to it, people saying Iím the father of world music, in terms of making people aware of it, not that it wasnít out there, not that it didnít exist itself, not that it didnít have its own personality, but as far as maybe being the first American artist that really stepped out and said, ĎHey, we need to talk about this.í
PCC:
Did you always just have a great curiosity about music and an open mind, an open ear?
TAJ MAHAL:
Sure, sure, sure. It was always that way. I didnít even know that was curiosity. If you had one set of grandparents that speak in the South Carolinian, Southern language, and the other ones speak in Caribbean lilt, youíve got music. Those are musics. Music is a language. The language of our universe, our galaxy, our solar system and our intercontinental language here on the planet Earth, is music. No matter where you go, if you donít know what the language is, when the popular song of the day plays, you hear it. And if you hear it a few times, you go, ĎMy God, theyíre playing that all over the place. I heard that in Budapest. And Rome. And I heard it again in Sicily. I heard it in Scandinavia. And my God, they were playing it all the way in Belgium.í
I canít walk into a restaurant and not hear the music, as Iím walking in. Iím always amazed. Iím sitting there, watching people, theyíre talking, not even aware of the music. Iím 24/7, 365, for 60, 70 years now, all about music.
PCC:
How much of that comes from having, as a child, absorbed music from your parents?
TAJ MAHAL:
Iím sure that was a big factor. They gave me the keys to the kingdom [Laughs].
PCC:
As far as the blues itself, what do you see as being the most vital aspects that turn up in other forms - is it the emotion, the rhythms, just the progressions?
TAJ MAHAL:
Well, I just have to go back to the African roots again. If you want to dance, if you want to move, you want to shake, youíre going to have to consider some African music. Itís been that way for thousands of years.
PCC:
Is it true you got the name Taj Mahal from dreams?
TAJ MAHAL:
I feel like Iím in a petri dish and youíre looking at me through a microscope. I think what blows peopleís minds about that is, given the lousy education system in this world, how did this guy have a global concept before the internet? [Laughs] Well, you just get out there and go for it. Yeah, if youíre educated, there are a lot of options. And even time travel, you can reach. Encyclopedias. You can look at maps. I came through in the sixties, when there was a tremendous amount of information. I was in my early twenties, when the sixties came around. I was about 20 in 1962. And by the time it started heating up towards the end of the decade, I was like 26, 27, 28. So there was a lot of information coming through back in those days. Yeah, tremendous.
PCC:
And a lot of experimentation.
TAJ MAHAL:
Exactly. A lot of people were doing a lot of stuff. Fortunately for me, I was a few years older then, so I was like, ĎHmm, doesnít look like thatís the way to go up.í A lot of them, they had to go up that ladder. You couldnít tell them they couldnít go there. Fortunately, some of them made it back.
PCC:
But there was a lot of experimentation in music, too.
TAJ MAHAL:
Yeah, but that was always going on. That happened with jazz. Youíve got to take the music somewhere. Thatís my job.
But getting up to play, we like to see people dance. The hardest thing for us to do is to play to a sit-down audience. That really is hard, more than anything else, when people canít dance. I literally have to close my eyes and not look at the audience.
PCC:
Theyíll be dancing in their chairs.
TAJ MAHAL:
Well, see, what it is, they really donít know church dancing. Church dancing is like, you canít get up and move, but you can certainly move in your chair and let people know that youíre being moved by it.
PCC:
Youíve played with so many people, written for films, had the hula band, are you always seeking new challenges?
TAJ MAHAL:
No, because they come by and they visit me. I donít know if I go looking for them as much as Iíve been lucky. You know, if you get out of your own way, big fish come by [Chuckles], especially if youíre fishing all the time. Youíve got to have a lure, got to have some bait in the water. Youíve got to know what they want, whatís going to make them bite.
Thereís a classic line. Michael Jackson is talking to Quincy Jones. And Michael is saying, ĎQuincy, we have to record this song.í Quincy said, ĎI know youíre excited about it, but why do we have to record it?í Michael says, ĎIf we donít record this song, Godís going to take it down the street and give it to Prince.í [Laughs] You just have to be open... all day. And thatís what Iím doing.
PCC:
What intrigued me with the dream connection to your name, I was wondering how much you tend to tap into the whole spiritual nature of music.
TAJ MAHAL:
Oh, yeah, always. You kidding me? Yeah, the dream state, that was big when I was a kid. My parents, particularly my mother, she used to have a whole lot of stuff that was like dreams, superstition, spirituality. She was on that team, real good,. And, you know, it just becomes a part of your life. You donít even know it. So yeah, dreams are heavy.
PCC:
In the course of traveling the world, do you find differences and similarities in terms of what the music means to people and how they apply it to their lives?
TAJ MAHAL:
Yeah. Mostly similarities. There are differences in what types of instruments. Some places, itís more traditionally connected to who these people are. Other places, itís more spiritually connected. Some places, itís spiritual and traditional.
What happened here in the United States, post-slavery, bringing Africans to the United Sates totally deconstructed the family culture and the cultural background, the music that was kept in the family. But in that deconstruction and dissemination in the United States, it created a brand new music, which goes out to the world. You want to play pop music and youíre in the former Yugoslavia, youíre going to have to listen to some people that come from the United States. I donít care how good youíre playing, youíre going to want to find somebody from over here. Even if itís the heavy metal guys that come from over here, youíre going to listen to them. And no matter what theyíre playing, until they really come up with a brand new music, theyíre just playing bad blues. Loud, bad, unrhythmic blues.
And every now and then, you hear some guy whoís got some brilliant stuff Like Jimi Hendrix, who managed to completely change the music. And thatís where I am right now. Iím on the Hendrix Experience tour, playing every night with a lot of different people. Itís really exciting.
PCC:
Is is surprising, that Hendrix still has such an impact on young people?
TAJ MAHAL:
No, not at all. There ainít gonna be another one of him. Never. Whatever it is thatís coming next, thatís going to be incredible, it will not be Jimi Hendrix. He will still always be who he is and what he is, where he is, doing what heís doing, creating what heís creating. That guy was creative. Itís just phenomenal when you hear a whole bunch of guys playing his music every night. And listening to it, playing it with different instruments. Big steel guitars. Steel Stratocasters. Maestros. All kinds of stuff happening out here, man. Phenomenal. The musicís just great.
PCC:
And your own music, is it just a matter of pleasing yourself?
TAJ MAHAL:
Yeah. And itís what I think people will really enjoy. You canít sustain, going out there and trying to play the hit game. I never played the hit game. I always thought I had music that the record company would realize that there was a big enough audience out there for it. Obviously, they didnít. I still have an audience. I would not want to be a young musician trying to get started today, because itís just impossible, damn near impossible to do anything.
The business is all on the top end now. And itís all sewn up around there. It used to be you could play from town to town, city to city, state to state, area to area. Now everything is going on inside of the computer. Everybody sounds the same. Even when the new kids come out, every once in a while, they get like one, two hot albums, then they fall off.
PCC:
Whatís been the key to your longevity? Just always finding new aspects of music to explore?
TAJ MAHAL:
Yeah. And itís connecting with the audience, like I did 45 years ago. And playing soulful, meaningful music every night. It they come to a show and havenít seen me in 20 years, they go, ĎWow, this guyís gotten really good.í Itís like they come in expecting some old blues man. Iím contemporary. I know whatís going on with the music. I know whatís happening with contemporary music. I always did.
But I just think itís necessary to chant up the ancestors. Call up the spirit of the ancestors and keep that happening in the present tense.
PCC:
Where are you based now?
TAJ MAHAL:
Iím kind of anywhere I want to be, actually. I keep a couple of places. But most of the time when Iím off the road, I hang out on the West Coast. Hanging around the Bay Area.
PCC:
Married at this point?
TAJ MAHAL:
Hmm, nah. No.
PCC:
How many kids do you have?
TAJ MAHAL:
Eleven kids.
PCC:
Did any go into music?
TAJ MAHAL:
Oh, yeah, musicians, performance artists, poets, dancers. Yeah, a lot of stuff, landscape architects, drummers.
PCC:
Did you try to make sure they included creativity in their lives?
TAJ MAHAL:
No. No, no. They find their own way. They either are or they arenít. Some people selfishly want their children to travel in their footsteps. Kids get twisted up like that. My kids donít climb out from my shadow, because I donít cast a shadow. I cast light. And when you cast light, your kids stand in your light. And they learn to cast light. Itís a very important concept. Kids have to find their own light.
PCC:
What have been the biggest satisfactions for you, what have been the biggest challenges, over the course of your career?
TAJ MAHAL:
I donít know... Iím still doing it. [Laughs] No, the way I work, I havenít really sat around. I mean we did write a book at one point. And probably will do some more stuff like that. But I havenít sat around and gathered it all. Someone just starting out would go, ĎWow, thatís a lot of stuff.í
PCC:
Do you tend to want to look ahead, rather than back at what youíve done?
TAJ MAHAL:
Well, what I do is, Iím very thankful for the opportunity to be a feel-good musician in this time and be connected to a lot of stuff. Itís ongoing. Itís in progress and in motion. Itís very exciting.
My audience is wonderful. Iíve got three, four generations of people coming out to listen to the music. Iíve got really dedicated fans. Itís just exciting, man, to see all these wonderful people come by, to have a good time at the show, year after year after year.
PCC:
Are there still goals to accomplish?
TAJ MAHAL:
Oh, sure. Always. Not even goals. More music to play. I donít see it as goals. You just want to get to playing it. I spend half as much time on the road as I used to. At the peak time, it was probably about 300 days and almost as many concerts. We were crazy back in those days. Today, you have to do it in a different way. There are a lot of places would love to have us come and teach, do this and do that. I donít know if I want to go that way. Thereís lots of stuff still to be recorded. Symphonic stuff. Other kinds of stuff.
PCC:
Sounds like the possibilities are still infinite.
TAJ MAHAL:
Oh, yeah. If you tie it to the money cycle, though, youíll never get nothiní done. If you tie it to the spiritual cycle, you get a lot of stuff done. And itís a much more pleasant trip.
For the latest Taj Mahal news and tour dates, visit www.tajblues.com.