TATE DONOVAN: A VERSATILE, FAMILIAR FACE… AND VOICE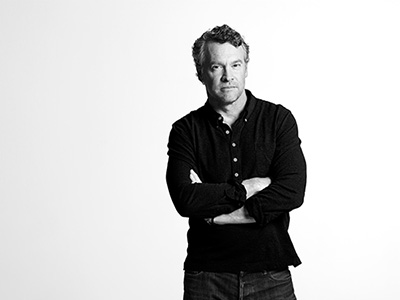 Tate Donovan; (Image courtesy of Selected Shorts)
By Paul Freeman [December 2017 Interview]
You know his face.
Tate Donovan is well known to TV audiences for his roles on "Man in the High Castle," "Hostages," "The O.C." and "24: Live Another Day." Those who were enthralled by the series "Damages" remember his outstanding performance as Tom Shayes, senior legal associate of Patty Hewes (Glenn Close). Fans of the "Friends" sitcom known him as Rachel Green's boyfriend Joshua.
You may also have seen him in episodes of "Ally McBeal," "Homocide: Life on the Street," "Law & Order: Criminal Intent," "The Outer Limits," "Magnum P.I.," "The Guardian," "Trinity," "Masters of Sex," "Elementary" and "Red Oaks." He co-starred with Jon Cryer in the 1995 sitcom "Partners."
Donovan also acted in such acclaimed films as "Argo" and "Good Night and Good Luck." Early films included 1986's "SpaceCamp" (with Kate Capshaw, Lea Thompson and Kelly Preston), 1990's "Clean and Sober" (with Michael Keaton and Morgan Freeman), 1990's "Memphis Belle" (co-starring with Matthew Modine, Eric Stolz and D.B. Sweeney) and 1992's "Love Potion No, 9" (opposite Sandra Bullock). Prior to these, Donovan had done several made-for-TV films, such as 1985's "Not My Kid" and 1987's "Nutcracker: Money, Madness & Murder."
Donovan, who has also worked extensively on stage, is an accomplished director, as well, having helmed episodes of such TV series as "The O.C.," "Glee," "Nip/Tuck," "Weeds" and "Gossip Girl."
Born in Tenafly, New Jersey, September 25, 1963, Donovan is now based in Austin, Texas.
He has been featured several times on the popular radio show "Selected Shorts." Donovan, who voiced the title character in Disney's animated feature "Hercules," enjoys the chance to connect with a "Selected Shorts" audience using primarily just his vocal powers - no sets, no props.
"Selected Shorts" - it's an unusual format that appeals to both audiences and actors. The award-winning NPR series presents classic and new works of short fiction each week to sold out live crowds and 300,000 national radio listeners. The quality of the material lures top talent from stage and screen to read these outstanding works. "Selected Shorts," which began in 1985, airs on more than 150 stations and its podcast is among the most popular on iTunes.
The show calls New York's Symphony Space home, but also goes on the road. We spoke with Tate Donovan prior to his December 10th appearance on the "Selected Shorts" holiday-themed program taking place at Stanford University's Bing Concert Hall (www.live.stanford.edu).
POP CULTURE CLASSICS:
You've done "Selected Shorts" programs before?
TATE DONOVAN:
Yeah, mostly in New York. A couple in L.A. But it's always a fun, great night.
PCC:
What is the great appeal of this format, both for actors and audiences?
DONOVAN:
It's the writing. They always use great, great writing. So actors are always attracted to speak the words of this awesome writing. And audiences like to hear them. And it's fun that it's on NPR, it's broadcast. You can hear it years later. Or your mom can go, "I heard your story on NPR!," when she's driving home or something like that.
PCC:
Do you also enjoy the chance to connect with an audience using primarily just your voice?
DONOVAN:
Yeah, that's a great challenge and fun. And I'm always surprised. When you read a lot of these stories, you have your reaction to them, but I'm always sort of surprised by what the audience thinks is funny or you can hear gasps sometimes. Whenever you perform in front of a group of people, you always learn something. There's always a unique moment that only can happen between the audience and you and the material, where you're just like, "God, that came out crazy."
PCC:
You've done a lot of theatre over the years. Is that what makes it special to you — that connection with a live audience?
DONOVAN:
Yeah, I think that's the specialness of doing theatre, for an actor. You know, a lot of actors who don't do theatre, who do only film or television, are like, "Jesus, man! You did a play for 10 months? Don't you get bored doing the same thing?" And it's shocking how different each performance is. I mean, the audience is just amazingly different every time. And it informs you every time. It's like, "Oh yeah, okay, I guess they can hate my character now. I thought that they would like him." Or they'll laugh at something. It's a lot of fun. Every time you sort of learn something.
PCC:
And in this unusual "Selected Shorts" format, you're basically playing all the parts in the story and narrating.
DONOVAN:
Yeah, that's a real fun part, where I get to be all these different people — women, kids, Santa Claus [laughs]. Mine is like a really funny, oddly violent Christmas story by Kurt Vonnegut and you've got a lot of great characters to voice. It's really fun.
PCC:
What's the name of the piece?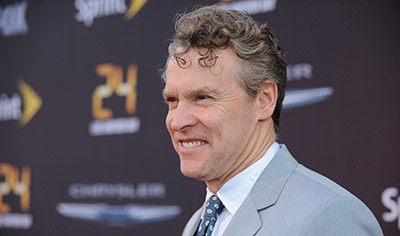 Tate Donovan; (Image courtesy of Stanford Live)
DONOVAN:
"A Present for Big Saint Nick."
PCC:
Do you choose the material or is it assigned to you?
DONOVAN:
Yeah, they emailed me and said, "Do you want to read this?" And I said, "Hell, yeah. That would be great." Plus I love any chance to go to California, especially that part of California. If I get the chance, I'll take it, because it's just so beautiful up there in Northern California. I love it there. It's just a gorgeous part of the Earth.
PCC:
Are you based in New York?
DONOVAN:
I live in Austin, Texas right now. But I mostly have lived in New York City. And also L.A.
PCC:
How did you choose Austin? It's kind of a happenin' place.
DONOVAN:
I got married to a woman who has a child and we needed to stay there. Yeah, it is happenin'. It's a really good town. It's surprising. I mean, I'm not a huge fan of Texas, but if you have to be in Texas, Austin is the town.
PCC:
A lot of creativity going on there.
DONOVAN:
Yeah, a lot of creativity… in a lot of different ways — music, food, tech, architecture. Yeah, it's pretty great. It's a good place.
PCC:
Are you still involved in music? I read that you had been in an Irish band.
DONOVAN:
[Laughs] Oh, yeah. Not as much as I used to. But every St. Paddy's Day, I definitely find a way to take the fiddle out and play with some people. Not as much as I used to. I used to play in a pub every Tuesday night for like five years. But it's still fun.
PCC:
The Vonnegut piece — what appealed to you about that short story?
DONOVAN:
Well, it's got a lot of fun characters in it. It's about a mobster who throws this Christmas party for all the people that work for him and demands adulation from everyone. He's a nightmare. He's a terrible guy. And it's what's happened to him. And it's great. It's really fun. It's classic sort of Vonnegut Christmas — dark and funny and filled with a lot of well-drawn characters.
PCC:
Have you always been a fan of short fiction, generally?
DONOVAN:
Not really. actually. I don't dislike it, but it's not like I go out and read short stories all the time. Like I get The New Yorker and I very rarely read the fiction. That's terrible. I should.
PCC:
Has the "Selected Shorts" show turned you on to some new authors?
DONOVAN:
Totally, yeah, a lot of different authors that I've read and liked — a lot of them I had never heard of. Yeah, it's great.
PCC:
And a program like this allows audiences to use their imaginations, like old radio shows used to do.
DONOVAN:
Yeah. It's kind of a unique experience. To sit there and hear someone read something is surprisingly fun and, I guess you're right — old-fashioned. People are enjoying the human voice a lot more than we think. We think, "Oh, we're so visual now. Everything's about the visual." But I don't know — it seems like radio and podcasts are having a comeback. Maybe it's the headphones [laughs].
PCC:
You've done quite a bit of voice work. You voiced the title character in Disney's "Hercules" movie?
DONOVAN:
Yeah, the voice of "Hercules." And I've done a lot of ads, voiceovers for cars and banks and stuff like that. A couple of video games.
PCC:
"Hercules," that must have been fun. For that character, what was the vocal quality that the producers were looking for?
DONOVAN:
You know, I don't know. I sort of asked them, like "What do you need?" Because, when I went into that audition, every single hot actor wanted to do it and was auditioning for it. I was like, "Forget it. There's no way I'm going to get this role." And I somehow got it. And it was a great experience.
Working with Disney then, in the animation department, everyone had been doing their job for about 30 years. And that's just so rare, working for the same company, in Hollywood. You just don't get that. Like people come and go every six months. And they were just so stable and knew their jobs so well. "Hercules" was one of the last fully animated Disney features. And there were animators that had been there doing it since the 60s, the same old turning-the-page ways. It was great. It was really, really fun to be part of history like that.
PCC:
Growing up in New Jersey, did you go to New York often to see plays?
DONOVAN:
Yeah… well, not to see plays too much. My parents weren't into the theatre and stuff like that. But both my parents were from Brooklyn. And we used to come to the city. My dad worked in the city, so I was in the city. My older brothers lived in the Village. So I used to go the city all the time. I always dreamt of living and working in New York. It was always like the Big Apple for me.
PCC:
So, acting, who inspired you? What made you want to get into that?
DONOVAN:
Well, it's kind of a ridiculous story, but I was four years old and my parents brought me to a movie. I don't even know the name of it, like a medieval knights movie. I just remember seeing a bunch of medieval knights on the screen. And I just looked up on that screen and I was like, "God, I've to do that!" And oddly enough, I immediately thought, "Wow, if I want to do so badly, everyone must want to do it so badly." [Laughs]. I sort of immediately knew there was going to be a lot of competition. But I sort of lucked out over the years and made a career.
PCC:
And once you started to study acting, were there acting heroes?
DONOVAN:
Oh, God, tons, tons of actors. Jimmy Stewart was one of my favorites, Marlon Brando. You know, the usual. You talk to basically any actor, they're all going to say basically the same group of guys — Marlon Brando, James Dean, Jimmy Stewart, Henry Fonda, Laurence Olivier. But yeah, there have been hundreds and hundreds of performances where I've just been in awe.
God, have you seen the movie "The Florida Project"? Oh, my God, you've got to see this movie man, it's so good. There's a little girl in it that gives a performance that is one of the greatest performances you'll ever see on film. It's by Sean Baker, the guy who did "Tangerine." He's a brilliant filmmaker and he has found this little girl and her mom. It's the story of this little girl and her mom who live in this motel in Florida, outside of Disney World. And, oh my God, it's such a good movie.
But at any rate, I'm absolutely inspired by other performances, I'm just like, "Jesus, how do they do it?" [Laughs]
PCC:
You were on screen by your teens?
DONOVAN:
Not really. I was around 20… I was 19, when I started, getting my first job. Thirty-four years. Unbelievable.
PCC:
So you've grown as an actor in front of the public, really?
DONOVAN:
Absolutely. Yeah. It's sort of like, when I was younger, I thought, "Oh, in a couple of years, I'll have it down I won't be so nervous. I'll think I'm a better actor. And it's shocking to me how every time, whether I'm reading a short story for "Selected Shorts" or I'm doing a play on Broadway or doing a scene on a television show, I'm always like, "Jesus, I don't know what to do. What should I do here? Oh, God, I'm terrible!" [Laughs]
It's shocking to me how, every time you do it, there's something that trips you up. Or there's a challenge every single day you act. And I do some directing, too, and the same thing goes for directing. Just when you think, "Oh, I've got it made," something comes along and trips you up.
PCC:
So is that a good thing, in some ways, to have that little bit of insecurity?
DONOVAN:
No one's said I can't do it anymore, so I guess it's okay. I think confidence is overrated. Everyone's sort of trying to feel 100 percent confident about everything they do. I think there's a lot of room for insecurity and questioning and doubt.
PCC:
You've certainly been part of a lot of TV shows that have fervent followings, I guess most recently in "Man in the High Castle." When you heard about that show were you immediately intrigued by its premise?
DONOVAN:
Yeah. And when I worked on it, I really began to understand what that world would be. You don't realize that, thank God, we won World War II — that's all I've got to say. Even in the wardrobe fittings, you realize what would clothing and design be without Jews, without African-Americans, without any minorities, living in America? What an incredibly boring, terrible place it would be. You know what I mean? And it really sticks with you, when you work on that show. The sets, the cars, the props that you use, to imagine that everything would be German-made, is kind of horrific.
PCC:
And then "24," that was such an intense show to watch. Was it intense to shoot, as well?
DONOVAN:
It wasn't intense. It was very fun and great. We got to shoot in London. And Kiefer Sutherland is simply amazing to work with. He is his character. I mean he is like so intense, so focused. He doesn't f-ck around. It's like you show up to work and you do a scene with him, you are doing a scene with Jack Bauer. He knows his stuff. He knows the show so well. It was pretty impressive. I was like, "Whoa!" He's not like one of these actors who pals around. I mean, he's a really nice guy. But when he's on set, he's super focused. It makes it easy to work with him.
PCC:
And then "Damages," was Tom Shayes a fun character to sink your teeth into?
DONOVAN:
Yeah, it was great. I mean, Glenn Close and Rose Byrne are two of the best actresses on the planet. And I really enjoyed working with all those guys. The writing on that show was spectacular. The producers and writers on that show. I worked with them again on "Bloodline" a little bit. They're just some of my favorite people I've ever worked with, for sure.
PCC:
And a lot of people must still recognize you from "Friends."
DONOVAN:
Yeah, they do. It's amazing. And "O.C." It all depends on the age. It's hilarious. Kids in their twenties are like, "Oh, my God, I grew up watching you on 'The O.C.'" And then people in their thirties and forties are all about "Friends." And people with law degrees are all about "Damages." It's so funny.
PCC:
But "Friends," that series seems to play well to a new generation in reruns. Why do you think it has thrived, that comedy?
DONOVAN:
Those guys were just so incredibly funny and good at their jobs and likable. I think that show is just a classic. I was lucky, for sure, to have been on that show for five episodes. I mean, people come up to me all the time and they're like, "Joshua!"
PCC:
Was that a happy set to be on?
DONOVAN:
Yeah, it was a very happy set. I mean, it was a little tough, a little tricky for me, because Jen [Aniston] and I had dated for two years before I did the show. So we were sort of broken up. So that was a little tough. But everyone made that set as happy and fun as possible. They sort of all were like, "Oh, gosh, I'm sorry you guys are broken up. That's tough. But we're going to have a great time anyway." And it was very sweet of them, really. I'll always love those guys, because they were incredibly nice to me the whole way through.
PCC:
You mentioned "The O.C." You got to direct some of those episodes?
DONOVAN:
Yeah, that was the first place I ever got to direct, which was a fantastic experience. I ended up directing a lot of "Damages," a lot of other shows that I've been on and other shows that I haven't been on. Yeah, but they gave me my first chance to direct. And I was very fortunate. I really enjoyed that part of it all.
PCC:
So starting to direct on that show, was it easier, because you were dealing with a young cast that was enthusiastic? Or problematic, because they were kids on the way up, getting a lot of attention.
DONOVAN:
[Laughs] Well, when an actor who's on the show directs, especially for the first time, there are so many people on that set who are helping you through. It's sort of like going to film school. I mean, there are people there who make sure that you don't f-ck up. So everyone was sort of on my side and wanting me to do well. So yeah, it was a really good first experience, that's for sure.
PCC:
Over the course of that run, were you able to advise those kids, since you had been on screen when you were 19, 20?
DONOVAN:
Not really. You can't really advise anyone. Because it's such a unique experience for everybody. I suppose if someone asked me, "Hey, what should I do here?," I would try to give them a decent answer. But basically I feel like, "God, I don't really know. Geez, just hang in there." [Laughs]
PCC:
And the experience of directing, does that benefit the acting afterwards, to have that perspective?
DONOVAN:
Oh, yeah, tremendously. Tremendously. I used to be worried about so many unnecessary things before I directed. And once you direct, you're like, "Oh, my God, being an actor is like being on vacation," first of all. All you have to do is memorize your lines and show up. And you come in late and you leave early. It's a great job. So yeah, it definitely made me relax about a lot of things and made me realize that, "You know what? I don't have to worry about the whole show. I just have to worry about my character. Just do it as well as possible. And have fun."
PCC:
And you've had a chance to work on a number of fine films, as well. "Argo" — what was your experience on that set?
DONOVAN:
Oh, man, that was a dream, working on that one. Ben [Affleck] was so much fun to work with. He was so well prepared. And he's surrounded by some of the best people in show business. I mean, my wardrobe fitting was like an acting class. I learned so much about the period, the time, the politics, my character, just from all the research the wardrobe made. Everybody — the cameraman — it's just like everyone was just the top of their job.
And we got to go to Turkey. It was just an incredible experience. And a great story. I don't think that any of us thought that, when we were making it, that it was going to win an Academy Award for Best Picture. But it was great. It's one of the great highlights of my career, for sure.
PCC:
And to be part of "Good Night and Good Luck," another acclaimed film?
DONOVAN:
Yeah, that was so much fun. Oh, my God. George Clooney — if you're going to be a big star, you should be like George Clooney. He is like so much fun to work with. He's incredibly generous. He totally understands what it's like to be an actor and have a small part. He's sort of been there. And he hasn't forgotten what it's like to not be a star and still be an actor. He's great. He's awesome. I'd love to work with any of those guys again. That was a lot of fun.
PCC:
You also played the title role in "Neal Cassady." That must have been an interesting character.
DONOVAN:
Yeah, God, that was fantastic. That was such a challenge. Such a challenge. I think I was a little disappointed in the whole end result of that film, because pages and pages and pages were just cut out of my performance. And that was like the only time I've ever been just heartbroken, when I've made the film and then saw the cut. I just was like, "Oh, Jesus… " But still, it's got some great actors.
One funny, classic story about that film. I don't know if you know, but Neal Cassady could juggle sledgehammers and wood on a regular basis. So I taught myself to not only juggle, but to juggle sledgehammers. Let me tell you something, that is super hard. It's not only hard to do, it's hard on the deck that you are doing it on. You know what I mean? It's like I smashed so many goddamned stones on my deck, it was ridiculous.
And I just spent hours and hours and hours trying to get that down for the scene that where I was juggling sledgehammers. And, of course, all the work, it's just a flash in the pan… and you don't even know that it's me juggling sledgehammers. You don't even see that they're sledgehammers. It's just like this weird, shadowy image. And I was just like, "Goddamn it! I spent like months [laughs]. I ruined my deck. I nearly broke like four toes. And for nothing!"
PCC:
But it must have been cool to get inside the head of such a legendary figure.
DONOVAN:
Oh, yeah. The more I learned about him, the more fascinated I became. It was a great experience, to try to play that guy, just to be in that role.
PCC:
Is there a role in film or TV that maybe wasn't widely seen that you wish would be discovered… or rediscovered?
DONOVAN:
Well, there's a movie that's coming out — it's called "Grace" — that I'm in… I don't know if it's coming out. We're hoping to get into Sundance. And for me, it's the best part I've ever had in my entire film life. I've had really good roles in theatre. But it's just an extraordinary role of this sort of frustrated writer and this girl who comes into his life and takes care of him. He's very wealthy, was very successful, but is completely blocked now. And they have this great, crazy relationship. And it's definitely the most challenging and most interesting role I've ever done. And I just hope to God people get to see it. I mean, I've done so many movies where no one has ever seen them. I must have done 25 movies that have never come out.
PCC:
Not even on DVD?
DONOVAN:
Not even DVD. It's tough. There's a lot of movies being made and not a lot of people get to see them. It's a tough world out there. So I hope to God that it gets into festivals and someone buys it and people get to see it, because it's some of my best work, I think.
PCC:
How do you handle it, when so much hope and work goes into a project and then it doesn't see the light of day?
DONOVAN:
You get depressed. And you get sad. And you curse [laughs]. You curse your life. And then you get another job and you're like, "Hey!" Or someone comes up to you and says, "I saw you in 'Argo.' You were great." And then you're like, "Okay." You know, you win some, you lose some.
PCC:
Are there other projects coming up that you're excited about?
DONOVAN:
Yeah, I've got a small, but it's a good little role in a movie called "The Upside" with Bryan Cranston and Kevin Hart and Nicole Kidman. It's a pretty good little movie. And I've got a small role in it, but it's definitely a good movie, for sure. I just saw it. My wife loved it. So that's a good sign. She doesn't love a lot of things. A tough audience.
PCC:
[Laughs] Is she in the arts?
DONOVAN:
No, she's a nurse.
PCC:
Nice to have a nurse on hand at all times.
DONOVAN:
[Laughs] Yeah, that's true. It is.
PCC:
So for you, at this point, what are the most rewarding and most challenging aspects of life as an actor/director?
DONOVAN:
Gosh, I guess looking for great material and being part of great writing. That's sort of why I gravitate towards "Selected Shorts." It's all about the writing.
And you just try to do it, be part of it. And make a living [laughs], really. I've been so lucky, so far.