TAYLOR EIGSTI: OPENING MINDS WITH HIS MUSIC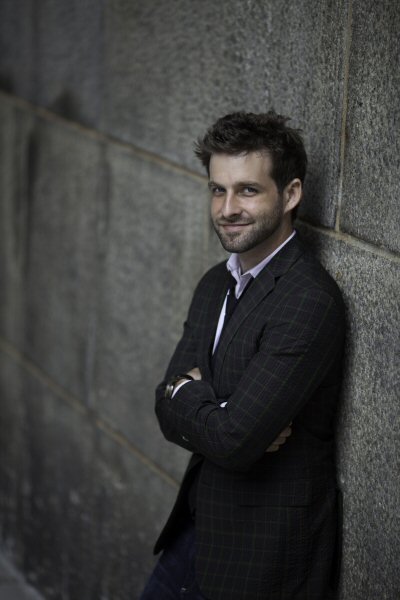 Photo by Bill Douthart
By Paul Freeman [February 2013 Interview]
Since he was a toddler in Menlo Park, Ca., Grammy-nominated pianist/composer Taylor Eigsti's abilities have brought him an abundance of praise and golden opportunities. But for him, music is more about giving than receiving.
"I hope that my music gives people the joy of being connected with the passion that's happening on stage," Eigsti says. "I like to take the audience to new places and maybe challenge them a bit, but I never want to play stuff that leaves them behind. One of the great purposes of music is to open people's minds in different ways. If we're playing honestly and from the heart, people will connect with that. To me, that's the great joy of playing the music. It's like having a great conversation in front of people.
"The musicians who just play for themselves are missing the point. I remember, growing up, seeing so many great concerts and being inspired by that feeling of being in the audience. That's what I knew I wanted to give to others. Ultimately that's the natural humility of playing music - it's for others. I try to keep that in my sights and I try to play with other musicians who are aware of that."
These days, the New York-based Eigsti plays most often with his trio mates - drummer Eric Harland and bassist Harish Raghavan.
As we spoke with Eigsti, he was about to play several Bay Area dates with tenor saxophonist/ composer Dayna Stephens. "He's my favorite saxophonist and one of the greatest musical minds I've ever known. He's brilliant. I look forward to any chance to play with him."
Stephens and Eigsti were once roommates in Oakland. They have several collaborations in the works, including symphony projects. Stephens is suffering from a rare kidney disease and needs a transplant. (You can contribute here: helpdaynastephens.org)
"It's unbelievable to see what he has to go through constantly, the dialysis," Eigsti says. "Dayna is an important musical soul. You can learn a lot of lessons from him, seeing what he has to go through just to play music. And he loves it so much. He's so dedicated to it. He's not one to complain."
Eigsti's earliest inspiration was his sister, Shannon, a jazz/rock pianist who once performed with The Doobie Brothers. She died of cancer at age 17.
"I was three, when she passed away. I just wanted to continue doing what she had been doing. She was definitely a big influence."
At four, Eigsti began taking piano lessons. His parents were always encouraging. "Not everyone is afforded that luxury. It's so much harder, when people have to rebel against their parents to be a musician, when their parents say, 'Get a real career.' Mine were happy that their son wanted to be a musician. I was lucky."
Eigsti was influenced by pianists Randy Masters, his teacher, and Smith Dobson, the Santa Cruz pianist who died in a 2001 car crash.
"I've been fortunate to have had a lot of different musical influences early on, good people, good musicians and good role models. I try to remain a product of that and to keep their lessons in mind."
Eigsti was often referred to as a prodigy. "That tag used to be frustrating at times. People put that label on young musicians who started really early. There's a novelty to it. As I grew older, I realized that I couldn't complain about that, because, as a young musician, you need some people around you telling you that you're good at what you do. It's a part of building confidence, to make you think, 'Maybe I'm good enough to keep doing this.' "
Early on, his parents played jazz records for him. "They exposed me to some cool things that maybe otherwise, I wouldn't have heard. There's such a great energy to jazz music and music that's improvised.
"I switched to jazz lessons, when I was six years old, because my teacher noticed that I was inclined to change the things on the page."
Learning improvisation early, led to composing. "Composing comes out of that same source. It's improvisation that you can take your time with."
At the age of eight, Eigsti opened for one of his piano heroes, David Benoit. "I was really inspired by him. He let me perform with him sometimes. I was nervous in those situations, but playing with great musicians early on, that were much better than me, I think that gave me more confidence as a band leader later on, because the caliber of musicians I wanted to play with, sometimes it can be kind of intimidating on some level. As a band leader, you may be directing musicians who are better than yourself, but you have to guide the ship a little bit and you need confidence and conviction to do that.
"I try to always remain a student in that aspect, keep learning from people, keep an open mind to anything people say. I think that's how people grow the most, as musicians."
Eigsti was 12, the first time he had an opportunity to share the stage with Dave Brubeck. "It was one of the biggest musical moments of my life. He imparted to me that you can spend your whole life doing this and you never have to retire. And, if you do have some level of success in a career in music, you can be nice to everyone. He was so generous.
"Dave was a huge influence on me, personally and musically. A few weeks ago, I went out to Wilton, Connecticut to perform at his memorial service concert. There were a lot of musical things happening. All of his sons were playing. His wife spoke. It was a powerful experience to see everyone coming together. Dave affected so many people positively.
"A year ago, my wife and I went up to his home in Connecticut. We had dinner with Dave and his wife Viola. Dave had a little Casio keyboard at the dinner table, right next to the plates, so he could work out ideas. Even at the age of 91, he was still composing. And I'm like, 'Hey, I still want to be Dave Brubeck when I grow up.' "
Eigsti's own touch at the keyboards is intuitive, inventive, sensitive and rhythmic. It took time, but he definitely found his own voice on piano. "It's not something that you necessarily consciously work towards. You just keep working and sometimes that kind of thing carves itself out naturally. We start by emulating a lot of other musicians that inspire us. Most people learn that way and it makes you feel good. Over time, you start to fail at emulating people. And where you fail at emulating is where you succeed at discovering that you have your own place. It's inside the mistakes we make while emulating others, that we find the musician that we are. The more we play, it's inevitable. It's like when everybody talks, their voice is a little different. Playing music, as long as you let yourself explore a lot of different things, broaden your musical horizons, your voice comes through."
He has been making albums since he was 14. In 2006, "Lucky To Be Me" earned two Grammy nominations. "That was fun. I'd never been a part of any competition, musically, in my life. It was my first time in an environment where you could win or lose something. I'm a very competitive person when it comes to sports. I've played a lot of football and some basketball. I'm a huge 49ers fan. But I hate it when competitiveness gets into music. I don't want to be a part of that, because it's so subjective. So the Grammys was strange for me. But it's good in that it follows you around your whole life and having the nomination sometimes makes people go out and find your music. So I'm thankful to have had the opportunity."
His latest Concord recording is the illuminating "Daylight at Midnight." Eigsti is working on a couple of solo piano albums, which will be released late in the year.
The latest release includes Eigsti's arrangements of pop artists such as Rufus Wainwright, Imogen Heap and Elliot Smith. Eigsti doesn't call himself a jazz artist, but simply a musician and improviser.
"Music is best, when you can't define the type of music it is. As Duke Ellington said, 'There are only two kinds of music - good and bad.' There are so many people trying to combine different elements into the music. That's the direction that the music needs to go. People who are stuck in the concept that jazz can only sound one way, then go listen to the great old records. They're never going away. There's something to be said for the loyalty in the jazz fans who are purists. But that kills the music. It dies, because it stops expanding, stops growing. We live in 2013 and music has to reflect the time we live in, a time of great diversity. What a time to combine other genres, learn from them and assimilate all the great things in them, too.
"There's no point in my emulating Oscar Peterson, because I'm never going to sound exactly like he did. So I might as well try to sound like the best Taylor I could possibly be. Jazz continues to evolve. If I see someone who's 75 years old and really only likes traditional jazz and they hear something I do that's more inspired by the modern hip-hop world, but they accidentally like it, that, for me, is very satisfying and every bit as much of a success as reaching a young person and showing them the benefits of playing a song like 'The Duke,' by Dave Brubeck. That's what bridges the generations more than anything. If, with your music, you can help people to generate an open mind, at any age, that's a pretty good purpose."
Eigsti, who is writing a book, "The Piano Is A Physical Instrument," has been teaching since he was 12. "Teaching is another big part of musical development, to learn how to articulate ideas to other musicians. And that's how you learn a lot about yourself, too, by dissecting the ways that you learn from music and imparting that to other people. Teaching is such an important part of growing up as a musician. I have a bunch of alternative approaches that are a little bit against the grain of normal, traditional jazz teaching. I'm always excited to be a part of music education. It's something that sustains the music and develops new people who are interested in learning about the mechanics and the history."
With composing, fronting his own band, playing as a sideman in other groups he finds intriguing and traversing the globe, Eigsti's biggest challenge is finding time for everything.
"I always feel the stress of taking on a lot of projects at once, facing upcoming deadlines. I'm trying to find balance. I've always been the type of musician who wants to have a busy schedule, a full plate. The hardest part is to balance it all and stay healthy, get enough sleep. Now, if I know that it's just going to destroy me to take on another project, I am learning to say 'No,' occasionally," Eigsti says, laughing. "But I'm making music that I'm passionate about, so I'm always happy.
"I've been fortunate to have traveled so widely and to have had so many thrilling experiences. There are so many situations in my life where I'm looking around, thinking, 'How in the world did learning jazz piano get me here? How am I all of a sudden standing backstage at Stevie Wonder's concert at the North Sea Jazz Festival in the Netherlands?' This never feels like a job. I'm so thankful."
Artist website: tayloreigsti.com