TEEMU SELANNE: FABULOUS FINN NOT FINISHED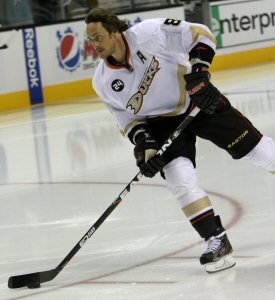 By Paul Freeman

For several seasons, Anaheim Duck fans have regaled their beloved Teemu Selanne with a "One More Year" chant. The crowd was verbalizing every hockey lover's wish.

"That was awesome," Selanne tells us. "I've had a special relationship with the fans. They appreciate what I'm doing and I appreciate them."

At age 43, The Finnish Flash is still an offensive force and poetry in motion. The dazzling Selanne has played over 1,400 regular season games, piling up more than 1,400 points. But he's as enthusiastic as ever. And during the playoffs, he showed he can turn the intensity level up to 11.

Ducks' captain Ryan Getzlaf says, "Teemu's a great guy and a great hockey player. Every day, he enjoys being at the rink and it rubs off on you. In the locker room and stuff, he brings that joy, that smile to everyone's face and you're happy to be at the rink."

"He commands respect from everybody in the league. Off the ice, he's immeasurably popular, dedicated and a leader and mentor. We're very fortunate this year that he wanted to come back and play."

Ducks' head coach Bruce Boudreau says, "He's having a lasting impression on the coach, so I would hope he's having a lasting effect on our younger players. I put myself in their position and if I was anywhere from 20 to 25 years old and I was in the locker room, I'd be in awe, not only as a player, but how nice a guy he was... and is."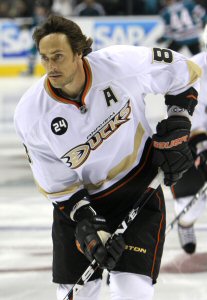 Former teammate Jason Blake says, "He's such a good player. He's a Hall of Famer. And he's got a lot of passion for the game. He's always happy. He's excited to come to the rink and he shows it every day."

Former linemate Patrick Marleau of the San Jose Sharks says, "Teemu is a great guy to have in the dressing room, as well as on the ice."

Selanne tells Top Shelf that he has been savoring every moment on the ice with his fellow Ducks.

"Absolutely. As you get older, you realize how lucky you are when you get to play the game you love. You see things differently as you get older. And I have been enjoying the game, since the lockout, more than at any other time in my career, for sure. Even those great years when I was younger, I still enjoy it more now."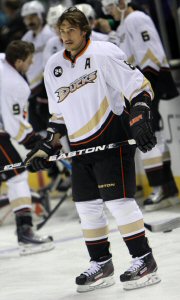 That's why he looks so young on the ice, because of his exuberance. "Passion is the key for this game," Selanne says. "And that's the only reason why I'm still here. I enjoy to come to the rink. I appreciate being healthy. When I was with Colorado, that year [2003-2004], I didn't enjoy the game. I lost the passion. And that really woke me up. I realized how lucky I was, when I had that knee surgery and was able to get my wheels back. Since then, I've been a happy camper. I really appreciate everything."

Is anything more difficult at this stage of his career? "The hardest thing right now is recovery time. When you're older, it takes more time than when we were younger. That's why you have to be so smart about what you do off the ice. You have to rest as much as you can. You have to have more massage therapy, more stretching. And then you have to ride the bike. You have to work harder, but smarter. You have to eat properly, healthy foods, and make sure you drink lots of fluids. Get enough sleep. The list is long. That's why it takes a lot of preparation for the game. If I can do that, there's no problem."

His extraordinary vision on the ice and his hockey sense, enable him to excel against much younger opponents. "Obviously, experience helps. I've always played with great players. And I really feel that I haven't lost that much speed or my skating ability, so that gives me a chance to still play. In many ways, I think I'm a better player now than I was when I was 25."

For several years, Selanne has been trying to decide whether he should hang up those high-flying skates of his. "I just went one year at a time. It has been really working well for me. Before every season and all season long, I think, 'This is it,' and try to enjoy every day and take advantage of that. And then, after the season, a month after the season, you get a pretty clear mind about how much fun it was and if you're ready to push yourself again, for the summer and the whole year, doing all the right things. It takes a lot of dedication these days."

Playing last season, Selanne was able to enjoy a triumphant return to Winnipeg, where he began his career and racked up an astonishing 76 goals in his rookie season, 1992-93. There, in Manitoba, the Jet-turned-Duck was given a hero's welcome.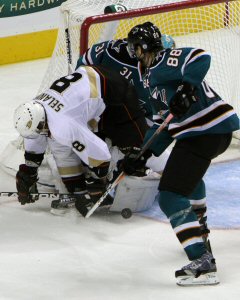 After pondering retirement again this past off-season, Selanne, the original Great 8, decided to come back. But he announced that this year with the Ducks would be his last. It gives him one more opportunity to serve his country, Finland, in the Sochi Olympics. In his homeland, Selanne is more than a sports superstar. He's a true pop culture icon.

The NHL just won't be the same without Teemu. But the chant is no longer, "One more year!" It's "One more Cup!"

Selanne says, "When you come from Europe, you have to grow that dream. Some young players come over here and they don't even really know what the Stanley Cup is, what is means, what it takes to win it. That became my dream. Now I want to relive that dream one more time. That's the only unfinished business. I don't have any personal goals for myself anymore. It's just about winning. That's all that matters."