Terence Blanchard: Infinitely Creative Jazz Artist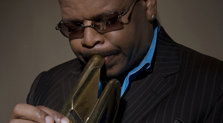 Photo Credit: Jenny Bagert
By Paul Freeman (March 2010)
Coping with tragedy can take many avenues. For the great jazz trumpeter/composer Terence Blanchard, music helped with the healing process.
Still reeling from the devastation Hurricane Katrina and the subsequent bureaucratic bungling wreaked upon his city, New Orleans, Blanchard scored Spike Lee's documentary, "When The Levees Broke." But the composer had more to express. So he wrote and recorded the Grammy-winning "A Tale of God's Will: A Requiem For Katrina" (Blue Note).
"I was trying to chronicle was going on in the aftermath of the hurricane," Blanchard explained. "So it's a statement to how traumatic and powerful and the type of impact that the event had on so many people."
Blanchard and his quintet have been performing the profoundly moving work with symphony orchestras.
Blanchard told Pop Culture Classics that playing in a symphonic context adds texture to his music. "It's a matter of having a lot of different types of colors, to create and tell stories with them. It's like broadening your vocabulary, to deliver a beautiful poem."
"A Tale of God's Will" hurls him into the eye of the hurricane again. "As soon as I hear the entrances on some of the pieces, I immediately go back to when all of that stuff was happening. It seems like a horrible dream right now. But playing the music brings it all back and makes it real again.
"When I lived in New York, it was like trying to fit a square peg in a round hole. New Orleans will always be home to me. With the Saints winning the Super Bowl, having a new mayor. There are a lot of things on the upswing here. The city has been buzzing."
Blanchard felt a duty to perform "A Tale of God's Will." "I had a weird feeling that I needed to play this music around the country and around the world, just so people could get a sense of what we were going through here. Sometimes news accounts couldn't tell the story. I knew playing the music was an added dimension to the story.
"The music itself was born out of a number of stories that were told to me personally. So I felt a bit of an obligation. I usually don't don't feel obligations. This time I did. And the reason for that is, there were two things that would happen every time we played the music. Some people would tell me that it made them really contemplate what had happened in New Orleans. But then there were other people, either locals or friends or family members of locals, and they were were in survival mode. They told me that the music allowed them to deal with their grief, which helped them to move on."
Capturing the tragedy's tumultuous emotions presented a daunting challenge. "I felt that way initially," Blanchard said. "I knew that I needed to make my own statement about it. I just didn't know exactly how I was going to go about it. Ultimately, I just allowed it to be.
"Initially I was trying to write some music that would perfectly describe what had happened. My wife said, 'Listen, why don't you just take the themes from the documentary and rearrange those for orchestra?' And I did that. So the arrangements themselves were borne out of the stories. It just started to all come together at that point."
Blanchard described working on "When The Levees Broke" as a strange experience. "On most of the things I've worked on, whether they're documentaries or fictional films, they're foreign to me. It's not reality to me. When I was working on 'Four Little Girls' [Spike Lee's documentary about a 1963 Ku Klux Klan church bombing], those images were very rough to look at, but I could take a break and go to the park and chill, get away from it for a second. What was very bizarre about working on the 'Levees' documentary was, there was no getting away from it. As soon as I stepped outside, I was right in the reality of what it was I was working on inside my studio.
"I was one of the lucky ones, who just had broken glass. But driving around the city, I'd see people who had no homes, no place to live. That writing process was something I don't want to experience again. It was tense for a long time, because there was no getting away from it."
Blanchard has composed more than 50 film scores, including every Spike Lee project since 1991's "Jungle Fever."
Of his special rapport with Lee, Blanchard said, "I think I really understand him. I think I just know where he's coming from, what it is he wants to do. We've worked together enough that we've kind of grown up together in this business, so to speak. It's been a great experience for me, because he's the type of person that's made me grow, made me stretch.
"Spike will challenge you. He will challenge you in a very creative way. He'll say, 'I want to use this theme in such-and-such a way.' And it expands my vocabulary, because I may not have been thinking of using the theme in that way. It forces me to give a hard look and do some serious problem-solving to achieve what it is that he needs for his film."
Lee has a strong sense of music. "He gives me a lot of freedom. But there are certain things that he wants. Here's the thing about why we work together so well, he gives me a lot of freedom, because he knows I know what he wants," Blanchard said with a laugh.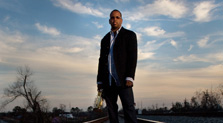 Photo Credit: Jenny Bagert

"Spike wants strong melodic content all the time. All the time. In all of his films. And sometimes he may be hearing certain instruments. Like for 'Inside Man,' he kept saying, 'I'm hearing big drums.' I'm like, 'Okay, I've got it.' But for most things, man, once we iron out what the themes are, he doesn't even hear much of the score 'til we get to the stage.

"And that makes me work hard. It makes me always double-check my work, because I don't want to let him down. Anybody puts that kind of trust in you, man, you want to make sure you do your level best."

Working with other directors, Blanchard doesn't have that kind of shorthand in place. He doesn't mind that a bit.

"To me, it's all about discovery. That's always been a fascination of mine, being a jazz artist to begin with. You have to try to figure out some things. Sometimes it may have an impact, when we're at an impasse, in terms of trying to communicate creative ideas to one another, dealing with a new director. But for the most part, it's just a matter of problem-solving."

Blanchard has always relished the opportunities for exploration and musical adventure that jazz provides.

"It gives you the chance to just sit down and play what's in your heart. That was a very intriguing thought, from the time I was a kid."

Growing up in New Orleans, Blanchard heard music wherever he turned. "Some of these tunes are so ingrained in us, I bet there are kids who don't even know who recorded the tunes. They just know the tunes, because they have become such a part of our culture. And you hear versions of them all over."

When Blanchard was in elementary school, Alvin Alcorn, a renowned local trumpet player, came to his school and gave a demonstration on New Orleans music. "He's the reason why I'm playing the trumpet today," said Blanchard, 48.

"I was so young. I was in fourth grade. There was just something about the instrument. I had been taking piano lessons. Music was in my house all the time. My father studied opera. My aunt - my moms sister - taught voice for many years in school. My grandfather on my mom's side played guitar. So music was all over the place in our house.

"So they started me taking piano lessons, from the time that I was a young kid. But when I heard Alvin Alcorn, the thing I remember was, he had vibrato," Blanchard laughed. "And the piano didn't. And I thought that was so unique.

"I just wanted to play and I did whatever I could to get to the point where I could play. It probably was a torturous thing... for the people who had to listen to me."

In addition to formal music education, Blanchard learned from stints with the Lionel Hampton Orchestra and Art Blakey's Jazz Messengers.

"That's on-the-job training. It's always one thing to deal with the theory and another to deal with the actual application of something. Studying and studying and studying as much as I did was one thing. But when I had a chance to be on the road with some of these musicians, man, that's when it all started to fall into place for me."

Of Blakey and Hampton, Blanchard said, "They're giants in the world of jazz. That's number one. So just to be around them, to listen to them talk, is an education in itself, because they would talk about the history of jazz and, coming from those two different musicians, you got two different segments, two different theories of the art.

"But the main thing was playing with them. Art Blakey was the type of person who would let us make a lot of mistakes. But he also pushed us really hard through the way that he played the drums. It's like playing basketball with Michael Jordan. You've got to rise to the occasion.The person that you're playing with is going to elevate you.

"The same thing happened with Lionel Hampton, but just in a different way, because he was from a different generation and his approach to playing jazz was a little different than Art Blakey's."

While earning acclaim as a trumpet player, Blanchard's ambition was always to write original compositions.

"I studied with Roger Dickerson, a great American composer, one of our local geniuses, here in New Orleans. He always used to ask me questions - 'What do you see yourself doing 10 years from now?' He was a visionary. He made me visualize my future. I said, 'I want to be a composer. I want to write.' So I studied composition with him.

'I learned from a very early age. That was something I always wanted to do. I just didn't know whether I would get the chance to do it, in terms of writing for orchestra. So once I got to New York, a lot of my attention was given to writing for small ensemble. But then when the film thing came about, I was able to call upon the other things I'd studied with Roger."

Blanchard finds film composing to be very satisfying. "You get a chance to write for large ensembles. You have all those colors laid out in front of you, for you to use, to create a story. It's a very appetizing thing to have it laid out in front of you. So whenever I'm working in film, I get a chance to be creative in a different world. I get a chance to do things that I wouldn't ordinarily get a chance to do, writing for jazz ensemble."

While composing, Blanchard has to be receptive to the muse and also to a more analytical side.

"It's a fine line, because sometimes, when you say, 'let it happen,' people tend to think that it just falls out of the sky. I'm always leery of telling my students that. But there is a degree of that, in terms of being open to what it is that you're hearing. But you do have to develop the craft. There's craftsmanship to composition that has to be learned in order to take an idea and then expound and expand on it.

"I like to say that the music reveals itself to you. But you have to know how to manipulate those ideas to carry it further."

He is now working on the score for George Lucas' "Red Tails," the story of World War II's Tuskegee Airmen.

Blanchard works hard to keep jazz alive, vibrant and relevant. serving as Artistic Director at the Thelonious Monk Institute of Jazz.

"I run into some extremely talented young men and women, who are visionaries. Some of them are out there now, doing some great things - Lionel Loueke [West African guitarist', Ambrose Akinmusire [trumpeter from Oakland, Ca.] Gretchen Parlato [L.A. vocalist]. And there are some guys coming along in this class that we have now who will be making a name for themselves, as well."

Having learned from his time with Blakey and Hampton, Blanchard pays it forward. "I hope that I am. I'm doing my best to try to offer these guys whatever it is that I have to offer. So hopefully, it'll be helpful for them."

Blanchard said he himself continues to learn. "We tend to think of jazz as being this stagnant thing. And that was never the intention of our forefathers in this music. The possibilities are infinite, because they can always be redefined.

"People are creating limitations when they say, 'This is jazz' and 'This is not jazz.' That's the death knell of creativity."