EXPERIENCE TERRY DISLEY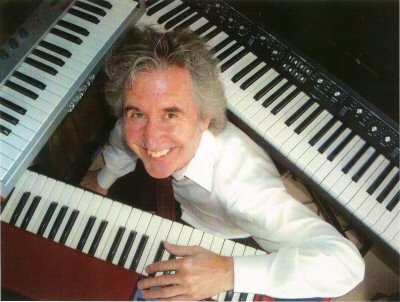 photo credit: Janet Johlgren

By Paul Freeman

In conversation with Terry Disley, he repeatedly refers to himself as "lucky." The fact is, he has earned great acclaim through talent, perseverance and integrity.

In his hometown, London, England, the pianist/composer/bandleader rose to prominence, serving as music director for Dave Stewart (Eurythmics) and playing sessions with such luminaries as Paul McCartney, Mick Jagger, Bryan Ferry, Brian Wilson, Van Morrison, Tom Jones and Bon Jovi.

In 1997, Disley decided to leave that lucrative life behind and move to the U.S.. where he sensed a greater appreciation for his passion - jazz.

"I realized I wanted to have my own group, write all the music myself and just do my own thing," he said.

He had played the prestigious U.S. venues with ska band Madness and jazz innovators Acoustic Alchemy. ""Invariably, when I asked people what the best place in the States would be, they would say San Francisco is the dream place to go to. So I decided to move here."

Top Bay Area musicians were eager to collaborate with DIsney. "A lot of jazz players don't get the room in a lot of groups. I try to give everyone the opportunity to show off what they can do. There are so many great players around this area. I'm really lucky, I had a fantastic group of people on the new record."

His latest release, "West Coast Jazz Impressions," brims with sparkling compositions, inspiringly performed. Tunes often come to Disley in dreams.

"I used to wake up in the middle of the night and think, 'Wow, that's a great tune! Who wrote that?' Then I'd realize it was me. I'd fall out of bed, get the music paper and write it all down. Most of them come quickly. I try not to get in the way of it."

At shows, Disley and his seven-piece band (featuring guitarist Lorn Leber) will play the new material, as well as tunes from previous albums. "We run from straight-ahead swing to salsa and we can do some funk, too. It's a pretty interesting mix of styles."

He began playing piano at eight. His teacher founded a government-funded music school in London for underprivileged kids. From 10 to 16, Disley attended, learning theory, arranging and harmony.

"I was exposed to a lot of music and I was infatuated. Couldn't get enough of it. At home, TV wasn't on so much. Everyone played a bit of piano. So I grew up with that live music thing being part of my life."

Disley never considered any other career. "I just thought, if I worked hard enough, practiced enough hours, that eventually it would pay off."

Though classical music gave Disley technique and discipline, it was jazz that stole his heart. "In England, jazz is a real minority thing, you don't really get to hear it. But I was lucky. When I was 11, at that music school, a couple of older kids took me to see Oscar Peterson."

He reveled in the freedom jazz offered. "It's such a fascinating process to be able to improvise. I would be bored if I were a classical recitalist. It's liberating to be able to sit down and just go anywhere. No restrictions."

Disley, who toiled as a street sweeper to pay the bills, became a regular at London's renowned jazz club Ronnie Scott's. He opened for such legends as McCoy Tyner and Miles Davis. "An amazing time. We soaked up everything that came from America, jazz-wise."

Joining Acoustic Alchemy brought a taste of success. The British group was one of the first practitioners of smooth jazz. "I had no clue that we were so big when we came over in 1988. We'd be playing to like a thousand people in Dallas and they all knew these instrumental tunes. So it was a bit like being a pop star in jazz."

Disley's versatility enabled him to venture into the pop world, collaborating with musician/songwriter/producer Dave Stewart. This led to work on film soundtracks and album sessions.

"I was in the right place, right time. They all liked me, because I had a sense of humor and would disarm the severity of the session. I could break the ice and make everyone feel cool. In sessions, that's one of the skills. It's not all about the playing."

Disley played at George Harrison's 52nd birthday party. Celebrity close encounters didn't faze him.

"You can't sit around thinking, 'Oh, my God, it's Mick Jagger! I'm in a session with him!' You've just got to get in there and do it. In the end, they're all people, aren't they? It's just the work, the promotion and publicity that makes us think they're beyond that."

Glamorous sessions provided a comfortable existence, but true artists don't settle for comfort. "It was fantastic to be able to say you did it. But it wasn't really what I was into, musically. In the end, it was a bit frustrating, because I couldn't use the facility I've got on the instrument very much. It was more piecing together tracks.

"You rarely get to play a whole piece from beginning to end in those situations. So, whenever I got the chance, I'd go out and do a little jazz gig for 50 bucks somewhere. I needed to do that."

Needing to take a chance as an original artist, Disley headed across the Atlantic. Gigging frequently, he has become one of the Bay Area's most popular musicians. (Schedule at terrydisley.com)

"It's a challenge to make solo something beyond being just background. The good thing about low-profile gigs is that you can try things out on an audience and see what does and doesn't work. All the tracks on the new album have been tested."

The prolific composer continually works on new compositions. "I'm lucky that it just keeps coming out of me."

Disley has built a loyal legion of fans. "They're like angels for us, keeping the faith going. The band has an ongoing momentum. We'd like to get out to a bigger radius of people, play different places. We're gradually spreading the word. It's just a question of exposure.
---
Terry Disley: Jazzing up the Nutcracker
By Paul Freeman [From a follow-up interview]
You may have heard "The Nutcracker" a thousand times, but never the way Terry Disley reimagines it. The acclaimed U.K. pianist, with his all-star group, celebrates the rerelease of his CD "The Jazzcracker and Other Delights." Fusion bop brings new life to Tchaikovsky's masterpiece.
"It proved to be popular with the fans. KCSM [Bay Area jazz station] played quite a few tracks from it," Disley said.
In approaching a holiday project, Disley reflected carefully. "I didn't want to do the standard tunes that people do, the same old sort of sleigh bells type thing. I didn't want it to be cheesy. I wanted to have some depth to the material. People hear the same repertoire constantly. It's in the stores from Thanksgiving. I'm trying to offer something different."
A couple of years ago, he went to see 'The Nutcracker' for the first time. "The melodies are fantastic. They're powerful, strong melodies that stick with people.
"I started to think it might be cool to do a jazz version of it. "I was doing the arrangements in the spring and the weather was spectacular. I had to keep all the shades drawn. Otherwise, you can't get into the Christmas vibe at all," the native of London, England, chuckled.
"I had a CD of the original score. I just started to pick out melodies that I thought were the important ones to cover, like 'The Sugar Plum Fairy,' obvious things like that. Then I put together a finale where I just used some of the same themes and rearranged them."
Disley treated "The Nutcracker" with respect, but not with a confining over-reverence. "I took a lot of liberties with some of the things. 'The Russian Dance,' is like a cool, sort of Miles Davis jazz waltz. Some people hear it and they don't even realize what it is.
"I just decided there wasn't any point in doing it, unless you come up with something new on the idea. So I did stray away from the original quite a lot."
He worked on the arrangements at home and had them fully realized in his head prior to entering the studio. "Once we began recording, it was just a matter of trying to get as cool a jazz vibe as possible on all the pieces."
Of the result, Disley said, "It sounds like Bill Evans playing Tchaikovsky. There's not much electronics involved. It's pretty much a straight-ahead sounding disc."
Venues seeking something fresh and different for the holidays, have been clamoring for Disley to recreate the musical excitement live.
Listeners are rediscovering "The Nutcracker" through Disley's inventive work. "Purists might resist. One of our older fans was like, 'Oh, I don't want to hear somebody else trying to do 'The Nutcracker.' Some people just don't want you to mess with it. Other people just really have loved it. Generally, it's gone over really well. People enjoy the new renditions.
"You can apply this idea to any piece of classical music. Just take the themes and don't be scared about doing something completely new with it."
Disley hopes this year's "Jazzcracker" concerts will be successful enough to make them annual events, eventually even expanding into stage productions with modern dance incorporated.
While Disley ponders interpreting other classical works, he has just released a new album covering classic rock. "We Play Requests" features Disley's take on such artists as Pink Floyd, Led Zeppelin and Radiohead. Fan requests led to this CD. You'll find more information at terrydisley.com.
Disley relishes exploring many musical avenues and performing solo, as well as backed by a variety of combos. "I like having a lot of different hats to wear. Right now I'm getting my Christmas hat ready."