THE BAND PERRY: COUNTRY-ROCK'S SOARING SIBLINGS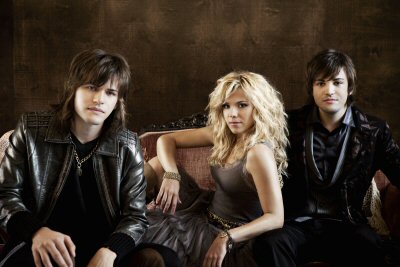 Photo Credit: Justin Nolan Key, Courtesy of Republic Nashville
The Band Perry, left to right, Reid, Kimberly and Neil
By Paul Freeman [June 2011 Interview]
Not long ago, Kimberly Perry and her younger brothers Reid and Neil were playing their catchy brand of country-rock in churches, restaurants and any other place their father could book.
Now The Band Perry has racked up three hits - "Hip To My Heart," "If I Die Young" and "You Lie" - and a CMT Group Video of the Year nomination, in such company as Lady Antebellum, Little Big Town, Zac Brown Band and Rascal Flatts.
Kimberly Perry said, "When we started, we figured it was going to be a lot of hard work, but the pace is even way over and beyond what we expected it to be. We're a really hardworking bunch. I guess you could call us workaholics. But we love singing country songs for country fans, so it's a pretty amazing life."
The Band Perry is currently on tour with Tim McGraw. KImberly said, "Any time you get to study a country music icon, it's just so pivotal. Last year, we did some fairs and festivals, but mostly we'd been playing sweaty little rock clubs for years. Now we're warming up arenas. and it's a very different style of math. It's almost like the other two are geometry and algebra and this sort of venue is learning calculus. So we certainly are trying to wrap the new skills into our show drawer, that we can pull out when we need to."
For an opening act, it can be tough to get the crowd's attention, let alone win them over. However, audiences are embracing The Band Perry.
"We had a piano teacher that taught all three of us when we first got started," Kimberly said. "and she goes, 'If you ever need to get a crowd on their feet, just play it louder and faster.' We have taken that to heart. It's also having as many moments as you can within a 25-minute set. We try to let our songs range through the entire spectrum of emotions, while still being cohesive. And it's playing the hits. Gratefully, we have three songs that people recognize. It's a great experience. We're looking at full houses, even when we start the downbeat of our set."
Her brother Reid added, "One thing we like to do as a live band is to create a rapport with the audience out there. We are, first and foremost, a live band. It's what we love to do. It's fun to find the people in the crowd you can connect with, who are singing along with your songs."
Growing up in Alabama, the Perrys listened to a wide range of music. Reid recalled, "Dad was the rock 'n' roll lover and Mom loved country. I remember every Saturday evening, after Garrison Keillor had his radio program, there would be an hour of bluegrass. So we were having all these musical tastes coming at us from different directions. That gave us an appreciation for many forms of music."
Kimberly said, "We love both Michael Jackson and Loretta Lynn. Reid's favorite song when he was still in diapers was Tammy Wynette's 'Stand By Your Man.' And Lyle Lovett vinyl was big in our house."
Added Neil, "KImberly was a big Judds fan when she was in fourth grade. One of my first records I bought was 'How The West Was Won' by Led Zeppelin. When I was a drummer, John Bonham was my favorite drummer in the entire world. I learned from John Bonham, quite a bit."
Kimberly concluded, "Alabama has a rich musical heritage, rock, country and blues. So there's a lot of that in the air down there and it's in our blood."
Blood harmony is an important element of The Band Perry's sound. Kimberly explained, "We learned that organically. We used to take family vacations in the summer and this one particular summer, we rented this tiny little RV and piled all five of us into it, including our parents, and there were really long drives out west. One night, our mother drove the night shift and the three of us just sat around her and started singing songs in three-part harmonies. That's our earliest memory of doing that together. It's a really special memory."
Kimberly started her first band at age 15. Reid, then 10, and Neil, 8, served as her roadies briefly.
Neil quipped, "Apparently there are labor laws against using children. And Reid and I weren't getting paid, so it was more like a draft instead of a hire."
After two weeks, the brothers decided to form their own band. Eventually, the three siblings realized their best shot would be as a team.
Kimberly said, "Our father was our very first booking agent. He booked us all over the Southeast. We actually ended up home-schooling the next year, so that we could stay on the road the whole time. I was the oldest, so I had to make the decision about do we keep hands-on training and growing our music careers or do I go to college? For me, it was about not allowing myself to have a backup plan by going to school. So we were forced to make music work, at that point. And I'm so grateful that I was guided in that way and then the boys followed after that.
"I just remember the boys used to sit in on our rehearsals and any time my little drummer would get off the kit, Neil would jump on it. And so when we would take water breaks, the boys would fill those up with their own music. And I remember the first guitar player I ever had, he always used to say, because band members would flux in and out, he would say, 'Kimberly, you know, you're band's never going to be right, until it's you and your brothers.' It was prophetic for him to say that. We ended up tying the knot as a band about six years ago."
The long odds of success didn't daunt them. Kimberly told us, "I don't know that we ever thought about the fact that it might not happen. Once we got started, we just sort of asked questions and kept making adjustments and kept banging on doors."
Reid said, "I feel like the biggest thing, when it comes to the music industry, is just outlasting the process, sticking with it until something happens. That's been our mindset the whole time."
The Perry parents stood behind them. Kimberly said, "They were like, 'You guys do what you were meant to do. And we'll support you.' It certainly has been the family business, them included. I don't know how we would do it, if any one person left that equation. I'm not sure we would have gotten this far. It's a really special thing. Our mother travels with us. She's everything from band stylist to referee."
Reid chimed in, "She says her job is to keep up humble."
Kimberly continued, "She is our biggest fan, but also our greatest critic. We love that. It makes us tweak our songs and our sets. And our Dad mans the fort. We live up in East Tennessee now, because we needed to get closer to Nashville. So he works from home and takes care of a lot of the scheduling. Another role they play is just keeping us in the right head space and staying encouraged."
Their style naturally combined country and rock. "It's been a natural blend for us," Kimberly said. "We have both equally,because of our parents. Our shows definitely feel like rock shows with a fiddle and a banjo, mandolin, accordion. We have very very traditional instrumentation, but we have the spitfire of rock 'n' roll. We just try to blend all of that make those special moments happen on stage."
In 2005, The Band Perry was hired to do a New Faces of Country music acoustic tour, playing sets in Walmart lingerie departments.
Before breaking into the spotlight, they had time to hone their performances and songwriting. And they remained focus on the prize. Kimberly asserted, "We never said, 'What if this doesn't happen? What about Plan B?' We just concentrated on figuring out how to help make Plan A happen. It was like, if you're walking into a windstorm, you just put your head down and keep plowing. It may be slower, but eventually you'll get where you're going."
Their songwriting has helped the band grab the brass ring. Kimberly said, "We're kind of like a writing stew. Some of us will bring different ingredients. Reid is really strong with chord progressions. I really like melody. Neil likes lyrics. We all kind of throw all those pieces in. But those would be our strengths."
Added Neil, "Songwriting is kind of like a treasure hunt. We're trying to find the song that already fits. We spend a lot of time writing. We do a lot of it on the bus. I hear a lot of people say it's really hard for them. We somehow are able to focus and we just spend a bunch of time, pounding it out, looking for the song."
Many listeners have found The Band Perry's song "If I Die Young" to be deeply moving. "We wrote it on a cloudy day in East Tennessee where we got to just be still and think and dream," Kimberly related. "We actually wrote that song pre-record deal. It was just a moment in time when we didn't have a ton going on for us professionally. But we were just so grateful to be playing music, doing what we love and do it with our family. And the song just says that, if for some reason, it all ended at this moment, we've all gotten to live a lot of life, even in our twenty-some odd years. And it continues to remind us of that, night after night.
"The cool thing about that song is that it's been so transcendent. People have really wrapped their hearts around it and used it for the soundtrack of their lives, wherever and whenever they needed it. So we're proud of that song for that reason."
Each of the three Perrys brings something different to the table personality-wise. Neil explained, "We definitely all play our stereotype sibling roles. Kimberly is the big, ballsy sister. She's got her hand on the steering wheel kind of girl. And Reid is the peacekeeping middle child, self-titled."
Neil responded, "I'm kind of the stuck in the middle, by the book guy and yes, I do try to keep the peace."
"Neil's the baby, so he's the trouble," Kimberly retorted. "We're all pretty even keel, but he's dramatic."
The siblings may squabble, but remain respectful of one another. "Being in close quarters on the road, it brings out the best in you and the worst in you," said Kimberly. "It's almost like there's a creative tension sometimes. And there's creative release. You really have to have both sides of that to come out with the best product.
"There really are no secrets. Everybody's up in everybody else's business. But it works that way. It leads us to the best life decisions and creative decisions."
As for their goals, Reid said, "We just want to continue making music that people can connect to, because that is what country music is all about. It's our stories, but it's everyone else's stories, too."
Kimberly had the last word. "We want to become better and better at what we do. We always say that our biggest competition is not anybody else. It's ourselves. We want to outdo ourselves. That's the challenge as we begin to write future albums. Our goal is just to beat everything we've done so far. It's a lofty goal. But I think it's one that we'll hit.
"For me, the greatest reward is being part of a song that has really encouraged people, changed people and touched people. I love hearing in the signing lines how three-and-a-half minutes of music that we wrote in our basement helped somebody walk through one of the most traumatic moments of their whole life. It's an honor to be part of that and I just hope we can continue to write songs that will mean something to people."
Visit www.thebandperry.com.