THOMPSON SQUARE: A COUNTRY DUO THAT WAS MEANT TO BE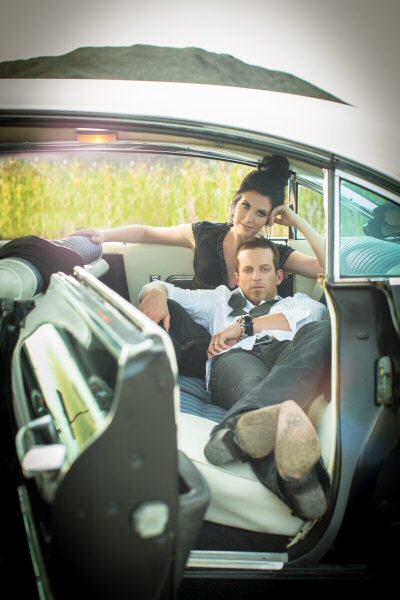 Photo Credit: Anthony Baker

By Paul Freeman [August 2013 Interview]

Their relationship has been harmonious. And music fans are reaping the rewards.

Kiefer and Shawna Thompson, wed for 14 years, enjoy hitting the road together as Thompson Square. They've recently been supporting Luke Bryan on his first headlining tour.

The duo broke through in 2010 with the single "Let's Fight," followed by the platinum-selling "Are You Gonna Kiss Me Or Not."

The twosome's latest album, "Just Feels Good," has an autobiographical element to it.
A publishing house approached the Thompsons, hoping they would agree to tell their story in book form. Instead, the couple, teaming with co-author Travis Thrasher, penned a novel based on their smash "Are You Gonna Kiss Me Or Not."

Thompson Square has been named Vocal Duo of The Year by both the Academy of Country Music and the Country Music Association. The awards have provided welcome validation.

Thompson says they've exceeded their dreams. And this is only the beginning.

PCC spoke with Kiefer Thompson.

POP CULTURE CLASSICS:
What went into deciding to make an album that has an autobiographical element?

KIEFER THOMPSON:
It really just happened that way. We just started listening and writing and stuff and, before you know it, it just kind of revealed itself, I guess. We didn't really mean for it to happen, but when you sequence the songs, it kind of tells our story from the very beginning, to the last year or so. It was kind of cool how that worked out.

PCC:
Are there some of the songs that particularly reflect your life?

THOMPSON:
Well, yeah. There's several on there. 'That's So Me and You' is pretty much our story. And then, on the bonus CD, there's a song called 'What Am I Going To Do?' That was written about Shawna's dad, after he passed away. So that's a really special song, too. There's a lot of interpersonal kind of things on there.

PCC:
Once you saw the direction, does that give you a different perspective? Thinking about where you've come from and how much you've achieved?

THOMPSON:
Yeah, I think it does. Being on the road, traveling so much, just going from city to city, you don't have time to really think or reflect or anything. So you put a record like that together and then you sit back and listen to it and look at the title and where it all came from, and yeah, it does. You kind of touch down Memory Lane a little bit. It allows you to have some time to appreciate what you've been able to accomplish.

PCC:
The fans must appreciate being able to connect to your story that way.

THOMPSON:
That's what we hear. They really like that. It's kind of like opening little pages of our life. And they kind of dig it, it looks like [chuckles].

PCC:
Do you know yet where the next album will take you?

THOMPSON:
[sighs] Oh, brother, I have no idea. We just finished this one. I ain't worried about the next one yet [laughs].

PCC:
The decision to publish a novel, how did that come about?

THOMPSON:
Well, they asked me. They approached us about writing our story. We didn't really want to do that quite yet. But the popularity of the song was so much that it seemed like it could be a really good novel. So we got together with Travis and hashed the thing out. And so far the reviews have been really good. It's not our story at all. It's fictional, just based on the song itself.

I write all kinds of stuff. I've written partial books. And different poetry. I write just about everything. I have a pretty good collection of that stuff. So, at some point, I wanted to write a book. I didn't think it would be this fast or about that song. But there's a lot of stuff in the works. I've got a lot of side projects.

PCC:
How early in life did writing become important as self-expression for you?

THOMPSON:
When I was 14 years old. Thirteen or 14 is when I wrote my first song. And it's never stopped. That first one was actually for my father on Father's Day. I didn't have any money to get him anything, so I wrote him a song [laughs].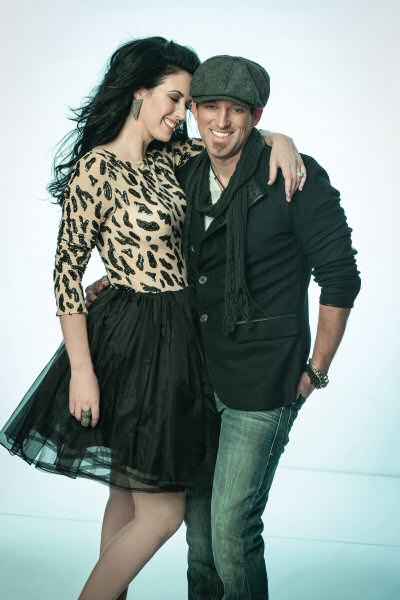 Photo Credit: Anthony Baker

THOMPSON:
And how did you and Shawna first get together?

THOMPSON:
We grew up in different states. I grew up in Oklahoma. She was in Alabama. We moved to Nashville in '96. We met that first week and been together ever since.

PCC:
So you clicked right away, musically and personally?

THOMPSON:
Yeah, I mean, personally, before the music. But yeah, it was that first night. And then we did music apart for about six years and then decided to join forces. I had been an artist, doing my own thing. And she was, too. But we didn't like being apart. And that's kind of how Thompson Square was born. We didn't like being apart. So we formed a duo so we wouldn't have to be.

PCC:
Going your own ways, was that a valuable time to grow, finding your footing in the business?

THOMPSON:
Yeah, every second we were in Nashville, it was all about that. We were working every day towards that, separate or together.

PCC:
Were you always confident that somehow it would happen for you eventually? Or were there times of doubt?

THOMPSON:
Well, deep down, I believed it would happen, but there were several times when we had to pick each other up off the ground and kind of motivate ourselves to stay in the game and not quit, not move home.

PCC:
Is it a supportive community there in Nashville? Or more competitive?

THOMPSON:
[Laughs] That's an understatement. I mean, I've got a lot of friends there. But of course it's competitive. That's where one moves to make your dreams come true. So, it's like any other sport.

PCC:
So have all the dreams come true? Or has it gone beyond the dreams?

THOMPSON:
Oh, it's beyond. We still have goals and aspirations to achieve, and personal goals and stuff. But yeah, we never would have thought that we would have been able to do what we've done, in the short amount of time that we've been doing it.

PCC:
Why do you think you've been able to achieve this tremendous success?

THOMPSON:
Well, if I had that answer, man, we'd have had a record deal a long time ago [laughs].

PCC:
The ACM and CMA awards, how validating is that for you?

THOMPSON:
It's extremely validating. Your peers recognize you for your talent and your efforts and all your hard work. That's just an amazing feeling. I never thought that we would win anything, because we're on such a small label. But yeah, that's been incredible, absolutely incredible.

PCC:
Going up on stage to accept, with your peers, and maybe some of your heroes out in the audience, is that a surreal feeling?

THOMPSON:
Oh, yeah. You can't hardly describe it, man. It's just complete euphoria.

PCC:
On the road, being married, does that just make life enjoyable, or can it be more challenging in some ways?

THOMPSON:
Do you know a married couple that don't have challenges? [laughs]It's like any other marriage, man. I guess the difference between us and a lot of other people who couldn't possibly do this together is, it just works. It was supposed to be like this. We just like being together all the time, man. I can't explain it. It's just kind of the way we are. And it's the way that we function the best.

PCC:
How have you enjoyed the Luke Bryan tour?

THOMPSON:
It's been fun so far, so we're looking forward to the rest of the year.

PCC:
Tell us about your involvement with the kids advocacy organization, ChildFund International.

THOMPSON:
They actually reached out to us on that. And once we found out who it was and what they did, we immediately hopped into bed with them, so to speak. And never looked back. We've been to the Honduras twice now with them. And just set up a computer center for the school in their village. About three weeks ago we went down there again and did that. And it's just a really cool thing to be a part of, changing someone's life and just trying to help, people who can't necessarily help themselves. We don't know poverty quite like poverty is down there. We really don't have that there.

PCC:
And you sponsor a child?

THOMPSON:
We sponsor a couple of kids. One of them is in Honduras.

PCC:
Is it important to you to give back like that.

THOMPSON:
Yeah, we wouldn't do it, if it wasn't. I think it's an obligation, if someone has some success, has a voice, absolutely, you need to help, if you can.

PCC:
Starting out as performer, dreaming of stardom, how does the reality compare to the dream?

THOMPSON:
Well, I've never had a dream come true before, so I don't have anything to compare it to. It's very fulfilling, you know. It's a lot of responsibility to keep it up and it's a lot of work to maintain. Once you get there, that's when it all begins, really. It's a business now. We're a business. We have 13, 14 people and payroll and a couple buses and a big truck. It's a business now and so it's a lot of responsibility to maintain. You've got to keep your head straight and work your butt off.

PCC:
Do you see someone else who's had a long career and think, 'That's the kind of career I'd like to build' ?

THOMPSON:
Yeah, there's countless people in country music - Brooks & Dunn, Reba McEntire, George Strait, you name it. There's a ton. That's what I like about country music, too, is we don't hang 'em out to dry, once they reach 25 years old [laughs]. If you're in your 60s and you're still putting out relevant music, the country music fans are just faithful. They're very, very loyal. They love you and they listen to you and they follow you for your entire career, your entire life, in most cases.

PCC:
When you were starting out, as a kid, who were the musicians who made a big impact on you?

THOMPSON:
Well, I was all over the map. I started out with Roger Miller and Elvis, that was my first exposure to music. And then I went through different phases in my adolescence, into my teens and into adulthood. It continually morphed - Johnny Cash, Foo Fighters, Guns 'N Roses, Ray Price, Jimi Hendrix and The Band and the list goes on and on. I was just always inspired by good stuff. And there are so many great artists out there and so much good music. It's not one-dimensional anymore. It's okay to be a country fan and like The Black Keys. You can do that now and it's okay [laughs].

PCC:
Do you envision the Thompson Square music growing and morphing?

THOMPSON:
Well, yeah. You've got to change. If you feed everybody vanilla, they're going to get tired of vanilla after a while. Chocolate or whatever flavor of the week you've got, you've got to change it. You can't lose your sense of who you are, but you definitely have to give them some new experiences. And, as an artist, too, I don't want to write the same record over and over again. What fun is that? The more you live, the more the music's going to change.

PCC:
With more experience to draw from, does it actually become easier to create?

THOMPSON:
Well, there's a sense of confidence that comes with success. Once you find out that you have a fan base out there that does enjoy what you do, they dig what you dig, and dig what you're doing, then definitely there's a confidence that comes out of that. I don't know if it's any easier, but the focus is much easier to obtain, as far as, you know what's good and what's not, as soon as it comes out of you. And you're able to move on to something else, if it's not.

PCC:
What are the most challenging and most rewarding aspects of the musician's life?

THOMPSON:
The most rewarding thing is when you go to a show and everyone's on their feet the whole time, screaming your lyrics out and just raising hell and having a great time and giving you all that energy that you desire. That's the most rewarding part. Without the fans, it's all for nothing.

The challenging part is just staying healthy, getting enough rest and exercise and all that stuff. Your days are pretty crazy you know. It's hard. It's easy to eat Pizza Hut every day, if you wanted to.

PCC:
But you're trying to keep a balance in your life.

THOMPSON:
Definitely. We're doing that the best we can.

For news and tour dates, visit www.thompsonsquare.com.