THREE DOG NIGHT: STILL BRINGING JOY TO THE WORLD

Courtesy of Three Dog Night
Left to right: Paul Kingery, Pat Bautz, Danny Hutton, Jimmy Greenspoon, Michael Allsup, Cory Wells.
By Paul Freeman [July 2011 Interview]
If you peruse the history of rock music, you'd be hard-pressed to find a band that did a better job of selecting great songs, creating brilliant arrangements and infusing them with glorious harmonies than Three Dog Night.
They have been inducted into The Vocal Group Hall of Fame and richly deserve to be in The Rock and Roll Hall of Fame.
The Grammy-nominated group delivered 21 consecutive Top 40 hits, including several number ones. More than 40 years after they debuted, Three Dog Night continues to rack up big sales numbers. Their timeless tunes include "One," "Mama Told Me (Not To Come)," "Joy To The World," "Shambala," "Celebrate," "PIeces of April," "Out In The Country," "Liar" "Old Fashioned Love Song," "Never Been To Spain," "Black and White" and "Easy To Be Hard."
Danny Hutton had already established himself as a solo artist with the single "Roses and Rainbows." He also served as head of Hanna-Barbera Records.
In 1968, he formed Three Dog Night, intrigued by the notion of a band with three lead vocalists. Hutton's buddy Brian Wilson originally wanted to write and produce for the band. But his fellow Beach Boys balked at him lending his genius to another group. So Three Dog Night uncovered ignored gems by little known songwriters Harry Nilsson, Hoyt Axton, Laura Nyro, Paul Williams and Randy Newman.
With beautiful, complex arrangements that displayed the magical vocal meshing of Hutton, Cory Wells [still a band member] and Chuck Negron, Three Dog Night performed the songs at a showcase attended by the president of ABC-Dunhill Records. He wanted to sign them on the spot and get them into the studio the following week.
Soon, Three Dog Night owned the charts. They headlined tours, selling out big venues. At mega-events, they shared the stage with such superstars as Jimi Hendrix and Led Zeppelin.
From 1968 to 1974, Three Dog Night stayed atop the pop music world. But eventually, the whirlwind pace took its toll. The band broke up in 1976.
Hutton managed seminal L.A. punk band Fear. In 1981, he received a call from Wells and Three Dog Night was alive again.
In 2004, Three Dog Night released "The 35th Anniversary Hits Collection Featuring The London Symphony Orchestra."
They plan to record an album of new material. In the meantime, Hutton and bandmates take pride in presenting the hits... exactly the way fans reverentially remember them.
Pop Culture Classics enjoyed chatting with one of the great voices -and vocal arrangers - of rock history, Danny Hutton.
POP CULTURE CLASSICS:
You must have a pretty wide demographic at your concerts these days.
DANNY HUTTON:
Aboslutely. We really do. We do all sorts of different gigs, including fairs. So we get little kids. We get their parents. We get the grandparents. The grandparents saw us and then the parents heard the music from the grandparents. And then we get the kids. So we get three generations. It's wonderful. The shows have been really good. They're selling out.
PCC:
Why do you think your songs are so timeless? Why do they appeal to multiple generations?
HUTTON:
My own analysis, I don't want to be egotistical, but the songs, they're good songs. By that I mean, they're melodic. And I don't think they have any expiration date, as far as songs about emotions. We're really not political. It's either about people's emotions or they're fun party songs. And I think we perform them well. And we do a lot of harmony. And I think people relate to that. They can tell, even if they're not musical, whether they like the song or not. They can kind of go, 'Wow, they know what they're doing. They're good. They're professional.' [Laughs]
PCC:
Yeah, amazing harmonies. Is that something that fascinated you even when you were starting out in music? Were you drawn to groups that sang harmony?
HUTTON:
Yeah, I was the shy guy that didn't want to sing lead. So I'd always form these trios, the folk trios and different things like that. And then I actually ended up becoming a studio rat. I became a songwriter and record producer and ended up going in and playing the instruments and then singing all the harmony parts myself. So that's how I really got so interested in harmonies.
PCC:
Is this going back to the days with Hanna-Barbera?
HUTTON:
Yeah, yeah, I was on Hanna-Barbera. By 1965, before Hanna Barbera, I was on probably three labels already, putting out little solo things. And, as I said, I did all the harmonies myself. Out of necessity I did that. But I always liked that triad kind of sound. And using vocals really like a horn section. With a four-piece group, if you can get three guys that can really sing, that really expands the group without bringing in horns.
PCC:
Where had you first heard a lot of harmony singing?
HUTTON:
Well, at the time, in the early days, all the way back to The Ames Brothers. I'm 68. So I go all the way back to the '40s. There were a lot of different groups. There were The Andrews Sisters, all these different kind of vocal groups. And I guess it carried on from there.
I go all the way from 78 records. I remember going in and buying a 78 rpm record of Little Richard. I still have it, on Specialty Records. And then going into the record store and all I saw were 45's [Laughs]. I felt so cheated, because you had this big, heavy, solid 78 record with the big sleeve on it and all of a sudden there was this little, lightweight 45. I've gone through all those eras.
PCC:
At one point did you come up with this concept of the three lead singers?
HUTTON:
Well, I went out on tour with Cory and I loved his voice. We went out on one of those Dick Clark tours. I had just done 'American Bandstand' as a solo act, on the same show with The Lovin Spoonful, when they had just released 'Do You Believe in Magic.' So that was a lot of fun.
So I was on one of those bus tours for a couple of weeks, where everybody did two or three songs. So I bonded with Cory. I thought he was just a great, great blues, soul singer. And I kind of helped him produce, he had a band called The Enemys at the time. So when we got back from the tour, I helped them produce the little single that they put out. And I always thought, 'I'm going to work with that guy someday. I really like him.' So he went on and did stuff. I went on and, basically got a musical education by Brian Wilson. I was there during the whole 'Pet Sounds' album. So I really learned the studio, that little extra thing from him.
And then I wanted to form a group and, of course, I was going to do a trio [Laughs]. So I got a hold of Cory and we got together and that started the group.
PCC:
With Brian, was it mainly learning the experimentation process? Or what were the key things you gained from him?
HUTTON:
The whole thing. We just bonded. He's still one of my best friends. I was the best man at his wedding, this last wedding. At the 'God Only Knows' session, I was the only one there, except the engineer. The engineer, me and Brian. The Beach Boys were out on the road. He had stopped going on the road.
So I was just around his house. What happened was, my former manager, David Anderle, became the head of Brother Records. So he phoned me. So I went up to meet with Brian. And he played me 'Sloop John B.' And I was just blown away, because I'd always thought of him more like the hamburger verses, that kind of stuff, more of a teenage thing. And I was so impressed, just being around him, watching him. I loved The Beatles. But when you think that Brian wrote, arranged and produced everything by himself. He was just amazing.
PCC:
And he was actually going to write and produce for Three Dog Night at the outset?
HUTTON:
Yeah, he did. He had us in. After the 'Pet Sounds' thing, we went in and he named us Redwood. And we did a couple of songs with him. And then The Beach Boys came back from the road and said, 'What are you doing with these guys? We need to get an album out.' So they took one of the songs that he'd written for me, 'Darlin', and put Carl's voice on it and it became a hit for them. But I didn't blame them.
Brian respected Phil Spector. And it was kind of his chance to almost do like an Apple Records thing, where he could branch out and start doing other groups. And we could do a bit more blues stuff than The Beach Boys. So I think he wanted to get more of a Spector-ish vocal thing going.
PCC:
When you were on tour solo and doing TV shows, when you hit with 'Roses & Rainbows,' did you learn a lot from that experience that you could put to use with Three Dog Night?
HUTTON:
Well, my learning curve was, the first time I really played in front of a lot of people was on that tour. That first night out, before I went on stage, I found out there were 5,000 people. And I'd really never performed live [Chuckles]. And I decided, 'Well, I'm either going to faint or get through it.' So that was my baptism. And it worked out. I got to learn how to do it, how to work with your brain, the left and right side of your brain.
PCC:
So you already knew Cory. What about Chuck? How did you bring him into the fold?
HUTTON:
Chuck was a friend He'd been on Columbia Recoreds as a solo act. We actually went out and tried a lot of different people. Or thought about it. We'd made a list of people we thought we might try as the third singer. And he kind of came around later and we tried him out. And his voice fit. Cory and I already kind of had the whole thing put together in our heads.
PCC:
Were record executives excited about the idea of three lead vocalists? Or did they not understand it?
HUTTON:
Well, we didn't go into it from a record point of view. We went with a management company, Bill Utley, and he gave us great advice. We were a vocal trio, with Brian recording. He said, 'Look, go get a band and go out and start playing. Get yourself together.' So we slowly get these four musicians together and they really are part of the band. Three Dog Night is not three guys. It wasn't three guys then. It ended up being the seven of us that really made it all click.
So we went out and just found songs that we really liked, back sides of records and all of that. And then our manager said, 'I've got a booking at The Troubadour in the afternoon, a record showcase. So we went, and just did these songs. We'd been together six months or so. And played them. And Jay Lasker, the president of ABC-Dunhill said, 'I want to sign you guys. I love you. Let's go into the studio next week.' We said, 'But we've got to get some songs.' He said, 'No. What you just played me, that's your first album.' And we were stunned. We said, 'What?!' He said, 'Yeah.' 'But those are just songs that we...' He said, 'They're wonderful. I love the arrangements.' So that was it. We went in with Steppenwolf's producer, Gabriel Meckler, and we just took off like a rocket.
PCC:
The songwriters, many are iconic now, but were barely know then. How had you found the tunes?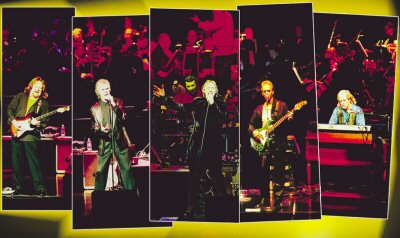 Courtesy of Three Dog Night
HUTTON:
Well, like I said, they were favorite records. Gabriel Meckler was the guy who played Nilsson's 'One,' off his album. But a lot of those songs, except for 'Try A Little Tenderness,' all of those songs had been out, by other people, and had failed, by the original writers. Being a great writer doesn't necessarily mean you're a great arranger. Sometimes you lose sight of your song.
The thing we got hammered for later was that we didn't write our own stuff. But what happened, because of that, nothing was precious to us. When we heard a song that we loved, we'd get in there and tear it apart, change verses, put the outro chorus at the beginning, cut all the fat out of it, just move it all around. And if you're in a group with somebody that writes, [Laughs] you have quite a feat when you want to change parts.
And you know the old story about the group. You wonder why the second album doesn't happen. Usually the first album, there's a main writer. And then, when they start to do the second album, all of a sudden, the main writer comes in driving a Ferrari. And everybody else looks and says, 'What's going on!' 'Oh, well, it's from my songwriting royalties.' And everybody looks at each other and says, 'You know what? I want to write a couple of songs on the next album.' And it all gets very democratic. And the songs go down the tubes.
So we didn't have any in-fighting. When we did an album and we recorded the songs, the decisions were all just purely musical. It was all about what songs were the best. No one was competing about, 'I want my share of songs. It's not fair.' That kind of crap. We didn't have that. So it was a very magical time in the studio, because it was always just about music. It wasn't about owning something.
PCC:
And so there were never worries about balancing egos in terms of who's singing how many lines or how many leads?
HUTTON:
No. In fact, for me.... well, maybe a little bit for the other two guys [Laughs]. But I was a studio guy. I just wanted the whole thing to happen. So I did a lot of the stuff in the studio with Richie Podolor and Bill Cooper, the producer and engineer. So I loved doing that stuff. So to me, regardless of who was singing what, the record was ours, because I knew what I put into it. And I could have sung more. We change some of the singing now. And anybody could have sung anybody else's stuff. Except maybe Cory, some of the blues stuff he does, you just have to be born with that kind of a voice. I don't think anybody else could do 'Mama Told Me Not To Come.'
PCC:
Speaking of being born with a talent, what about the art of arranging? Is that a gift you have to, at least to some degree, have in you, inherently?
HUTTON:
Absolutely. I'm very musical. It's just like being a novelist. Just because you're able to type well doesn't make you a good writer. Just because you can read music or you've taken music lessons doesn't make you musical. You just, I think, have to have it in you.
I'm from Ireland and I have a lot of aunts and uncles. And that's all we do. The big night, everybody had to get up and sing or perform, play an instrument or dance or recite a poem. That just was part of my upbringing.
PCC:
So music has really just always been a way of life for you.
HUTTON:
Yeah, I don't even know how I've come to retain some of these things. I remember songs from the '20s and '30s. I'll hear it and I know the melody and the lyrics. It's like, 'How do I know that?' It's just something that I heard. It's in my DNA somewhere.
PCC:
As soon as the sound started to mesh with the band, did you realize there was something special happening?
HUTTON:
Yeah. Well, there's at least two ways to go about doing music with other people. You can either do the garage band thing, where you're all innocent and you're full of energy and you don't know the rules, so you just break them all. And you don't even know you're breaking them. And people grow up watching you with all that energy and you know three chords That whole punk movement thing... which I was actually part of. I don't know if you knew that. With a group called Fear in L.A., that whole punk scene with X and Fear. I managed Fear. Belushi's favorite group. So I was part of that whole thing. So I've always appreciated that.
But when we hit the stage, everybody in the group, all seven of us, each musician had been a leader of his own band and sang lead in his own band. The musicians who didn't even sing, they had. And of course, the three of us all had done that. And I'd been on tons of labels. So we were thorough professionals, in the best sense of the word. There was nobody faking it on stage. Everybody could kick ass, when we started.
PCC:
In the studio, experimenting with sounds, was that fun for you?
HUTTON:
My favorite thing. There's nothing worse than being in a studio and you're doing crap. The clock goes so slow But when it's happening and you just get that feeling that it's really good, it's wonderful. The time flies by. And every little line, it seems to get better and better. It's a wonderful experience when it's going well. I love it.
I'm just in the process, my sons are finishing a studio at my house, a real deal studio. I talk to them about it and they kind of put it together like American Recording, where we used to record, with those old 12-inch tiles, that they had at the old RCA Studios.They put that in. We dug out the whole floor like Motown in Detroit. And we copied some of the stuff from Abbey Road. So I'm just thrilled. The studio's going to be wonderful. I don't know if they're going to let me in there [Laughs]. They're going to lock me out, probably.
PCC:
So your sons are musicians?
HUTTON:
Oh, yeah. Last week, the three of us sang background on this new project Van Dyke Parks is doing. I introduced Van Dyke Parks to Brian Wilson. So we go back. And the first song he wrote, believe it or not, I wrote the lyrics on it with him. If you can believe that, with Van Dyke. So Van Dyke's going to use the studio. And Brian Wilson's going to come in. So I'm just thrilled. I'm going to be a pig in slop.
PCC:
At the height of the success, was it difficult to handle?
HUTTON:
When it does happen, it's one of those things where it seems so natural, like 'Yeah, I always knew it was going to happen.' I mean, I look back now, the timing, everything was perfect. I was born at the right time. It's just amazing. And we're talking '68, '69, '70. So it was a wonderful, wonderful time. Hendrix was around and he played with us. Just about everybody you could think of was around. I remember a gig we did with James Taylor opening, us going on second. And Led Zeppelin closed. And that kind of stuff. You could mix folk and pop and they didn't even have a word for heavy metal then. So it was a very, very creative time.
PCC:
Did the artists feed off one another?
HUTTON:
Yeah. It sounds kind of silly now. but the idea of doing folk music with amplified instruments was a huge controversy. And then people mixing jazz with rock. Progressive music. The classical music. Combinations. Carlos Santana with the Latin and rock. That was all first-time stuff. Now the young people don't even know what a revolutionary thing everybody had in their brains at the time. Cross-pollinization. The Beach Boys, you know, combined The Four Freshman with Chuck Berry and then put on surfing lyrics. And then with Brian, he also knew about the classical music, which he doesn't talk about - Gershwin and all that stuff. It was a very exciting time, musically.
PCC:
As the hits are coming, one after another, are you feeling pressure to equal each previous success?
HUTTON:
In the '50s, everybody basically recorded time capusules. People aren't aware of that really. You went in there and you sang live and the band played. And you captured Thursday at 7 at night at RCA Studios on July 10th. That's what that record really was.
And then once you were able to multi-track, it just turned into, this week we're going to do all the basic tracks, save money and then we'll come back and do final vocals and then we'll do overdubs. And maybe the song you're listening to was cut over an eight-month period. And it's clinically much cleaner, but you lose all of that ambience. So that really, really makes a difference.
PCC:
When you're caught up in this whrilwind, was it inevitable to fall into some of the pitfalls?
HUTTON:
Oh, yeah. our record company wanted at least two albums a year with three singles off of every album. So that was our aim every year, to do six singles and two albums And we did. We had 21 straight hits. On the Billboard charts, we have the best percentage of releases of any group. We're number one. Twenty-one straight Top 40 records. When you're doing it, you think, 'Well, that's what you're supposed to do.' But we came back from tour, after our first album, and then they just said, 'We want to release the next album in a month-and-a-half.' So we had 30 days to find the 10 or 11 songs and arrange them, record them, produce them, get it done. So it was a whirlwind.
And you come back and you look on your itinerary, says you've got a week home, after some exhausting bus tour. And in those days, when the buses first started, those buses were not like the tour buses now. They were pretty rough. But when you got home, you found you had to go see your manager, you had to get pictures taken, you had a bunch of interviews to do, then you had to go to music publishers. Then you had to get your personal business done. So it was a whirlwind.
PCC:
So how did the band survive? What were the greatest challenges?
HUTTON:
Just that. Putting up with all of that. But we did what all the other bands did. Absolutely. It was a very innocent time as far as sex, drugs and rock 'n' roll and all that stuff. Like I said, we started in '68, so we still were in a little bit of the hippie era. I love it how people neatly put things into 10-year periods - the '70s, the '60s, the '80s. There's no such thing [Chuckles] It's lazy. There's like '68, '69 really started the '70s. Then '74, when punk came in, that was a dramatic change. There was no such neat 10-year-period.
PCC:
So what did eventually led to the dissolving of the band?
HUTTON:
Oh, just like all the other bands. Burnout. Absolute burnout factor. It stopped finally being fun. And the majority of the guys partied too hard. And then you get the thing with the girlfiends and wives getting in there, saying 'You are really the reason for this group, not him.' [Laughs] And all that kind of crap comes in. And then the divorces, then the wife gets the house with the elevator in it. And the guys get the boys in the band [Laughs]. All that kind of stuff, pressures start happening. And everybody's partying too hard. The drugs and the booze and all that stuff.
Like I said, it was a very innocent time. People were doing acid. And it was still legal. It was crazy. And then this wonder thing cocaine came in. And it wasn't addictive. You felt fine the next day. Right? And then it caught up to everybody later on.
But then we disbanded. And I started managing punk groups, like I said. And I loved it. That whole scene was great. The Go-Go's, they were little chubby girls who played their songs too fast. And X. Manzarek was doing X. And all that stuff.
But then I get a call from Cory. Some group was going to go out on the road as Three Dog Night in the Far East. So we had to get together to stop it. And we started talking. I'd gotten calls all the time about re-forming the group and booking us. So we decided 'Let's try it again. But this time, let's enjoy it. Do it for different reasons.' So we did. Forty-one years later, we're out there, doing it. And the majority of the guys are the original guys guys in the band.
What I'm very proud of, we sound like the records. I know some people don't want to be the human jukebox and all that kind of stuff. I don't like it when I go to see a group and they change the songs so completely or they've turned them into medleys, and I can't even recognize my favorites. I'm waiting for the little hook that I loved on the record and it's not there. I understand people who want to go that way. But, if it doesn't work for the audience, it doesn't work for me. That's just the way I feel.
Some people say, 'I'm doing this for me and screw the audience. I'm going to be me.' There's all different ways to look at it.
PCC:
But you must have enjoyed recording with a symphony.
HUTTON:
I loved it. What it did was it brought out different aspects of our music. Like the song 'Liar,' which I really like, it turned it into sounding like Phil Spector on steroids. There are a couple of parts in the song that are just massive. You do that in the recording studio. But it's hard to do it live with the band. And it makes it really great.
PCC:
Is there a full album in the future?
HUTTON:
Yeah, we're slowly doing it. I've got two more I'm working on right now. And Cory's got one he's finishing up. We have a couple of them on the website. There's a song called 'Prayer of the Children,' that we've just started doing live. It's the first time in 41 years that the six of us have sung a cappella. And the reaction has been incredible, to the point where we're using it as one of the encore songs. And it's scary, very, very hard to do. And Brian Wilson flipped out.
If you ask Brian something, you'd better be ready for the truth. If you say to Brian,' Do I look a little fat?' 'Yeah, yeah, you do.' [Laughs] And if you play him something, 'I don't like it.' And this one, he loves it. It's very hard doing a vocal harmony song for him. So I'm very proud of that.
PCC:
The fact that this was the biggest band for so long and the music does hold up so beautifully, has it been frustrating that you didn't get all the deserved critical acclaim?
HUTTON:
Well, I don't care at all. And I don't care about the Rock and Roll Hall of Fame. I don't give a crap about it. I don't even want to mention names, but we've had Hall of Fame winners open for us, whatever that means. To me, it's all cronyism, the whole thing. Without getting into a whole thing, it was all set up by Atlantic Records. And I think the first two or three years, they had tons of Atlantic groups inducted that no one's ever heard of. And then the criteria all of a sudden is, well, you didn't write. Well, name how many acts on Motown did [Chuckles]. Not only was that a factory, they'd have the tracks done and bring in four or five different groups and figure out which group sang it the best. So you know, what's the criteria? If I only knew the rules. I realize it's just a bunch of guys that have their own agenda.
For me, it's knowing that we're selling out all our shows. And that's why I did it. I did it because I like it and I love it that other people like it. And there aren't too many people that are still out there doing it.
What is interesting is that we're kind of the first generation, except for the old blues cats. It's almost a frontier, the first older, really older generation that are doing rock 'n' roll [Laughs].
PCC:
And it keeps you young.
HUTTON:
I think so. For me, I think it really does. For singers, you're using the chest and all that kind of stuff. It does help.
PCC:
And it's got to be gratifying when people tell you how much your records have meant to their lives.
HUTTON:
Yeah, it really is. And we sing them all in the same key [Laughs]. No lowering the keys. I sing as high as I ever sang in my life. I stopped smoking years and years ago, '70s.
PCC:
What have been the greatest satisfactions for you?
HUTTON:
People are still coming to see it. And at the end of the show, the audiences really like it. And I'm just thrilled. I think we make people feel really good. And that's a nice feeling.
For all the latest on the band, visit www.threedognight.com.

Upcoming Three Dog Night Concerts:
July 30 	Saratoga, CA 	The Mountain Winery
August 2 	Sprinfield, MO 	Ozark Empire Fair
August 3 	Ridgefield, CT 	Ridgefield Playhouse
August 4 	New Brunswick, NJ 	State Theatre
August 6 	Watertown, SD 	Redlin Arts Center
August 12 	Costa Mesa, CA 	Pacific Amphitheatre
August 13 	Santa Fe, NM 	Buffalo Thunder Hilton Resort
August 19 	Stevensville, ON Canada 	Safari Niagara Amphitheatre
August 25 	Moncton, NB Canada 	The Centre - Casino New Brunswick
August 26 	Syracuse, NY 	New York State Fair
August 27 	Augusta, ME 	Gagne Memorial Field
August 28 	Alexandria, VA 	The Birchmere
September 2 	Clear Lake, IA 	Surf Ballroom
September 3 	Wisconsin Dells, WI 	Crystal Grand Music Theater
September 4 	Lincolnshire, IL 	Viper Alley Live
September 10 	Manistee, MI 	Little River Casino Resort
September 15 	San Diego, CA 	Private Event
September 16 	San Diego, CA 	Humphrey's Concerts by the Bay
September 17 	Rancho Cucamonga, CA 	Lewis Family Playhouse
September 23 	Winnie, TX 	Nutty Jerry's
September 24 	Hot Springs, AR 	Legends Balloon Rally / Memorial Field
October 7 	Freeport, IL 	Freeport Masonic Theater
October 8 	Edwardsville, IL 	Vadalabene Center - S. Illinois Univ.
November 12 	Dayton, OH 	Schuster Performing Arts Center
November 18 	Treasure Island, FL 	The Club at Treasure Island
November 19 	Vinton, LA 	Delta Downs Racetrack & Casino
December 9 	West Wendover, NV 	Peppermill Concert Hall
December 10 	Sparks, NV 	John Ascuaga's Nugget