TIERNEY SUTTON: ALL FOR ONE AND ONE FOR ALL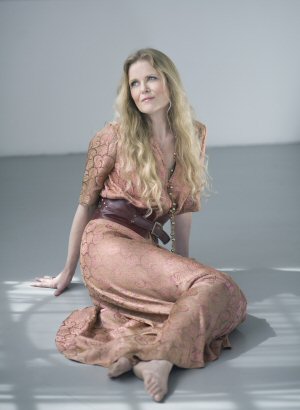 Photo Credit: Tatijana Shoan
By Paul Freeman (March 2010; 2007)
Tierney Sutton's supremely sublime voice deserves the spotlight. But she shares the attention with her equally talented band members - pianist Christian Jacob, bassists Trey Henry and Kevin Axt, and drummer Ray Brinker. For Sutton and her band, it's all about oneness.
The band's been together for 17 years. "We all see our role as serving the greater whole," Sutton told Pop Culture Classics on the eve of her engagement at The Rrazz Room at Hotel Nikko, San Francisco (March 30, 31, April 1, 2010; www.therrazzroom.com). "The musical content is created and decided upon by this group. We have a repertoire of about 150 things that we choose from now. They're all arrangements that we have created collaboratively, over the years.
"We came into it with some similar musical sensibilities. But we're very different personalities. There's true diversity in this band, in every way you can imagine. But we have certain standards. There's a deep mutual respect."
Like the Los Angeles-based vocalist, the musicians sublimate egos in deference to interwoven sounds. "That strength and restraint is something to watch," Sutton said. "Very few instrumentalists do that. In jazz, which is very macho, here's-my-moment kind of music, there's an incredible power in watching people that you know are really holding back, because that's what they hear and that's how they're serving the music.
"They have their moments where they're going to wail, but it's really something to watch people display this kind of discipline, in a world where there's very little discipline, restraint or unity. All of those things are present, when you watch them play. It's really moving, very magical."
The Baha'i faith acts as a foundation for Sutton's musical philosophies. "The core teaching of Baha'i is the oneness of mankind, the oneness of people. The way the band approaches music and the way we approach what we do is a metaphor for my spiritual beliefs. Even though the other band members are not Baha'i's, they have great respect for that way of looking at the world.
"But beyond that, the practical manifestation of that has to do with the way the band functions, the fact that we are an incorporated unit, the fact that everyone has a say in what it is we do. If one us is really uncomfortable about something, the rest of us are going to address that, on some level."
"So when people see us perform, in my opinion, they're basically seeing the result of Baha'i processes, the processes of consultation and problem-solving. We're at a point now where we really would like to use our band and our experience as a metaphor for corporations, for any kind of team-building, any kind of group that wants to have their communication and their output be more fruitful and satisfying. We've been really fortunate and many of the Baha'i principles have played into that, for sure."
On their latest album,"Desire," the Sutton band solves the problem of breathing new life into standards. They make even the most familiar tunes their own.
"We don't want to perform something, if it's been done a lot and it really sounds like five other versions you've heard. The idea of bringing something into the world that wasn't there before, is central to what we're about.
"I think, frankly, a lot of the most successful arrangements for us are arrangements where the theme is something we've all ruminated on and swallowed for a while and worked with, so that when we play with it, we're confident that the audience will be able to follow, almost no matter what we do, because it's a real familiar song. It gives us the freedom to feel like we can really get creative and go out on a limb without the audience being lost."
The Sutton bravely spins classic tunes into entirely new directions. Sutton told us, "Christian says, 'Our goal is to serve the soul of the song and maybe take it on a little adventure.' As we do all the arranging together, we're are always spurring each other on, into the most creative places we can go.
"If an arrangement has been done a million times, we feel that it's almost in bad taste for us to do it that same way again. The people who created the classic jazz arrangements that we hear, with their mastery and excellence, they're our heroes. It's in moving away from them, that we show them our respect."
Utter sincerity shines through every note Sutton sings. "We do want to do something that's original and creative - that's always our goal. But we don't want it to end up being gimmicky or to be different for the sake of being different."
Into the creative tapestry of "Desire," Sutton weaves spoken passages, some taken from Baha'i texts. That's part of an natural evolution.
"We approach what we do from essentially a spiritual standpoint and we say a prayer together before we go on stage. That's been part of our process for many years now. It seemed to be time to let the audience and the listeners into what the actual process was.
"I had been working with the guys on an outside project where Ray Brinker, our drummer, and Trey Henry, one of our bassists, had been working on some ambient grooves. They didn't tell me anything about them. They just said, 'Go into the booth and improvise.' I went in and tried different spoken word things.
"At one point, they said, 'Just say prayers.' So there was a 12-minute track where I just, improvisationally, in one take, did spoken word and prayer and all sorts of stuff, improvised melodies, over this groove. We decided that there was definitely something there and we started to experiment with it.
"The song 'Skylark,' I had performed with some spoken word stuff in spiritual gatherings, read some things and then sung the song. I'd been looking at it from that point of view for probably 20 years.
"But 'Paper Moon,' we had been working on and the concept, lyrically, came through for me that it really was a song about materialism, the meaninglessness of material things and material comfort without love. You can look at the concept of love from the standpoint that most people do, as being between two people, or you can look at the concept of love in terms of a higher thing. And I decided that the latter was a more interesting way to look at the song. And that that was definitely possible, without any lyric change whatsoever.
"I thought it would be interesting to frame these with some of the Baha'i writings that talk about the meaninglessness of the material world, which, of course, is in every spiritual tradition. And I spent a lot of time actually looking through the Upanishads [Hinduism] and the Old and New Testament and the Koran and all of these books, just to try to find little snippets of things that would serve the purpose of setting the tone. And eventually consulted with the guys and they said, 'Yeah, I think those are the ones to use.' So we did."
The Tierney Sutton Band's complex process of arranging is one of constant adding, subtracting, refining, expanding, exploring.
Sutton said, "We go, 'What can we do to make this better?' It's a very satisfying thing, to have a tension that comes to unity. For artists, it's a pretty rare thing. So having found it, we have tried to tend it."
Their process has resulted in many superb albums, including 2007's "On The Other Side." Though the album contains such songs as "Happy Days Are Here Again," "Happy Talk" and "Make Someone Happy," the work definitely has its dark side. One of the two arrangements of "Get Happy" projects a mesmerizing melancholy. It makes listeners feel as if they're hearing the song for the first time.
"The record's theme was the happiness and the optimism of the Great American Songbook, but that there was pathos in that," Sutton explained. "There's an oppression in people telling you to be happy. This culture tells a lie about how we should be happy all the time. Of course, that's nonsense. No one's happy all the time."
"You Are My Sunshine" takes on new meaning, as well. "I'll say sometimes in performance, 'If your grandmother sang that song to you and now you need psychotherapy, I'm really sorry.' But the last line of the song is, 'I hung my head and I cried.' This is not a happy song, if you really look at the lyrics. It's about someone who is messed up and sad and has lost something. It's not skippy, happy, peppyland, even though we've heard it that way."
The dichotomy mirrors the band's collective personality. "In this band, we share a strange combination. We have this cynicism, yet have this wonder, gratitude and optimism at the same time. That album shows that in a very deep way.
"There's nothing on record, that I can't stand behind emotionally. In my mind, there's a reason for the mood, for what's going on instrumentally. It's got to have a musical integrity."
Sutton's musical journey began in earnest during her college years. She entered university with a focus on Russian language and literature. "I thought I would translate and bring peace to the world, single-handedly end the Cold War. This was a long time ago. But I fell in love with jazz. I wasn't sure it had any spiritual implications, frankly. But I really, really loved it. And I was powerless over it. And ended up doing it. And then realized, 'Wow, this whole thing is a metaphor for what my spiritual beliefs are.'
"Music, the international language, is definitely something that can circumvent traditional ideas of understanding. Something is touched in you and you sense oneness. You sense unity on a level that is pretty visceral."
She landed a summer job as a singing waitress. On her nights off, she would go across the street to hear a jazz trio. "Musically, what they were doing had a lot of integrity. There was something about it that I really liked. There was something that was very much them. And there was a level of craft in what they were doing. The whole thing really appealed to me.
"I ended up at Wesleyan University and they had a great world music program. The music program was headed by a guy named Bill Barron, who was a reeds player. His brother is the great jazz pianist Kenny Barron. Bill has since passed away, but he brought Betty Carter's band in and he brought the Heath Brothers and all these great artists to play at Wesleyan. And between seeing that little jazz combo and learning a few jazz songs and going to see Betty Carter's band perform, it was really clear to me that this was something I wanted to do."
She views her voice as an instrument and she eventually studied the techniques of jazz instrumentalists, rather than singers. That helped her develop her own distinctive style.
"Early on, I realized that it's kind of dangerous for vocalists to be profoundly influenced by other vocalists, because we each have a different instrument. I've been doing some work recently with the great Hubert Laws [flutist]. The first time I heard him play live, I said, 'I now realize I've spent my whole career trying to sound like you.'
"When I had first heard different singers - Sarah Vaughn and all - I wanted to sound just like them. I wanted to be them. And then I just realized I had a totally different voice. It's kind of like a flute trying to be a trumpet. It's not conducive to a sincerity in your sound and creating something that feels solid for you.
"So instead of listening so much to vocalists, I started listening to a lot of Miles Davis and John Coltrane and Cannonball Adderley and different horn players. That way, I could get the musical ideas without thinking I should sound just like them."
When she first signed with the Telarc label, her son was two years old and she didn't want to do much live performing, preferring to stay at home. Now the lad is 13 and becoming more independent, so Sutton is on the road 100 to 150 days a year. Sometimes he's able to travel with her.
"It's been a very gradual unfolding of a career. I'm really grateful for that, because I think it's a very sane and solid way to build something and figure out who you are and what you want to do. I don't know that a lot of young people have that advantage. I feel very lucky that I had a sort of rarified experience. Telarc, because they spent very little money on the early records, allowed me to sell hardly any records for a long time and just really build, little by little by little by little. And that just doesn't happen. So I feel kind of lucky, in an odd way, that I wasn't some big, overnight sensation.
"I listen to my son, who despairs sometimes that he's too old to find anything that he's going to be really good at. The mentality in the culture is that you're supposed to be groomed, from the age of two, to do whatever it is that you're going to do. I said to him, 'I hadn't even heard of jazz until I was 19 and I've just gotten my third Grammy nomination. So don't listen to people. You've got to find your path. You've got to just take your time.'"
She found kindred musical spirits to share the musical path. "The instrumentalists in this band are amazing virtuosos, the best alive at what they do. People who play the same instruments come to the shows, tune me out and study them, literally taking notes."
Sutton and her band are beginning to shape a new album."The working concept is American stories. We're thinking about the beauty of the American landscape. We're thinking about Americana songs. It's coming together."
Arrangements come together in many different ways. "It's a fairly mysterious thing. Sometimes one person has an idea, brings in a little sketch of something and the rest of us consult about it Other times, the band will be playing a vamp or a groove at a sound check and I'll start singing a song over what they're playing, without them knowing what song I'm going to be singing. And that's how something will start sometimes.
"Other times, it's just a song that I'll bring in and say, 'I want to do this song. The content of this song is really interesting to me. What can we do?' So it really depends.
Approaching a new vocal, Sutton's approach combines the analytical and the instinctive. "There's a of of both. The older I get, the more I think about lyrical content. And the more that I become friends with some great lyricists and composers over the years, the more I realize that, as a vocalist, I'm also a storyteller."
Her stories of life in the jazz world can certainly benefit budding singers. Sutton, who has taught in USC's Jazz Studies department, currently serves as Vocal Department Chair at Los Angeles Music Academy.
"One reason I like to do a lot of teaching is that it reminds me how much I have to learn. I learn a lot from the students and the different things they do and the different things that move them or touch them... or don't, as the case may be.
"The band and its process has definitely caused me to grow, as well. For everyone in the band, for us to play and adjust to each other over the years, it's just like the way you change in a long marriage. You learn different things and you have different sensibilities and sensitivities to one another."
Sutton enjoys nurturing young vocal talents, guiding their perspectives, as well as their techniques.
"The climate at the Academy is one of cooperation and kindness, which is really important to develop in young artists, that climate of being grateful that this is what you get to do and that you need to appreciate other artists and bring them out. It's not just about bringing you out. It's about bringing everyone around you out, to be their best. When you can start doing that, then people want to work with you."
The Tierney Sutton Band continues to push the boundaries. "We can't even really help but do that. We have one arrangement that's sort of set for our new project and it's pretty out there. That was intended. We didn't walk in and say, 'This is going to have be be really, really weird.' But it's fairly weird," Sutton laughed. "But in a good way. It's very beautiful. And it's very much us."
Despite their daring, the band is always conscious of trying to please an audience. "We spend a lot of time on that. When we put a set together, it can be a pretty arduous process - what goes with what and what's the sound of the room and who the audience is going to be and whether any of the fans have sent us little e-mails saying, 'Please do this song.'
"Sometimes we think, 'We really need to give them something very simple here, to cleanse the palate for a second. We spend a lot of time thinking about that."
In performance, the songs continue to evolve. "It's like that old Woody Allen thing - 'A relationship is like a shark. It has to move forward or it dies.' That's the same way in art, especially for jazz singers. If people aren't challenged, they become parodies of themselves.
"It's a blessing, if you can have a creative work life. I'm lucky to have the creative partnership I have with this band."
UPCOMING TIERNEY SUTTON BAND GIGS:
March 2010
March 30, 31, April 1
The Rrazz Room at Hotel Nikko, San Francisco
www.therrazzroom.com

April 2010
9th
(Tierney Only)
with Larry Koonse, Hubert Laws
Season's
Yakima, WA

22-25
Jazz Standard
New York, NY
For info and tickets
www.jazzstandard.com

29-30, May 1
Ellington Jazz Club
Perth, Australia
For info and tickets
www.ellingtonjazz.com.au

---
May 2010

2nd
Melbourne Recital Centre
(Double bill with Lionel Loueke)
Melbourne, Australia
For info and tickets
www.melbournejazz.com


4th
The Basement
Sydney, Australia
For info and tickets
www.thebasement.com.au


8th
Tuckerman Hall
Worcester, MA
For info and tickets
www.tuckermanhall.org


9th
Topeka Jazz Workshop
Topeka, KS
For info and tickets
www.topekajazz.com


21st
Tempe Center For The Arts
Tempe, AZ
For info and tickets
www.tempe.gov/tca

---
June 2010

5th
Wisconsin Union Theater
Madison, WI
For info and tickets
www.uniontheater.wisc.edu