TIM FLANNERY: ROUNDING THIRD, HEADING FOR "OUTSIDE LANDS"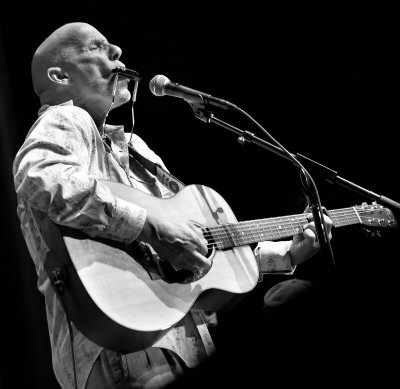 Photos by Martin Lacey

By Paul Freeman [January 2014 Interview]

Some young kids dream of being part of a World Series-winning baseball team. Others dream of being so highly regarded as singer-songwriters that they share bills with such legends as Willie Nelson, Merle Haggard, Linda Ronstadt and Judy Collins.

Tim Flannery has lived out both dreams. Currently the San Francisco Giants third base coach and an acclaimed Americana recording artist, he tells Pop Culture Classics, "I never knew you had to make a choice. Can you make a choice between water and air? I need baseball and music."

During baseball's off-season, Flannery plays concerts with his sterling band, The Lunatic Fringe - Dennis Caplinger (fiddle, mandolin, banjo, dobro), Jeff Berkeley (guitar, vocals), Doug Pettibone (electric guitar, pedal steel), Shawn Rohlf (guitar), Dean Smith (bass), Randi Driscoll (vocals) and Barbara Nesbitt (vocals).

"We play a lot of the new album [his 13th], but we still play a lot of our other stuff, as well. We play long shows," Flannery says, laughing. "We played a four-hour show a couple weeks ago. I did a little local community library concert series show a couple days ago. All they let me play was an hour. That was like just three songs and a story."

The title "Outside Lands," reflects Flannery's love of San Francisco and its history. "It's like my photograph of what's happened to me in the last eight years up there. In the 19th century, that Richmond area was all the Outside Lands, and people came here to find their dreams, chase their goals. And I related to that. I've been influenced a lot by not only the music of San Francisco, but just the whole lifestyle and all the people I've met along the way.

"I just feel like I've found a place that fits me perfectly, the thinking process. I call it the land of extremes. Musically, all the great, amazing music that comes out of there, almost every night you can find somebody. You hear the Railroad Earths and the Hot Buttered Rums and Yonder Mountain String Bands and you see how the Dead influenced a lot of their music, the jamgrass and all of that. And to be able to just hang around some of those guys, Bobby [Weir] and the boys and to learn a little bit more about them, it's been a great experience."

Weir is one of many luminaries guesting on Flannery's new album. "I started getting emails on my iPad on the team bus during a spring training. And Eli Whiteside, one of our catchers at the time, really loved the Dead. I knew their music a bit. I loved the Allman Brothers Band and I know they were influenced a little by the Dead. I looked at Whitey and I go,'Hey, Bob Weir's been emailing me.' And his eyes just lit up."

An email correspondence ensued between Flannery and Weir. Then Weir invited him to spend the day at his studio. "We were driving out there and I looked at my wife Donna and I go, 'I got no idea why we're going here. I got no idea what's going to happen. I'm just along for the ride. It's an off-day, let's enjoy it.' And when we walked out of the studio that day, we still didn't really know why we went. He's like the mad scientist."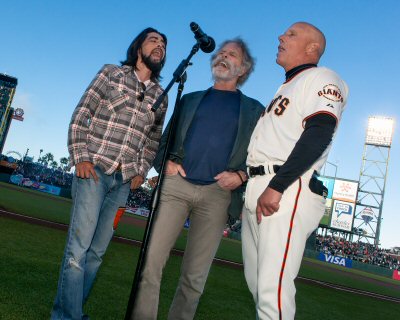 Jackie Greene, Bob Weir & Tim Flannery sing the National Anthem in honor of Jerry Garcia's 70th birthday at AT&T Park before the SF Giants vs. NY Mets game

One thing led to another. Weir and Phil Lesh asked Flannery to sing the anthem with them at the Giants' Grateful Dead night. "From that, he realized that maybe I'm a pro and I'll show up and know the parts. The first time that we played together, he had heard that we had played Yoshi's and raised money for Bryan Stow [the injured Giants fan] and he wanted to be part of a show like that. When we played the Napa show, the Uptown Theatre, he came out and we did five songs together. And we've played several times since. He's really something."

Jerry Jeff Walker also appears on the new album. "He's a hero of mine," Flannery says. "I used to sing his song 'Little Bird,' all the way back to my ball-playing days in the '70s. I still sing it now and it's really cool with a full band. And he just came out of the blue this summer. He loved the Giants and just wanted to hang out. He'd heard my music and read some articles. We started hanging out after games, passing guitars around. And I get a call from him almost every other day, just to talk. He'll talk about songwriting and performing. He'll make you laugh every time. So that was a great honor to have both of those guys on that record. And the other players, as well."

Born in Oklahoma, Flannery was raised primarily in Anaheim. His father, who hailed from Kentucky, was a minister. Flannery sang harmonies in church and at home. "We had bunk beds and my brother used to wake me up, kicking me, in the morning, asking me to sing with him. We sing these Kentucky blood harmonies. We were raised on the Louvin Brothers and the Everly Brothers. It's in our DNA. I drift back and forth from the traditional bluegrass to a little bit more of The Flying Burrito Brothers, Gram Parsons and that California Cosmic music."

That younger brother is now an opera singer/music teacher in Kentucky. The Flannerys are definitely a musical family.

Flannery played some shows in Ireland in 1998 and his Irish relatives threw a shindig for him. "Everybody that walked in had an instrument. I mean, grandmothers, aunts, uncles, they all had guitars, banjos, bouzoukis. There's a great line I heard in Ireland, they said, 'Folk music to the Irish is like baseball to the Americans.' So I got both of them in my blood."

His uncle, Hal Smith, played for the Pittsburgh Pirates and hit a huge, heroic home run in game 7 of the 1960 World Series against the Yankees. "He was also a songwriter," Flannery says. " I just saw an old photograph of him carrying an old J-45 Gibson guitar around."

Through his playing career with the San Diego Padres, his minor league managing and Giants coaching, Flannery has carried around his guitar, which he lovingly calls "Loretta," after a Townes Van Zandt song. On the road, playing music is therapeutic.

"Oh, my God, I'd have jumped a long time ago," Flannery says, laughing, "if I didn't have Loretta with me."

After road games, he pulls out Loretta and works on new songs. "Jackson Browne [who sings on one of Flannery's albums] always says, 'Writing a song is like taking a photograph.' And that's why he calls them records, still, because you're recording an event."

From the new album, the song "Hillbilly Rain" was inspired by Flannery's father, who passed away from Alzheimer's at age 74. Flannery wrote another, "Footprints of Love," for his daughter's wedding. "Twenty-One Days" celebrates the Giants 2012 World Series journey.

He tries to keep his baseball and music pursuits separate, when possible. "Baseball can hold you back, as a musician. As soon as somebody back in the day would say, 'Hey, this guy's a songwriter and he coaches third,' you could almost feel them cringe. Baseball will get you the gigs in the local bar. But it's not going to get you the ones in the theaters."

There are some similarities between the two pursuits. "Yes, in terms of preparation, in the sense of breathing and controlling emotion, controlling adrenaline. You can't control everything on stage or on the field. But you can control whether you're prepared."

Flannery wasn't prepared for how much the Bay Area would charm him. "When I came to San Francisco eight years ago, we came up on a two-year contract, no guarantees and I left everything to do it - a job in radio, I left my house, my family. And I came up there and said, 'I'm not going to meet anybody. I'm not going to let anybody know I play music. I'm not going to let anybody break my heart. I'm going to come up there and coach third.' And they don't let that happen up there. They find out that you play music and they understand that you can still be an artist and coach third base for the World Champs."

On stage, as on third base, Flannery is a champ. His songs are honest and compelling. His voice has a Gordon Lightfoot-esque warmth and authenticity.

Much of his music-making benefits those in need. "To be able to use your music to help somebody, to me, that's the blessing of it all."

Flannery, 56, father of three, still has a place in San Diego, though he lives much of the year in San Francisco. He spends most of his time in the off-season north of Santa Barbara, in a barn, off the grid, powered by solar panels.

"It's actually the best venue going. You can play right into the canyon. All the birds and the deer and the pigs will show up."

For the latest news, visit timflannery.com.