T.J. MILLER: ODD MAN IN


PCC Talks to the Star of HBO's "Silicon Valley"
About Stand-Up, Comedic Acting, Philosophy and Brain Surgery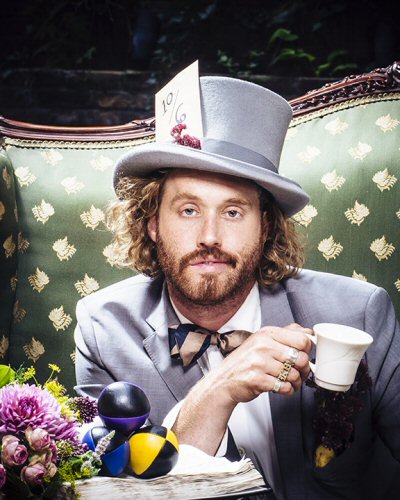 Photo by Mandee Johnson Photography
By Paul Freeman [October 2015 Interview]
What do you get when you cross Steve Martin with Friedrich Nietzsche? It might resemble T.J. Miller, whose brand of comedy will make you think, as well as laugh hysterically.
Miller, one of the stars of HBO's hit series "Silicon Valley," is a student of philosophy who grew up idolizing the wild and crazy guy.
The merging of the two elements became clearer to Miller in 2010, when, after discovering an arteriovenous malformation on his frontal lobe, doctors removed a golf ball-sized chunk of his brain.
Miller, who enjoys being bemusing, as well as amusing, grew up in Denver. Critics and viewers have been impressed with Emmy-winning "Silicon Valley." Miller, who had been in quickly canceled network TV shows such as ABC's "Carpoolers," feels at home at HBO. Miller portrays Erlich, the inept, mutton chops-adorned entrepreneur who's fueled by bravado, weed and quirky charm.
Miller, 34, is married to actress/singer Kate Gorney. His resume includes such films as "Cloverfield," "Get Him to the Greek," "Yogi Bear 3D" and "Rock of Ages."
He has tons of exciting projects in the works, including Marvel's "Deadpool," "How To Train Your Dragon 3," Comedy Central's "Gorburger" and Jay Baruchel's hockey "Goon" sequel. And as the voiceover star repeatedly points out, he's that animated, anthropomorphized ball of snot, the Mucinex Man.
Though he's much in demand as an actor, the quick-witted Miller still enjoys doing standup. He's part of the terrific comic lineup of Funny or Die's The Oddball Comedy and Curiosity Festival.
POP CULTURE CLASSICS:
Even after all the success as an actor, do you still consider yourself first and foremost a stand-up?
T.J. MILLER:
I consider myself a comedian. So the way I think of it is like, acting and all those things are just medians of comedy, rather than being separate things. So I'm doing comedy, when I'm acting. I'm doing comedy, when I'm doing stand-up. I'm doing comedy when I'm the Mucinex Man. I'm doing comedy - and masterful acting - in "Yogi Bear 3D."
PCC:
But there are satisfactions you get from stand-up you can't get anywhere else?
MILLER:
Yeah, absolutely. One of the big things of stand-up is, there's no one between you and the audience. So you've cut out the middle man. You do not have to clear anything with anybody. When I go up on stage at Oddball, often I may just decide - okay, I'm not going to do any of the material that I did last time. And, in fact, today, I'm going to come on stage with a piñata tied to the side of my shoulder and let that be the thrust of the set. "It gives me some crazy freedom, and especially for someone like me, who riffs a lot anyway. But at Oddball, they're sort of, hopefully, expecting it to be kind of odd - that would make sense. And because I'm an absurdist, I can go pretty wacky. It can get pretty odd out there at the old Oddball Festival.
PCC:
Have you always been drawn to comedians who were spontaneous, rather than set sets?
MILLER:
Yeah. certainly. My favorite was Steve Martin. I always liked Mitch Hedberg and Steven Wright, all these people that were actually really good writers. Whereas I think I'm more like Steve Martin. I'm more style over substance.
PCC:
Were you always uninhibited, even as a kid?
MILLER:
Well, for years, as a child, I was a recluse. I lived in a mansion in the Hollywood Hills, by myself. I had a sled named Rosebud. Strange childhood.
But I basically grew into myself, especially in high school. I was sort of famous in the school for being so funny. And I eventually became the president of the whole school, senior year, having never done student government and having no reason to be allowed to do that.
But I sort of carried that theme on, because I'm often in Hollywood and I'm like, how are they letting me pretend that this is some sort of commodity that you can sell? I'm just a toddler-bodied man, making crazy faces and saying lots of things that don't make sense, never going by the script in any movie or television show. It impresses even me.
PCC:
At the Oddball Fest, do you have to approach your set in a different way, playing large venues, rather than intimate clubs?
MILLER:
Yeah, this is a conversation that Anthony Jeselnik and I have had every single show, which is - what is different about this? How do we adjust? Basically, unfortunately, it takes a couple shows, which we've already done, to acclimate the material we're doing to that size. So the size is one factor. What's much more of a struggle is - those of us at the beginning of the show only have 15 minutes to translate what we're doing to that size stadium. But even much more than that, we don't have enough time to get to know the audience. A 15-minute set, that's not even a featured set at a club. We're all headliners. So for someone like Nick Kroll or me, some people maybe haven't seen our standup. They know us from our shows on television. And we're a little bit weirder. Nick has a McDonald's joke. I have one about my college nickname. We do both have accessible material. But we really get a kick out of a certain type of humor that sometimes all it does is leave the audience going, "Huh? What is he talking about?"
PCC:
But has it become a bit easier now that you have the hit TV series, in terms of people knowing you and liking you from that and wanting to like your standup?
MILLER:
Oh, yeah, sure. I don't think anybody, because of "Silicon Valley," expects me to not be using adult language, talking about drugs and alcohol and that sort of stuff. But the thing is, when it's "R-rated," it's not particularly edgy or offensive. It's just using those words interchangeably with any other words, sort of trying to prove that language is so malleable and ridiculous. And other times, it's complicated sort of time theory, that the idea or concept of time is probably the closest thing we have to a deity in a post-religious society - stuff like that comes up on stage. So it's a real fuckin' blender of nonsense and heavy duty philosophy. At least that's what it's changing up to be now. But in 15 minutes you'll see sort of a sampling of that, which I think is great, because then, when I come back, and play another venue in the market, people hopefully will be like, "Oh, let's see what it is, when he talks for longer."
PCC:
So do you just try to have fun at these kinds of shows?
MILLER:
For me, it's a goddamn good time. And Jeff Ross and I have talked about this a couple of times, the idea of, yeah, it's a festival, so you really do try to give it that feeling from the get-go. And for me, not only is it a blast, but it's an opportunity to hang out and chill with people that I wouldn't tour with usually. Like Jeselnik and I will see each other on this tour. We're really good friends. We'll see each other on this tour more than we have in the last year. And we kind of interact with each other on stage and screw around with one another. The takeaway for all of us is, it's a damn fun tour. It's strange, because of the dynamics of having some people "headlining" the tour, when we're all headliners. But that doesn't really bother me. I get plenty of opportunities to do 45-minutes.
PCC:
For the audience, besides getting the laugh in the moment, do you hope that the next day, they're thinking back on something you might have said or done?
MILLER:
Oh, yeah. You're literally describing the exact thing I want to have happen, which is, you don't want to be forgettable white comic number three. There are a lot of white male comics. And in my case, I hope they'll think of me the next day and be like, "I never did understand why the hell he was doing that." At least that takes them, for a moment, out of their day. If they're having a shitty day, if their boss is being a dick or things have gotten monotonous, then ideally they're happy that they spend the money for that show, because it sort of reverberates with them later on… kind of like an aftershock from a comedy earthquake.
PCC:
"Silicon Valley" is such a success. Did that catch you by surprise?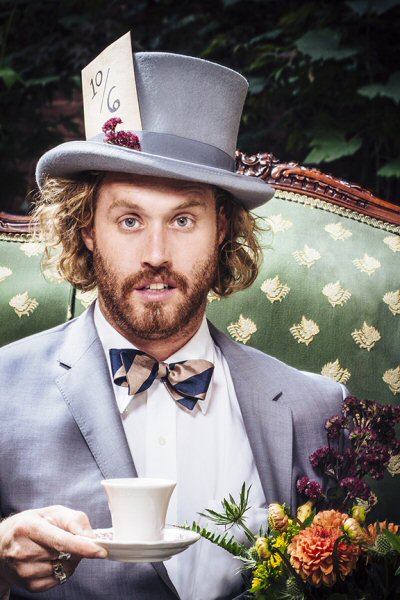 Photo by Mandee Johnson Photography
MILLER:
Oh, absolutely. I don't think any of us expected "Silicon Valley" to be a hit. I didn't even know if the material was relatable enough. There'd never been a show about Silicon Valley. There was one reality show, but it didn't do well. So, yeah, I'd say we were taken by surprise, in that it is a lightning-in-a-bottle huge, huge show. People really love it. It's like the weird "Seinfeld" or "Friends" of the millennials or something. But it hits with all different ages and that's very good.
My thing is, it's Mike Judge and it's making me a better and better actor. I'm not a great actor, but I'm a very, very, very good comedian. So it's been really good for me with respect to that. Also, it comes with this thing… I didn't get in this to be Erlich from "Silicon Valley." And I'm already not. So I hope to keep doing the show for a little while. But "Deadpool" is coming out. That's going to be very interesting. There's going to be "How To Train Your Dragon 3." I am the Mucinex Man, as I mentioned. We're hoping to get this show "Gorburger" on Comedy Central in the next month or so.
PCC:
Are there similarities between you and the character, Erlich?
MILLER:
[Laughs] Yes, I should say so. It really wasn't that way until I came in and was like, "Well, I'm just going to do him like me, but with a lower voice. Is that okay?" And they were just like, "Yeah, sure, T.J., do what you do." So that was the deal. You know, it's a sort of hyperbolic version of me.
But there's a reason that people like the character so much. And it's in part because he does and says whatever he wants to say and do. Yes, he has this Dionysian and Bacchanalian - or however the fuck you pronounce that - way about him, that people kind of wish they could be. They wish they could outwardly be assholes. They wish they could say whatever the fuck they wanted, to anybody. They wish they had the confidence and the braggadocio to act how Erlich acts.
And I, of course, love that, because it is an admission by the television audience and the general public that we're all kind of restricted and mostly living in fear and, even if you can't stand being around him, Erlich does not live in fear. And there's something enviable about that. So yeah, I'm the same way. I'm not really afraid of anything… except for [shouts] opening the shower curtain and seeing a horse in there! A small one. Those mini-horses…. the ponies. Those things are creepy… in a shower? Get the hell out of there!
PCC:
Have you heard from people who actually live and work in Silicon Valley?
MILLER:
Yeah, I've actually made some friends up there, because of the show. I just know so much about the fuckin' subject now. I'm computer savvy. But now I know much more of the business side of it. It's very interesting. And I play these little tech conferences. They hire a comedian they think is funny. But because I know enough about it, then when you do a meet-and-greet or something, you actually have some things to talk about. I understand all the companies and what they're trying to do. So tech in general is interesting to me.
But yeah, I've met a lot of those people and the response is almost always positive, unless I'm hosting an awards show in Silicon Valley and I make fun of them. They don't like that. They love the show that makes fun of Silicon Valley, but if a person makes fun of them, then they get pretty offended. They're such precious little bitches sometimes, up there in San Francisco. They're like, "We live in the best place. We are the most progressive. We have the best culture." No one in New York acts like that [laughs]. They just are like, "Yeah, we're the best city in the world." Tourists are buying shirts that say, "I love New York." New Yorkers don't need to talk about it all the time, whereas, every other day in San Francisco newspapers, it's like, "You wouldn't even believe it, but we've made artisan cheese and salami meats better than we ever have before, making us the leading artisan cheese and salami market in the world." It's kind of like, "All right, guys, we get it." But if I just talk to people, yeah, they love the show, just love us.
PCC:
Do you have greater appreciation for this success, having done TV series that didn't click with the public?
MILLER:
Yeah, for sure. And this one totally makes sense. If we want to be authentic here, I'm not exactly a CBS or ABC network comedian. That's not totally the deal. And HBO is sort of the right fit. Mike Judge and I had worked together beforehand, on a movie called "Extract." And so this just seemed to come together and make sense, as far as a television program goes.
And then, most people don't know this, but Thomas Middleditch and I, we have worked together for over 10 years. We did a two-man improv show, just the two of us in Chicago for years. And I also started out with Kumail [Nanjiani] in the standup scene. So it's pretty crazy, but, yeah, these are some of my great friends. Martin Starr I knew through Jay Baruchel and Lizzie Caplan. And Zach Woods is the funniest improviser on the face of the Earth. So we all hang.
PCC:
So the chemistry was already in place.
MILLER:
Yeah, it seems like we're friends on the show and we are friends on the show. And our characters are sort of similar to each person. We're all friends in real life. And sometimes I'm abrasive and irritating to them, but I'm also the guy that can get us all into a party.
PCC:
The discovery of the AVM, arteriovenous malformation, and the subsequent brain surgery - what lasting effects did that have on your perspectives on life and maybe even on comedy?
MILLER:
Well, I'm totally insane. I've gone like completely mad and everyone's like, "He's weird!" My reality is nothing like yours. Everything I see and understand is almost completely the opposite. It's almost like an "Alice in Wonderland"-type situation. I've really gone through the looking glass.
Truthfully, it just confirms the thing that I always had thought and that I've built my philosophy on - life is absurd and can go away at any time. And as I begin to read Nietzsche, we're talking about a life where a lot of the things that we value, and take for granted is what we should value, is totally a hand-me-down from somewhere else. It's all so ridiculous and relative. And no one's willing to really absorb that. And so Tig [Notaro] and I hung out recently and Tig is one of the few people who totally understands that.
It just continues to affirm what I need to do. My mission in standup right now is to talk about time and time theory and then also, oh, boy, [sighs] - it's going to be really easy - help people release themselves from the death anxiety and kind of live more presently and also, in that present time, to be grateful, yeah, sure, but to see everything through a jester's eye. So really trying to use humor as a weapon against the tragedy that permeates our everyday lives… It'll be easy. It's only going to take 15 years. Don't worry. Now I'm probably, for sure, going to die before the 15 years come. But hey, listen, just have the best lunch of your life, every day. That's what I would say.
PCC:
Work-wise, you're always looking for different adventures? You've got so many different kinds of projects coming up.
MILLER:
Yeah. I mean, that's what I do. I try to do stuff that's going to reach the widest market and then also to explore different mediums. I like doing "How To Train Your Dragon" or "Gravity Falls" just as much as "Transformers" or HBO or "Deadpool." Those are pretty strange and different projects. I like changing mediums. And I hope they keep people guessing and that people can turn to me, somewhere, and count on me to be funny. Or at least they've seen enough of me to know that I'm not funny and they should turn the movie off.
PCC:
Even playing Weasel in "Deadpool," you were able to bring your own sensibility to that?
MILLER:
Yeah, it's kind of cool. Nowadays, they don't really bring me on to something, if they don't think that I'm going to bring my own sensibility. So I feel very, very, very fortunate about that.
PCC:
Your life in performing, what's been the biggest reward?
MILLER:
It's so crazy to me - not crazy, but unbelievable, and I'm very grateful - that comedy is such a necessary thing in modern life that I get paid to do just that. And because I've worked as hard as any of my peers, I'm able to do it in so many different mediums. So it never gets boring for me… for the most part, because it's just constantly interesting, new types of comedy.
For the latest on T.J., visit tjmillerdoesnothaveawebsite.com