TONY LA RUSSA: NEVER GAVE UP, NEVER GAVE IN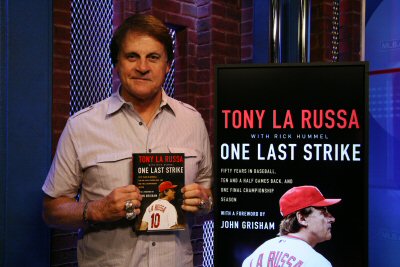 Photo Credit: Eve Roytshteyn
By Paul Freeman [October 2012 Interview]
Even in this age of the ultra-rich celebrity athlete, sports still can inspire us with rare, truly heroic moments. In baseball, over the past several decades, many of those moments have come from teams managed by Tony La Russa.
Bay Area sports fans recall La Russa guiding the Oakland A's to a 1989 crown. But it was with the 2011 St. Louis Cardinals that La Russa achieved his most miraculous feat.
That injury-riddled team was down 10-and-a-half-games with a month to go. The post-season seemed like a distant dream. But La Russa led his club to one of the most amazing comebacks in baseball history. They made the playoffs in the very last game of the regular season and, after being down to their last strike, twice, they won the World Series.
La Russa chronicles that incredibly dramatic run in his new book, "One Last Strike: Fifty Years in Baseball, Ten and a Half Games Back, and One Final Championship Season."
The account of overcoming long odds, seemingly insurmountable obstacles, can inspire readers from any walk of life.
La Russa tells Pop Culture Classics, "People who have read the manuscript say there are strong leadership lessons in it, applying that concept of never give in, never give up. There are stories in there that apply across the board."
After 33 years of managing, La Russa retired, having racked up four Manager of the Year awards, six pennants and three World Series rings. He ranks third in all-time major league wins by a manager, trailing only Connie Mack and John McGraw. The 2011 season was the perfect way to cap an illustrious career.
"It was like a fairy tale. And it's now a book. If you couldn't actually hit the button to replay the truth, somebody would have said 'You made that up. It was fiction. Hollywood.' It was ridiculous how it all came together and we were living the dream, which is to play and win a world championship."
A little time and distance has only enhanced his appreciation for his club's feat. "There's a very practical explanation. You take the 2006 World Championship. To this day, I've never seen the first video replay highlight film. This time, I've combed the 2011 season and everything that applied to it, from lessons provided by mentors over the years, backwards, forwards, sideways and the simple explanation is, this is the first year I haven't had a team to be concerned about, so it was the perfect opportunity to look back. There were so many compelling personal stories of guys who fought through stuff and ended up celebrating. The story is certainly there. The only question is, did we do a good enough job of telling it. People will decide that for themselves. But there's no doubt in my mind, the story is there. I just hope we've done it justice."
In the campaign, La Russa turned negatives into positives, embracing the role of underdog to build the team's character. "One of things you learn about baseball, number one, the regular season dictates whether you play in October or not. It weeds out all but a handful of teams. It's a six-month marathon and it's so difficult to be one of the playoff teams. You've got that given.
"The other given... We've had teams like Philadelphia, with the 100-plus wins, not get to the World Series and not win it. Because you start fresh and every playoff team is capable of winning. Just because you're the number one seed, doesn't mean you're going to win. The number eight... or the number 10 seed, now, can win. That's just the way baseball is. You're good enough to get to October, you're good enough to win a short series. And that's the exciting, the fascinating part about it.
"Once we got into the playoffs, we thought, 'Hey, everybody's got some warts and we've got as many pluses as anybody. And we've been fighting for our life. As long as we don't back off, that's created a real good competitive toughness that we'll carry into this.'
"The dramatic game six in the World Series, being down to the last strike, the reality is, we went through something very similar to that five times in the month of September and early in the playoffs. So, by the time we got to game six, we had built up a real healthy attitude that we were just not going to be denied. And anything was possible. We just got more and more determined, more and more confident every time we overcame one of those elimination times."
Throughout the journey, La Russa fortified his players' perseverance. "There isn't anything that's inborn about that. That's totally created, that kind of togetherness and toughness. That's just a team - and the coaching staff is a part of it - but the team embracing the moment and the attitude."
La Russa, who, as an infielder, played for the Kansas City/Oakland Athletics, Atlanta Braves and Chicago Cubs, relished the pressure cooker nature of pro sports. "It's tough. Believe me, it's easier to go out there, thinking, 'Whatever happens, happens.' But you never win anything that way. We talk about that in the book - the way you deal with mistakes so that you can learn from them, the way that you deal with adversity, because it happens to everybody. It's important to develop this toughness. And it's there for any person, any group of players, if they're willing to dig deep."
Being a winner, La Russa doesn't take losing easily. ""One thing about baseball, you don't have undefeated seasons. Somebody's going to win. Somebody's going to lose. And what you want to do is take your best shot, so that you have a chance to go forward. If somebody beats you, when you took your best shot, you tip your cap. It's simple. But it's a constant struggle and challenge for teams to not give in.
"Baseball is a great equalizer. The famous example, if you're a great hitter, you fail seven out of 10 times. So baseball will teach you humbleness and it'll break your heart. That's how it tests you. And then it'll give you a handful of those magical moments to make it all worthwhile.
"But one thing about baseball, you don't have undefeated seasons. You walk out of there at times, having been beaten by the other side, whether it's you personally, as a pitcher, or as a position player, or as a team. You tried your best, you got beat. And, in the end, that's one of the lessons that this book points out - in the end, you just have to make a commitment to play it out and see how far you can go and how much you can achieve. And, if that's your attitude, then you have no regrets. At any point in that last month comeback, or playing against Philadelphia and Milwaukee or Texas, all that was close. Had we not prevailed, then all you are is disappointment. But you don't have regrets. That's just a competition. Somebody's going to win. Somebody's going to lose. And what you want to do is take your best shot, so that you have a chance to go forward. If somebody beats you when you took your best shot, you tip your cap. It's really simple. But it's a constant struggle and challenge for teammates and teams to not give in. You've just got to be tough enough. And that club was as tough as it had to be."
It can be tougher to fire up the players in the mega-salary era. "With guaranteed money and security, it's not that, innately, the players changed. It's that human nature was messed with, because now you had people seeking that fame and fortune and being encouraged to by their family, friends and agents. 'And, oh, by the way, how'd the team do?' So it's how to break through that group of distractions players feel now and focus on being the best pro and the best teammate you can be. You don't pursue the fame and fortune ahead of the team and the professional excellence. It's a constant battle. Trust me. That's the key to leadership now, to understand that you're waging that war every day, to get players' attention and persuade them to go about it in the right priority."
Each team has its own identity. La Russa contrasts the 1989 championship A's with the 2011 Cardinals.
"Well, the '89s A's were a very talented group. The '89 A's had the benefit of the '88 A's. We had a great year, a great ALCS and then had our hearts broken in the World Series. So the '89 A's carried that disappointment. And they were a team on a mission."
"The 2011 team, it was just starting in spring training and Adam Wainwright, losing him, it was a team that faced a tremendous amount of adversity, with injuries, some on-the-field breakdowns. We were trying to resurrect that gung-ho feeling that had been so characteristic of our clubs, since 2000. So it was a different kind of challenge. Neither one was easy. But they were just different."
The "Moneyball" concept is a pet peeve for La Russa, who has always balanced statistics with the human factor. "The value of 'Moneyball' has been exaggerated to the point where people have lost jobs. The analytics is an important tool for preparation, for study. But to claim that you can predict, based on a lineup and all the different variables of our game strategy, how you do offense, how you handle your pitching staff, that's where it breaks down, because each game has its own totally human nature kind of variables that are not available in that way. If you could only have one - great analytics or a great sense of understanding humans - understanding the human being would kick the ass of the analytical people every stinkin' season."
Team chemistry can be at least as important as talent. "It's a critical piece. And without it, you have to overcome it. You rarely do.
"I always point to the A's of '72, '73 and '74. They were so supposedly individual and fought. You can understand why some people would conclude that. But if you dug, there was more to it. I knew all those guys. They were my teammates. I played with those guys. I was with the A's until '71. They had great chemistry. Part of their chemistry was, they were united against Charlie Finley. And they enjoyed the rebel image and they were feisty personalities. But they had the essence of chemistry, because, if you did anything to a teammate, then you took on the whole team.
"If you had great chemistry and lousy talent, then you wouldn't win. If you had great talent with no chemistry, you rarely win. I mean, you sign a professional contract, you have talent. But when you have a bunch of teams that have similar levels of talent, chemistry, the way teams come together, as the book points out, the way it was described to me by my first general manager Roland Hemond (White Sox), if you have true chemistry, it's like the front office has traded for or signed a true superstar, the great closer, the great starting pitcher, the great player.
"It's all about relationships and establishing that triangle of respect, trust and caring. Believe me, when you play 162 games, you're with your teammates more than you are with your family."
La Russa and wife Elaine, parents of Bianca and Devon, reside in Northern California. They operate the Animal Rescue Foundation, a 38,000 square-foot facility in Walnut Creek. "The players were on me for years about my working harder and being more passionate about A.R.F. than anything else. I'd tell them, 'Well, the animals are more worthwhile than you are," he says, chuckling. "We're 22 years old and we're going strong. A.R.F. is a wonderful and demanding mistress."
To raise funds for the Foundation, he'll be hosting "Leaders and Legends" at Las Vegas' MGM Grand, November 15-18. He and other sports icons will be talking leadership and competition, as well as socializing with participants. For further info, visit the website, www.arf.net
La Russa also keeps busy handling special assignments for Major League Baseball's commissioner.
"I'm fortunate to be staying close to the game. But when you've spent 50 years, waking up in the morning, your life revolving around the score of the next game, that winning and losing is part of your DNA. I do not miss the dugout at all. But I do miss being excited about the winning and being disappointed about the losing. That's an adjustment."
La Russa nurtures optimism and determination, within himself, as well as in others. "I don't think you're born with that stuff. If you're fortunate, you're provided with opportunities. My folks worked really hard to provide opportunities. And then, if you continually are mentored throughout your life and you're open-minded and understand that you need to learn, then you learn. And those things become part of what you are."