VISQUEEN: ROCKING THE MESSAGE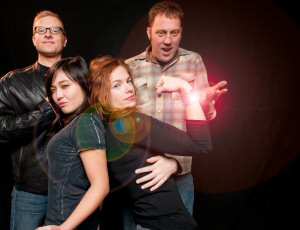 Photo credit: Curt Doughty

Band i.d.:
Upper left - Tom Cummings
Lower left - Cristina Bautista
Upper right - Ben Hooker
Lower right - Rachel Flotard
By Paul Freeman
Her father's terminal illness put Rachel Flotard's rock dreams on hold. But she used memories of him as motivation for recording a new album.
Her Seattle-based band, Visqueen, is garnering rave reviews for "A Message To Garcia." Lead vocalist/guitarist Rachel Flotard created her own label to release the record. Then she tirelessly hit the phones, booking shows, including South By Southwest.
"When it's not happening, you can't just sit around and wait for something to land in your lap," Flotard said.
Flotard and her sister had spent six years nursing their father during his battle with cancer. The family bonds grew ever stronger. But Flotard missed hitting the road with Visqueen.
"Music was something I used to make me feel a little bit normal. But I was the shopper, the driver, the maid, the chef, the total hugger. People would ask me, 'Is Visqueen still a band?'"
Neko Case, who guests on "Message To Garcia," welcomed Flotard as a backup singer. "Neko fulfilled a lot of those dreams for me while all this was going on. I couldn't tour, but Neko would be like, 'Come to L.A. and do Jay Leno with me.' or 'Come fly out to Letterman with me' or' Come sing with me in Montreal.'
"I was able to do some spectacular things that completely reinvigorated me. So music was a release at that time, just not in the way I had thought it would be. It wasn't Visqueen, but it was rewarding."
Her sister's pregnancy provided another ray of light "Her belly was getting bigger as my dad was getting smaller," Flotard said. "It would help him to make it to his doctor appointments, hoping to make it to see this baby. He missed it by three weeks.
"We had a couple of weeks to lose ourselves in grieving and missing our dad. And then this tiny kid comes along and reinstates us. There was this new life for us to take care of. She has become the focus of everything wonderful. It's a strange, beautiful and awful circle of life."
Flotard's life changed again when she accompanied a friend to primitive villages in Laos and Cambodia.
"I had never been to any kind of third world environment. It was a perfect leveler, a great experience. I was able to gain a much different perspective. You can see that your problems are not the biggest things in the entire world. As much as you go through, there are people going through the same or worse all over the planet. I felt a lot more grounded and connected to what's really important and what the rest of my life could hold.
"I came back from that trip really fired up and inspired to get myself together. My dad would kill me, if I just sat around being sad, wasting time and not finishing the job of getting a new record out. It was time to pull myself up by the bootstraps. I decided I was going to do the record and I was going to do it my way."
Flotard was born in New Jersey in 1972 and picked up a guitar at 17. A friend's wedding brought her to Seattle. The city's beauty and affordability convinced her to stay. "It felt young and vibrant."
In 2001, Flotard became a founding member of Visqueen. They immediately connected with Pacific Northwest audiences.
After Flotard's painful hiatus, audiences are growing again. They're loving the new album. "Having been away from the scene, I didn't know if anyone would listen to this record. So I made this, only caring if me and my bandmates liked it."
Flotard's uplifting rockers recall Joan Jett or Heart. But the heart-wrenching ballad, "So Long" stands among the most memorable numbers.
"People write me about their own family members who they lost to cancer and that has been completely moving and incredible for me. They root me on. The CD is hitting people in the guts and I'm humbled by it."
Her niece Bea, now almost two, constantly demands to hear the Visqueen album... and she wants it played loud. "For me, that's the pinnacle," Flotard declared.
The label, Local 638 Records, was named after Flotard's father's union. "For me, that's a symbol for strength and camaraderie. My friends and I are almost like a union. I'm a steamfitter's daughter."
The album's title, "Message To Garcia," comes from an 1899 essay penned by Elbert Hubbard. Her father, many years ago, made copies for Flotard and her sister.
"It's a great story about resourcefulness, getting the job done, not asking questions and just showing some gumption," Flotard explained. "My dad said, 'This is how the world should work.' Whenever I would call him and tell him something was hard or intimidating or stressful, he would be like, 'Well, are you delivering the message?' He would always refer back to the essay. Essentially, what it meant was, 'Just suck it up. Do it.'
"Now, whenever I'm like, 'I'm never going to get this done, this is such an uphill climb,' I have to tell myself to deliver the message.