SHEPARD EXPANDING HER FLOCK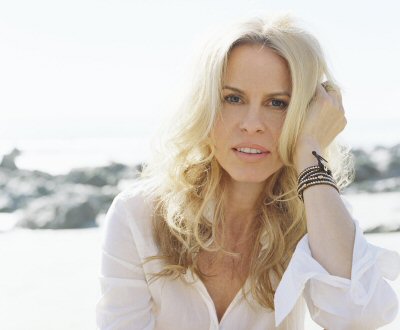 Photo by Dana Tynan

By Paul Freeman [Oct. 2008 Interview]

Vonda Shepard rocketed to stardom as the key musical component of "Ally McBeal." But the pop singer-songwriter created a lot of terrific music both before and after that series.

Her latest album,"From The Sun," truly shines. It has a powerful R&B feel. "When I was really young, I would sing soul music and my little sister would say, 'Vonda, that's the way you should sing!' So it's my natural inclination."

Born in New York, Shepard relocated to Southern California as a child. A house guest introduced her to vintage Aretha Franklin, Chaka Khan and Stevie Wonder records.

Another visitor, a music journalist who slept on the family's couch for years, shared his promo albums with Shepard. She was entranced by such vocalists as Candi Staton, Patrice Russian, Gladys Knight and Al Green.

As you may have gathered, Shepard's upbringing was unconventional. "My parents were very bohemian. My dad was a mime, believe or not. He taught mime in the '70s. It was popular then. People weren't shooing mimes away from them," she laughs.

"It was an incredibly left-of-center, odd childhood. House guests would crash at our place. He would pick up clowns and jugglers on the road and bring them home."

Her father, Richmond Shepard was also a screenwriter and theater director/producer. But theater held no allure for her.

"I was turned off to show business in some ways - the unpredictability of it. Because of our bohemian existence, there wasn't the kind of structure that children crave.

"I was incredibly shy and the thought of performing was terribly frightening. What I did lean towards, from a very young age, was music. I started to write solid songs and make demos at the age of nine. I put my shyness, my fear, into the music."

Shepard could lose herself in music. "When I would practice at home, I couldn't bear to have anyone hear me. But when I was on stage, it was like permission to let it rip. It was the only place I felt like I could close my eyes and not feel shy."

When Shepard was 10, her mother left the family. Her father raised four daughters on his own. The sisters developed strong bonds with one another.

Shepard began singing in clubs at 14. "Literally after my first gig, I knew that was what I wanted to do with my life. I was practicing hours and hours a day, writing all the time. Music was my whole life."

Working as a singing waitress helped Shepard overcome what was left of her shyness. At 20, she toured as a back-up singer with Rickie Lee Jones, who had toiled at the same restaurant prior to Shepard's stint.

Shepard also provided vocal support for Al Jarreau and Jackson Browne tours.

"I got the bug for touring. I watched the professionalism and commitment. The level of artistic talent was mind-blowing. Being a part of all that instilled confidence in me. I thought, 'I could do that.'"

In '89, Shepard recorded an album for Reprise. Weeks after her sophomore release, the label dropped her.

"That was a low patch. I couldn't get an agent, manager or publisher. Didn't have a lot of money. I just channeled the music. It's that alchemy that occurs."

In the wake of tough times, Shepard created a great album, "It's Good, Eve." One of the songs is about never giving up. "That's my philosophy."

Among her fans were Michelle Pfeiffer and husband/producer David E. Kelley. Kelley utilized Shepard's talents for his "Ally McBeal" show. Shepard's "Searchin' My Soul" became the series' theme. She regularly appeared on the program, playing the house performer in Ally's favorite watering hole. Albums culled from the series sold in the millions.

"I was an overnight success... but it had been a 20-year night," Shepard laughs. "I was just happy to finally have that break. It was such a gift."

At her two Yoshi's, San Francisco, shows (8 and 10 p.m., Oct. 30), Shepard will serve up material from that period. But she's most excited about introducing "From The Sun" tunes.

One of the highlights on the album, which rousingly blends soul, rock and gospel flavors, is the song "'Downtown (Dirtytown)." "It's basically how things got screwed up, but I'm going to keep pushing through, digging down and continuing to make music. It reflects my experience with the craziness of the business. It also reflects a bad relationship, where I hung in for too long."

Now Shepard is a good relationship - with husband Mitchell Froom, who's also her producer. He has successfully produced albums for numerous artists, including Crowded House, Bonnie Raitt and Suzanne Vega.

"I usually don't play anything for anyone until I'm finished," Shepard says. "But he's so perceptive and talented. I might be having doubts about an idea. I can play it for him and he'll say, 'I think you're on to something' and encourage me to finish it.

Other times, a song is almost finished and he'll say, 'You need a little space in here. You might want to change the bass note, make it a little more interesting. Extend this part a little. He's brilliant. I'm lucky."

Shepard, who describes herself as strong-willed in the studio, used to be defensive when Froom suggested major changes.

"We'd have some arguments. But I trust the process a lot more now. You need to stand up for things you feel strongly about. But you also have to be flexible. So it's a give-and-take, like any relationship."

They have a two-year-old son, Jack. So Shepard performs a balancing act. "I'm so devoted to him, it takes discipline for me to break away. I have to be so organized with my time. As a writer, you don't want to be like that. You want to be free-spirited. So it's a challenge."

The challenges of the music business will never faze her. "I have this thing that my friend calls 'pathological naiveté.' I still get incredibly optimistic and excited whenever I put out a new record, thinking that it's going to have a success breakthrough and that I'm going to get to have the not quite Sheryl Crow career, but something halfway there," she laughs. "I have hope that a resurgence will happen."

Regardless of outside validation, Shepard is an artist who gains satisfaction from creating. "When I record a song, hear it played back and it gives me the chills, I think 'Oh, my God, I've written something good.' That's beyond thrilling."

For the latest on Vonda Shephard, visit www.vondashepard.com.