THE WAILIN' JENNYS: HARMONIOUS TRIO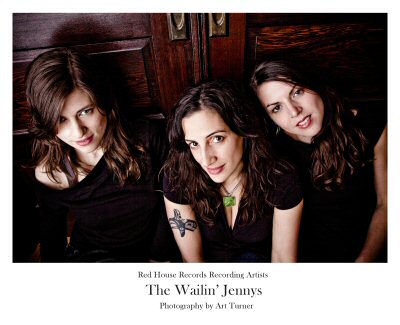 Left to Right, Ruth Moody, Nicky Mehta, Heather Masse

By Paul Freeman [September 2015 Interview]

From The Andrews Sisters to Trio - Linda Ronstadt, Dolly Parton and Emmylou Harris - there's something thrilling about three female voices entwined. That's certainly true of The Wailin' Jennys.

Individually, Nicky Mehta, Ruth Moody and Heather Masse have powerful, expressive voices. Together they conjure an exquisite, uplifting sound.

Their vocal magic results from a combination of chemistry and effort. Mehta says, "We got really lucky with our vocal blend. That came naturally. It's a very organic process for us to arrange and sing together. But it does take work.

"Usually someone comes to others with a song that they've written or someone decides on a good cover for the band to do. And if we all agree that it's a good choice, then we decide who's singing lead on it. If it's someone's original song, then almost always, they're singing lead. And it depends on what range they're in. For instance, if Ruth brings a song to us, she's the soprano in the group, I'm the mezzo in the middle and Heather is the alto. And we take our areas and sometimes we move around. We learn the melody and then weave our way through and see what works and adjust stuff accordingly. We don't write anything down, we just sing together. So it's very organic that way. It's a lot of fun to arrange those parts."

Their voices can also be deeply moving in unison, particularly in a cappella passages. But when the perfect harmonies click in, it's quite a rush for the singers.

Mehta says, "If you're driving in snow or on a gravel road, where there are ruts, where everyone has driven before, you're struggling with the vehicle, you're moving in and out of those ruts. And when you're on that path, where the wheels are where they need to be, it's a good feeling. When we're in performance, sometimes we're not hitting that pure place where everybody's together and in the grooves. But when you are, that sensation of being in a solid place, where things align, that feels amazing when that happens."

It's amazing for the audience, as well. "Three-part harmony is attractive to the listener, hearing everything line up. When we hit those sweet spots, that resonates on an aural level, but also on a physical level, on their bodies, as well. There's something about that that is really exhilarating for a listener to hear. I'm sure they feel that sense of real symmetry. The lyrical aspect can be moving. And there's also a melody part of that, chord changes, that also works for people. So it's this whole mix of things that really affects people. When it does resonate, it can be very satisfying for the listener."

Mehta's love of harmonizing goes back to childhood. "I'm drawn to singing harmony. If I hear a song, I don't like singing the melody. I've always wanted to sing harmony. And to this day, if I'm supposed to sing the melody on something, at times that can be challenging," she says, laughing, "because I don't do that. I always want to sing the harmony."

That was an inherent gift for Mehta, whose instruments include guitar, harmonica, drums and ukulele, as well as her lovely voice. "I think some people are just more natural at it. They're born with it. That can be a genetic thing, I'm sure, because you see that a lot with kids of either music teachers or other musicians. I wonder if it's in the blood. There does seem to be a natural inclination for some people, where they don't have to work at it. They have a natural ability to harmonize. You can learn it and work at it, for sure. But the people I know who are good harmony singers have always sung harmony."

When The Jennys first got together, the three founding members - Mehta, Moody and Cara Luft - were all promising Canadian solo singer-songwriters. A Winnipeg guitar shop called Sled Dog Music asked them to perform together for a one-off, joint performance in 2002. It was a hit and they found themselves in demand as a trio. The shop owner dubbed them The Wailin' Jennys, a pun on country legend Waylon Jennings.

Their albums earned Juno Awards (Canada's equivalent of the Grammy) and rave reviews. For No Depression, Kim Ruehl wrote of the band's most recent album, the breathtaking "Bright Morning Stars," "Beautiful, intuitive but rich harmonies, simple instrumentation, shockingly personal lyrics."

Being featured on "A Prairie Home Companion" has expanded the group's audience in the States. "That allowed us to go into places we'd never played and have sold-out shows. It was huge. It's done so much for us. It can very difficult for bands to break into the U.S. And some don't, at all. It's allowed us to bypass a lot of the struggle of touring in a new country. So we're immensely grateful for that opportunity."

Luft left the band and, in 2007, Heather Masse, a Maine native, became a Jenny. The new voice succeeded in maintaining the gorgeous harmonies.

The Jennys attract diverse listeners with a sound that encompasses a range of Americana and pop textures.

"It really touches on a lot of different genres. It exists under the folk umbrella, but draws from a whole bunch of different influences. And we've draw from each band member's particular influences. We have a lot in common, but like Ruth has a more traditional grounding. Actually Heather does, as well. But Ruth brings a Celtic, roots flavor to it. And then Heather is a trained jazz vocalist, so she brings a jazz influence into it. I'm the least trained, but I bring a pop influence into it. It's nice to have all of those different backgrounds to draw from. That helps us create something that's very much our own."

Each band member writes distinctive songs. They also bring their unique sensibilities to covers of tunes by artists such as Emmylou Harris, Dolly Parton, Gillian Welch, Neil Young, Tom Petty and Lead Belly.

Each of the Jennys continues to write for solo projects. Mehta has one in the works. "I don't think you can put your eggs all in one basket. Everyone's going to have things that they're going to want to be doing outside of what the band is doing. And so it's really helpful to do that. It's a good outlet. When you feel like the group is the only thing you can do, that only creates problems. Doing the solo stuff has definitely enriched the group."

They don't tour together as much as they did in the early years. Mehta is married, with six-year-old twin boys, and still lives in Winnipeg. Masse, now based in New York, is also a mom.

But the group remains much in demand. They're beginning to assemble material for a new album. And they're currently on the road.

Mehta says, "The fans stuck with us through the breaks we've taken. A lot of people were telling us, 'You can't take a break, because you're doing so well. Don't wreck the momentum.' But we did what we needed to do. We wanted to have families. We wanted to be doing other projects. And so people really stuck with us and have been so amazing. Definitely our fans are the real highlight of what we do as a band."

The families, The Jennys, the solo work - it's just a matter of juggling. "It's never a matter of not having the inspiration," says Mehta. "It's more having the inspiration and then having the time to actually work on that. That's been the greatest challenge for us."

For the threesome, there's still a sense of discovery with their swirling harmonies. Mehta says, "We're always trying to change it up and find new things. It's always evolving and always presenting new opportunities and challenges, musically."

For the latest Wailin' Jennys news and tour dates, visit www.thewailinjennys.com.