WANG CHUNG: STILL HAVING FUN TONIGHT
PCC's August 2013 Interview with Jack Hues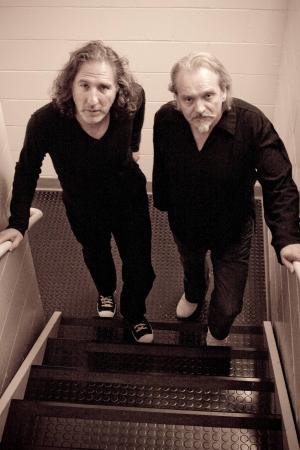 Wang Chung's Nick Feldman (left) and Jack Hues

By Paul Freeman

Wang Chung certainly stands as one of the defining bands of the 80s. And 30 years on, dance hall days are here again and everybody's still wang-chunging tonight!

With vocalist/guitarist Jack Hues and bassist Nick Feldman forming the core, the English band assembled in the late 70s. Huang Chung released their self-titled album in 1982. Leaving Arista for the American label Geffen Records, they ensconced themselves in Abbey Road Studios. With their name changed slightly, to Wang Chung, they emerged with 1984's "Points On The Curve," which spawned the hits "Don't Let Go" and "Dance Hall Days."

More success followed with the Wang Chung score to director William Friedkin's 1985 film "To Live and Die in L.A." That same year, they recorded "Fire in the Twilight" for John Hughes' iconic "The Breakfast Club."

In '86 came the band's "Mosaic," produced by Peter Wolf. That album contained the smashes "Everybody Have Fun Tonight" and "Let's Go." Another single from that record, "Hypnotize Me," was featured on the soundtrack to 1987's Steven Spielberg-produced "Innerspace."

1989 brought "The Warmer Side Of Cool" album with its "Praying To A New God" single. But the following year, the group disbanded.

Both Hues and Feldman kept busy. Hues (born Jeremy Ryder) scored Friedkin's 1990 film "The Guardian." He collaborated with Tony Banks of Genesis to create the 1995 album "Strictly Inc." Entering the 21st Century, Hughes recorded two remarkable jazz-oriented albums with his band The-Quartet, 2004's "Illuminated" and 2007's "Shattering."

But Wang Chung remained in the public's consciousness. The band's classic music was heard in such TV shows as "Sex and the City," "Gilmore Girls," "Everybody Hates Chris," "Medium," "The Walking Dead," "Glee," "Psych" and "Breaking Bad.," as well as such movies as "I Love You Phillip Morris" and "Seeking A Friend For The End of the World."

Hues and Feldman are again touring as Wang Chung. They have a brilliant new record, "Tazer Up!" The album brims with well crafted, diverse new tunes like "London Orbital," "City of Light," "Let's Get Along," Stargazing," "Abducted By The Eighties" and "Overwhelming Feeling," as well as a remix of "Dance Hall Days."

POP CULTURE CLASSICS:
There are lots of great sounds on the 'Tazer Up!' album. What went into the decision to put out new material, along with a remix.

JACK HUES:
We decided to put one remix on there for anybody who might say, 'Wang Chung? Who are those guys?' [Laughs] I can't think that there are many people in that position, but the main sense was to make an album of new material and to really try and conceptualize, in a sense, what would Wang Chung be like in the 21st Century. So there's a track on the album called 'Abducted By The 80s' and that really is the sort of central thing in the album, the sense of like 'Back to the Future,' almost.

So what people say about the album is that it sounds really like a Wang Chung album, but it sounds very contemporary, as well. And that's what we were trying to do, bridge this gap between the 80s sound and also a contemporary feel, as well.

PCC:
Recording together again after 20 years, did the chemistry come back again quickly?

HUES:
Yeah, it did. Frighteningly quickly, in the sense that we leapt back into our old ways [laughs]. But we could be a little more relaxed. In the 80s, we were in expensive studios, 24/7. We were in England, at Abbey Road, for nine months making 'Points on the Curve.' So you were there, whether you wanted to be there or not. I mean, obviously, we did want to be there most of the time. But it could be quite exhausting, in a way.

Whereas, making 'Tazer Up!,' most of it was done at my house. So you can be much more spontaneous. And work when you want to; take time out, when you want to. And that whole modern way of being able to progress with a recording and leave it and you open it back up again and it's exactly where you left it. You haven't got to set the desk back up or rent outboard gear or any of that sort of stuff that we used to have to do in the 80s. So it's a much talent-friendlier process. And I think the spontaneity on 'Tazer Up!' comes across as a sort of freshness on the record, which I'm pleased with.

PCC:
What's your perspective on the new landscape of the music business? Are there positives and negatives, both in terms of technology and the business side of things?

HUES:
For sure. There are certainly big ups, as far as user friendly. And I guess that's business and technology. There are downs in that things don't sound like they used to. I'm a big vinyl fanatic. And I love listening. My current favorite is Bob Dylan's 'Nashville Skyline,' an original 70s pressing that I've got of that. And it just sounds so warm and gorgeous, compared with its digital incarnation of the moment. There's definitely some stuff that's gotten lost, with all the digital stuff. But like I say, the upside is that it is very user friendly. This little laptop that I'm talking to you on at the moment, has some tracks from our future, upcoming album, that I mess around with, when we're touring. You can do so much more now than you used to be able to.

PCC:
Have you always enjoyed the process of experimentation in the studio?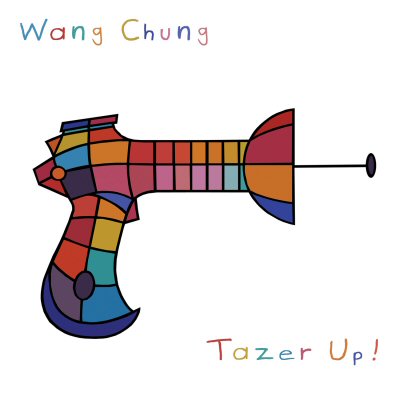 HUES:
Yeah, that's my thing [ laughs]. I enjoyed making the albums very much. I didn't enjoy touring so much, because I found that all pretty chaotic. These days, I think it's kind of the other way around, actually. I love the touring. It's a lot more relaxed. Our band is great. We can engage with the audience in ways that we couldn't, back in the 80s. When we were playing the big stadiums and stuff, we never really saw anybody. You'd be in the hotel, they'd take you to the stage, you play the gig, come off the stage, there's the security. It's all sort of cold in a way. Whereas now, we'll do a gig in a club, go sign autographs, take pictures, meet the fans and stuff. It's much nicer, much friendlier.

PCC:
Every era has its own nostalgia, but why is there such an appeal regarding the '80s in particular?

HUES:
The era that you grow up in, from the age of what, eight, for the precocious ones [laughs], through perhaps 25... maybe not that old... the years of eight to 18, maybe, the music that you hear during that time, I think does stay with you... for the rest of your life. The music in the 80s, everyone was quite open about wanting to have a hit and engaging with the commercial process. And there wasn't that sort of thing we have now, where cool bands don't engage with that. Therefore, the music is less accessible now, on a superficial level, perhaps. And now, I think there's a big split in there between the people who are openly commercial, really for a young audience, and then... there aren't many bands that really appeal in that instantaneous kind of way... I'm pretty full of shit, saying that, actually [laughs]. But there was something about the 80s, where there were some great commercial records made that were high quality and enduring. And the enduring quality is reflected in this enthusiasm that still exists for it.

PCC:
That New Wave period, particularly in England, was that an exciting creative atmosphere to be part of?

HUES:
Yeah, because I went to music college, I was at the Royal College of Music and came out of there in 1977. And, as interesting as it was to go there, it was a very stuffy kind of place, very boring, actually [laughs]. It was very conservative. I sort of enjoyed the time there, but I heard The Clash and The Sex Pistols and heard that whole punk thing that was going on in '76, '77. That really did interest me. It was a very, very creative time. Bands like Talking Heads, The Tubes, American bands that I adored at that time. And all the stuff that Bowie was doing around that time, as well. So it was a very, very creative time. And you could definitely feel the atmosphere in London of this kind of new revolution that was going on with the punk bands.

PCC:
What were your original musical inspirations? What made you decide to pick up a guitar and get into music?

HUES:
The Beatles were the original inspiration. And I'm still a huge Beatles fan. I buy their albums in every incarnation that they come out in. I've just bought all the vinyl re-pressings, which sound great, actually. So, yeah, Beatles, very much. And the other band I got into was Cream - Jack Bruce, Ginger Baker and Eric Clapton. I reckon I was about 11, 12, when they were at their peak. And for a kid that young, to be listening to that music, trying to play along with it, that was a real education in sort of jazz and blues, as well as rock. And it kind of maybe set a platform for me to be able to approach music in the very diverse way that I do. And there were all the prog bands that were coming up at that time, as well. They were sort of challenging musically. You really had to figure out how these songs were working. So it was a great education. A great time to be a young musician.

PCC:
When you answered Nick's ad in Melody Maker, in '77, did you have any grandiose dreams or was it about having fun making music?

HUES:
I think I've always had a grandiose dream, actually [laughs]., from about the age of eight. I kind of imagined I would be the greatest guitarist on the planet by the time I was 14. But, yeah, [sighs] my delusions of grandeur. But yeah, also, all the real musicians I meet are actually very focused on the music. And they're all about the next gig they're doing and the symbolic song that they're writing. They're not terribly attached to the grandiose dream. But yeah, that's what it's all about. Music for me has been the center of my life since I was eight years old, really. And it still remains so. And it's kind of an obsession. And music, maybe more than many things, is one of those things where you think you're getting it, you're getting there, you're reaching the point of really understanding. You really can play it. And then you realize there's another sort of Everest in front of you, whatever it might be. So it's constantly challenging. I think that's one of the great things about music. It's a sort of cruel mistress [laughs]. But it really is amazing.

PCC:
The combination you and Nick, why do you think it worked so well? Is there a balance in the personalities? Was there conflict that fueled the creativity?

HUES:
Yeah, balance when it's good. Conflict when it's not. But we are sort of different in our approaches to things. On a superficial level, I like the sort of arty stuff. Nick is more entrepreneurial and sees that commercial break. And then, I think the reason we really get on, is because we kind of like the same things. On this tour, we've been spending quite a lot of time together and I've been listening to stuff that Nick listened to, when he was a kid, a band called Henry Cow, which was a very jazzy, proggy kind of band that I didn't hear at the time. And I'm really getting into that. And I've been playing him Can [German experimental rock band] and we've been getting into that. We're both very into that era, around 1970, when so many bands were doing very experimental and interesting things and the barriers that were separating classical music and avant garde music and pop music were kind of at their lowest. And there was a sort of free fall among them all. So that was a great time.

PCC:
The original name Huang Chung, i've seen many different stories about the meaning? What's the real story behind choosing that for the band?

HUES:
The real story is that we were casting around for a name. Had all sorts of ideas. But nothing was really sticking. And I came up with this Huang Chung name from a book on Stockhausen I was reading, Stockhausen being a German electronic, avant garde composer. And he mentioned that phrase in the book, talking about Chinese music. It translates as 'Yellow Bell.' The yellow bell is this bell that rings at the center of the universe, producing all sorts of vibrating emissions. And our reality is on one of those vibrations. And the job of music is to sort of harmonize with that vibration. And all of that stuff really fascinated me.

But also, what I liked about Huang Chung was that it gave no clue as to what kind of band you were going to listen to. If you're called Destroyer, you're going to be a metal band, aren't you? Huang Chung - what the hell is that going to be? You've no idea. So I liked the idea that there was a sort of blank slate there. Over the years, we were reluctant to pin it down. And each of our albums was quite different, in a genre kind of a way. From 'Huang Chung,' our first album, to 'Points on the Curve,' to 'To Live and Die in L.A.,' to 'Mosaic,' 'Warmer Side of Cool,' each of those albums could almost have been done by a different band [laughs], I tend to think sometimes. They had different producers and different approaches. And I kind of like that. And on 'Tazer Up!,' I like the fact that we sort of genre-hop from a piano ballad to a proggy thing like 'Stargazing' to electro-rock on 'London Orbital.' So we mess around with genres, play with them. And we've always done that. And that's important to me.

I guess that comes from growing up with The Beatles. Even 'Sgt. Pepper's,' which is considered a concept album, and therefore integrated in some way, has 'When I'm 64,' a sort of 20s pastiche; 'Within You, Without You,' an Indian raga; 'A Day In The Life,' the beginnings of prog. 'Lucy In The Sky.' You know practically every track is like a different little gem. These days, how could you define that genre? You couldn't really. You're really dealing with an artist who ranges across the whole thing. And that's one of the things that I have strong feelings about these days. All this categorization is fine, when you're looking for things on iTunes. But it's absolutely useless when you're talking about artists, because artists range across genres. And I'm interested in artists.

PCC:
So with those earlier albums, was there a conscious decision to explore new territory each time? Or was that just part of a natural evolution?

HUES:
A bit of both, really. But I'm definitely an artist who cannot go back to repeat what I've done. And there was always, not pressure, exactly, but an expectation from the record company. We'd have a big hit with 'Dance Hall Days' and their thinking was, 'Okay, let's have another song just like that.' And I could never do it. I still can't do it. Even though I've tried, in quite a conscious way, occasionally. But, of course, when you're trying to do things artistically, that's never a good place to be. So I'm much more interested in what comes out in the next song I'm writing. And just follow that path. Or let the path lead me, in a sense.

PCC:
Changing the name from Huang to Wang, was that the band's idea? Management's? The label's?

HUES:
Having put out the 'Huang Chung' album, the name was sort of off-putting. I get that. [chuckles] So we thought , well maybe we should change it to something English, something understandable. But we couldn't really come up with anything that we really believed in, if you like. And David Geffen did say, 'You should stay with your name, because it's cool. But you should re-spell it, so that people can just say it and it's not so alienating to look at.' So that's what we do. That's when the 'W' came in.

PCC:
Was is kind of surreal, when Wang Chung became kind of a common expression in those days?

HUES:
Oh, very much so, yes. But I kind of dug that, because that was part of things that I could never have conceived and that the curve that we're on would be like it is. Back in 1978, '79, we weren't thinking about all this stuff. But, as I said before, this name being kind of this blank space, it's not clear what it is. And then, when we started singing, 'Everybody Wang Chung tonight,' people kind of made up their own version of what it meant. And that's what I sort of like about it. And that's where we are these days. You can look it up in the urban dictionary. I'm glad to say it exists in there. To 'Wang Chung' means all sorts of pretty rude things [laughs].

PCC:
What about your stage name Jack Hues - that came out of a song title of yours?

HUES:
Yes, that is a pseudonym. That's not my real name. It's like Johnny Rotten, Sid Vicious, all those guys. Johnny Marr, as well, is a sort of pseudonym, which apparently comes from the French, 'J'en ai marre,' which I think translates as 'I am bored.' And Jack Hues comes from 'J'Accuse,' I accuse you. It's actually the title of a book by Emile Zola, which came out at the beginning of the 20th Century, accusing the government of corruption. A friend of mine was saying, 'That would be funny, to have someone in a punk band called 'J'Accuse.' So I wrote this song, fantasizing about it and it really it turned into a reality, a bit like fantasy does. [Laughs]

PCC:
On the hits, what was the writing process? Did it vary from song to song?

HUES:
I think it was always intuitive, always from the heart. 'Dance Hall Days,' I remember, I was teaching guitar in schools, making money doing that, before we had record deals and stuff. And I wrote beginnings of 'Dance Hall Days,' when some kid didn't turn up for their guitar lesson. I didn't consider I was writing a hit, at all. It wasn't until I played it to Nick and then we started playing it, made a little demo, played it to our publisher, and you could see the sort of dollar signs in their eyes [laughs]. Everyone started being really nice to us. That was cool.

'Everybody Have Fun Tonight,' that was a little more calculated, the way we did that. But that's a game that you have to play, as a band. We'd had the hit with 'Dance Hall Days.' We then avoided, in a sense, doing a follow-up, by doing 'To Live and Die in L.A.,' which had a whole different sense of demands on it, which we would have to fulfill. But after that, we knew it was kind of like,'Okay, now come on, you've got to have a Top 40 hit.' And 'Everybody Have Fun Tonight' was our response to that. But again, there's a really solid song, behind all of the froth and silliness in there, as well. And the middle eight, as well, it's good to have, 'On the edge of oblivion,' and all that stuff, in the middle of this dance track. Some people think it's quite funny. But it's got enough veracity in it for me not to feel like that.

PCC:
When the hits were coming, were you thinking this was going to last indefinitely, or was there an awareness that pop stardom is fleeting and let's enjoy it while we can?

HUES:
I do think you have to take that attitude. With my delusions of grandeur, it's interesting to think, 'Well, maybe this is going to last.' With Wang Chung, I probably am surprised that we're still touring, that there's still interest in the band. But in terms of my personal experience, to be able to come back now, at this more advanced age, if you like, at a point in my life when I think I can really appreciate it more and get a sort of overview of it all, that's a real privilege. That's what I'm mostly turned on by, interested in. The slightly more abstract ideas, I don't know, but I do know that I love touring and playing these songs for fans. I love the ability to put out new music and to kind of develop this whole idea of Wang Chang, which has contemporary resonances, as well as the 80s nostalgia trip.

PCC:
During the height of the success in the 80s, was there any down side? Was there a lot of pressure?

HUES:
There was pressure, yeah. I did feel the pressure. It felt like the stakes were high. There were a lot of interests in what we were doing that weren't necessarily working in our best interests, as people, if you know what I mean. I'm not saying that we were exploited. I think we had a great time, compared with most bands. We were incredibly well treated by the labels. And we had a great manager, as well. He really looked after us. So it was good. But yeah, once you get on that sort of roller coaster, you have to really kind of buckle up and be in there for the long haul. And, of course, the worst thing you can try and do on a roller coaster is try and get off. So I think I spent a bit too much time trying to do that [laughs].

PCC:
What about getting into the new challenge of film scoring? Was that something you took to right away?

HUES:
Yeah. As I say, I did study music at university. I grew up with classical music. My parents were into it. When I went to university to study music, you had to study classical. In those days, there was no jazz course or rock school type thing going on in the U.K. So I was aware of orchestral music. And so film scores was the obvious place to go, in a way. But, ironically, I suppose, the 'To Live and Die in L.A.' film score is really a rock band score. I think what people admire about it is that it's not a proper orchestral score. And I think the movie benefits from that contemporary sounding soundtrack, contemporary to the 80s.

When it came to doing the more orchestral stuff, you know, I did a second movie for Bill Friedkin, called 'The Guardian,' where I wrote a lot of stuff for string quartet. But in the end, I beefed it up with drums and stuff. So I'm always interested in hybrids. I'm always interested in, not the pure thing, but how one thing can cross over into another and create a third. There's always experimentation for me.

PCC:
You wrote a score for your son [Jack Ryder], for his short film ["Act of Memory"]. That must have been a special collaboration.

HUES:
It was lovely, yeah. Jack is an actor. He was a big star, actually, in the U.K., for a few years, in a soap called 'EastEnders.' So he had the whole kind of fame, teenage heartthrob thing. Voted sexiest male in all these girls' magazines. [Laughs] He would dutifully go and accept the award and give it to me. I think he found that pretty tough, actually. He couldn't go out and stuff. It's a whole different life from the one he was growing up in before. But now, these days, he's interested in directing. And a couple of years ago, he directed this short film, called 'Act of Memory,' and he asked me to do the music for it, so we worked on it together. The music is mainly a piano score, really. It's a Christmas story and quite a touching thing, so we decided we didn't need to get into the whole big orchestral arena. So, yeah, I just wrote some pieces and he kind of sorted it and we just sat and scored it on a computer at my house. And it was one of the loveliest times, the three or four days we spent working on it. It was really lovely. And it's a great film, as well. It's got good actors in it. And it's, like I said, a Christmas story, a very nostalgic feeling film. Beautifully done.

PCC:
When he was grappling with that teen celebrity, were you able to help him, because you had experienced stardom in your own youth?

HUES:
Yeah, yeah. I mean, I never had to contend with what he had to. Wang Chung had success. I guess there was a time when we would get recognized and stuff. But my perception was that people were just very polite and never intrusive, whereas, Jack had people really quite aggressively chasing him and screaming at him and stuff [Laughs]. It was real Beatlemania stuff. So, other than being there, when he wanted to talk about it, he basically dealt with it himself. But it's tough. When people are interviewing younger kids and ask, 'What do you want to be?' And they want to be famous. And Jack's a very good example of someone who was famous and kind of has utter [laughs] disrespect for it. These days, I know he loves being able to travel around in London, pretty much incognito. Occasionally someone will recognize him, but all of that has passed. And he's so happy about that. And I could really see his life coming back, as all that stuff receded.

PCC:
For Wang Chung, as the 90s began, was it the arrival of grunge that made the band decide it was time to call it a day?

HUES:
Yeah, I think it really was. I think there was definitely a sense of the times changing. Guns N' Roses got signed. And then Nirvana. And Wang Chung [laughs] just didn't sort of fit in at that time. And, I think, as well, success is a terrible teacher, in a way, because what you're doing is working and so you feel that you've just got to keep doing it. And that, of course, is not necessarily the case. So I think that sort of downtime that we had, that's really when we sort of learned stuff. You learn stuff about yourself. You learn about how you fit into everything... and that the world doesn't revolve around you. It was an interesting time. But I can remember this sense of, yeah, the party was over, definitely, by 1990. And time for me and Nick to move on and do different things.

PCC:
Of your post-Wang Chung work, what would you most like people to discover of yours, to give another listen to?

HUES:
Yeah, I think that the things that I'm proudest of, really, are the two jazz albums that I've done. I say 'jazz' in the loosest form of that word. Jazz means so many things to so many different people. Essentially, the albums that I've done, I've written all the music, I played guitar. There's no vocals on them. The lineup is guitar, piano, upright bass, drums, a sort of jazz lineup, and then a sax player, Paul Booth, who's an amazing player. And Duncan MacKay on trumpet. We worked on the albums with Chris Hughes. And Chris worked on 'Points on the Curve,' with 'Dance Hall Days' on it. So Chris and I have been friends since that time. Around 2007, we were talking he said, 'Let's do this. I love what you're doing. Let's make some art for art's sake [laughs].' And he created this company called Helium Records and my two albums were the early releases on that. And yeah, I'm very proud of them. They're definitely worth a listen.

PCC:
There was also a solo pop album that has never been released?

HUES:
Yeah, right after Wang Chung, Nick and I both made sort of solo albums. Actually Nick worked with John Moss from Culture Club on his record. And I did mine. But Nick's was sort of half-released, but not really promoted well. And mine didn't come out. So those albums still exist and have never really seen the light of day. We were talking recently about maybe getting them out, maybe putting them online so people could listen to them. Sometimes we've thought we should cannibalize those records and use some of those songs. But the songs are so much a part of that time, that I still see them discrete units, if you like. I think releasing those albums in the next 18 months is definitely in the cards. We'll release them digitally and see how things go. If they start to sell, then we can always make physical versions of them.

PCC:
Do you and Nick have definite plans to continue performing and recording together?

HUES:
For sure, yeah. We're loving this tour that we're on. We've had a lot of fun doing it. We've got a good album's worth of new material sort of bubbling away. We need to work on the recordings, which will no doubt take us a silly amount of time. But the plan is to start putting stuff out early next year, whether it be a new album or an EP type taster of what's to come, I'm not sure. But there will be new material next year.

PCC:
And in the time in between Wang Chung incarnations, it must have been great, having the music constantly being rediscovered via films and television shows.

HUES:
Wang Chung's been really lucky with that. And people really have embraced the music over the years. And I think, if you want to evoke the 80s, playing a Wang Chung track is a good way to do it. So I see how that works in movies. But I've also noticed that some movies use the tracks in quite sort of odd situations. 'Dance Hall Days,' I forgot the name of the movie, but somebody put it in a violent scene, with someone getting the shit kicked out of them. So I guess it can also provide a point of irony sometimes, as well.

And, of course, the name itself has become a part of the culture. We're mentioned in so many different shows. If you go to our website, wangchung.com, you can see these clips that we've edited together, with all of the different mentions of Wang Chung over the years. Although, most of them are taking the piss, it's kind of fun anyway. It's there to be used, however people want to use it. And I get that there's a sort of funny side to Wang Chung. And I love that.

PCC:
Has your perspective on the life of the musician changed over the years, in terms of the rewards and the challenges?

HUES:
Yeah. I'm very glad I was making music in the 80s, when you did get paid very well for it. These days, it's harder for a young band to be able to achieve that kind of thing. I have some friends in Canterbury, where I'm based in England, called Siddhartha, who I think are on the verge of signing a major deal. But they've had to do a huge amount of work to get themselves to the point where a record company is looking seriously at them. And even then, they had to come to the States to get the serious attention, rather like Wang Chung, in fact. We signed direct to Geffen in Los Angeles, rather than signing a U.K. deal. And Siddhartha is in a similar situation, where it's the Americans who just adore them. They've recorded their first album under their own steam and produced it themselves and done it to an incredibly high standard. It's a great-sounding record. Really worth checking out. They're a very cool band.

But the point I'm trying to make, you've got to be incredibly dedicated these days, to get the work up to the standard that's required. But of course, there's always that flaky sort of lucking out sort of thing that's around pop music. And that's all cool, as well. But, in my experience, the people who are in it for the long haul, they have to work hard, and never more so than these days, to make their mark.

PCC:
For you personally, what are the biggest rewards?

HUES:
Well, you know, I have a nice life. Financially, I'm sort of comfortable [laughs], without being wealthy. But I think music is an amazing thing to be involved with. It's amazing, the people that you meet, both within the business and in a collaborative way. Also the fans that you touch, who feed back to you their enthusiasm and all that. It affords a great lifestyle that, at this sort of level, doesn't demand too much in terms of the angst around the business stuff.

I guess music itself, you could call a cruel mistress, because you never quite feel that you've got to where you want to be with it. It's a constant challenge. But that's a great thing, as well. With my jazz albums, it made me work much harder as a guitar player, much harder as a writer, Raised the bar in terms of complexity and the scale of what I was writing. And that was all great to achieve that. So I think that feeds back into Wang Chung, as well. I think 'Tazer Up!' would be a different album, if I hadn't made those jazz records. So, yeah, it's all good. It feels like there's a lot of inspiration and a lot of music coming out both of us now. So we'll just keep with it.