WARREN ELLIS: AUTHOR DELIVERS HIS "NORMAL" THRILLS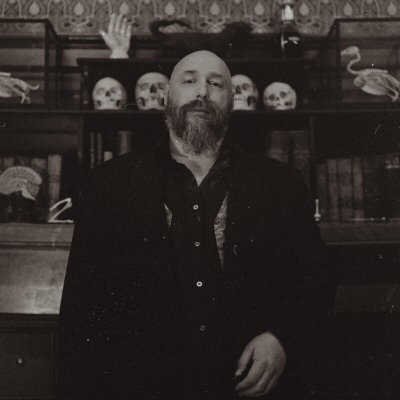 Warren Ellis; photo by Ellen J Rogers

By Paul Freeman [December 2016 Interview]

Futurist Adam Dearden suffers a nervous breakdown in Rotterdam. He is whisked to a secluded hospital in rural Oregon. The facility harbors dark secrets.

That's the jumping off point for "Normal," the new horror/thriller from award-winning author Warren Ellis. Ellis revels in the darker corners of imagination. The 48-year-old British writer has developed a fervent following through such bestselling novels as "Gun Machine," the short story "Dead Pig Collector," hit graphic novels like "Transmetropolitan" and "Planetary," as well as his work for Marvel and DC Comics.

"Normal" began life as a four-part digital series. The entire collection has just been published in book form.

Kirkus Reviews says of "Normal," "Fantastic . . . A crackling, funny, and frightening horror story from a unique voice in genre lit."

The futurists at the "Normal" institution make their living by staring into the abyss. That can wreak havoc on one's sanity. Ellis peers into the darkness, as well.

His comic book mini-series "Red" became a box office smash in its film version, which starred Helen Mirren, Bruce Willis and Morgan Freeman.

Ellis has made a major impact on readers. In 2012, "Capturing Ghosts," a documentary about him, was released. He has a huge online presence and devotees have referred to him as the "Internet Jesus."

POP CULTURE CLASSICS:
Having "Normal" first revealed in four digital segments, did that present an interesting writing challenge - having to make them stand individually, as well as to make the story work seamlessly in its entirety?

WARREN ELLIS:
Coming from comics gives you an intimate understanding of evenly-sized chaptering - from my end, the writing of "Normal" was extraordinarily simple, especially since I also tend to concision as a prose writer too. It was an interesting fusion of my two main writing forms, comics and prose - the format being more comics, the content being probably as close to literary fiction as I've drifted yet.

PCC:
Do you feel that like Adam, you see things that others cannot? If so, is that a source of frustration?

ELLIS:
I don't credit myself with that much useful insight.

PCC:
Do you fear that so much gazing into the darkness down the road might eventually affect your own sanity? How do you avoid a depressive state?

ELLIS:
I am so boringly neurotypical that it's almost embarrassing. I'm very lucky. That said, I've worked in comics for twenty years, so it's also possible that I'm now so crazy that I don't know I'm crazy.

PCC:
Do you ever feel like you might benefit by a respite in the woods, removed from all technology?

ELLIS:
If you take my phone away I will cut you. Seriously. The internet comes with volume controls and off switches if I need them, and I use them and tune things in and out every day.

PCC:
Do you feel a sense of mission, in terms of awakening the rest of the populace through your writing?

ELLIS:
I think people would legitimately worry about me if I did - I think I would worry. In any case, once you've written and released something, the way people read it is out of your control, so writing from that kind of position would seem like a fast track to some kind of secure institution where I'm given lots of chemicals to stop me screaming in fury and frustration until my lungs imploded.

PCC:
Are people more often willing to learn from fictional characters than from philosophers or futurists?

ELLIS:
I think that's probably true. I mean, once a year I'm a faux-philosopher at the How The Light Gets In festival, and two or three times a year i'm a faux-futurist at tech conferences and the like, and I don't kid myself for a minute that I'm changing the narrative or winning hearts and minds when I do those things.

PCC:
In general, what's the effect you most want to have on your readers? Are your readers in the back of your mind as you're writing? Or do you write to please yourself?

ELLIS:
I most often find myself writing about something so that I can understand it fully myself, try out different viewpoints and discover what I really think about it. There's almost never a character in any book of mine that's "me" - I'm using characters as alternate angles on a thing so that I can see it properly.

PCC:
Do you relish the fact that we have no map for the future, that it is so unpredictable?

ELLIS:
I'm afraid I do. It keeps life interesting, and I like to be surprised. Or horrified.

PCC:
Does it amuse you, disturb you, being viewed as a literary messiah or internet Jesus?

ELLIS:
I don't think any of those things are actually true - "Internet Jesus" started off as a snarky joke that just stuck. Nobody on the face of the planet views me as a literary messiah. And if they do, then we're in worse shape than we thought.

PCC:
With "Red" having been successful on film, does it creep into your consciousness, the possibility of movie adaptations, as you're writing?

ELLIS:
God, no. For me, personally - if I did that, I think it would just make for very bad books. I try to let the story be what it wants to be, in the medium it wants to be. Someone else can do the thankless work of adapting it to work in other media.

That said, I have adapted my own work for other media, which is a very interesting way of discovering you're a bloody idiot.

PCC:
Do you consider yourself a pessimist or a realist?

ELLIS:
I've previously described myself as a "constantly disappointed optimist."

PCC:
Do you look ahead with dread? With bemusement?

ELLIS:
Interest. Some fear, for my daughter, obviously. But, because I'm probably a sociopath, I generally look ahead with fascination.

PCC:
Will the recent U.S. election hasten the arrival of the dystopian future? Are we teetering closer to the abyss?

ELLIS:
Still to be determined. I mean, yes, there's a rise of nationalist hard-right sentiment across much of the global north right now, but I suspect that structure is more precarious than it looks at the moment. I'm not ready to call the end of the world just yet, but, I agree, we're in a nerve-wracking pivot position right now. Ask me next year if I'm digging a bunker under the chicken coop.

PCC:
With all you've already accomplished, what are you still burning to achieve?

ELLIS:
Everything. It still feels to me like I haven't done anything yet.

PCC:
For you, is writing a calling? A compulsion?

ELLIS:
"Compulsion" is probably the best-fitting word. I still don't know if I'm any good at it, but damned if I can't stop doing it.

PCC:
What projects are you working on now?

ELLIS:
Most of the things on deck right now are things I can't talk too much about - doing a lot of movie and TV work at the moment. "Injection," my comics series with Declan Shalvey and Jordie Bellaire, starts its next volume soon. "Finality," with Colleen Doran, will begin an online serialisation through Line Webtoon next year. And I'm working with DC Entertainment to reboot the old "Wildstorm" comics line with them. But I've packed a fine new Field Notes reporter's notebook in the bag for the book tour, and I'm thinking I may have the itch to start a new novel....

PCC:
If someone suddenly revealed a rational plan for space colonization in the next few years, would you raise your hand to volunteer?

ELLIS:
God, no. Unable to breathe outside and pissing in a bag? I could get that at home. And probably will, soon enough.

For the latest news on this author, visit www.warrenellis.com.