Warren Oates: A Wild Life
An Interview With Biographer Susan Compo

The Cover of Susan Compo's "Warren Oates: A Wild Life."
By Jeremy Roberts
Today any fan of classic cinema has likely come across veteran actor Warren Oates. Though only 53 years old when he suffered a massive heart attack in April 1982, the charismatic actor continues to inspire & fascinate new generations with his scene-stealing performances.
He made a series of films (often westerns) for maverick director Sam Peckinpah, including "Ride The High Country" [1962], "Major Dundee" [1965], and "Bring Me The Head of Alfredo Garcia" [1974]. Warren was also good friends with the cult director Monte Hellman, appearing in "The Shooting" [1967] and "Two-Lane Blacktop" [1971]), to name but a few.
Warren eventually teamed with actor Peter Fonda in films including the 1971 mini-masterpiece "The Hired Hand" [directed by Fonda] and the 1975 Key West drama "92 In The Shade." Comedy fans may recall his celebrated role as Bill Murray's nemesis in the 1981 blockbuster "Stripes."
He toiled for nearly fifteen years in eighty film and television productions as a character actor before the box office hits "In The Heat Of The Night" [Directed by Norman Jewison, 1967] and Peckinpah's "The Wild Bunch" [1969] had folks taking notice. He also always had an affinity for westerns, (guest-starring in countless series, including the still popular "Gunsmoke" and "Bonanza") perhaps due to his humble beginnings in the rural mining town of Depoy, Kentucky.
Warren immersed himself in a role, no matter how small. Sometimes he was crazy or outlandish, often the villain, but his toothy smile definitely let viewers know he had a redeeming quality. Fans wishing to see the gentle side of Warren need look no further than the 1973 family drama "Tom Sawyer," co-starring a very young Jodie Foster.
Author Susan Compo recently released the first-ever biography on this interesting actor, entitled "Warren Oates: A Wild Life." At 500 pages with extensive notes and interviews with family & close friends, the book is the definitive chronicle on Warren. She kindly agreed to discuss her fascination with a man who certainly left his mark -- Warren Oates.
THE INTERVIEW
If you were asked to describe Warren Oates to a non-fan, how would you do it?
You know that guy. The one you've seen but can't remember his name. He seemed so natural.
"The Wild Bunch" [1969] and "Stripes" [1981] are two classic films moviegoers have likely seen. How did Warren contribute to each of these box office hits?
Concerning Sam Peckinpah's "The Wild Bunch," I think he gave it humor, menace, grit, and realism. As far as advancing his career, I don't really think big offers came in after TWB, but the respect of his peers was certainly there.
For "Stripes," I don't think you can picture anyone else as Sgt. Hulka. He enjoyed performing with Bill Murray and being, as he put it, part of the SNL generation. The success of "Stripes" would have led Warren to do more comedies had he not passed away unexpectedly from a heart attack a year later, & he would have loved that.
Was Warren destined to be a cult actor?
I think he was too real, and maybe not pretty enough for the marquee.
What was Warren like on and off the silver screen?
The hell-raising and the humanity! He could get lost in a character. When he played Dillinger in 1973, he said he wasn't much fun to be around and that it fed the break-up of his third marriage.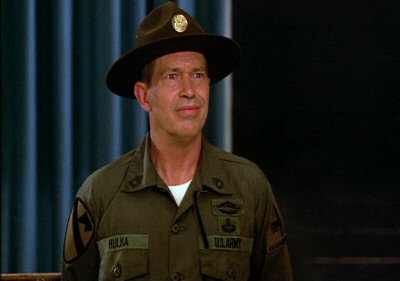 Warren Oates: November 1980, set of Stripes
Did Hollywood affect Warren, or did he remain a Kentucky boy at heart?
It did not affect him at all. Warren loved the sense of community he had in Depoy [a town of less than 1,000, predominantly coal-mining]. Residents would pull together for projects like making mattresses. Plus, his best friend, Bobby Lloyd Coleman, lived nearby, and Warren would alternately play with and torment his pal.
Greenville and its Palace Theatre were within striking distance. Warren left at age 13 and hated the big city, not least because he dressed and talked like a hillbilly.
In his later years he was adamantly against mountaintop removal, but he had a deep respect for the miners and working people in general. It upset him that rural people were often the first to have to go to war since the military provided a way out.
In later life, what were Warren's feelings about his humble upbringing?
He was extremely proud of coming from Depoy and returned several times, with his kids, with his brother, and even to marry his last wife, Judy, at the Oak Grove Baptist Church. As a boy, Warren always arrived at church early to light the fire in the winter, open windows in the summer, and ring the church bell, tasks for which he was paid 75 cents [he often played the piano when nobody was looking].
Warren recalled that "the church was right across the creek from my house and the cemetery was up on the hill, and I could see both of them. Joy and fear … It was a time of some of the purest moments in my life."
Today the church is still in Depoy but houses have all been burnt down. There are a few hardscrabble trailers and very little optimism. Depoy today would have troubled him.
How did Warren approach acting?
He was incredibly dedicated and serious. It's interesting that his favorite was the French actor Jean-Louis Trintignant! Very arty, and not what you'd expect from Oates.
Was Warren a private individual?
He was very private. He'd try to disguise himself when he went out in public - hat, sunglasses. It didn't always work. But he was generally polite if he got caught out.
Throughout your research process, what did you learn about Warren that surprised you?
How very much people loved him and how politically, environmentally and spiritually aware he was.
So, how did you become such a fan of Warren Oates?
Well, my father used to have drinks at New York's 21 Club, where Oates checked coats (circa 1954). They bonded over both being Marines. At that time I was a newborn back in Brooklyn. I wonder if the young man sharing a drink [or two] with my dad knew that the baby back in the borough would be his biographer. I loved Oates ever since seeing "Two-Lane Blacktop" at the drive-in in summer 1971!
Ok, now the picture of a bearded, wild-eyed, smiling Warren. What was the story behind picking it as the cover of "A Wild Life"?
This came from Warren's eldest son, Timothy. In felt pen, Warren had written, "Okay To Print," which I took to mean he liked it. And that's enough for me. I scanned a bunch of photos and gave them to my friend, an art director named Peter Wilson.
It was actually his great eye that selected the cover and also whipped the photos into shape. I did have a lot of help from friends doing favors when I worked on the book.
ED. NOTE: It is quite possible the picture dates from August 1969, during the filming of the western, "Barquero," co-starring Lee Van Cleef. The black shirt appears to be identical and Warren sported a scraggly beard in the film.
Incidentally, this was Warren's first film role where he shares equal, if not more, screen time than the star. He plays his meanest villain here. My newest Oates discovery, "Barquero," finally arrived on television via Encore Westerns this year.

This image is courtesy of Warren's son, Timothy Oates.
Was it easy convincing a publisher that Warren needed a bio?
Well, it took eight years. I went with the University of Kentucky Press as Warren was a Kentuckian. I'm very proud of "A Wild Life" and I still think it has a good future.
What was the most difficult part in writing his bio?
The parts I may have missed. Also, days and weeks where I didn't know what happened. Fortunately, Warren's kids are very proactive where he is concerned and they were a huge help.
What was the interview process like? Pick some of your favorites.
I probably did 100-plus interviews, and the book took four years. I was starstruck over L.Q. Jones and Monte Hellman. I really enjoyed Bo Hopkins, Millie Perkins and Dennis Hopper. I also spoke with Leslie Caron from her Paris apartment - legendary. Oates's pal Bob Watkins is the hero of the book to me, since I think he kept Oates grounded and calm, and he did the same for me.
Dennis Hopper, another cult actor, recently passed away. What was his relationship like with Warren?
I love that Dennis was Oates's tenant in the latter's Hollywood Hills home. Dennis told me his landlord would find reasons to pop by and check on him. Hopper loved Oates.
The two directors most associated with Warren were Sam Peckinpah (1925 – 1984) and Monte Hellman. Lifelong friends, could you characterize Warren's relationship with these maverick directors?
Sam and Warren had a fatal yet deep friendship. Two men who lost their fathers fairly early in their lives. Two ex-Marines. Two hard-living guys driven by their craft. Two men troubled by substance abuse as well.
On the other hand, Monte and Warren really were soul mates. I think they loved each other very, very much, and the bond was deep. I think it was deeper than what he had with Sam. Monte never turned on Warren.
Was there someone you wanted to interview, but for various reasons, it didn't occur?
I didn't get Peter Fonda or Isela Vega ['Elita' in Sam Peckinpah's "Bring Me The Head of Alfredo Garcia," starring Warren]. Isela is beyond reproach.
Fonda knows so much about Warren, but he stood me up on the phone a couple of times. I just think of Bruce Dern saying, 'With Fonda, it's mostly the Rexall.' [a former drug store chain].
What were your favorite Warren film roles?
Featuring a realistic hero, Peter Fonda's "The Hired Hand" was a very anticipatory/prescient Western that showed what could be done with the genre. Monte Hellman's "Two-Lane Blacktop" had those sweaters and an utterly engaging Warren performance.
What were your favorite Warren television roles?
First, "Stoney Burke," a short-lived 1962-1963 western that ran on ABC, really should be available on DVD, but it isn't. It was such a cool, '60s, sparkling western, with Warren as an endearing sidekick in a stylish and extremely well-written series.
Another essential that is available is the little-seen 1970 TV movie, "The Movie Murderer," which starred a young Tom Selleck. Along with a motel and cocktail lounge setting, the movie had an intense Warren performance in what is far from being a big budget career maker.
Is there a Warren role that you think was a mistake?
"Drum," a tasteless 1976 grindhouse flick parodying African American slavery during the 1800s, was terrible. No doubt about it.
Was there a Warren role that you didn't like, but upon re-evaluation, you had a change of heart?
In "Dixie Dynamite," again from 1976, he's having such fun, especially since Steve McQueen was on set doing the stunt riding.
Did Warren have a missed film opportunity?
During the late '60s/early 70s, it would have been very interesting if he could have taken director Sergio Leone ["Man With No Name" trilogy starring Clint Eastwood] up on a film role. Leone approached Oates; unfortunately, he was tied up at the time.
You're also known for your fiction writing. Do you prefer non-fiction?
I think "Life After Death and Other Stories," my first book, has its believers. The novella is about Marilyn Monroe, punk-rock movie extras, grave-robbing, and would-be vampires. Too bad it came out in 1990! Nonfiction is more fun as it takes you out of yourself.
What do you enjoy doing in your spare time?
I'm probably boring! Mainly I visit thrift shops, go to the gym, & worry. I've just joined a running club.
Might there be another biography in the works?
I wish. I'm probably working on a book about green/natural burial, which is interesting & important.
Just what is green/natural burial?
It is burial [or cremation] without embalming or anything chemical/unnatural. Examples include sustainable wood coffins or non-toxic glues. This type of burial does not disturb the landscape in any way - no headstones or markers.
Some green burial grounds give mourners GPS devices to find loved ones! I think it's an important issue, and it is increasing in popularity.
28 years after Warren's death, what would you see him doing today?
I wonder what he would have thought of HBO's acclaimed TV series "Deadwood" – he would have been perfect but could have been conflicted about swearing. But Harry Dean Stanton's (a close friend) still working…so Oates would be, too.
Just as Harry Dean's in "Big Love" (an HBO drama), I think Warren would have found a home on a cable show. He's loved by lots of hipster filmmakers & actors -- Joseph Gordon-Levitt is a huge fan.
If you had the opportunity to meet Warren, what would you have said to him?
A tough one: I would have likely gushed that he was my favorite actor. I was thinking, when I was a punk-rocker in the 70s - yes, I am that old - I was an extra in the Cheech & Chong film "Up in Smoke."
After being released, a friend and I, in our punk finery, went to eat at a Hollywood restaurant. The actor Barry Newman [famous for his role as Kowalski in 1971's cult film "Vanishing Point"] came out, looked at us and said, "What in the hell are you?"
Newman knew Oates, and I kind of wondered if Oates might not have reacted that way, too. But probably not, for Oates was really compassionate and kind.
Finally, in a nutshell, what was the legacy of Warren Oates?
Warren gave moviegoers vibrant, real performances that still resonate today. He was both ahead of his time and timeless.
Image Slideshows and Videos Accompanying The Interview Can Be Found Here: http://www.examiner.com/pop-culture-in-national/warren-oates-a-wild-life-a-conversation-with-biographer-susan-compo-part-i
Jeremy Roberts describes himself as: "a freelance writer who loves reading biographies, watching classic movies, going to concerts, listening to music. Investigating pop culture, including anything from the '30s to the present, is a lifelong passion of mine. Everyone has a story to tell, and if I've been a good listener and asked questions, then I've done my job."