WENDY WALLER'S ANGELIC MUSICAL MISSION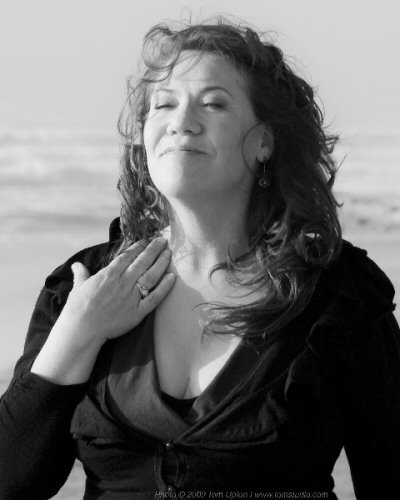 Photo Credit: Tom Upton
By Paul Freeman
Redwood City, Ca. singer-songwriter Wendy Waller's latest pop-jazz-soul album, "Traces of Grace," is filled with gorgeous vocals. The alluring array of originals and classic tunes delights listeners. But one song also serves a higher purpose.
The poignant "Little Angel" sensitively delves into the subject of sexual abuse. Waller explained, "A friend told me the story of her life and I was so moved and felt that I really needed to do something. I know a lot of people who have come from this kind of situation, abusive homes."
The song not only explores the traumatic nature of these situations, but also touches upon the yearning and fears, as victims try to risk loving and trusting again.
"As an adult, being able to try to love somebody, with this horrific stuff going on inside, is difficult," Waller said. "My songs come from deep, emotional territory. Writing is my healing mechanism."
At the "Traces of Grace" CD release party, a woman therapist approached her. "She said, 'Thank you for 'Little Angel,' Waller recalled. "That gave me the idea that it was a really good therapy song.' And I got the same reaction from my sister, who's a therapist. So they really validated it. I knew we had to do something with that song. It was important to help heighten awareness of these traumatic experiences."
Waller connected with IVAT, The Institute for Violence, Abuse and Trauma (www.ivatcenters.org). She's donating proceeds from "Little Angel" to the organization. You can purchase the song through www.wendywaller.com. Waller performed it at IVAT's international conference in San Diego, September 14th. Speakers included actresses Angelica Torn, Kit Goldman and, from "Precious," Chyna Lane.
"The people really, really responded well to the song," Waller said. "People came up to me afterwards and said, 'I can really use this in therapy with the people I work with.' They really got it. I was honored to be amongst these supportive folks who are working so tirelessly. It was a miraculous experience, being around these people who are our heroes, our shamans, these people who work relentlessly towards moving people into health, into shedding light on a horrific happening. And the trauma is inside of you. You carry it around. You don't see it.
"So many people hold this stuff inside. I feel that we need to talk about it. I want people to use this song as a healing device. It's rather evocative. And it's also quite validating for people who have had such experience, where they're molested and abused. I want to help people feel safe and okay to talk about it and to be educated. The people that molest people have most likely been molested themselves. It's a perpetuating, heinous thing that goes throughout our society. We need to stop and help each other."
Waller and husband R.J. DeCristoforo work tirelessly to build more awareness of the song and her music in general.
"This whole new music paradigm is entirely based on the web," Waller said. "You have to explore various ways of reaching people. It's an exciting challenge. And you have to keep trying and trying again."
She shares whatever she learns with aspiring artists on her "Naked Thoughts" blog (www.wendywaller.typepad.com/my-blog).
"I just work, work work. I just remind myself, if other people can do this, I can, too. And it doesn't matter where I am in life.
"I look at people who I maybe don't respect so much as musicians and go, 'God, I know so many amazing players that aren't as famous.' But you don't have to be famous to be a successful musician. You can work your fanny off and make a good living as a musician being a performer, writing music, teaching, doing what you love to do. That's what I want to do. And that's what I've always done. This is who I am. This what I have to do."
Music has been a vital part of her family's history. Waller's great- grandfather was a famous cantor in the Ukraine. Her father was a trumpet player and jazz singer. Her mother played viola. Her pianist grandmother helped start the Idyllwild School of Music.
Waller has been singing all her life. "My mom said I sat up in the crib and sang," she laughed. Waller began writing songs at age six. She starred in Bay Area musical theater during her childhood. At 15, her classical training began. A coloratura soprano, she attended The New England Conservatory of Music and earned a degree in Jazz Studies at San Jose State University.
Having sung everything from opera to country, Waller cites her primary influences as Ella Fitzgerald, Aretha Franklin, Al Jarreau and Chaka Khan. Her vast training includes study with the Peninsula's magnificent Patti Cathcart( of Tuck and Patti fame). Bobby McFerrin was another of her mentors.
Waller released an album called "Dance of a Thousand Fools" in '91. "Beauty Queen," recorded in 2000, was produced by her then husband, Hershel Yatovitz, Chris Isaak's guitarist. Waller sang on Isaak's "Speak of the Devil" album.
After her breakup, Waller moved to Ben Lomand in Santa Cruz County for a while, writing a lot of music. "I was able to better understand what I was capable of doing alone," she said of that period.
Waller returned to the Peninsula scene two-and-a-half years ago. She teaches voice, as well as preschool music. But performing remains a great passion. "I definitely believe that this is my path. I've struggled and worked extremely hard. I'm playing with phenomenal musicians... and there's a lot of satisfaction in that."
Last year, Waller was one of 10 finalists chosen from more than 10,000 entries in Great Britain's Rising Star competition.
Waller's star is definitely on the rise. "Traces of Grace," recorded in San Jose and San Francisco studios, demonstrates that she attracts some of the Bay Area's top musical talents. The album was produced by Wayne Wallace, engineered by Gary Mankin. Her outstanding guitarist Rick Vandivier also had a lot of input.
"I don't consider myself to be a very old person," Waller says, "but when you're in your teens or twenties, you're more apt to get listened to by a record company. But all of that is really changing. With internet opportunities, you're capable of being a lot more independent as a musician. As an older musician, that's a great thing. I do have a lot of respect for the young musicians coming up, but it's great that people in their thirties and forties can say, 'Hey, I'm still alive.'
"Because of their age and their wisdom, seasoned musicians have a lot to offer. There's more life experience in the songs. We've felt a lot of things that young people haven't."
Waller said her goals are simple. "To be a better musician, a better songwriter, to play with really great musicians and to be a fine teacher. To continue making good music. I just want to keep getting better and to continue learning. I want to make a good living, but also, I want to give back.
"I have plans to do more charitable work, because this just feels so right. I've got a whole litany of problems I'd like to help solve in the world."
It's time for you to discover a heavenly musical experience and to be part of the solution. Download the "Little Angel" song and support IVAT by visiting www.littleangelcampaign.com. To learn more about Waller, click on her site, www.wendywaller.com.