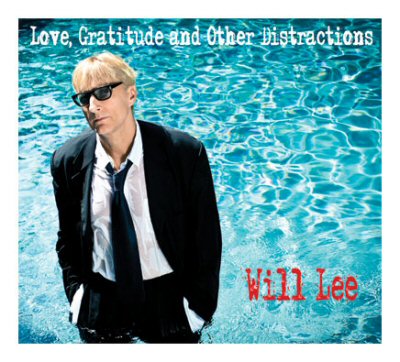 WILL LEE:
FROM EARLY BEATLES TO "LATE SHOW,"
THIS BASSIST BUILDS A STRONG MUSICAL FOUNDATION

By Paul Freeman [October 2014 Interview]

Whenever you see bassist/vocalist supreme Will Lee, he exudes the joy, excitement, energy and fun that's at the core of rock music. Invariably, he's enjoying himself and so is the audience.

That's true whether it's during his decades-long gig with the "Late Show With David Letterman" house band, aka The CBS Orchestra; playing at Rock and Roll Hall of Fame inductions; or reviving The Beatles' magic as a member of The Fab Faux.

The Fab Faux is a jaw-droppingly accurate, breathtakingly exhilarating group, the ultimate Beatles tribute band. They uncannily bring to life even the most complex Beatles recordings, songs even the original Fab Four never attempted live. The Fab Faux has become something of a phenomenon themselves, packing large theatres and earning wildly enthusiastic ovations.

In addition, Lee has been a sought-after session musician since the mid-70s, playing nearly 2,000 studio dates. A San Antonio native, who studied music at the University of Miami, versatile Lee's consummate bass skills and versatility have enabled him to enhance the recordings of a wide array of great artists, including Aretha Franklin, Burt Bacharach, Mick Jagger, Barbra Streisand, Cher, Chaka Khan, Carly Simon, Ronnie Spector, Liza Minnelli, Steely Dan, Diana Ross, Gloria Estefan, David Sanborn, The Bee Gees, Ray Charles, Frankie Valli, Weather Report, Taj Mahal, Ringo Starr, Billy Joel, Herbie Mann, Mariah Carey, Barry Manilow, Bette Midler, Frank Sinatra and Paul McCartney.

In 2013, Lee released a new album, "Love Gratitude and Other Distractions," his first as a leader in more than 20 years. PCC ran this review:

The bassist in David Letterman's house band for more than 30 years, Lee is also a top session musician and a founding member of the ultimate Beatles cover band, the Fab Faux. His list of recording credits is jaw-dropping. He hasn't released an album of his own since 1993. The new one is winningly diverse, varying from jazz to a wide range of rock, pop and blues styles. Lee proves himself to be a very capable singer, as well as an outstanding, versatile bass player. On this record, Lee serves up some beautifully polished original songs, including the wondrous "Gratitude," the irresistible "Miss Understanding," and an exotic "Shahara," and three well chosen tunes from other writers - Allen Toussaint's rollicking "Get Out of My Life Woman," a lush, ballad version of Len Barry's 60s hit, "1,2,3" and a gorgeous instrumental version of Charlie Chaplin's "Smile." Lee's fretless bass is exceptionally expressive, taking the lead on "Simple Way To Say I Love You." Other musicians on the album include such luminaries as Pat Metheny, Bob James, Steve Lukather, Billy Gibbons, Narada Michael Walden, Paul Shaffer and Toussaint. Lee may be among the greatest sidemen in history, but he triumphs with this moment in the spotlight.

Hopefully, with Letterman retiring from the late night TV landscape, Lee will have time to bring us lots more of his own very cool sounds.

POP CULTURE CLASSICS:
I love the "Love, Gratitude and other Distractions" album. Is there a special sort of satisfaction in, every now and then, releasing your own albums?

WILL LEE:
Oh, it's more than satisfaction. It's a complete need to ventilate, to purge.

PCC:
It must build up in the years in between.

LEE:
Yeah, it's funny. You know, the brain goes crazy. You start coming up with all these ideas. What I do is - I write them on a napkin. I write them in my data place or anywhere possible that I can record this, before the idea goes away. Next thing you know, you've amassed all these things and the challenge is, okay, you've got to put them together, halfway coherent, halfway forward-moving, with a thread going through it. You've got to make it presentable, so you can share it.

PCC:
You're involved in so many musical projects, it must be a challenge to juggle them and make it all work time-wise.

LEE:
It is easy to get distracted, that's for sure. Especially for a scatter-brain like myself. I do like multitasking, so I usually work on a few songs at a time. It's like a big stove with a bunch of burners, rather than, "Okay, I'll just focus on this one song for the next two or three days." I kind of wish it was like that. But I like to get away from it, so I can return to it and be surprised.

PCC:
And what about the work with The Fab Faux? Is that a unique kind of satisfaction you get , being part of that?

LEE:
For me, it's very rewarding, because I'm just as excited about The Beatles' music as I ever have been. So the idea of being able to take those records and bring them to the stage is such a great challenge and it keeps you on your toes, because this band, the way we do it is we play for a lot of the same audiences, year after year. So, for instance, say we played Houston last year and the year before that that, we definitely don't want to play the same tunes we played those last two times, which means that we have to bring a new show each time we play at a venue. And by doing that, that means that we're not playing the same show that maybe we've been playing for a while. And it's a great challenge, because we're constantly boning up on each tune within the set of that weekend's music. And that keeps us scared, afraid and focused.

PCC:
When you were starting out with the band, what was the most difficult part of working up these spot-on recreations of the Beatles' repertoire?

LEE:
I have to say that, when you hear a mono or a stereo thing, basically you're hearing a bunch of sound reductions that have happened since the first notes that were recorded until the final thing that's heard. And in between those stages, a lot of overdubs and textures went in. Like sound A and sound B went in to make sound C. And then you have to figure out, "Well, what's that sound C made of? What's creating that?" And you have to either guess or really research heavily, as well as you can by reading books about a song or get on the internet and find out people blogging about it. We used every trick in the book to try to take these songs apart to get to what was really making the sound that we were hearing.

When they were finally releasing the Beatle bootlegs or when these guys went into the studio to make 5.1 Surround Sound versions of some of these songs, like for the Cirque Du Soleil "Love" show. Or I guess "Yellow Submarine" might have been the first 5.1 mix that was done when the DVD came out, back in the late 90s... And it's funny how we have access to this stuff, because there's always a leak at the White House. Back at Abbey Road studio, I think there's an armed guard in front of the room where the tapes are stored. But some second engineer always has a relative they want to share this with - "But please don't play it for anybody else." Next thing you know, I've got it.

PCC:
It must be incredible, the audience reactions you get, as they're experiencing these songs, many of which The Beatles never performed live.

LEE:
You know, it's true, because there's a lot of people who do know the music and get to see how this music takes on a different life form, when it's performed by five humans on stage. And especially if we have the horns and strings with us - that's always a wonderful thing.

I've heard many times, even today at breakfast - "You know, I was never that into The Beatles till I heard you guy. Now I love The Beatles' music. Or, at the end of as show, people have said, "I never really liked The Beatles. But I love what you're doing." If they only knew what we thought we were doing.

PCC:
Has your own appreciation for The Beatles grown even stronger from the Fab Faux experience?

LEE:
Absolutely. And it's funny, speaking of taking on a different life form live. There's some songs, they take on a new life, when you do them live - songs that were kind of sleepers, that you didn't really pay that much attention to or weren't that into or even dreaded playing live. Say, for example Fab Faux is doing a theme show, an album that's got some obscure tunes in it, that none of us would have necessarily picked the short straw to do that song, that we thought as kind of a dud, and then you bring it to the stage and all of a sudden, it's my new favorite song! That happens so often. And it lasts.

PCC:
How did the notion come about to form the band? Did you envision this large canvas?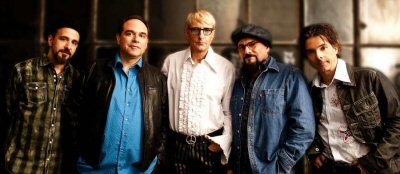 The Fab Faux, Will Lee, center

LEE:
Well, the thought of it never occurred to me, because, throughout my musical career, even though The Beatles were the thing that sparked my being a professional musician and really pushed me over the edge. My parents were both musicians, but I was kind of just a kid, I wasn't very serious about music at all. But when The Beatles first performed on "The Ed Sullivan Show," back on February 9th, 1964, I immediately ran back to the room where there was a drum set that my father had bought me for Christmas a few years earlier, that I had never really played. And all of a sudden, those drums were the most important thing in the world to me. I had to figure out how to make those sounds. And they had just shown us how it was done with all the great close-ups on the TV screen. And they had also shown us what the reaction was, if you do get those drums, and it's all the screaming girls and stuff. So that's pretty motivational.

So that was my first foray into what I do professionally now. And even though The Beatles were the thing that sort of stayed as the underlying thread through everything I did throughout the years, since then, it never occurred to me to have a Beatles band, because , when you think of a Beatles band, you think of these guys who are pretending to be The Beatles and stuff like that. And it just seemed like, "Okay, that's great for those guys, but why would I do that?"

Until I finally was on a gig and met our drummer, Rich Pagano, who was really astute about the Ringo style of drum-playing and really had it down, tuned his drums just right, and just had the feel. And we talked about Beatles a lot. And when he sang, it reminded me of John Lennon. And that was the first time I ever even imagined, "What would it be like to go on stage and bring The Beatles' records to the stage with this guy and some other guys?" And that was the beginning of The Fab Faux. We just did it as sort of a boy's night out, going to the bowling alley kind of - not serious. We never knew that it was going to be accepted on a wider scale.

PCC:
And when it's working, when it's clicking onstage, it's got to be an amazing rush.

LEE:
It is a rush. Of course, I only hear the mistakes.

PCC:
You started out on drums. How did you find your way to the bass?

LEE:
When we were like 11 years old, mostly due to The Beatles, kids were buying instruments left and right. And they were buying lots of guitars and lots of drums. But I think the 11-year-old brain doesn't really, at the time, get the function of what that new instrument, the electric bass was. So even though we wanted to have a fuller sound with our band, there were no kids who had picked up the bass. There were lots of drummers, lots of guitarists. And one day, even though I was the lead singer at the time, I kind of volunteered, I said, "You know what? Let's get another guy and I'll play bass. Let's just see what happens. We can't find anybody who plays bass, so I'll just switch."

And much to my chagrin, when we hired the guy, that was the day I got on the bass and started to sing my parts and realized how hard it was to sing and play the bass at the same time. But it was too late. We had hired this other guy. And his father gave us our first gig, so...

PCC:
So were you studying all the Paul McCartney bass parts?

LEE:
Not really, because we were coming over from being a band with no p.a. system to begin with. So even though we had become a vocal band, a lot of our repertoire was left over from when we were playing surf instrumentals. So the material that we were learning was not necessarily Beatles songs, as much as just Top 40 music of the day - Ventures, surf kind of tunes and stuff. And crazy songs like "Are You A Boy Or Are You A Girl?"

PCC:
The Barbarians.

LEE:
The Barbarians! [ Laughs] That's right.

PCC:
When you're studying The Beatles' records and researching their songs, are there things you learn that you can apply to other areas of your music?

LEE:
Oh, absolutely, unconsciously, yeah. I was getting chops on my instrument. I was getting some technique down. And my parents were jazzers. So I was really open to a lot more than just The Beatles. And, because of my sort of subconscious music upbringing in the house, my ears and body were open to all kinds of different grooves. My ears were wide open.

PCC:
And what about today, with Fab Faux, as you keep uncovering the recording techniques and that sort of thing, does that continue to add to your musical knowledge in a useful way?

LEE:
Oh, every day. No doubt. Yeah. I mean, it's a real lesson to go in and listen to those Beatle records, each time you listen. The more you know, the more you're allowed to hear, the more you can peel away at the layers of what's there, with a new understanding.

PCC:
With all your session work over the years, is it all a blur? There must have been heroes you worked with that stood out.

LEE:
Sure. It's funny. I love some of the albums I've done with Phoebe Snow, Chaka Khan, Carly Simon, Barry Manilow. But I was thinking this morning about how I used to hang out with Roy Buchanan, after our sessions for his records. For some reason, I was just thinking about him this morning, in the shower, remembering what a great guy he was - sensitive. He was one of the great masters of the Telecaster. Another tragic guy, like Danny Gatton in a way - died way too early.

PCC:
Session work - does that present its own unique set of challenges?

LEE:
Being a session musician was something that was beyond my wildest dreams, being part of that scene, because I came to New York to join a band - specifically a band called Dreams. The band flew me up from Miami and let me audition with them, because they had been established and they had gotten rid of their original bass player and the bass player at the moment that they called me was leaving. And I'm very lucky, because I had never heard of him, so I wasn't afraid to come up and show off. I was like a hot shit kid down in Miami. And I was also maybe the biggest Dreams fan on the planet Earth. For me, they were the next Beatles, because of what I was doing in my life. I was playing in rock bands at night and I was studying jazz in the daytime. And this was, to me, the perfect jazz-rock fusion band - Dreams [whose lineup included Billy Cobham, Michael and Randy Brecker]. So I was totally focused on their album.

At the time they called me up to come audition, their bass player was a guy called Chuck Rainey, who was leaving the band. And lucky for me, I didn't know who Chuck Rainey was, because, if I had known, I would never have even gone past the Florida-Georgia border line. I would have stayed in Miami, because I would have been way too intimidated. But luckily, I was able to be cocky, because I had no idea who he was. Ignorance was definitely blissful for me.

So the band fell apart and really I had no other plans. But I had seen what the studio system was in New York and I was invited to be in a couple of sessions and I saw these guys who obviously were very established in this little sewn-up world called "the studio scene." I'd seen what an amazing hierarchy of positioning there was to get into this. And I had no intentions of being a part of it, because I thought, "I don't stand a chance in that. That's like guys who have been in New York forever trying to make this happen until they finally get in the right position."

But what an ideal gig. You walk into a room, you play a piece of music that's never been played before. You design the piece of music. You walk out. You never have to think about that piece of music again. Then you walk into another room, where the same thing happens all over again. This goes on all day long, every day of the week. What an amazing thing that is. So it was unbelievable to me, to slip through the cracks and get into that scene back in the 70s.

PCC:
You're able to use your creativity within the parameters of the artists' and producers' visions?

LEE:
Sure, you're presented with a challenge of, okay, here's a song, make it happen. And in like one sentence, that's the art form for a studio musician. Just give that song some kind of treatment and make it the best it can be. Sort of be a little producer.

PCC:
To fit in so well in so many different musical situations, do you have to have the right personality for that, as well as the technical skills?

LEE:
Yeah, I think you need to have, basically the ears for it, the understanding of the basics of what music is. And I think I got a lot of that from my jazz exposure, at home, because I think jazz opens you up to a lot of things you normally can't hear. The harmonies. The whole ensemble-playing thing also comes into play. That's definitely what the making of a record is all about. It's about the ensemble, sort of like the cast of a movie or a play.

PCC:
So the collaborative side of music is one of the most appealing parts for you?

LEE:
Sure. Yeah, that's where all the interlocking gears are able to fit together, where you stay out of the way and in the way at the same time. In the way to make the song happen, but out of the way, to not cover up its intent.

PCC:
Sharing the musical experiences with so many icons on the Letterman show, that must have been a dream job.

LEE:
Oh yeah, that was really cool. Yeah, and I got to be exposed to people that I never would have even known about them.

PCC:
And the working relationship with Paul Shaffer, what's that been like?

LEE:
Well, you know, Paul is the musical director of the show, at least for the band part of the show. But he's never been a person who's responsible or even in the position to decide who's going to be on the show as a musical act. There's like a whole other building of people that decide all that stuff. And it's frustrating sometimes.

There are people who look at me and say, "Hey man, can you get us on the show?" And boy, if they only knew, what a kiss of death that would be for me, to even start trying to get involved in that. They would not only ignore me, but probably consider never making it happen again, because that guy suggested it - and he's not in our club.

PCC:
With Dave leaving the "Late Show," that will give you more time for other projects. Where are you going to refocus you energies?

LEE:
Well, I've already started to produce some stuff, so that's going to be nice to have some better stretches of time to do that. Actually, because I'm married, and because I love going places with my wife, the first thing we thought about doing was taking a trip that was longer than a week long, because we haven't had a break like that since 1982, a break where you're off for more than two weeks.

PCC:
You're wife's a photographer, Sandrine Lee?

LEE:
Yeah, very talented. She's finished doing her 60th album cover. She's been busy. She has the new Christopher Cross album and that's one of the most recent. And Siedah Garrett is a great artist who she just did an album cover for, a West Coast artist. She worked with Michael Jackson. Big hit records and stuff.

PCC:
Has it been frustrating at times to not be able to have more than a week at a time to pursue other musical interests?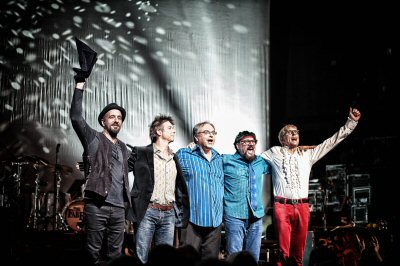 The Fab Faux, Triumphant After "Magical Mystery Tour" Show
At New York's Beacon Theatre, October 2011

LEE:
The only thing that kind of dwindled for me was, in New York, where I was very established as a studio guy, a lot of the producers that I would normally work with would stop calling me, because they didn't want to book sessions around my TV schedule. The only guy that was really super patient about that was Arif Mardin.

But say you start a session at 10:00 in the morning and the guy's got to leave at one to do his little TV gig. And maybe if we're lucky, he'll join us back here at six. Meanwhile, you can't get any momentum going in the studio. So it was tough to keep the exact same type of studio schedule that I had going on, in all those years. But the payoff was, unlike most musicians, I had what's known as a steady gig - putting it mildly.

PCC:
What about your Rock and Roll Hall of Fame experiences? There must have been some surreal times with those All-Star jams.

LEE:
Yeah, when they were allowed to have jams, before it got corporate with TV cameras coming in. It was really nice and loose. I mean, it was a bit of a nightmare for anybody who was, say for example, trying to mix the sound. And you didn't know who grabbed the mic [laughs]. It was very spontaneous. And I think a guy like Paul Shaffer was probably one of the only human beings alive who could have actually made that into music, because of the chaos of that. It was so unplanned. And Paul has this uncanny ability to rope a bunch of people together on the fly, with just a couple of hand signals, and everybody knows where they are in the song, even if they can't hear the other players and singers.

That was the case in those jams, because, say a stage is set up with monitors so that four or five people can hear the other musicians play and sing up there. Now you've got all these musicians standing in front of those monitors and somebody on the left side starts to sing and you're looking right, you don't even know where the sound is coming from. It could be amazingly chaotic. Yeah, these were some challenging moments. It was way more fun, because it was incredibly edge-of-your seat. It was really exciting.

PCC:
You guys did a great job on that Mike Smith [Dave Clark 5] benefit concert in 2005, the benefit. Is that ever going to get a DVD release?

LEE:
I don't think so, because I don't think Dave Clark wants it come out. It's the ultimate in selfishness, I think.

PCC:
But it must have been a kick for you, sharing the stage with all those British Invasion greats [Zombies, Peter & Gordon, Denny Laine, Billy J. Kramer].

LEE:
Oh, of course. Theirs were the songs we covered, when we first started playing, in all of our bands.

PCC:
And what about your musical encounters with the former Beatles? That must have been mind-blowing, since they had inspired you to set out on your life in music.

LEE:
Well, of course, it's always a thrill. Even though I've met some of those guys several times, it's still a thrill. They're just on another level. You get kind of ga-ga, as much as you want to be cool around them. Paul McCartney can really work the room. He always knows just what to say. You see any of the four of them in those great interviews in front of the Pan Am signs or whatever, where people would just fire the stupidest questions at them and they would always have something amazing to retort with. And that's exactly what it's like with those guys still, the two living guys. They always know what to say, put you at ease. And they just like to create a cool atmosphere.

PCC:
And can you create the illusion of viewing them as just peers? Or does the ga-ga fan part show through?

LEE:
Well, you have to remember why you're there. You're there to serve some kind of purpose or else you're really not needed to be there. So you have to keep it as professional as possible or else you're just useless. But it's always amazing to deal with any of those guys.

George was amazing. I was actually telling Dhani Harrison [George's son] this story the other night. Dhani sat in with The Fab Faux last weekend in L.A. And he was at George's final concert that he ever did under his own name, which I happened to be playing bass at, at the Royal Albert Hall in London. It was amazing that Dhani was there and he remembers everything about it. Just a sweet, little kid. He's still a sweet kid, but he's a 36-year-old little kid.

And I had bought a shirt for that gig, a way expensive shirt. It was one of those kinds of things where I was in a panic. I knew I was going to London to do this gig and I needed a shirt for the gig. And I didn't really have any place in mind to go look for a shirt, but there was this one expensive clothes store that I happened to be walking by on 57th Street in New York, the day before I was going to fly over on the Concorde to go play with George. I usually wouldn't walk into this store, because I knew they were so overpriced But this day, I said, "Look, I'm desperate. I've got to find something. Let me see if they have something."

So I walked in and I saw the shirt for the gig. This was the perfect shirt. It was a red silk shirt with a flower going down the side. And I said "What could be more appropriate? This is perfect. I'll take it." So I go downstairs and I'm signing the credit card form and I'm looking at the price for the first time. And it's $400. And I just stopped signing for a minute and I thought, "Are you kidding me? I've never paid $100. Four hundred dollars for a shirt!?" But then I realized "Oh, what the hell, it's for The Beatles!" So I kept signing.

And then, when we got to London, we were doing the show, and we had like a mini-set with Joe Walsh, like three tunes with him and three tunes with this guy Gary Moore. And now it was time to take an intermission and go backstage and put on the shirt. So I pulled the valet bag zipper down and I noticed right away that the one button that you would see - if you're playing guitar, there's a button right above where the guitar would be - and it was missing! Not even in the bag.

So I'm panicking. They're going, "George, okay, five minutes. Five minutes, band." And since this was a one-off gig, there was no wardrobe department of any kind. So I put an APB out for a needle and thread. I finally get it. And I'm going to steal the bottom button from the shirt and put it up in that top position. And, "Okay, we're on!" And I'm starting to sew. And finally I hear the audience out there, going completely bonkers, because George had not played publicly in London since the roof of the Apple Building, when they did that "Let It Be" stuff. So the place was going into pandemonium. I could hear them going crazy as soon as they heard the announcement - "George Harrison and band." The place was going nuts. And I'm sewing.

And George comes back, before he goes to the stage, he looks back an comes back into the room, noticing that I'm not there yet. He says, [in a perfect Liverpudlian accent] "Will, would you like to join us?" "Okay, hold on a minute, George. Just a couple more stitches!" He was so damn cool about it. I told Dhani that story the other day and Dhani was just dying. George couldn't have been more charming and cool about the whole thing.

PCC:
You've had this amazing career. You're still in the midst of it. Are there still musical goals you're striving towards?

LEE:
Oh, there's so many unfinished songs. I guess those are the big goals, is to finish those tunes and try to finish them in a way that I can really put my heart into it, have them mean something to somebody, if anybody ever hears them.

For the latest news on this artist, visit willlee.com, as well as www.thefabfaux.com.

UPCOMING FAB FAUX CONCERTS:

SATURDAY, OCTOBER 25 2014 - 8 p.m. ATLANTIC CITY, NJ REVEL OVATION HALL - 500 BOARDWALK A Glorious Hodgepodge of Beatles music! With the Crème Tangerine Strings and the Hogshead Horns.

SATURDAY, JULY 19, 2014 BROOKLYN, NY MUSIC HALL OF WILLIAMSBURG - 66 N. SIXTH STREET The Fab Faux - Raw and Stripped Down in Brooklyn!

SATURDAY, NOVEMBER 15, 2014 - 8 p.m. CHICAGO, IL THE CHICAGO THEATRE - 175 N. STATE STREET The Fab Faux performing 'The White Album' in its entirety with the Hogshead Horns, the Crème Tangerine Strings, Jim Boggia and Erin Hill.

SATURDAY, NOVEMBER 22, 2014 - 8 p.m. NEW BRUNSWICK, NJ THE STATE THEATRE - 15 LIVINGSTON AVENUE 'The White Album' in its entirety! With the Crème Tangerine Strings and the Hogshead Horns.

SATURDAY, DECEMBER 6, 2014 - 8 p.m. WILMINGTON, DE THE GRAND OPERA HOUSE - 818 N MARKET STREET 38th Annual Grand Gala to benefit Arts Education at The Grand A glorious hodgepodge with the Crème Tangerine Strings and the Hogshead Horns.

SATURDAY, FEBRUARY 21, 2015 - 8 p.m. FORT LAUDERDALE, FL THE PARKER PLAYHOUSE - 707 NE 8TH STREET 'Rubber Soul' in its entirety plus a mixed set of Beatles Featuring the Crème Tangerine Strings