WILLIAM SHATNER: IN COMMAND AT STAR TREK CONVENTION
The Legend's Appearance at Creation Entertainment's San Francisco Event

Courtesy of Creation Entertainment
Those who made the trek to Creation Entertainment's "50 Year Mission Tour" in San Francisco, in December 2016, enjoyed a star-filled three-day weekend. Among the many celebrity guests attending were Walter Koenig, Brent Spiner, Jonathan Frakes, Michael Dorn, Gates McFadden, Terry Farrell and Nana Visitor.
But the main attraction was undoubtedly, the man himself, Captain James T. Kirk, William Shatner.
He strode onto the stage of the Hyatt Regency San Francisco Airport ballroom to wild applause. His first words were, "Oh, golly! Fifty years! I can't believe it!"
That was Shatner's last reference to "Star Trek" for a while. But he drew hearty laughter with a lengthy story about a family trip to Hawaii and a startling encounter with an amorous monk seal.
Shatner said he had never told the story before and was delighted the crowd had responded so warmly. He said, "I can turn it over to questions now or I can tell you another story." The audience piped up for another story.
So he ventured into another tale he had never publicly tried before, this one a Kentucky variation on O'Henry's "The Gift of the Magi." It involved a coal miner who became a millionaire and the beautiful young woman he married, a horse racing enthusiast. Unfortunately, this long and winding saga ended in bankruptcy and face cancer. And it was impossible to tell if Shatner's conclusion was supposed to be heartbreaking or ironic. It was just confounding and met with silence. He mused, "I don't know if that story worked or not. Did it work?"
The assembled throng good-naturedly shouted, "No!"
"Okay, I'm never telling that story again!," he declared. However, he was able to get lots of laughs with subsequent callbacks, threatening to talk about the coal miner again.
And Shatner came back strong with questions from the audience. A flirtatious female fan proceeded to sprint back and forth in front of the stage. Shatner, admiring her form, said she was a gazelle. He asked her name. It was Karen, but he couldn't make that out, despite numerous attempts on her part. So, to the merriment of the crowd, he proclaimed her name to officially be "Gazelle." This became another callback throughout his appearance, though he eventually began referring to her as Giselle.

Courtesy of Creation Entertainment

He invited her to join him on stage. Awestruck, she gushed, "I love you so much!" They shared a lingering snuggle. As she melted, Shatner quipped, "Your glasses are all fogged up… I said 'fogged!'" He encouraged her to fantasize. She said she wanted his shoes off. He asked where his shoes should be. She shrieked, "Under my bed!"

Her question for him? Who kissed more women - Shatner or Leonard Nimoy? Shatner had plenty of fun with that one, replying that Kirk had a count of over one hundred and Spock had maybe two. As an afterthought, he asked if she meant in real life. She said she did. "Oh, he said, "Probably Leonard." This whole sequence earned loads of laughs and applause.

Though sometimes having difficulty hearing those asking questions and requesting that they put their mouths right on the microphone, Shatner still possesses a razor wit. His knack for impromptu humor makes him an ideal guest at this sort of event.

But he seemed baffled by some of the questioners, including an activist who idolized the actor and wanted to be unblocked from Shat's Twitter account and a young man who asked about Shatner's tweets on the subject of the TV series "Once Upon A Time." Shatner said he is a newsaholic, watches sports and movies, but not fictional series.

"I've never seen legendary shows, modern shows… I don't know the actors or actresses. All I know are horses and dogs… and Gazelle."

A woman, a professor of counseling, said Captain Kirk was her first love. She mentioned "Raw Nerve," Shatner's riveting interview show on the Biography Channel, which ran for three seasons. She then said that, as people get older, they ponder their regrets and asked about his greatest regret in life.

Shatner chose to deflect that query - "My biggest regret? You asking me that question! It's a fallacy that when you get older, you get wiser. I don't see it happening. People think you get less emotional. No! You hate, you love. Desire less? That's not true!"

He spoke about "Raw Nerve." "I did this talk show, very few people saw. I talked in one day, for example, to Rush Limbaugh in the morning and in the afternoon, Larry Flynt. And I had them both crying, as I was, because I had them revealing things and I was sincerely interested in what they were saying.

"Rush Limbaugh came back to my house to watch the football game. And I had some other guests there, one of whom was a real liberal. And when I said, 'This is Rush Limbaugh,' he turned and put his head in the refrigerator. I've had the best time, talking to people and having conversations that are meaningful to them. I sincerely, passionately want to hear what they have to say.

"The last time I did this was not for 'Raw Nerve,' but I did a special in Canada that started out to be a 50th anniversary 'Star Trek' show, but turned out to be a show in which I talked to astrophysicists, culminating in Stephen Hawking. I went and spent the day with Stephen Hawking. I was required to submit the questions in advance, because, as I'm sure you know, he's totally incapacitated. All he can do is blink his eyes and he can twitch a muscle in his cheek, on which rests a little wand that moves a cursor in a computer in front of him. And it speaks in a mechanical tone.

"So I submitted half a dozen questions. Finally he comes in and I had to speak the questions, verbatim, that I had submitted. And then he would signal this thing and the answer came out in this mechanical voice. And here was one of the great minds of our time, who introduced extraordinary concepts about black holes and time/space, things that we don't even think about, as we're ordering our pizza.

"So finally, he had finished answering all the questions. And in the spontaneous part of this, I said, 'Dr. Hawking, what question would you like to ask me?' And he begins to type out the question."

And Shatner pointed out that the time it took Hawking to type it out, as with a great actor milking the moment, built the drama.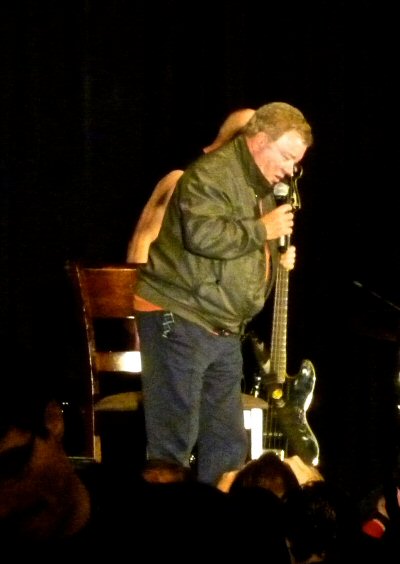 William Shatner at Creation Entertainment's "50 Year Mission Tour" in San Francisco, December 11, 2016.
"I'm reading on his computer - I-W-A-N-T. 'I want… ' What's he going to say? T-O…A-S-K… What's he going to ask? He's like an oracle! His question was, 'I want to ask, what are your favorite episodes?'"
The crowd erupted in laughter.
"I made him laugh. I knew I made him laugh, because he got a little red in the face and sort of jolted and his eyes were twinkling, his eyes clear, blue, so intelligent, so bright. But to have a conversation about space and what the universe looks like… And this special, which is called, at the moment, 'The Truth Is In Our Stars,' plays in Canada first and then eventually here, involves our astrophysicists.
"I had an argument with Neil deGrasse Tyson. We were in his planetarium. And as we walked back and forth, laughing and arguing, I said, 'Dr. Tyson, what you're looking at is dark matter and dark energy. We don't know what it is. We don't know whether it exists. It's all theoretical. And you're telling me this is what happens? You can't know!' And this started the argument - 'Yes, I can.' 'No, you can't.' 'Yes, I can.' 'No, you can't.' It was glorious.
"But having the opportunity to have conversations, to get to understand what people think, and especially astrophysicists… They are writing their ideas out, their concepts. And unlike science-fiction writers, they seek to use mathematics to prove their theories. Those are the kinds of conversations I've been having of late. I want to go out there and talk to people like that and find out what they're thinking and present them with my stupidity and ignorance and try and find some answers."
A young woman comes to the mic and tells Shatner that her first episode of "Star Trek" was "The Trouble With Tribbles." "It's my mom's favorite episode," she says.
"What's yours?," Shatner asks.
"The Trouble With Tribbles."
"No, no, that's your mom's. What is your favorite episode?"
"It's both of ours."
"No. It's time for independence!," Shatner tells her. She informs him that she is now an avid collector of tribbles. "You're a collector of tribbles? They're socks with a little plastic inside. What the heck are you collecting? Are there different tribbles?"
"Yeah, there's different colors. Some people make them and sell them."
Shatner gets someone in the audience to hand him a couple of tribbles. "They're the same color. What are you collecting? They're powder puffs. Do you really have a lot of tribbles?"
"I do."
"How many?"
"Right now, in my whole collection, I have a little over a dozen."
"You have twelve!"
"Over," she corrects him.
"Well, how much over?"
"Two or three."
"Why don't you just say 13? Over a dozen tribbles!"
Shatner recalled shooting the episode. "They had a guy in the ceiling with bushels of tribbles. You'd have loved it. And every time I started to speak, he'd pour some down on me. And in the end, he'd throw them at me. And I had to keep a straight face. It's a wonderful story, how things do grow out of control… and its application to our environment. And how we see that by taking a hold of nature and choking nature, things like tribbles can grow out of control and destroy our environment, which is my way of saying that we've got to know that the environment is challenged and there will be a catastrophe, if we don't do something about it… now.
"Now is the time. The Earth is on a path to destruction unless we do something about it now. California is in the forefront. Make sure that it stays in the forefront, because the disaster in front of us renders everything else meaningless, unless we do something about our water, our air, our Earth."
A "Star Trek" buff asked Shatner what he thought of the remastered versions of the original series episodes.
"I never saw the originals, actually. [Crowd laughs] It's probably terrific. The special effects are still there.
"I directed 'Star Trek V' and I missed on the special effects. Special effects are the magic of science-fiction. I've got a novel out there now, called 'Zero-G.' It's a terrific science-fiction read in which I and the gentleman who wrote the book with me, Jeff Rovin, imagine the FBI in space 50 years from now.
"In imagining and writing down concepts for the book, you leave it to the reader's imagination to flesh out the words. So reading stories is half, or many all, inside your head. But when you make a movie, now you have to be specific. Does the thing turn right or does it turn left? Is it yellow? Or does is look like Giselle?
"So special effects are really critically important to most science-fiction stories. And yet, in 'Star Trek,' our special effects budget - let alone the technology back then was so primitive anyway - but the few dollars we had to pay for special effects were so limited that what we depended on, at our best, was great stories, like 'The Trouble With Tribbles.'
"So, in my movie, I ran out of money…I should tell you this story… There was this coal miner. [After the laughter dies down] For this movie, I needed something to represent the devil. My premise was 'Star Trek' goes in search of God. But it all had to be changed around, because they were afraid of alienating people - 'That wasn't my God. That was your God.' So somebody made it - and I agreed to it - the alien who thinks he's God."
Rock monsters were planned to be part of the effects highlights. That however, did not work out as Shatner had hoped. "Our crew lands on a deserted planet in search of the villain. And the planet's rocks explode and these terrifying beings emerge from the rocks. They're volcanic, smoke coming out, breathing fire. Wow, that's a good concept. They said, 'How many do you need?' 'I need 10.' They said great."
Once the studio started pricing the rubber suits the stuntmen would wear as the rock monsters, plans changed. "They found out the expense would be $250,000 a suit. Ten suits at $250,000. That's two-and-a-half million dollars. And the budget for the film is $30 million. They said, 'That's a fifteenth of your budget - for suits.'"
Gradually, the studio whittled down the number of suits - five, four, three. And finally, on the night before shooting, Shatner learns that there will only be one suit. "Where's the suit? So out comes the stuntman in this suit. I said, 'Where's the flame that comes out of the suit?' They said, 'We tried the fire and it burned the stunt guy.' Where's the smoke? And I look and I see a little bit of smoke coming out of two tubes, extending behind the stuntman. And I turn the corner around the rock and there are two special effects guys with cigarettes… $250,000! I didn't have an ending! Where's my ending?… What was the question?"
Huge laugh.
"I asked you what you thought of the remastered episodes of the original series."
"Really good."
Another big laugh.
The next questioner asked if Shatner had ever played the classic stage role of James Tyrone in Eugene O'Neill's "Long Day's Journey into Night." He hadn't. "You would be great," the man opined.
"I would be great," agreed Shatner. But it's not on his bucket list. "So many words to learn… and so little time."
One woman told him he reminded her of the Energizer Bunny. And the always busy, tireless Shatner reeled off a list of upcoming projects, including a second season of "Better Late Than Never," co-starring Henry Winkler, a possible comedy series, a documentary on the group Yes (Shatner recorded a new album, "Ponder The Mystery," with all-star prog rock band Circa - which features Yes bassist Sherwood and former Yes keyboardist Tony Kaye - and he's doing concert dates with them) and another documentary on "Young Guns of NASA," as well as, of course, still competing in as many horse competitions as possible.
Captain Kirk is a larger than life character. Shatner himself, even more so. At 85, Shatner remains an indomitable spirit, a spellbinding storyteller, endlessly entertaining. Even running over his scheduled time, he left the adoring convention crowd wanting more.
William Shatner, along with Nichelle Nichols and Walter Koenig, will be among the many celebrity guests at Creation Entertainment's Official Star Trek 2017 Convention in Las Vegas, Aug. 2-6. For details, visit www.creationent.com.