LITTLE WILLIE G'S BIG IMPACT
PCC Talks With the Thee Midnighters & Malo Vocalist
About His Rise, Fall and Redemption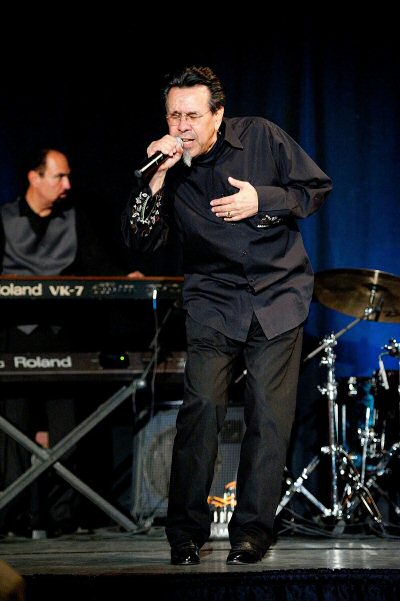 Willie G, photo by Josh Kun
By Paul Freeman [September 2016 Interview]
Little Willie G. has made a big impact, both with his music and his ministry.
Nicknamed "The Godfather of Brown-Eyed Soul," vocalist Willie Garcia is known professionally as Little Willie G. He gained fame with Thee Midniters in the 60s, a seminal, horn-driven L.A. group that combined R&B, salsa and Chicano rock. Addiction dragged him down for a while, but religion and loved ones pulled him up from that abyss. Now he's making music and helping troubled youths.
Growing up in South Central, Los Angeles, Garcia found music early. When he was eight, his older brother, a guitarist, pointed him in that direction.
"We used to shine shoes and sell newspapers. Growing up in the neighborhood, I was starting to get into a little bit of trouble, taking the wrong path home," Garcia says with a chuckle. "My brother noticed that and shagged me into the bedroom and said, 'Sing this for me.' And I started singing with him as he played and I really liked it. I started looking forward to just getting home after school, rather than walking through the alley, smoking Camels and Lucky Strikes with the other kids."
At nine, Garcia won a talent contest. In addition to his brother, he was influenced by Johnny Gamboa, who had a band called The Crowns in East L.A.
Garcia joined a group known as The Gentiles in 1960, which gradually evolved into Thee Midniters. They used the extra "e," so they wouldn't be confused with Hank Ballard's band, The Midniters.
"I've got to give credit to Professor Bill Taggert who was the music director at Salesian High School in East, L.A., which I attended. He's the one who gave not just us, but a number of young musicians in the area a platform. He created the Salesian rock 'n' roll shows. These took place on Sunday afternoons and gave us a platform to start playing in front of rather large audiences in the area."
Thee Midniters had early 60s hits with a "Land of a Thousand Dances" cover, "That's All" and "Whittier Blvd." "When we recorded 'Whittier Boulevard.' it became a cruisers' anthem," Garcia says.
Little Willie G. became known for his showmanship, as well as his powerful R&B voice. "From watching James Brown, Jackie Wilson, you just kind of incorporated it into your souls. We never gave it a lot of thought. It was almost second nature. If we wanted to compete and be relevant in the market we had to dress and move and do everything that came with the show."
Later in the decade, the group recorded socially relevant numbers like "Chicano Power" and "The Ballad of Cesar Chavez." "We were becoming a little more politically savvy, once we started getting into college and whatnot. We didn't really lend ourselves that much to that banner, but we couldn't avoid it either. It reflected what was happening around us. Romeo Prado, who was our trombonist and arranger had several instrumentals in his bag and one of them, he called 'Chicano Power' and that song became a theme for a lot of the movement early on."
Garcia left Thee Midnighters in 1969. "In retrospect, we were still working a lot, but music was changing. My writing was starting to take a different tone. And it just seemed like the band wasn't evolving. So that contributed to my exit."
In 1974, he began a stint as vocalist with Malo, recording the "Ascension" album with that group. "Creatively, it was really a cool place to be and work. I really regret that the band didn't get the hit and didn't continue on. It was really the best band I've ever been in."
After the run with Malo, Garcia went into a downward spiral, fueled by cocaine, heroin and alcohol. "It comes with the territory. When we were young, there was always time after the show to party. And then you're traveling, you're doing things, you need something to get you going, something to help you sleep, and you're deceiving yourself into thinking you can control it and handle it. And it actually becomes an addiction, something you need to function. After 10, 12 years, you wake up one morning and say, 'I've got a problem.'"
But he was able to beat the substance abuse. "I had the help of my parents, my wife, close friends, who told me the truth, who spoke to my heart."
Born-again Christianity was another key to turning his life around. "One friend, Tony Garcia, who I'd gone to high school with and was in Thee Midniters for a while, he's the one who actually introduced me to the Lord. And it allowed me to see that I could still do what God created me to do - make music - without the drugs. That was a little over 36 years ago. You can't have the ability to create without some deep inner inspiration. And I believe that that's God, helping us to accomplish everything that we were created to be."
He did volunteer work for the California Youth Authority from 1980 to 1984 and then took a position as a group supervisor. He retired after 22 years. Through his ministry, in association with Victory Outreach Church, Garcia continues to help at-risk inner city kids.
Music has become a tool in this important work. "It attracts them, for one thing. We'll go into the housing projects or into a park, somewhere where there's a problem, and we'll set up a concert and we'll invite them. And we do the songs that their parents and grandparents loved to hear… and they've inherited those record collections. And we'll do gospel stuff, as well, that has a very contemporary style. Some of them say, 'Man, I was just listening to the beat and the sway and feel and then the lyrics hit me.' So we're peppering R&B with the gospel message."
He's currently completing a gospel album and has a couple of other projects in the works. These will be his first new releases since the great comeback solo album, "Make Up for Lost Time," produced by Los Lobos' David Hidalgo in 2000.
When they were aspiring musicians, Los Lobos attended Thee Midniters concerts. Garcia was one of the special guests, along with Elvis Costello, Richard Thompson and Mavis Staples, on that band's "The Ride" album.
"I love the soul of Los Lobos. They're very rootsy. But they've been able to transcend their culture. To watch them evolve over the years and explore a wide spectrum of styles is just amazing."
Garcia's own shows incorporate songs he did with Los Lobos, Thee Midniters and Malo, as well as his solo material. In addition, Garcia does two or three high profile concerts per year with Thee Midniters. He works with Ry Cooder, as well.
Whittier is the home base for Garcia, 70, married for 43 years to Francine. They have four grown children, Oriana Valdez, Argentina, Philip and Jacob, who's the drummer in the Little Willie G. band.
Garcia often has young musicians telling him how much his music has influenced and inspired them. "It's very humbling," he says.
Garcia is gratified to have touched so many listeners with his voice. "I remember the song that was playing on the jukebox the night I met my wife was 'Here I Go Again' by Smokey Robinson. I'll never forget it. That song is still so special for us. So when people they tell me, 'Man, I met my wife dancing to your song,' that means so much.
"What I hope to do with my music is just to have people connect. It's not just my story. These songs tell the stories of their lives, stories they can relate to."