"THE WRECKING CREW:"


Denny Tedesco's Documentary Shines
Overdue Spotlight On The Musicians Who Made The 60s Sound So Magical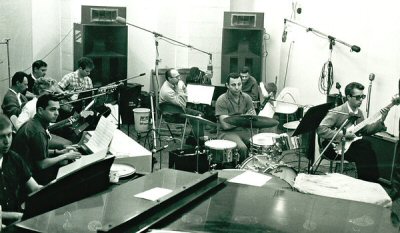 Photo Courtesy of Hal Blaine

By Paul Freeman [October 2013 Interview]

Overdue Spotlight On The Musicians Who Made The 60s Sound So Magical By Paul Freeman [October 2013 Interview]

So many of the memorable American music hits of the 60s had one thing in common - The Wrecking Crew played on the records.

They could play rock, pop or soul. Spending innumerable hours in the studio together, their sound was incredibly tight. And they could come up with indelible licks instantly. What producer in his right mind would let untested young bands play their own tracks? Let the session marvels do their thing, then have the band sing over the track.

So the L.A. scenes finest studio musicians created the instrumental backdrop for smashes by such artists as The Beach Boys, Sonny and Cher, Elvis, Jan & Dean, Mamas and Papas, Tijuana Brass, Ricky Nelson, The Monkees, The Byrds, The Association, Simon & Garfunkel, Johnny Rivers, The Carpenters, The 5th Dimensions, Richard Harris, The Ventures, Dean Martin, Paul Revere and The Raiders, Righteous Brothers, Sam Cooke and The Partridge Family. And they were the mortar that held together Phil Spectors Wall of Sound.

The older generation of session players looked at those brash younger players and said, Theyre going to wreck the music business. So the wry drummer Hal Blaine latched onto the name The Wrecking Crew for this troupe of super players.

The unofficial Wrecking Crew lineup included guitarists Tommy Tedesco, Glen Campbell, Barney Kessel, Billy Strange, Bill Pitman and James Burton; bassists Carol Kaye, Joe Osborn, Ray Pohlman; drummers Blaine, Earl Palmer, Jim Gordon; keyboardists Leon Russell, Dr. John, Mike Melvoin, Don Randi, Al De Lory and Larry Knetchel; saxophonists Steve Douglas, Jim Horn, Plas Johnson and Nino Tempo; and many other great talents.

Now filmmaker Denny Tedesco, Tommys son, has completed a fascinating documentary, The Wrecking Crew. Its a warm, funny, touching, highly informative and deeply personal look at a magical musical era.

We get a sense not only of the excitement of the musicians creative process, but the toll the endless sessions took on their home lives.

Among interviewees are Jimmy Webb, Cher, Herb Alpert, Brian Wilson, Dick Clark, Lou Adler, Nancy Sinatra, Micky Dolenz, Peter Tork, Gary Lewis and Roger McGuinn, plus many surviving members of The Wrecking Crew, including Glen Campbell.

Some of the most entertaining and illuminating moments come as guitarist Tommy Tedesco, drummer Hal Blaine, bassist Carol Kaye and saxophonist Plas Johnson sit around a table, reminiscing.

Carol Kaye, sitting alone with her bass, shows how she came up with unforgettable riffs, as on The Beat Goes On and Wichita Lineman.

Tommy Tedesco and several other Wrecking Crew musicians interviewed in the film have since passed away. Denny Tedesco began the film 17 years ago.

Its been an incredibly long journey. But Denny Tedescos dream is tantalizingly close to being realized. He started shooting the documentary in 1996 and finished editing it in 2008.

The film has been acclaimed at festivals and screenings. But over 100 classic tunes had to be licensed (and thats only a fraction of the number on which The Wrecking Crew played). This has delated the release.

Pop Culture Classics had an opportunity to talk with Denny Tedesco. His project is a labor of love. And every music fan is going to love it. It broadens the spotlight on some of rocks most important and influential musicians, artists who, for far too long, were unsung heroes.

The film, along with six hours of compelling extra interview footage, is now available on DVD and Blu-Ray from Magnolia Home Entertainment.

POP CULTURE CLASSICS:
Was the impetus for the project learning that your dad was ill?

DENNY TEDESCO:
Yeah, that basically was a wake-up call. I'd always talked about doing it. But when he got sick and there was a diagnosis of terminal cancer, I thought I'd better jump on this quickly.

PCC:
The enthusiastic response to the film at festivals and screenings must be gratifying.

TEDESCO:
I've watched this film with audiences all over the world. I've I've seen it in Israel, Britain, Spain and all over this country. And the audience reaction is the same every time. People love that music. It brings back certain memories.

PCC:
The Wrecking Crew played on countless hits. What was the process of choosing the songs to use in the film?



TEDESCO:
I knew we had to have like Spector and I knew we had to have Beach Boys, so that storyline was in there. But I couldn't put everything in there. I couldn't put the whole Jan & Dean story in there. It was hard. Sometimes songs would come up and I would say, "I didn't know you guys did that."

PCC:
How frustrating has it been, struggling for so long to actually get the film released?

TEDESCO:
It hasn't been frustrating in the last couple of years, because I've seen headway. I've seen donations come in from $5, $10, $,1000, $50,000. And that's brought the bills down from $500,000. Over $250,000 has been paid off already. So I'm thrilled about that.

Distributors look at the project just in terms of money. Numbers. "Well, if we have to pay this much, we'll have to do this." So, if I get it to zero. Fine. I'll do it myself.

PCC:
Once it is released, will there be a lot of DVD extras?

TEDESCO:
Yes, the funny thing is, when I started editing, which wasn't until 2006, and my wife was concerned I'd made the most expensive home movie ever, at that point, it became clear we needed to hire an editor. Her name is Claire Scanlon, who just won an Emmy for "The Office." She said, "You can't keep interviewing people, because you can't put everybody in there." I said, "Well, that's why God gave us DVDs." And I'm still interviewing people. I'm interviewing Michelle Phillips, hopefully next week. And those can all be in the extras. Our websites has loads of outtakes. And that's just a fraction of what will be on the DVDs. Outtakes of the guitar players, outtakes of the drummers, outtakes of the engineers, of the artists. Petula Clark is in it, Jackie DeShannon, Richard Carpenter, Bill Medley - these are all people I've interviewed. James Burton, Billy Strange.

PCC:
You must feel fortunate to have captured the principals who have since passed.

TEDESCO:
Yes. And there would be a big difference, 17 years ago. If you tried to interview one of these guys now, some of them might not be as sharp. I got Glen [Campbell] at a great time, before he started falling away. Thank God.

PCC:
It must have been a wonderful bonding experience, between you and your Dad, as this project unfolded.

TEDESCO:
Yes. Unfortunately, he never got to see anything, though. We had a close relationship. Someone said, "It must have been hard to go back to editing." Actually, it wasn't. It feels like he never left. I live every day with him, in a sense. He taught me a lot of common sense. When there's been times, when I wanted to destroy and yell and scream, when someone's being a jerk, with regards to the film, I just leave it alone, because I know it's just one day. Your goal is further down the line. And I have to keep going.

PCC:
Watching the film, viewers can't help but be charmed by your Dad. You brought a warm, personal touch to the subject.

TEDESCO:
When Claire and I were editing and had a rough, rough, rough 30 minutes, a friend that's an editor looked at it and went, "It's okay. But I could do what you just did. So could any editor in the building." I said, "What do you mean?" He said, "You have something that no one else could ever touch. And that's the relationship of you being part of this film." I said, "No, I don't want to be part of it." And he finally convinced me to take a chance. And that was a big deal, to say, '"This is a story about my father and his friends, The Wrecking Crew." And that became a huge eye-opener for me, because it enabled me to take it in a new direction. I also knew my father was always the comic relief in this. Even in the roundtable interview, he kept it going.

Someone could say, "Why didn't you put James Burton in?" "Why didn't you put so-and-so in?" You could do a thousand different cuts on this film. There are a thousand different ways to tell this story. This was my way. So let it be.

"I had a meeting years ago, at a huge documentary festival. And we killed. We sold out three or four times every night. This was in Hollywood. And a company was all excited about the film. So we had a meeting. And I was excited. And I got there and it was Hollywood bullshit. The guy said, "I like the film... but marketing says you've got to get rid of the personal story." I said, "After all these festivals and all these awards, and they're all talking about the personal relationship in the film, I have to disagree with you. Did they see the film?" He said, "No, it's just from what I told them." Then he said, "You need a cult following. You need somebody like Johnny Depp to narrate. We just picked up the Hunter Thompson video, the documentary, and Johnny Depp is in that." I said, "I saw that film. It was really great. I saw it at the Seattle Film Festival. By the way, 'Wrecking Crew' was the audience winner there." But you can't fight that battle. The same thing happened in a meeting yesterday. I said, "Here's the thing, guys, you've never seen the film with an audience. I know what works. It's not like it hasn't been tested. I've seen the standing ovations.

The film is very relatable. At a certain point in our lives, we don't know where we are in our careers. I say to Bones, [Howe, record producer], you're in the A-Team, what happens when you're not there anymore? He says, "It's like being an athlete. You get the ramp up. You're at the top of the world. Then you get the ramp down. It's not about staying at the top. It's about taking the ramp down the longest way possible." You don't have to be a musician or filmmaker to have that feeling. That's very important in our lives, at this age. I'm 52.

I asked Plas [Johnson, the saxophonist] how the work affected his personal life, at home, working all the time. He said, "I'm a better grandpa than I am a father." And that is a telling story again. You don't have to be a musician to relate to it. And that's why people are reacting to the film.

My father affected other people. If there's anything I'm most proud of, from this journey, it's meeting people that my father touched. He was the guy that saved people. I always hear these stories, that he was the guy who took care of everyone else on the session. When the younger guys were being shit on and couldn't say something, because they had no clout, he would be the guy to say, "Hey, stop that, leave the guy alone."

PCC:
It was a great artistic decision of yours to have a number of the musicians just sitting around casually, interacting, reminiscing. Did you know it would have that kind of a spark?

TEDESCO:
Yeah, actually, I did. I originally planned to have Earl Palmer with them, but Earl got sick. The reason I did that, was because I knew that musicians like to banter, they like to jab each other. I call it the quartet without instruments. My favorite films were "Diner" and "Broadway Danny Rose." What I loved about those films, Woody Allen and Barry Levinson, they let their actors just talk. They'd talk over each other. And that's what I grew up with. There's nothing better than sitting there, listening to them tell stories. So I wanted to be a voyeur in those moments.

PCC:
It's mentioned in the film that it was the right place, right time for The Wrecking Crew. From your perspective, what made it so?

TEDESCO:
Two things. Technology for sure. You had to be as good as they were, to get in and get out. People don't understand, when all these groups were recording, like The Beach Boys, they were in their teens or early 20s. My father, in 1960, he's 30 years old at that point. Bill Pitman's 40. Hall Blaine was, I think, 32. They're 10 years, at least, ahead of the kids, in terms of musicianship. And they're coming from a different background. They're coming from a jazz background. So they had the chops to go in and go out, to be able to do all that, where the younger groups just didn't have the recording techniques, let alone the playing skills, most of the time. So that was a huge thing.

And, breaking in, the reason my father and all those guys got a chance to break in was because they were doing jobs that the older guys really didn't want to do. The established session guys didn't want to do the rock 'n' roll, probably didn't want to do demos. A lot of those legit guys were doing a lot of scores, big recordings. And Phil Spector comes in, he's a young guy, with an attitude. They were like, "Who needs that?" But my Dad and those other guys were happy to play. And get paid at the same time.

In the 50s, my Dad was working in a chemical factory, playing maybe once or twice a month at a casual or a wedding or whatever. My parents were poor, just scraping by. And that gave him a greater appreciation, when he was constantly being offered session work.

PCC:
Was it a job to them? Or did they have a sense of their impact on the world?

TEDESCO:
It was a job. My father always said, "Listen, there's music... and there's the music business. Sometimes they mix." For him, not all the time. He was playing a lot of stuff he hated. But he smiled and pretended he loved it, because that was his job. He was very realistic, very practical. He knew how to get from A to Z. He said, "I may think this is right, but if the guy doesn't like it, he wants something else, I've got to give him something else or we're not going to get out of here. I may think he's wrong. But he hired me. He's the one who's paying. And it's your job to satisfy that person." Like he said, "I play for smiles."

Larry Carlton was one of the greatest guitar players of all time. He and my father were on a session together. And the guy wanted a rock 'n' roll thing. My father said, "Let Larry do this one." And Larry does this beautiful rock solo. It was brilliant. And the guy says, "No, no, no. It's not right." And my father said, 'Watch, Larry." And basically looked at the leader and realized, "He's old. He thinks rock 'n' roll is shit." So my father turns up the amp and just plays god-awful rock 'n' roll. Just messing around. And the guy says, "Yeah, that's it! Perfect!" And my father turns to Larry and goes, "You don't know shit about rock 'n' roll." [Laughs]

But, he never felt slighted, in terms of whether he should have gotten paid more. People say, "Yeah, but they helped with the arrangement." No, that was their job. If they wrote the song, it'd be different. If you add in a few things here and there, it's up to the leader to maybe throw you a bone. But you're doing it also to get the next job. You're doing it, because that's your job, to be creative. That's what you're there for. You don't just decide to hold back, because you're not getting extra. When you come up with that stuff, that's what's going to make you stand out. My father listened and knew what to play, creatively, something he felt fit the part.

PCC:
There are session musicians who work a ton now, like in Nashville, but a lot of that seems formulaic. The Wrecking Crew, there always seemed to be an inventiveness. Was that the nature of those musicians? Was it that the producers were open to that?

TEDESCO:
Part of the problem nowadays, why it's so formulated, back then, they had to be in a room together. They didn't have the option of not being the room together, because they didn't have ProTools. So when they were doing those sessions, they had to be in a room together, listening to each other. So mistakes would happen. Mistakes became hits. "Oh, you're doing something different. That sounds cool. Let's do that." Well, now, when they're down the songs, they've already got the drum track. Then they lay down a bass track. And everybody lays down stuff. And they're tied to it. Dave Grohl, when he got the Grammy last year, he said, "Hey, I want everybody to know we were in the room together, when we did this," meaning, we did it the old-fashioned way, musicians coming together."

Glen Campbell said, "I was playing with Michael Jordan. But everybody in the room was Michael Jordan." If you couldn't keep up, you weren't coming back. It was about being part of a team. Nowadays, you can take all the time you want. You can email it to someone in Nashville. As long as you're between this bar and this bar, you're there. And even if you're not, you don't have to worry about it, because you can just cut it in the computer.

PCC:
What made these particular musicians so perfect for the sessions? Was their adaptability, versatility and personality as important as their technical skills?

TEDESCO:
Oh, yeah. There are so many great players who never had the chance, or couldn't keep it going, because of their personality. You're in the studio constantly and you've got to be able to work with each other. My Dad used to say, when he taught, "I'm sitting in one of four or five seats in this town. You'd have a better chance of joining a professional football team than getting one of these seats. And not because you're not better than me. The problem is breaking into a situation." And my Dad was a guy who gave more people more chances than anybody. But the reason it was hard to break someone in, especially in film work, you've got a $100,000 orchestra that day. You're not going to take a chance on a new guy. That could be disaster.

PCC:
That efficiency factor, Roger McGuinn talks in the film about the huge difference in the number of takes, on The Byrds number one hits, using The Wrecking Crew on "Tambourine Man" and then playing on their own on "Turn, Turn, Turn." Did most of the bands just accept the practicality of being replaced by studio players on the sessions?

TEDESCO:
Yeah, I think most of them did. It's funny you asked that, because, the other day I asked Jerry Fuller, the writer and producer, about that. One of the groups he worked with was Gary Puckett and the Union Gap. He said those guys weren't too happy about it. But he said he didn't give a shit. As far as he was concerned, he just couldn't take a chance. Producers are in a position, too. They're there to create a hit. Or they don't come back. You start having a bunch of stiffs, forget it.

PCC:
Gary Lewis, in the film, talks about the amazing flamenco guitar intro your father plays on "Sure Gonna Miss Her" and how hard it was for The Playboys to try to recreate that during performances. Was that a common problem?

TEDESCO:
Well, those guys, in concert, they only have 13, 14 songs to learn. The first time my Dad or Hal or Earl are playing something, it's really the first time. And they're nailing that in that session. And moving on. The guy who now has to go on the road with it, he's got weeks to learn that. So it wasn't such a big issue usually. And the sound in those days, can you imagine if they had recorded some of that stuff? Some of that stuff would have been awful. But, in the concerts, it goes in and out of your ear. If you would have recorded it, it would have stayed like that forever. "Oh, that was so out of tune. That sounded awful."

PCC:
In the film, we see that The Wrecking Crew does have a sense that their time is going to pass.

TEDESCO:
Yes, they saw that. The technology was changing. Now you could have as many tracks as you wanted. There wasn't as much concern about having to nail it right away. Music was changing, going in a different direction. James Taylor and all those guys who had no groups were coming in. My Dad was fortunate, because he was able to go into TV and film. At the end of the 60s, a new generation of studio musicians was coming in. But The Wrecking Crew lasted a long time.

PCC:
In terms of the work, what was your father most proud of?

TEDESCO:
He would have wanted to be remembered for his film work. When John Williams or James Horner is telling you to hold the first two weeks in September, because there's a film coming up, he knows at that point they're writing for him. They already know who they're writing the guitar sections for. There's not going to be anyone else in that seat. And that was a thrill for him, at that point in his life.

He was known for his reading skills. He was a monster when it came to reading skills. Leon Russell told me that one time during the breaks, he would write stuff, just to try to f--k him up, to see if he could go with it. And he would just torch it.

PCC:
Do today's musicians watch the film at screenings and get the feeling that they're standing on the shoulders of giants?

TEDESCO:
Yeah. And having musicians in an audience is the greatest. They'll come up to me afterwards and say, "When I was learning that music as a kid, I didn't know that was your Dad playing on it. Or Hal." I think Charlie Watts, The Stones' drummer, said, "I was so disappointed, when I saw that five of my favorite drummers was Hal Blaine."

PCC:
What was the reaction of those involved like Hal and Carol, when they first saw the film?

TEDESCO:
Oh, they absolutely loved it. Hal saw it as a work-in-progress at the Rock and Roll Hall of Fame. I'd never shown it to him. We got up there for a Q&A afterwards and Hal broke down and started crying. It was real tears. I thought he was joking. But it was real. He said, "I'm sorry. Just start talking to Denny. I just saw everybody in my life go by. And they're not here." It was a beautiful moment. And that's when I knew I as telling the truth. I knew that, if I could keep Hal and those guys happy, it was fine. And Carol was the same way. She loved it. And people are seeing the film and then emailing them and saying, "You inspired me." So that's awesome.

PCC:
What do you see as being the legacy of The Wrecking Crew?

TEDESCO:
Things will never be the same. People say they don't make music the way they used to. Technically, that's probably true. But there are still great musicians, great writers, great artists out there. But it's harder to break now. Like Jimmy Webb said, "In those days, when I was on the farm, we only had two stations. And we heard Ray Charles next to Frank Sinatra next to Motown next to The Beatles next to some country song." He said music is segregated these days. But it's out there, the great guitar players, the great writers. There could be another Brian Wilson or Jimmy Webb or Lennon and McCartney out there. But there's so much media. You could hear a thousand different stations on the internet now. It's hard to find that one artist that will wow you.

My father, they were there, at the right time, in the right place. And they created music that will last forever. We're listening to their music 50 years later. And listening to it like it's the greatest stuff on Earth. When we were growing up, there was nothing to listen to from 50 years back, nothing from the 20s. The oldest stuff was big band. Now my kids are listening to The Beach Boys. They know all these songs. But the new music, not that it's not good, but it's hard to imagine people will be listening to it 50 years from now. I'm just happy that the Wrecking Crew guys are being recognized for their work.

For more information on "The Wrecking Crew" documentary, and to view amazing outtakes, visit www.wreckingcrewfilm.com.